Heirloom Tomato, Peach & Basil Salad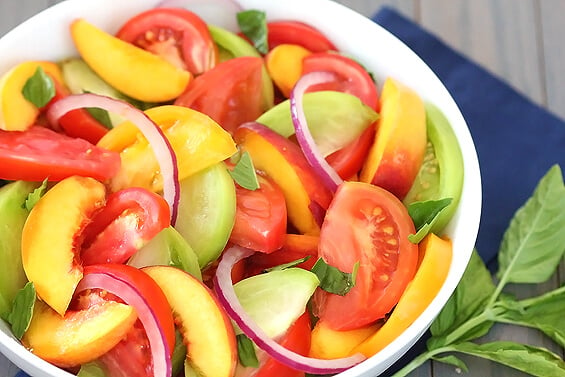 This is definitely the summer of tomatoes!!!  Cassie and I have had a blast sharing in the #TomatoLove with you all this summer, and seeing the photos and reading about all of your delicious recipes during our appetizer and salsas/dips weeks during the Tomato Love Recipe Exchange.  You all really love your tomatoes!  :)
We are very excited to be moving into Week 3 of the recipe exchange this week – SALADS!  And to celebrate, we are giving away a gorgeous salad bowl set from Big Kitchen.  You'll have to scroll down and read more to learn how to enter for a chance to win this beauty!!
For my contribution to salads week, I decided to celebrate the two rockstars of our farmers' market this past weekend — heirloom tomatoes and peaches!  The two combine perfectly with some red onions, fresh basil, olive oil and vinegar to make this simple salad that's bursting with freshness.  And of course, the colorful heirlooms make it all the more beautiful!!  Absolutely loved the colors, textures and freshness of this summer salad.  Perfect to serve as a side dish, or if you're really feeling the tomato love, just make it your meal!  :)
So enter below for a chance to win this week's giveaway.  And be sure as well to continue following along with IJM's Recipe for Change campaign this summer to learn more about how to better support the farmers who grow our tomatoes.  AND if you're an Instagram-er or Tweeter, feel free to join along in the #TomatoLove tagging as well!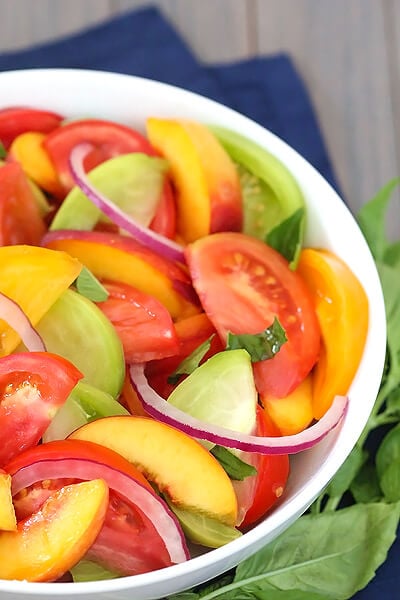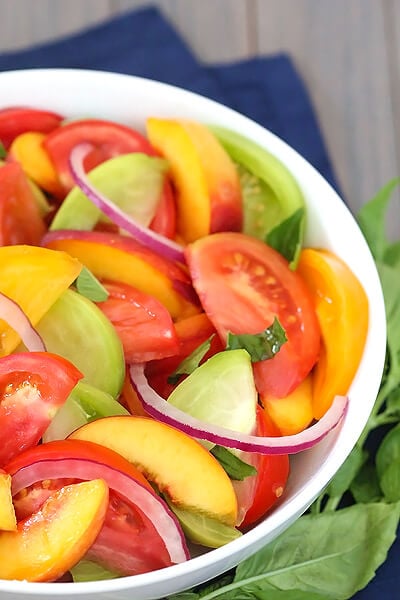 Heirloom Tomato & Peach Salad
A fresh and delicious salad bursting with color!
Ingredients:
2 heirloom tomatoes (or I used half of four different-colored heirlooms), cored and thinly sliced
2 ripe peaches, cored and thinly sliced
quarter of a red onion, thinly sliced
1/4 cup torn fresh basil
2 Tbsp. olive oil
1 Tbsp. balsalmic or cider vinegar
Directions:
Combine the tomatoes, peaches and red onion in a bowl and toss with the basil, olive oil and vinegar until evenly mixed.  Serve immediately or cover and refrigerate up to two days.
All images and text ©
If you make this recipe, be sure to snap a photo and hashtag it #gimmesomeoven. I'd love to see what you cook!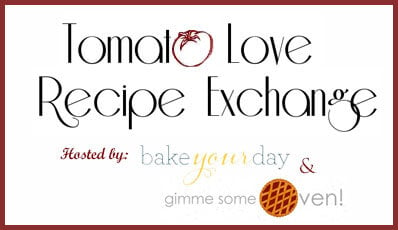 How To Participate In The "Tomato Love Recipe Exchange" Salads Week:

For a chance to win an Enrico Rootworks Salad Bowl & Servers Set :

Write and post a recipe on your blog featuring tomato SALADS.
Include ""Come share in the tomato love at the Tomato Love Recipe Exchange, hosted byGimme Some Oven & Bake Your Day, sponsored this week by BigKitchen Store. Also visit Recipe for Change to learn more about how to support tomato farmers." in your blog post.
No blog? Just leave your recipe in the comments section.
Add your link to the InLinkz widget below (we have the same widget code, so only add it on one site).
Submit your post before Sunday July 29, 11:59pm CST.
Anyone can participate in the link up, but the prizes will ship to US addresses only.
More detailed info is available here. There are ways to earn additional entries, make sure to come back to this post and leave a comment for each entry that you complete.
Additional Entries For Everyone!

You can earn up to three additional entries by doing each of the following, but you must leave a comment below saying that you have done so.
Twitter: Tweet the following: "Join @gimmesomeoven & @bakeyourday in celebrating tomato farmers/recipes at the #r4c #TomatoLove Recipe Exchange! – http://bit.ly/QsAEYs "
Instagram: Instagram a photo of your submitted recipe(s) with the following text: "I just shared (your recipe's name) in the #TomatoLove Recipe Exchange."
Pinterest: Pin any image from this post, inviting people to participate in the recipe exchange. Use the #TomatoLove hashtag.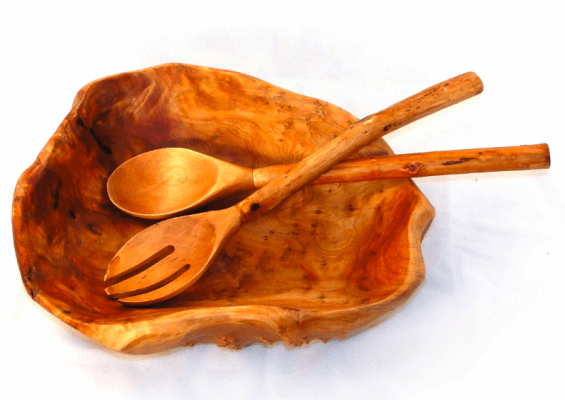 This Week's Prize: An Enrico Rootworks Salad Bowl & Servers Set from Big Kitchen:
Isn't this the most beautiful bowl?!?  I absolutely love this set, which could be used with anything from salads to pastas to rice and more.  What's more, all Rootworks bowls are handmade, and have a really cool story behind them.  They are made from a species of Chinese Fir treescalled Shan Mu, which grows abundantly in the mountains of Central China. RootWorks raw materials come from stumps left by logging operations, the removal of which allows for faster reforestation. Carvers carefully shape them into these beautiful pieces, which we can enjoy halfway around the world.  So cool!