Instant Pot Barbacoa Beef
This Instant Pot Barbacoa Beef recipe is super-easy to make in the pressure cooker, it's full of big flavors, and it is perfect for tacos, burritos, salads, quesadillas and more!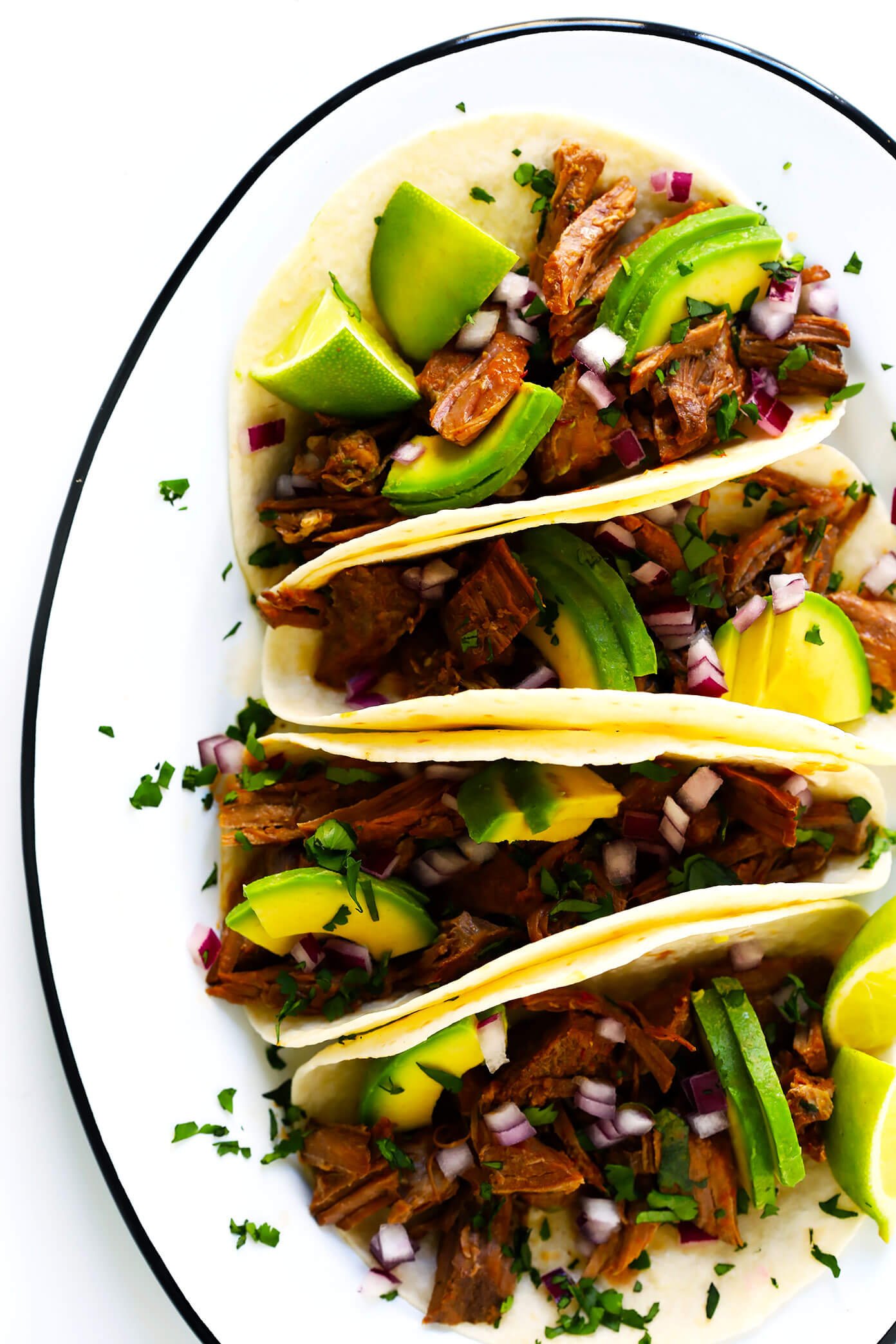 Alright, now that Easter weekend with its delicious carrot cake and scalloped potatoes is behind us, I am diving full speed ahead into the next (and, in my opinion, most delicious) holiday season of the year…
Cinco de Mayo!!!  🎉🎉🎉
I mean, let's be real, I will take just about any excuse to eat Mexican food as often as humanly possible.  But I love when late spring rolls around each year and the entire world comes together to celebrate the country who introduced us all to the brilliance of things like…margaritas.  And enchiladas, huevos rancheros, tamales, margaritas, mole, horchata, quesadillas, and a thousand other faves.  And, of course, my personal favorite…chips and salsa.  And everyone's favorite on Tuesdays…TACOS.
It's not a Tuesday at our house if it doesn't include some form of tacos for breakfast, lunch, or dinner.  And ever since we moved across the ocean and I had to minimize my kitchen appliances, I've turned into an even bigger fan of using my Instant Pot to cook so many of my favorite slow cooker recipes.  Case in point?
My favorite barbacoa recipe.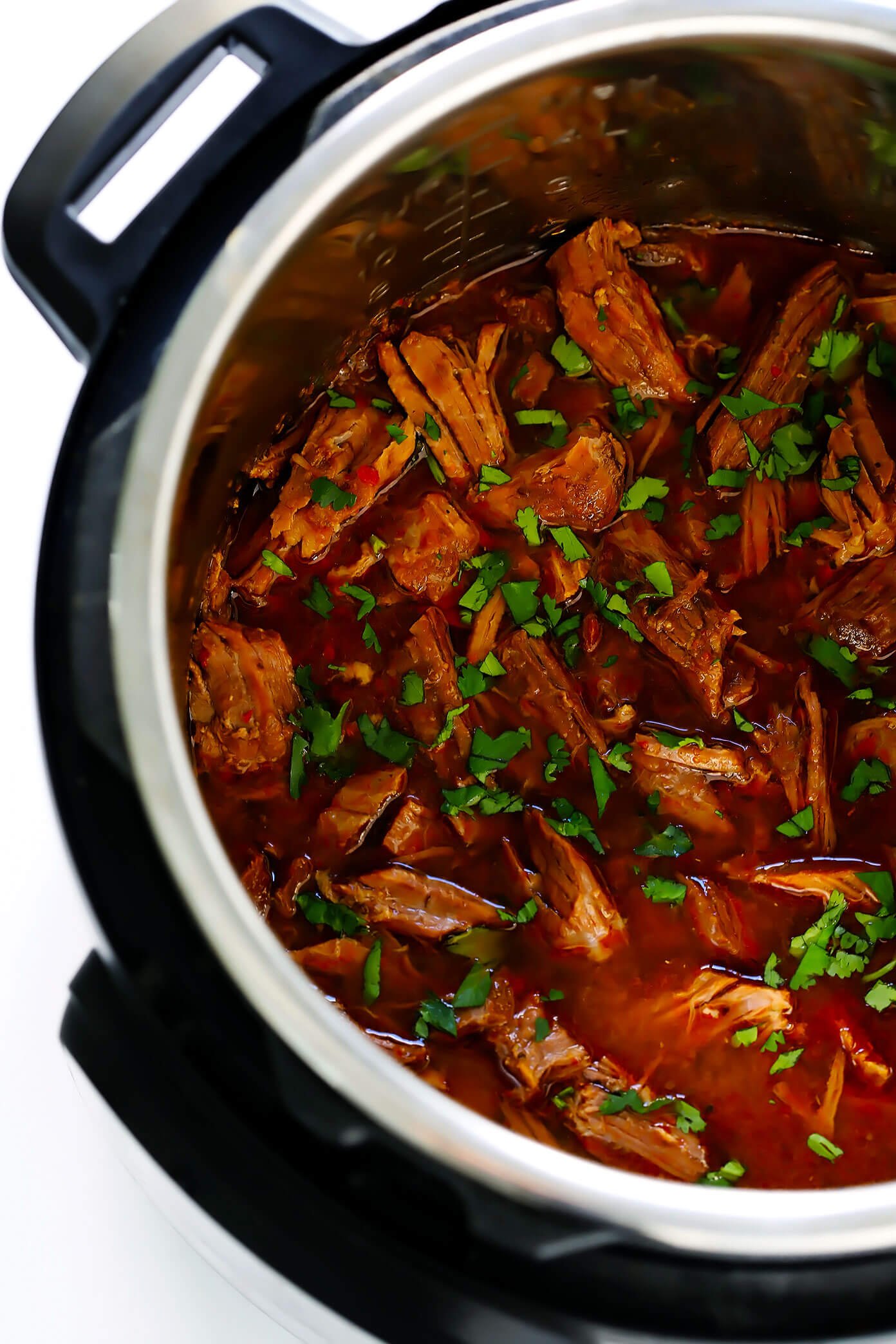 Barbacoa Beef…in the Instant Pot!
I originally shared my recipe for barbacoa beef — made in the slow cooker — about 4 years ago here on the blog.  And since then, thousands of you have made and loved it.  (Yay!)  But lately, everyone has been asking how to translate it to the Instant Pot (affiliate link).
So, since I've tweaked the recipe a tiny bit for myself these past few years, I thought I'd pop back in with an updated post today for how to make the most flavorful, tender, juicy, irresistible barbacoa beef recipe in the Instant Pot.  It's super simple, and is guaranteed to be a win for Cinco de Mayo, or your next Taco Tuesday celebration, or — you know — any normal day of the week that the Mexi craving hits.
Here's how to make it!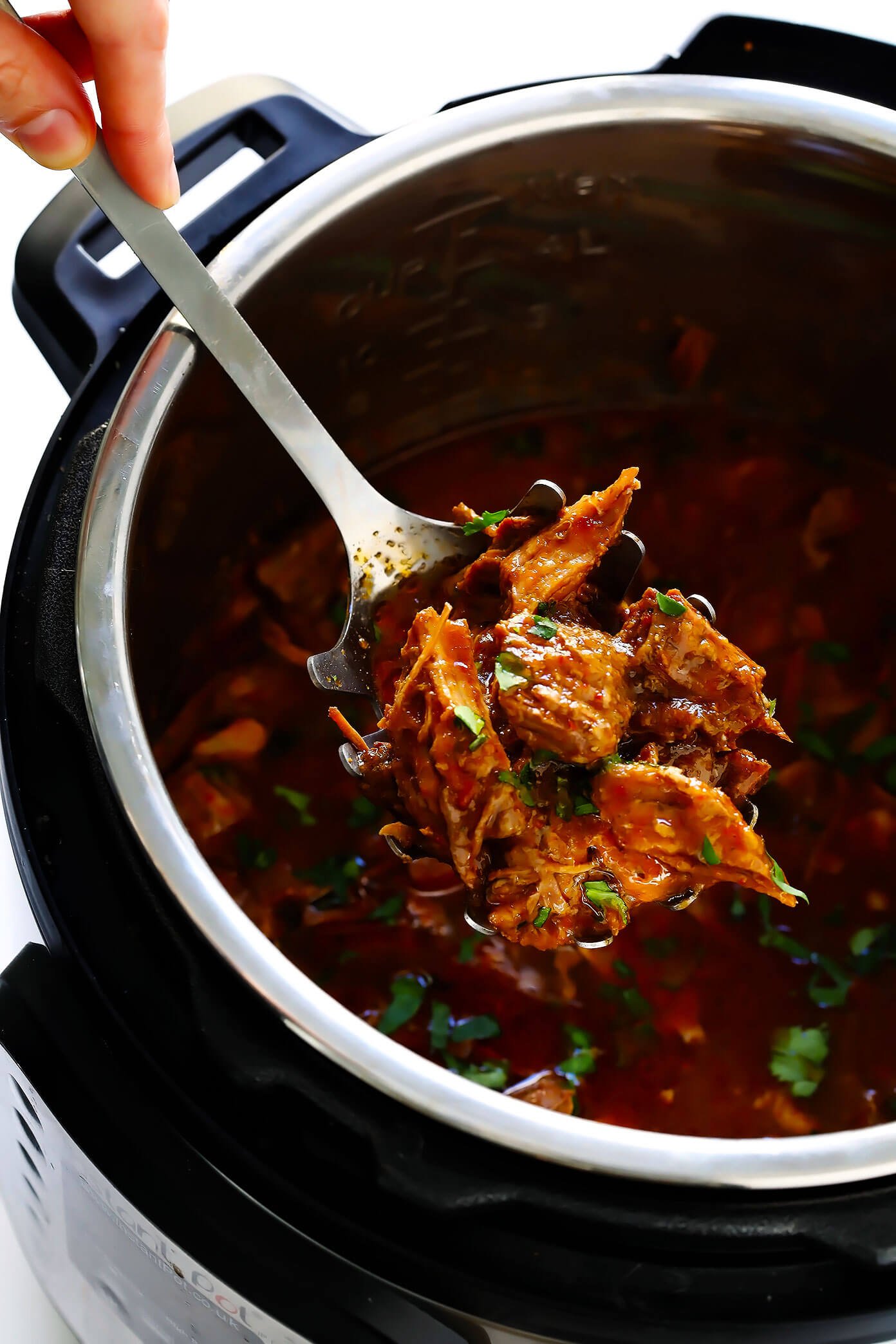 Barbacoa Beef Ingredients:
To make barbacoa beef, you will need:
A roast: Really, just about any cut of beef here, but the leaner the better in my opinion.  (I definitely recommend cutting off any visible large sections of fat.)  I usually use a chuck roast.
Chipotles in adobo sauce: These delicious little guys add the classic smoky flavor that I love.  Feel free to add in an extra chipotle or two (and/or some of that flavorful sauce) to amp up the flavor a bit.
Diced green chiles: I also love adding in a can of these diced hatch green chiles, which are totally mild, but round out the flavor a bit.
Onion: White, red or yellow…you pick!
Lime juice and apple cider vinegar: To add some brightness and freshness.
Bay leaves, cumin, oregano, salt, pepper and cloves: Love this combo of spices.  If you have access to Mexican oregano, it's what I prefer to use in this recipe.  But traditional (Italian) oregano will also work well.
Beer or beef broth: My original recipe called for beef broth, but similar to my carnitas recipe, I've turned to adding beer instead and love the extra flavor it gives.  That said, if you prefer not to cook with alcohol, beef broth or water will totally work too.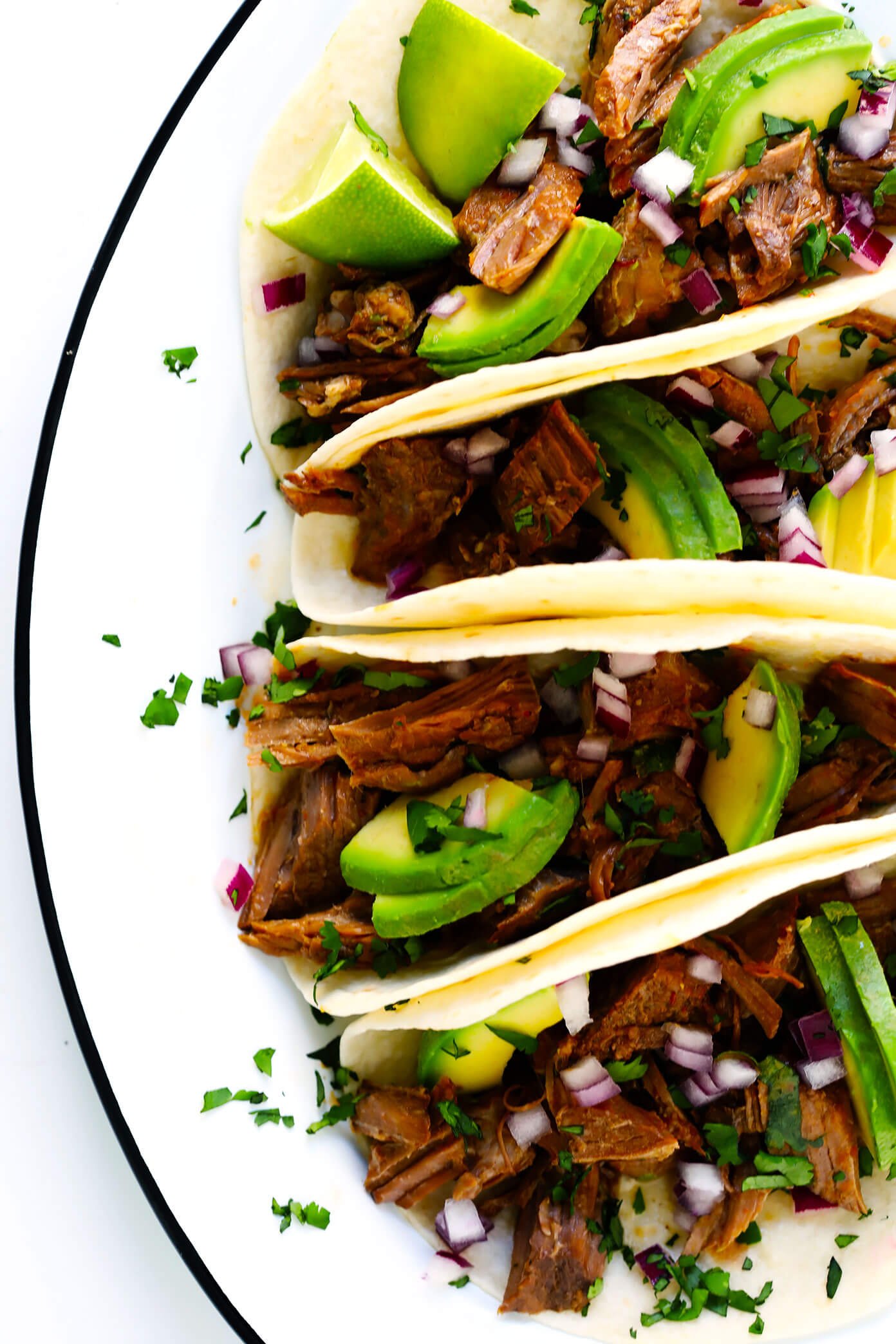 How To Make Barbacoa Beef In The Instant Pot:
To make this recipe in the Instant Pot, just follow these simple steps:
Make The Sauce: In my slow cooker recipe, I just had you dump all of the ingredients together in the crock pot and call it good…which would also totally work in the Instant Pot.  But a few of you weren't a big fans of the little diced onions and peppers in your barbacoa beef.  So instead for this recipe, I have you blend the onions, peppers, spices and more together into a smooth sauce.  (You can use a blender or food processor.)
Brown The Beef: Then take a few minutes to sear the beef on each side, using the "Sauté" function of the Instant Pot.  This step is optional if you're short on time, but those delicious browned edges will add even richer flavor to the beef.
Combine Everything: Then combine the beef, sauce, and bay leaves together in the Instant Pot and toss to combine.  Cover the pot with the lid.
Pressure Cook:  Then set your Instant Pot to cook on manual for about an hour or so, until the beef is ultra-tender and pulls apart easily with a fork.  (If it needs more time, pop it back in for another 8 minutes or so.)
Shred The Beef: Then shred, shred, shred.  Toss the barbacoa beef with all of those delicious juices again so that they soak up as much of them as possible.  And…SERVE!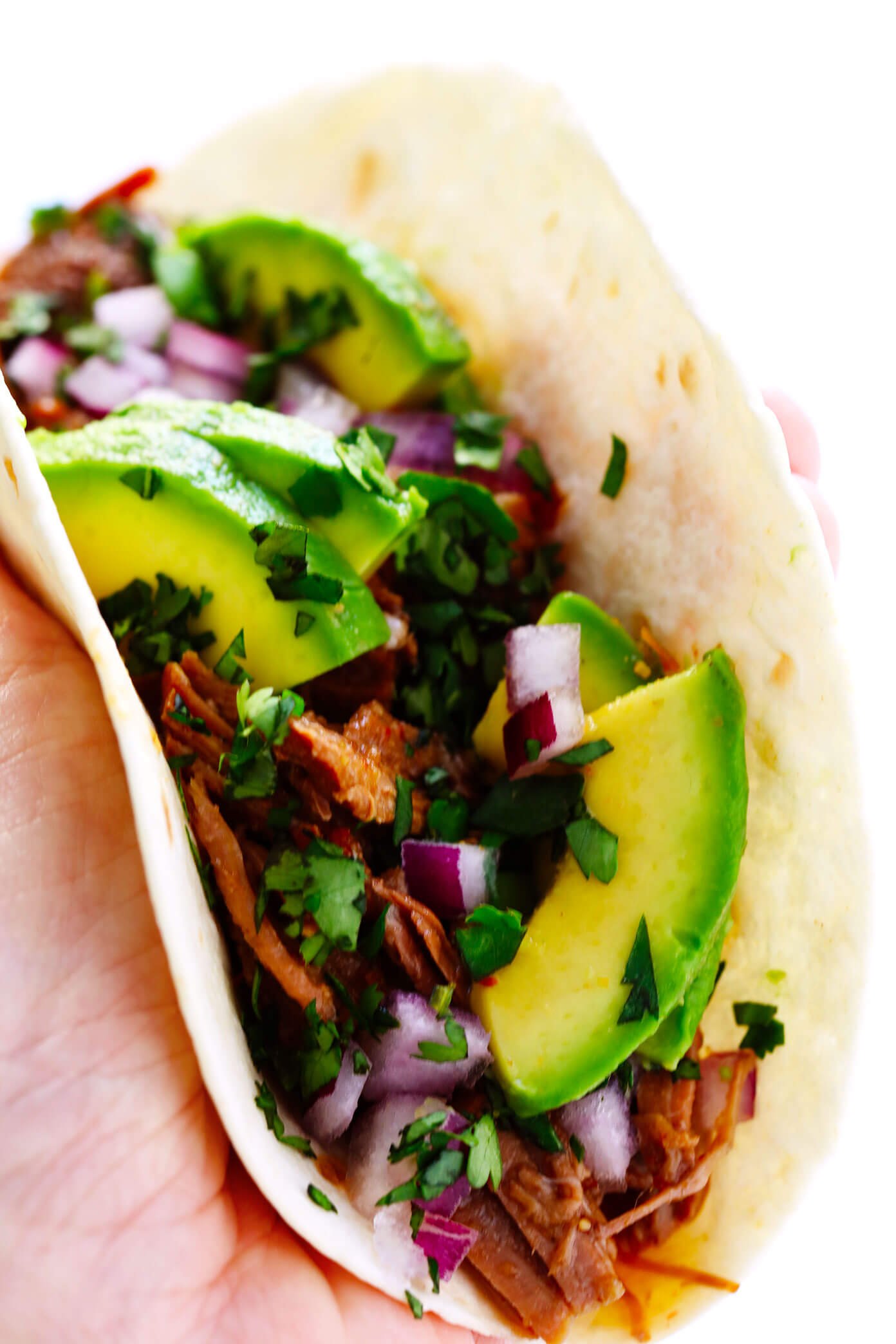 How To Serve Barbacoa Beef:
Really, the options here are limitless.  I love serving barbacoa in:
Tacos
Burritos
Burrito bowls
Enchiladas
Quesadillas
Tostadas
Salads
Nachos
…and so much more.  Also, the leftovers are delicious if you want to add them to a soup (like this one) or a dip.  And they freeze beautifully for up to 3 months.  (<– Just be sure to freeze them with those delicious juices too.)
All in all, an ultra-flavorful, ultra-simple, ultra-versatile recipe that I find myself coming back to again and again.
Enjoy, everyone!  Oh, and also, if you have any recipe requests for Cinco de Mayo this year, holler and I'll get to work on 'em this month.  ♡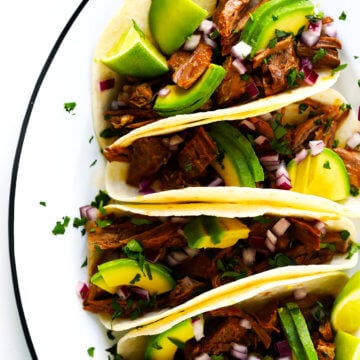 Instant Pot Barbacoa Beef
This Instant Pot Barbacoa Beef recipe is super-easy to make in the pressure cooker, it's full of big flavors, and it is perfect for tacos, burritos, salads, quesadillas and more!  Feel free to add more chipotles in adobo for a smokier flavor.
Ingredients:
2/3 cup beer or water
4 cloves garlic
2 chipotles in adobo sauce (or more, to taste)
1 small white onion, peeled and roughly chopped
1 (4-ounce) can chopped green chiles
1/4 cup fresh lime juice
2 tablespoons apple cider vinegar
1 tablespoon ground cumin
1 tablespoon dried Mexican oregano (or regular oregano)
2 teaspoons salt
1 teaspoon black pepper
1/4 tsp ground cloves
1 tablespoon olive oil
3 pounds beef chuck roast* (fat trimmed), cut into 2-inch chunks
3 bay leaves
Directions:
Combine beer, garlic, chipotles, onion, green chiles, lime juice, vinegar, cumin, oregano, salt, pepper and cloves in a blender or food processor.  Purée for 30 seconds, or until completely smooth.  Set aside.
Press the "Sauté" setting on the Instant Pot.  Add oil.  Then once it is heated and shimmering, add the roast and sear — turning every 45-60 seconds or so — until the roast is browned on all sides.  Press "Cancel" to turn off the heat.
Add the bay leaves and pureed sauce, and briefly toss everything until the roast is evenly coated in the sauce.  Close lid securely and set vent to "Sealing".
Press "Manual", then press "Pressure" until the light on "High Pressure" lights up, then adjust the +/- buttons until time reads 60 minutes.  Cook.  Then very carefully, turn the vent to "Venting" for quick release, and wait until all of the steam has released and the valve has dropped.
Remove the lid, and discard the bay leaves.
Using two forks, shred the beef into bite-sized pieces.  Give the beef one more good toss in all of those juices so that it can soak them up.
Serve warm, or refrigerate in a sealed container for up to 3 days, or freeze for up to 3 months.
* Feel free to use any cut of beef that you prefer here.
**If you would like to make this in the slow cooker, you can slow cook everything for 4-5 hours on high, or 8 hours on low, until the beef is tender and shreds easily with a fork.
All images and text ©
If you make this recipe, be sure to snap a photo and hashtag it #gimmesomeoven. I'd love to see what you cook!