30 and Single
This post may contain affiliate links. Please read my disclosure policy.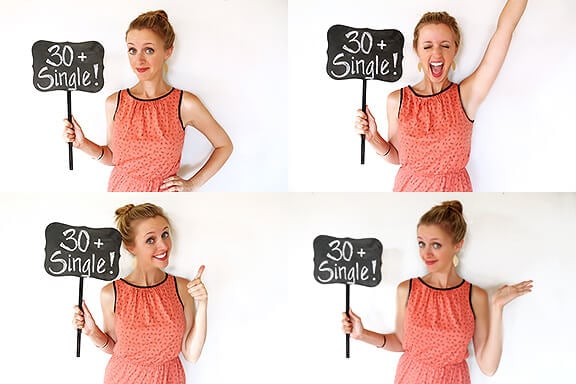 (Taptaptap. Ahem, is this thing on?)
Hi. My name is Ali, and I am 30 years old and single.
And call me crazy, but I've decided to blog about it.
Single
Now when I say single, let's be clear — I mean single. The don't-have-a-fiancee, don't-have-a-boyfriend, actually-don't-even-have-a-cute-crush-right-now-except-for-my-adorable-pup (although I promise I'm not that crazy dog lady), rsvp-for-just-one, set-the-thermostat-however-I-want, no-i'm-not-expecting-anyone, please-don't-make-me-try-to-catch-the-freaking-bouquet, put-my-hands-UP-for-Beyonce kind of single.
This fact still feels a little surreal since I never would have guessed a decade go — heck, even a few years ago — that I would find myself single at 30. I have always hoped and wanted to eventually be married. And frankly I have lived most of my adult life assuming that marriage was inevitably just around the corner. After all, that's how it seemed to happen for everyone else, right?
But I blew out 30 candles this past May. And while I did so genuinely loving my life more than ever, I definitely entered my thirties sans husband and very single.
Adventures In Dating
Don't get me wrong, though. I've had plenty of times in my life when it wasn't just MeMyselfAndI (and my dog).
In fact, I think it's safe to say that over the years I have gone on a somewhat ridiculous number of set ups and and blind dates. (Ok, that last one's a total lie – I am an expert Google pre-stalker for "blind" dates.)
I've learned the difference between EHarm and Match, filled out awkwardly bright and shiny profiles, and rolled my eyes while "shopping" photo after photo of shirtless, car-boasting, ex-girlfriend-partially-cropped-out, "tired-of-the-bar-scene", "I-love-a-night-out-but-I-also-love-a-night-in" men.
I've dated guys halfway around the country. I've dated a neighbor on my old street. I've dated guys that I wanted to keep seeing again and again, and guys that I was more than happy to never see again. I've dated guys that gave me butterflies in my stomach and made me a better person, and guys that infuriated me and made me feel terrible about myself. I've dated guys that got my hopes up. And I've dated guys that made me want to stop hoping altogether.
But through it all (and maybe because of it all), I honestly came to conclude mid-twenties that I'm simply not much of a "dater".
(Feel free to now officially label me as "picky". It's ok.)
Since then, for better and worse, I've been more selective about dating, which has led to hardly any dating in general. So I think it's safe to say that I've spent the majority of my twenties with the strange label of being a single. (Or as the illustrious Bridget Jones would say, a singleton.)
8 Dresses
Meanwhile, I live smack in the heart of the Midwest. And attended a small Christian college. So it's safe to say that wedding bells have been playing this past decade for (seemingly) just about everyone else around me.
A few fun facts:
I have sung or played music in literally over 100 weddings (the virtues of being a musician and years spent working in a church)
I have bridesmaided in 8 weddings (and absolutely never wore those dresses "again")
I maid of honor-ed for my younger sister when she married her catch-of-a-husband four years ago (who happens to be the talented web designer of this site!)
I just officially became the last single girl in my very large extended family when my cousin got married this summer (to a guy who won her heart by writing long-distance handwritten letters, true story)
Navigating all of those weddings while single is another post for another time. But I will say it has been nothing less than awesome to watch my friends grow to love and marry some wonderful people — especially those of my friends who find their spouses after years and years of waiting. (Those weddings are now some of my absolute favorite moments of the year – priceless.)
Some of those marriages have gone on to celebrate anniversaries and pregnancies and babies and more. And some dear friends have found themselves navigating the painful road of divorce. But my twenties were definitely a decade of lots of new relationships and marriages celebrated, and it has been a wild and mostly wonderful adventure.
Wishin', and Hopin', and Thinkin', and Prayin'…
That said, when you're not in a relationship most of the time, you have a lot of time to watch others' relationships. And think about relationships. If I'm honest, being single is something I think about — in some way — every day of my life. It's kind of hard not to.
Granted, the nature of those thoughts have evolved and changed and I would say improved in the last decade of singleness. As have the lists, books, prayers, conversations, and conversations, and conversations again that I've had about relationships. Because I will tell you that being single at 18 is very different from being single at 22. And at 25. And at 28. And at 30. And I have no doubt it will continue to be beyond.
…But Life Is Good. Like, I-Really-Mean-It-GOOD.
But like most important things in life, I have found a growing paradox to be true about singleness:
I still really hope to be married more than ever — albeit for different reasons than at age 22. But I genuinely love my life more than ever as it is — including the fact that I'm single, and in many ways, because of the fact that I'm single.
Yes, there have been lots of hard days. Some of them are painfully, despairingly, bitterly, question-the-core-of-who-you-are hard. The kind of days that threaten to turn you into that single person you do not want to be.
But I feel incredibly lucky to say that most of the days I have spent single have been exciting, empowering, and wonderfully full.
They have been full of rich experiences and adventures. They have been full of risks taken and lessons learned. They have been full of some really amazing jobs and launching a new business from scratch. They have been full of laughter and smiles and some of the best memories ever. And they have been full of really, really good friends and people along the way. And for that, I give some serious thanks.
Because I'm pretty sure the worst thing I could imagine would be meeting the guy of my dreams, and then telling him that I basically spent the last decade moping and waiting around for him. (Ugh. Please, please don't let me ever be that girl.)
So…..
Call me crazy, but I've decided to bite the bullet and blog about being single. I have mixed thoughts about putting this side of my life "out there" on the big, wide, and very-public blogosphere for anyone from complete strangers to my family to former boyfriends to read. But I made a list of reasons why it seems like a good idea today. (So, um, please remind me of these tomorrow if I get cold feet and feel like hitting delete!)
7) I rarely see any other bloggers talking about being single.
Ok, maybe this is because I primarily spend my days reading food blogs. But in my experience meeting (and reading) nearly 200 food bloggers over the past year, about a whopping 3% of them are single. No exaggeration. When I go to conferences with hundreds of people, I'm one of the few single ones. I've been on 6 blogging press trips when I am the only single one.
Now amongst my friends and community here in KC, there are lots of super-cool single people I know. But in a blogosphere full with mom bloggers and wedding bloggers (who I love), I do notice a shortage of bloggers to relate to on this topic.
6) But it needs to be talked about!
I don't know what I would do without my good friends around me who keep me sane, and have those conversations about being single again and again. But I've also met lots of people over the years whose friends have literally all gotten married, and they're not really able to process the topic as freely — or at least relate to someone about what it's like to currently be single anymore.
So if this series can in any way provide a glimpse of encouragement to anyone out there, awesome. Really awesome.
I was also talking about the series with my Dad, and he reminded me that as a longtime married guy (and as my dad), he would love to get some fresh insights into the the lives of his single friends. And I know that many other of you cool married folk might be in the same boat. So if this series can in any way provide that glimpse to all of you dating/engaged/married folks, doubly awesome!
5) Personally, I want to push myself out of my comfort zone.
I can talk about food online all day long. And I can talk about singleness and dating with my friends for hours.
But talking about singleness online? That's a new one.
I've kept quite a bit of my personal life fairly private on my blog, and really only talk about relationships with trusted friends and family. But I haven't been able to get the idea of writing a series about singleness off my mind lately. And sometimes in life, that seems to be a clue that it should at least be tried. So ready-set-go!! I'm hitting publish before I completely talk myself out of this series. :)
4) I would TOTALLY love to hear from you and have this be a conversation.
Whether you're married, engaged, dating, divorced, widowed, and/or single. Young or old. Girl or guy. Whomever.
We all have stories to share and lots of experiences on the topic of being single, or knowing people who are single. And I would love more than anything to hear what everyone has to say so that we can (really!) learn from each other.
3) It's time someone talked about being single in a way that IS NOT…
…whiny, bitter, depressing, man-hating, defensive, hopeless, rose-colored, or full of terrible Christian cliches or assumptions. (This, coming from a Christian.)
2) It's time someone talked about being single in a way that IS…
…empowering, vulnerable, hopeful, respectful, honest, refreshing, straightforward, content, faithful, and REAL.
1) I'm writing this as a single.
Most single people probably won't tell you this, but sometimes it can be hard when someone who recently just got married, or someone who was single at "some" point in their past, tries to give lots of advice how to live the single life. I totally respect and validate your experience being single in the past, and know that some of the best advice I've received about being single has been from my married friends. But sometimes it's just nice to discuss the topic with people who are currently single.
So if nothing else, you can count me as someone talking about this from the "currently single" boat. I'll let you know if that changes. But for now, all of this single talk is coming to you live! ;)
So Stay Tuned.
So there you have it. I promise more posts won't be so all-about-me, but I did want to give a little background on where I'm coming from.
More posts coming soon! (Including some lists. I love lists!!!)
I have a handful of ideas on some posts on random topics related to singleness and dating to come. And I have a handful of friends who are different kinds of single and live it out in different ways that I look forward to having share. But if you have any requests, please let me know!! Funny, serious, stories, lists, advice, you name it. Just leave a comment or you can email me as well.
Ok, massively long post!!! I promise the next ones will be shorter.
Thanks for reading along! :)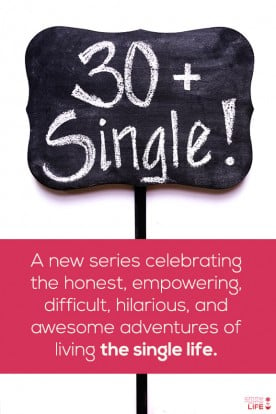 Also, check out the other posts in this series including: