French Onion Dip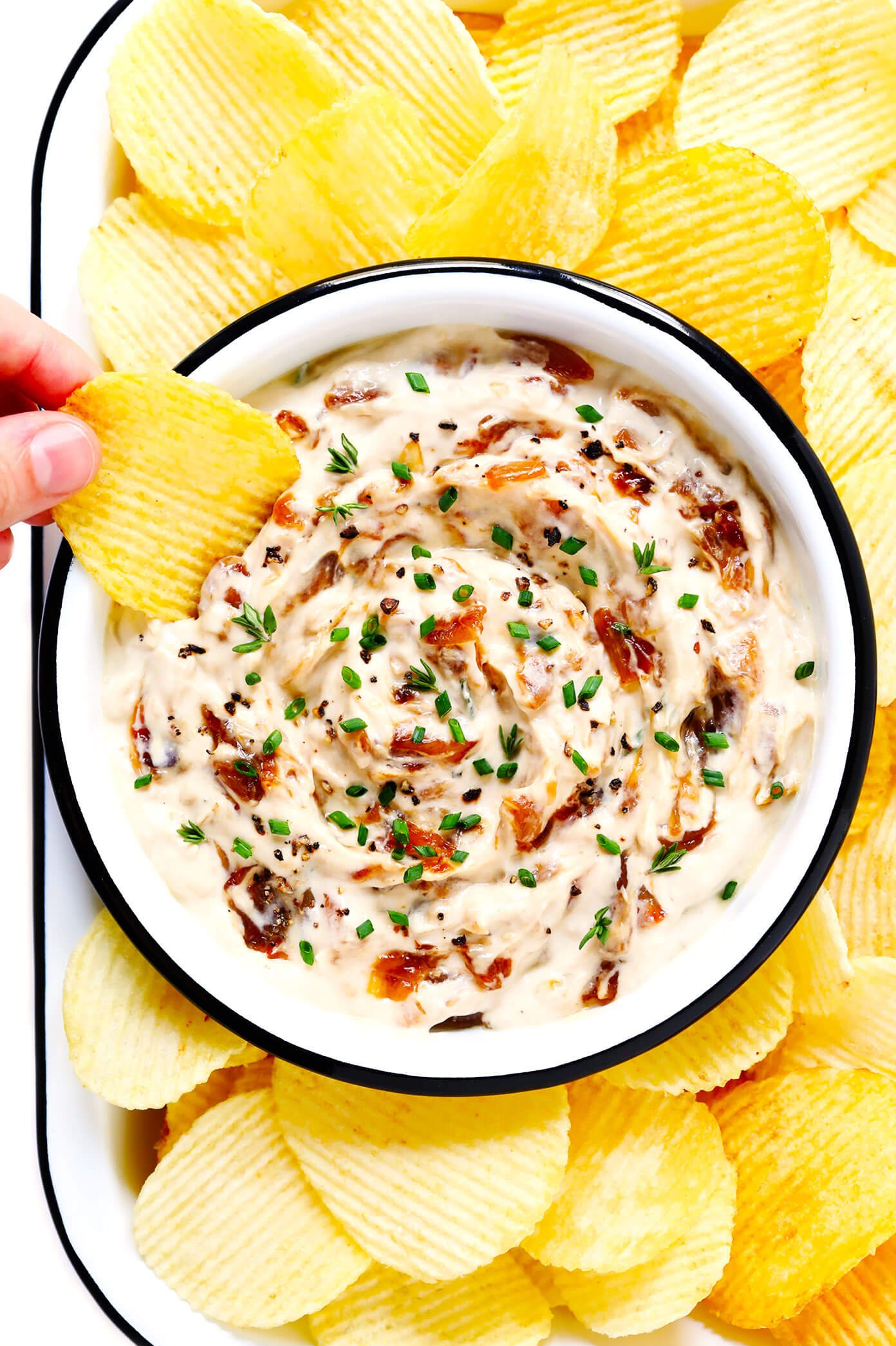 Friends, I made you a tasty dip for the Super Bowl!
Ok, let's be real.  I made you a tasty dip that you can make for the SuperBowl.  I actually made it for my book club, which arguably has more passionate cheering, booing, and dip-eating than any football party I know.  ;)
That's right.  Flannery O'Connor was in the spotlight this past weekend at book club, and let's just say that our thumb votes for A Good Man Is Hard To Find showed quite the range of fangirl-ship.  Some loved it.  Some hated it.  Some thought it was subtly brilliant.  Some thought it didn't stand up to the hype.  But true to form in our club, everyone had an opinion and wasn't afraid to voice it.  Which is one of the reasons I so adore our little club.  The more divisive the author, the more stellar the discussion!
Of course, our Very Important Opinions over all things literary are always all the more lively when fueled by a spread of good food and wine.  And this month, I decided to help out by contributing one of my all-time favorite dip recipes — a lightened-up "skinny" version of classic French Onion Dip.
It's no secret that I've been obsessed with making caramelized onions lately, on the stovetop, in the slow cooker, and in French onion soup.  So since I had a few leftover, I decided to re-photograph this oldie but goodie recipe and share it with you once more.  Because whether you make it for the SuperBowl, for book club, or for any old occasion, it's sure to win over a crowd.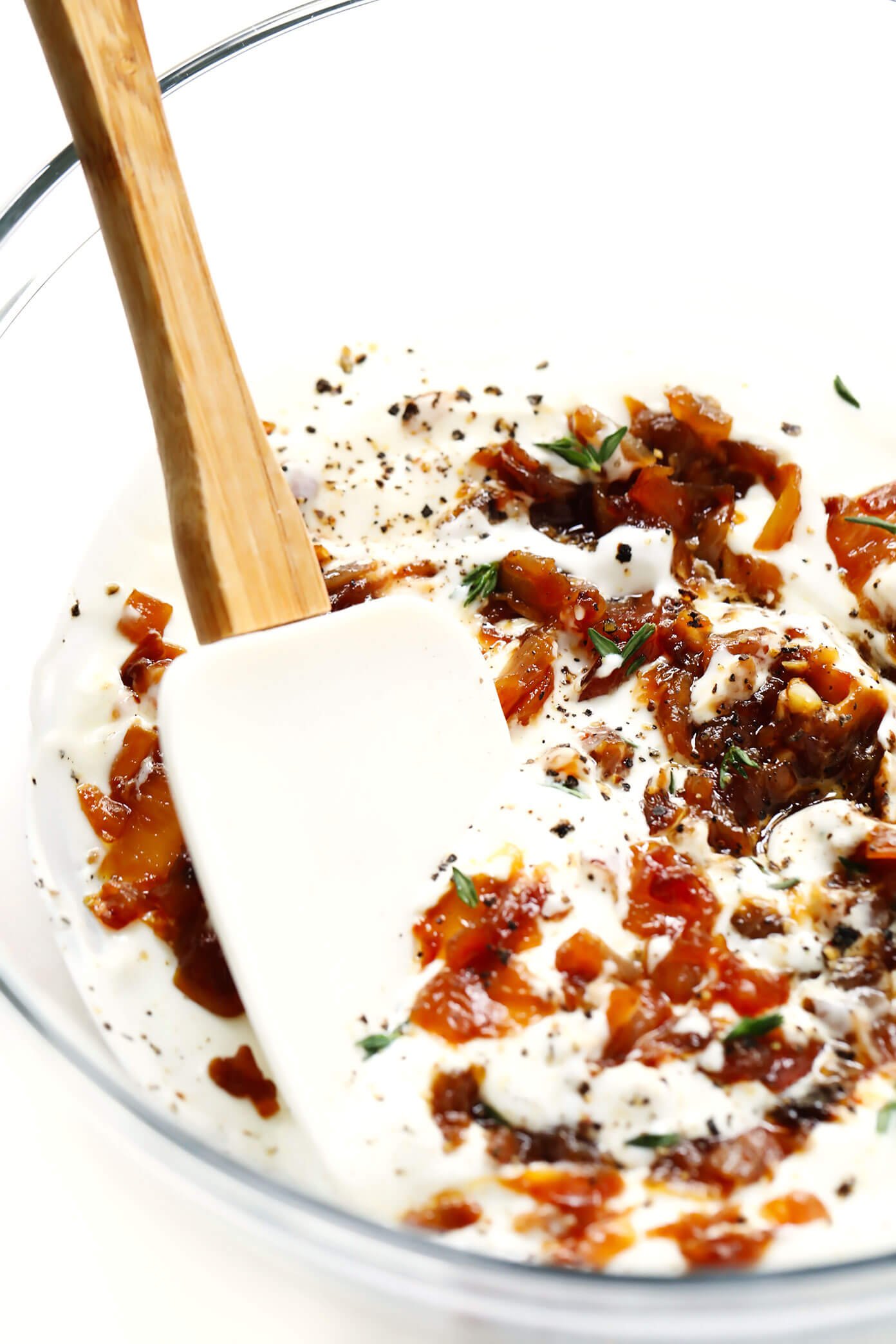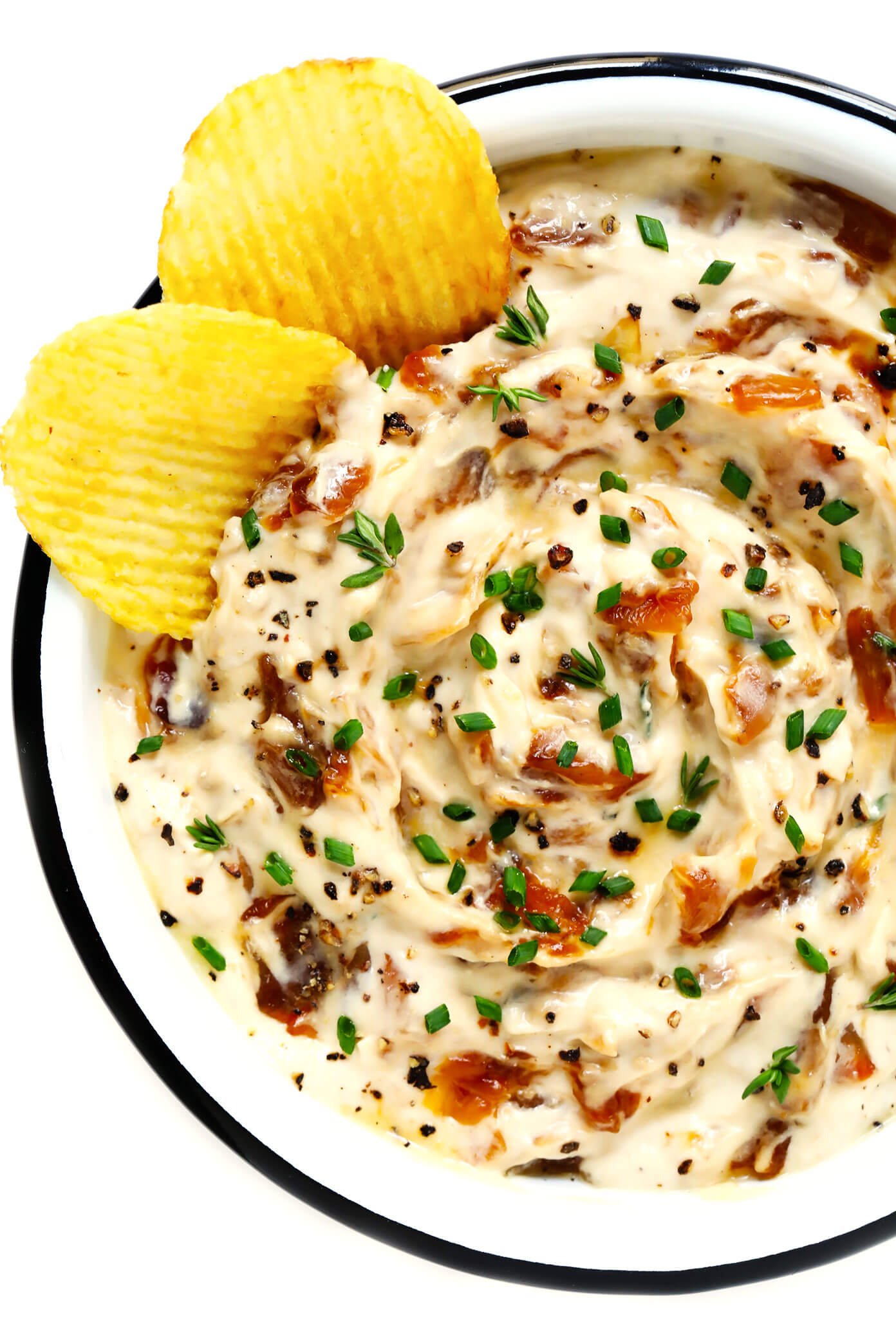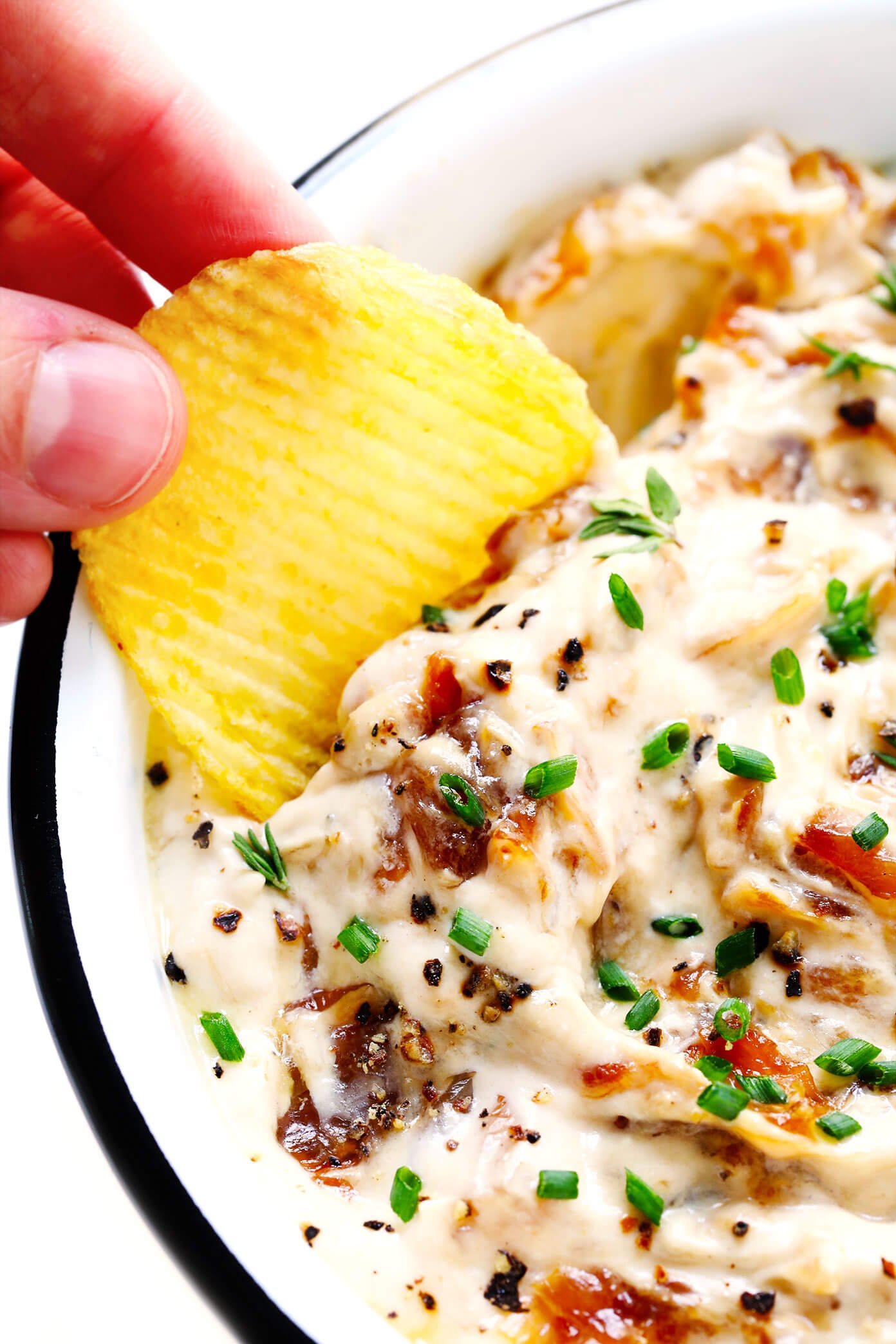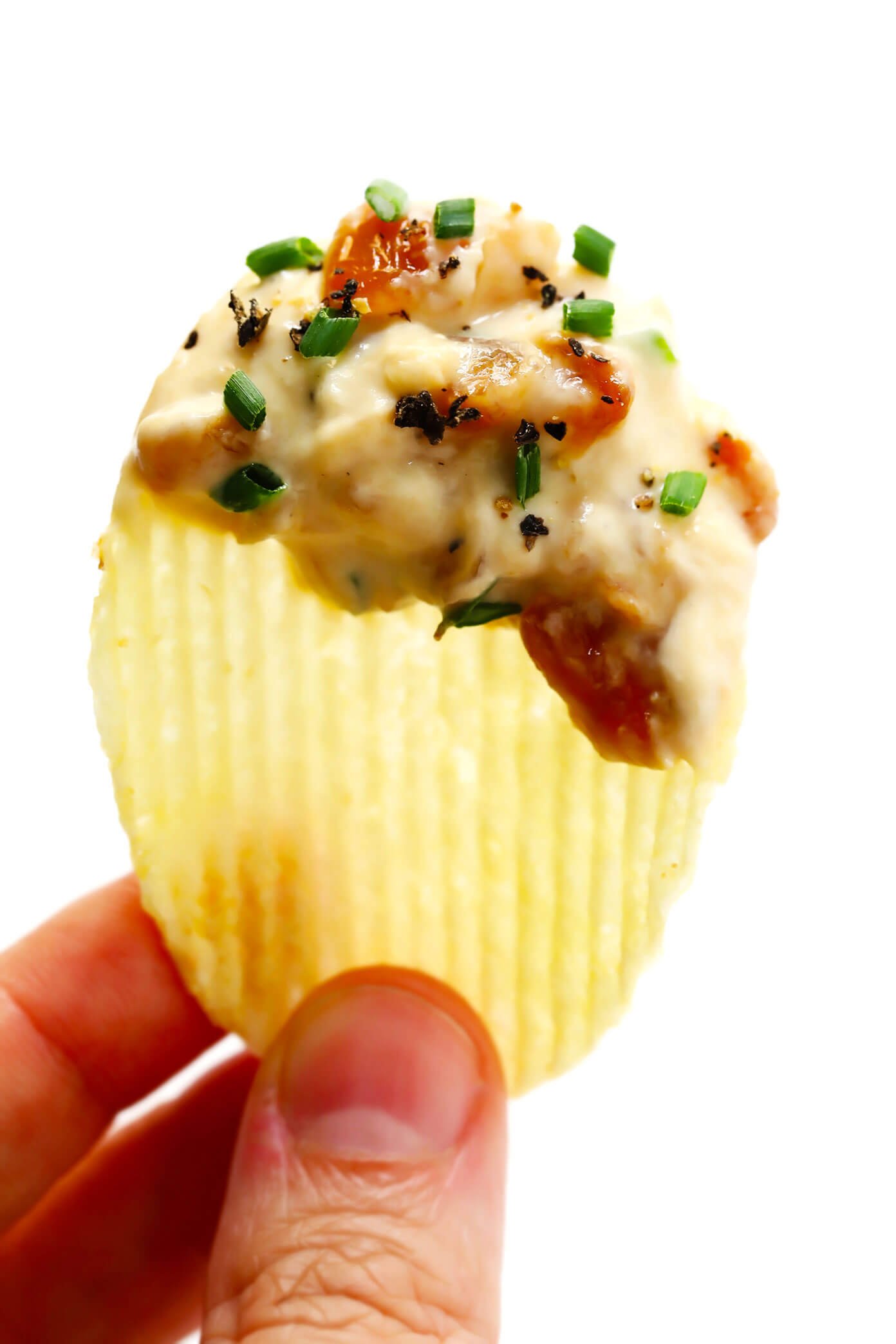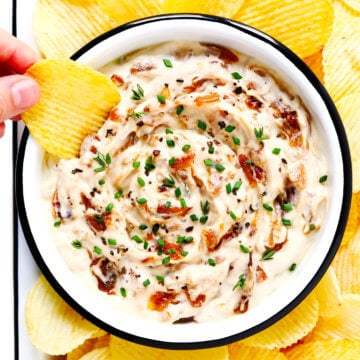 French Onion Dip
A fresh and lighter version of classic French Onion Dip!
Ingredients:
2 tablespoons butter or olive oil
3 medium yellow or white onions, peeled and diced
2 cloves garlic, minced
1 1/2 cups sour cream (or plain Greek yogurt)
1 tablespoon fresh thyme leaves
2 teaspoons Worcestershire sauce, to taste
1 teaspoon fine sea salt
1/2 teaspoon black pepper
Directions:
In a large heavy-bottomed stockpot, melt the butter over medium-high heat.  Add the onions and saute until well browned and caramelized (but not burnt), about 30-40 minutes, stirring every few minutes.  Add garlic and sauté for 1-2 minutes, until fragrant.  Remove from heat and transfer the onions to a medium mixing bowl.  Refrigerate for 15-20 minutes or until the onions reach room temperature.  (Optional: At this point, set aside 1/4 cup caramelized onions, if you would like to use them as a topping.)
Add the remaining ingredients to the mixing bowl with the caramelized onions, and stir until the mixture is evenly combined.  Taste, and season with additional salt and pepper and extra Worcestershire if need be.
Serve immediately, topped with the reserved caramelized onions if desired.  Or cover and refrigerate for up to 3 days.
*Recipe adapted in January 2015.
All images and text ©
If you make this recipe, be sure to snap a photo and hashtag it #gimmesomeoven. I'd love to see what you cook!