Magimix 12-Cup Food Processor Giveaway
This post may contain affiliate links. Please read my disclosure policy.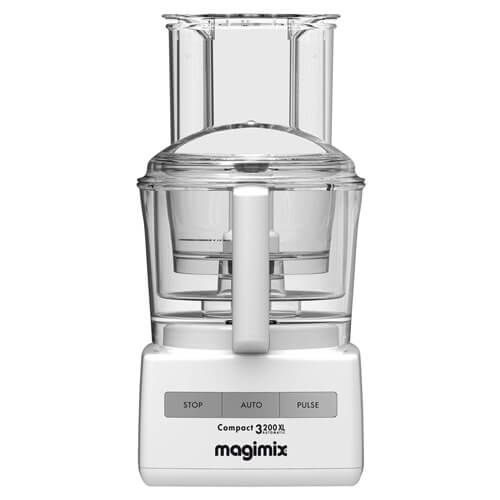 I have a fun surprise for you! After featuring my favorite Magimix food processor in a post this past weekend featuring my Favorite Small Kitchen Appliances, I'm super excited that we are also going to be giving away a brand new Magimix 12-Cup Food Processor to one of you!
Without a doubt, Magimix is known in the culinary world as the leader when it comes to food processors — especially since they created the first food processor!! Their food processors are beautifully designed, innovative, incredibly well-made, and their motors are backed with a 30-year warranty. Talk about a company standing by their products!
I have included all sorts of details about this specific 12-cup model below, which comes with 3 different sizes of work bowls and a dozen different accessories. It is valued at $440, but Magimix has recently partnered with Chef's Catalogue and you can now buy this model online there for $330. I've long said that Magimix food processors are an investment, but — in my opinion — they are worth every cent when it comes to quality and longevity.
So read below to learn more, and scroll to the bottom to enter the giveaway for a chance to win a Magimix food processor of your own!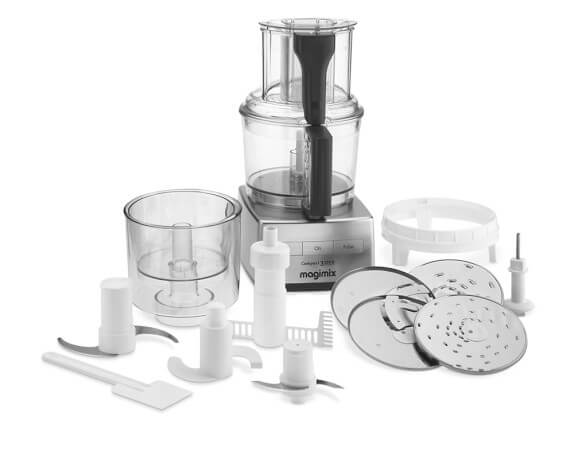 Magimix 12-Cup Food Processor Giveaway
Giveaway Prize:
One winner will win a Magimix 12-Cup Food Processor.
Prize Description:
This Magimix food processor will rock your socks off. I love it because it is built to last, quiet, beautifully designed, powerful, and it is backed with a stellar warranty. It also comes with a cool new citrus press, along with a host of other accessories which can be stored in a great accessories container. Here are some of the specifics:
   Product Features
• Produced in France by the company who developed the world's first food processor
• Ultra quiet 650-watt commercial-grade induction motor automatically adjusts the power for the task needed
• The "smart motor" is a commercial-grade induction motor backed by a 30-year warranty
• Compact and versatile for everyday, the 3200XL is ideal for small families, small kitchens, and occasional cooks
• Simple three button operation: Stop, Auto and Pulse
• Three dishwasher-safe and shatter-proof Lexan bowls — 6-cup, 10-cup and 12-cup
• 2 stainless-steel Sabatier blades, one for mini bowl, and one for main bowl
• 4 slicing and shredding discs to use with the midi bowl or the main bowl
• Extra-large feed tube eliminates need to precut most ingredients
• Small pusher features measurement marks up to 10 oz.
• BlenderMix accessory attachment improves the blender function
• Includes versatile dough blade, citrus press, slicing/grating discs, whisk and spatula
• All accessories are top-rack dishwasher-safe; hand washing is recommended
• 30-year warranty on motor, 3 years on parts
   Includes
• English/French spiral-bound instruction manual with DVD recipes
• Three bowls — 6-cup, 10-cup and 12-cup
• BlenderMix attachment
• Sabatier stainless-steel mini and main blades
• 2 mm and 4 mm shedding disc
• 2 mm and 4 mm slicing discs
• citrus press
• dough blade
• egg whisk
• flexible spatula
• accessory storage box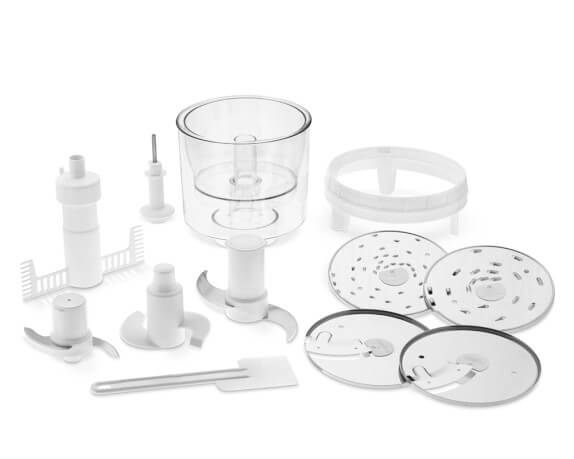 How To Enter The Giveaway:
Follow the instructions in the Rafflecopter box below.
Disclaimer: This giveaway is sponsored by Magimix. I was not paid to host this giveaway and Magimix-loving opinions are 100% my own as always.