Orange Ricotta Pound Cake With Strawberries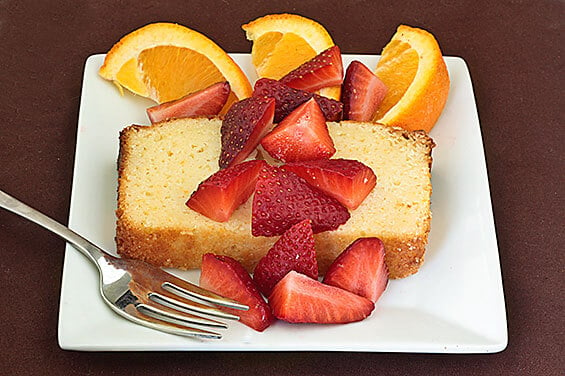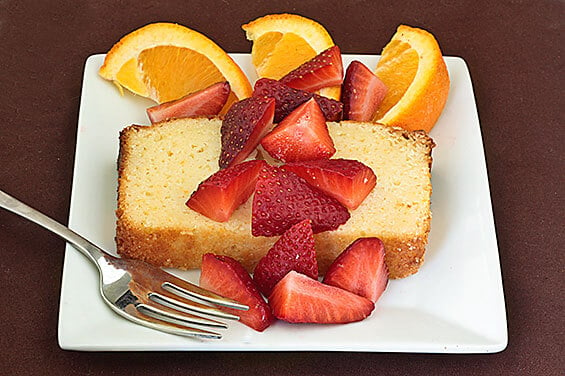 When life gives you a bag of delectable oranges….make orange cake!!!
I had actually been wanting to try this recipe of Giada's for quite some time.  So when I stumbled upon the most a-ma-zing bag of oranges at the market this week, as well as a great sale on strawberries, I was stoked to make it happen!   I had never actually made a cake (the Italian way) using ricotta before, but had some on hand after making these yummy crostinis, so was excited to give it a try.
Needless to say, Miss "Everyday Italian" knows her desserts.  The cake was absolutely amazing!!!  Even though it uses a little less than the normal "pound" of butter, the cake was moist, dense, rich, and perfectly flavored with the tangy orange and almond-y Amaretto (or almond extract!).  And of course, all the better with the sweet, fresh strawberries and/or oranges on top.
Simple, yet decadent.  I will without a doubt be making this again soon.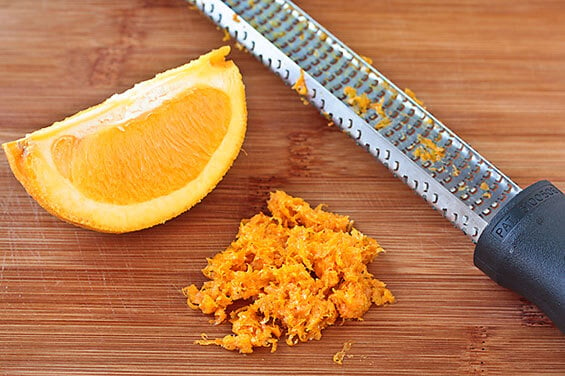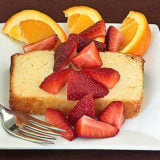 Orange Ricotta Poundcake with Strawberries
You'll love this Orange Ricotta Pound Cake With Strawberries Recipe ! So fresh, delicious and sweet! Quick and easy to prepare!
Ingredients:
1 1/2 cups cake flour (not all-purpose)
3 tsp. baking powder
1 tsp. salt
3/4 cup (1 1/2 sticks) butter, room temperature
1 1/2 cups ricotta cheese (whole milk or low fat)
1 1/2 cups sugar, plus 1 tablespoon
3 large eggs
1 tsp. vanilla extract, store-bought or homemade
1 orange, zested
2 Tbsp. Amaretto (or 1 tsp. almond extract)
powdered sugar, for dusting (optional)
1 pint strawberries, hulled and quartered or 3 oranges, cut into supremes
Directions:
Preheat the oven to 350 degrees F. Grease a 9x5x3″ loaf pan (or a bundt pan) with butter. In a medium bowl combine the flour, baking powder, and salt. Stir to combine.
Using an electric mixer, cream together the butter, ricotta, and sugar until light and fluffy, about 3 minutes. With the machine running, add the eggs one at a time. Add the vanilla, orange zest, and Amaretto (or almond extract) until combined. Add the dry ingredients, a small amount at a time, until just incorporated.
Pour the mixture into the prepared pan and bake until a toothpick comes out clean and the cake is beginning to pull away from the sides of the pan, about 45 to 50 minutes. Let the cake cool in the pan for 10 minutes then transfer to a wire rack to cool completely. Using a mesh sieve, dust the cooled cake with powdered sugar.
Meanwhile, place the strawberries (or orange supremes) in a small bowl with the remaining 1 tablespoon sugar. Let sit until the juices have pooled around the strawberries.To serve, slice the cake and serve with a spoonful of strawberries and their juices over the top of the cake.
If you make this recipe, be sure to snap a photo and hashtag it #gimmesomeoven. I'd love to see what you cook!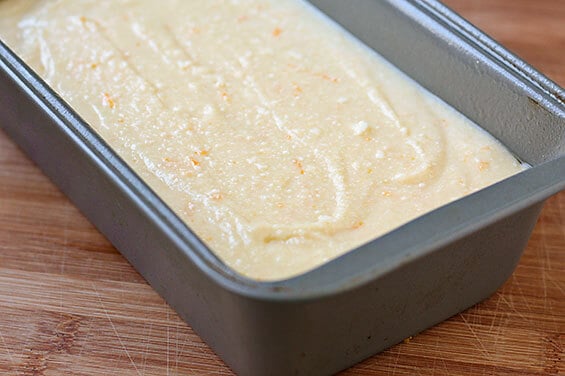 Ali's Tip:
This would also be wonderful topped with a sweet glaze!  You could do vanilla, orange, lemon, or branch out with a hint of herbs.  Or if you really want to kick it up a notch, try my friend Lisa's orange bourbon glaze — YUM.  :)