Pomegranate, Pear & Avocado Salad
I made you a very merry salad!
Well, actually I made it to share at a Christmas party a few weeks ago with some leftover ingredients from my favorite 5-Ingredient Pomegranate Pear Salad that I have been making non-stop this season.  And then it was so simple, so fresh, and so flavorful that I couldn't resist snapping a few photos before taking it to the party to share it with you.
Ok, and let's be honest, I may have been unreasonably excited about the fact that it was red and green.  Because if you can't tell from this sangria, these caprese cups, and this baked brie, I may have a thing for color.  ;)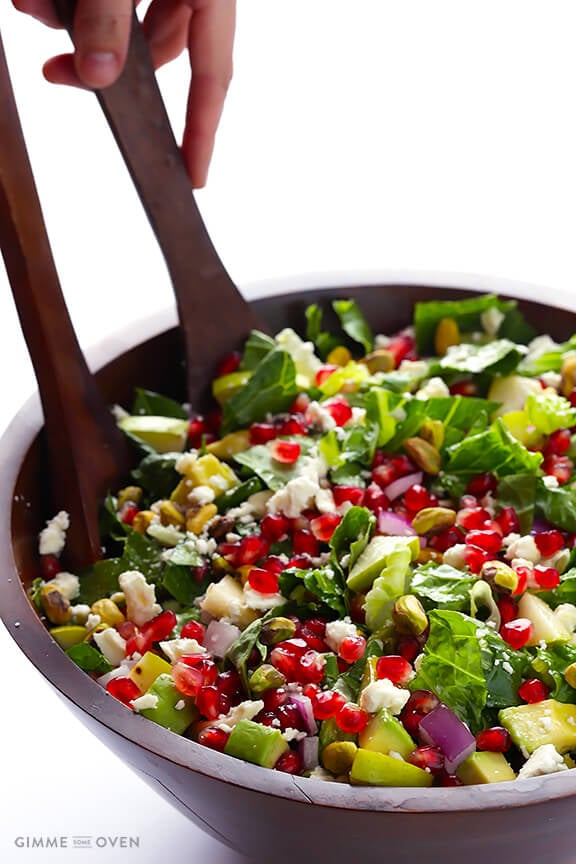 The good news is that all of the beautiful reds and greens which make up this salad actually pair together perfectly in this delicious winter salad!  It's a great way to make use of those seasonal sweet pomegranate seeds and juicy pears.  And when you toss in some avocado, pistachios, goat cheese (or blue or feta), and then drizzle it with a citrus vinaigrette?
Well, let's say it's not just pretty to look at.  :)
It also happens to be naturally gluten-free.  And once you get that pomegranate opened and seeded (I have a great tutorial for how to do that here), the salad comes together in minutes.  Perfect for a busy holiday season, or any time of year that you feel like a sweet, citrusy, comforting green salad.
Enjoy!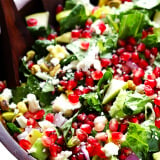 Pomegranate, Pear and Avocado Salad
This pomegranate, pear and avocado salad is full of delicious fresh flavors. And it's perfect for the holidays!
Ingredients:
Salad Ingredients:
1 head Romaine lettuce, washed and roughly-chopped into bite-sized pieces
1 ripe pear, cored and diced
1 avocado, peeled, pitted and diced
2/3 cup shelled pistachios
2/3 cup crumbled goat cheese (or blue cheese, or feta cheese)
1/2 cup diced red onion (about half of a small red onion)
seeds from 1 pomegranate (here is a tutorial for how to open and de-seed a pomegranate)
citrus vinaigrette (see below)
Citrus Vinaigrette Ingredients:
1/3 cup orange juice (freshly-squeezed, if possible)
1/4 cup white balsamic vinegar (or white wine vinegar)
1 tablespoon honey, if needed to sweeten
1/2 teaspoon kosher salt
1/4 teaspoon freshly-ground black pepper
1/3 cup olive oil
Directions:
To Make The Salad:
Add all ingredients together in a large bowl and drizzle on the dressing.  Toss until combined.  Serve immediately.
(*Tip: To prevent the diced avocado from browning while sitting out, toss it beforehand in a few tablespoons of lime or lemon juice.)
To Make The Vinaigrette:
Whisk all ingredients together for 30 seconds until combined.
All images and text ©
If you make this recipe, be sure to snap a photo and hashtag it #gimmesomeoven. I'd love to see what you cook!