Roasted Root Vegetables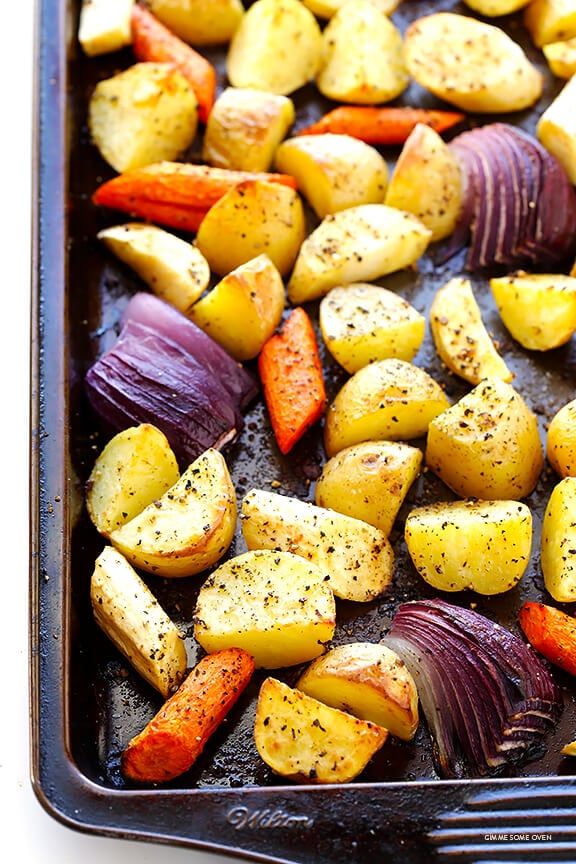 Happy Thanksgiving Eve, everyone!
I thought I was done with posting T-Day recipes for the year, but after roasting up a pan of root veggies today, I decided to chime in briefly one more time.  Because whether you're looking for a last-minute recipe for tomorrow, or just looking for some veggie inspiration for any ol' day, I've stumbled upon a new little secret for amazing roasted vegetables that I had to share with you.
It's so simple, that I'm not sure why I never considered it before.  All you need are your veggies (I chose some pretty seasonal root vegetables), some cooking oil (olive for the win!), lots of freshly-cracked black pepper, and…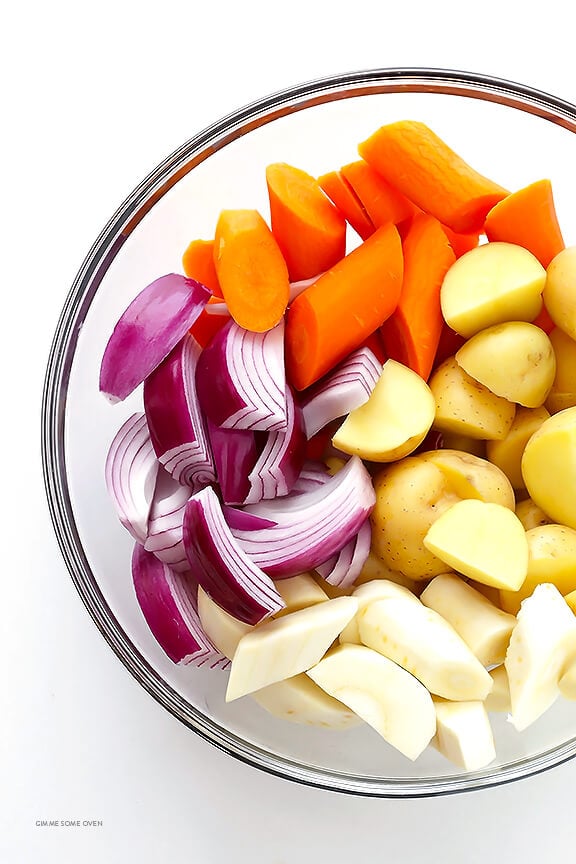 A.K.A = game changer.
I've been using smoked sea salt on my shishito peppers, popcorn, baked chicken breasts, and a host of other recipes for years and years now.  But for some strange reason, I never thought to add it to a simple pan of roasted veggies until now.  And now, there's no turning back.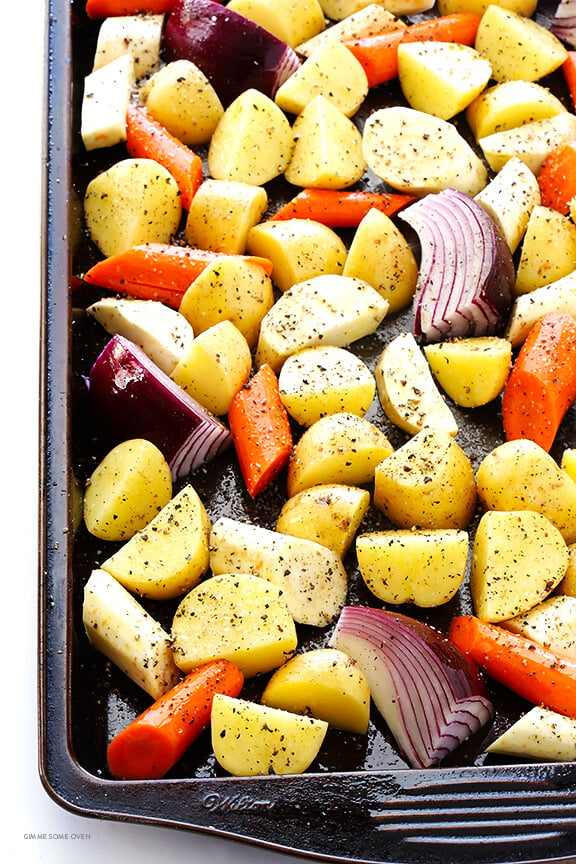 Of course, regular sea salt is always a winner when it comes to roasted veggies.  And if you can't find smoked sea salt at your grocery store (although it's pretty widely available with a number of brands now in stores or online), you can totally just stick with regular sea salt.  But man, that extra hint of smoky flavor along with those sweet, crispy, roasted veggies is like the savory equivalent of the icing on the cake.  :)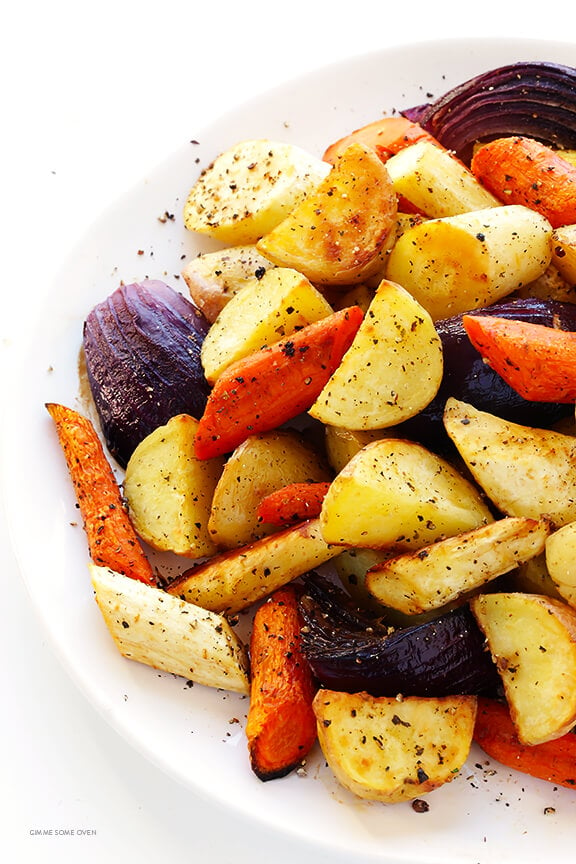 Perfect for Thanksgiving, or any lovely time that you have a bunch of veggies on hand and want to give them a roast.  I'm telling you now — I think you're going to be hooked.
Happy roasting!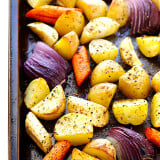 Roasted Root Vegetables
This easy Roasted Root Vegetables recipe is simple to make, and is made all the more delicious with one special ingredient.
Ingredients:
1 pound Yukon gold potatoes, quartered (or cut into roughly 1-inch cubes)
4 carrots, peeled and chopped into 2-inch pieces
3 parsnips, peeled and chopped into 2-inch pieces
2 small red onions, peeled and quartered
2 Tablespoons olive oil
freshly-cracked black pepper
Directions:
Preheat oven to 425°F.
Add potatoes, carrots, parsnips and onions to a large bowl.  Drizzle evenly with the olive oil, sprinkle with a few generous pinches of salt and pepper, then toss gently to coat all of the vegetables (being careful not to break up the onion chunks, if possible).
Spread the vegetables out evenly on a baking sheet.  Sprinkle evenly with a little extra salt and pepper.
Bake for 20-25 minutes, or until the vegetables are tender and cooked through, flipping once halfway through cooking.
Serve warm.
All images and text ©
If you make this recipe, be sure to snap a photo and hashtag it #gimmesomeoven. I'd love to see what you cook!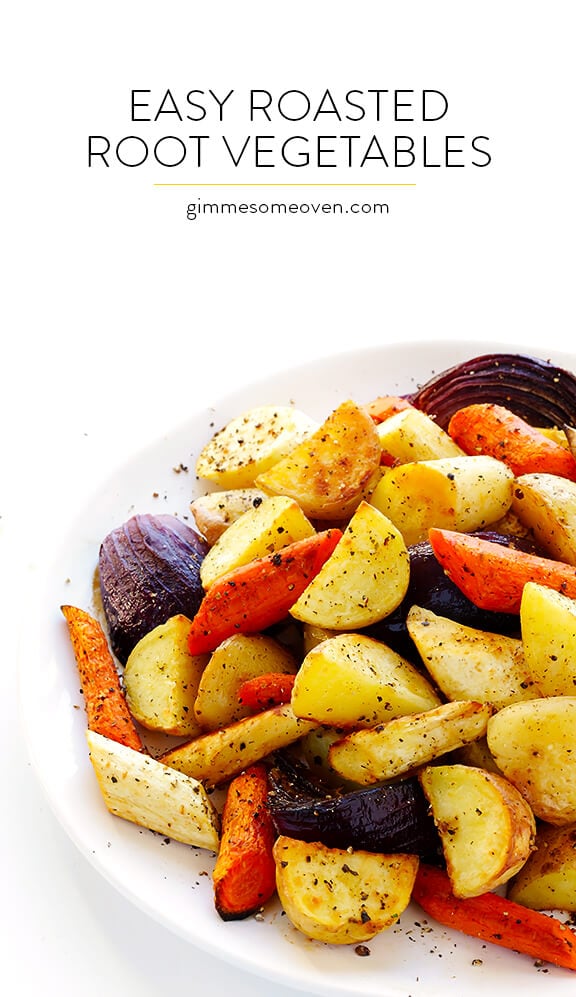 This post contains affiliate links, which go to help support this site.  Thank you!