The BEST Butter-Free Popcorn (Nooch Popcorn)
I thought that most of the world knew this secret to amazing butter-free popcorn.  But after mentioning "nooch" a few times recently and getting blank looks, I realized it was definitely worth doing a post on the topic.  Especially because my friends and I are all obsessed with this popcorn.
And when I say obsessed, I mean obsessed.
It is pretty much assumed that someone will be making and bringing this popcorn anytime we get together with friends.  Our vegan and dairy-free friends love this popcorn because it's butter-free.  And our non-vegan butter-loving friends all love it because it's healthier and preservative-free.  But mostly everyone loves this nooch popcorn because it's freaking delicious, and downright irresistible.  And it's all thanks to one ingredient:

MY LATEST VIDEOS
Nooch.
(Also known as…)
How To Make the BEST Butter-Free Popcorn | 1-Minute Video
Nutritional yeast.
Ok, don't freak out.  I know only sounds like The Most Unappetizing Name In The History Of Food.  But "nooch" (as we prefer to call it) is an absolute rockstar of an ingredient.
You can buy it in the health food section of most stores, either in a container like this or in bulk.  And as you can see, it's basically just a zillion yellow flakes (or some brands are more powdery) made from deactivated yeast.  People love it because it's vegan, it's dairy-free, it's gluten-free (double-check specific brands for certification), it's packed with a bunch of vitamins (especially B-vitamins, folic acid, selenium, zinc and protein), it's low-fat, and it contains no added sugars or preservatives.
But the real reason to try nutritional yeast is because of the flavor.  It's hard to describe, but I give it a cross between nutty, cheesy, a little salty, and deliciously savory.  You can use it to help flavor all sorts of foods, but it's especially fantastic on popcorn.
Without a doubt, the flavor of nooch is slightly different than butter.  When trying it for the first time, most of my friends usually have to give it a moment's thought to decide what they think of the taste.  But after a few bites…and then a few more bites…and then a few more bites…they eventually dive in and cannot stop eating it.  It's almost a problem how irresistible this stuff is.  Almost.  :)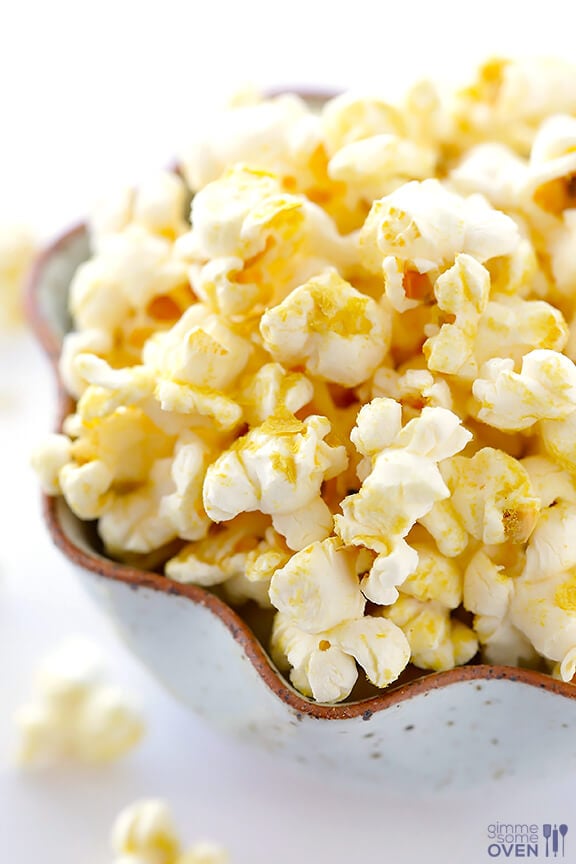 The good news, too, is that this nooch popcorn can be homemade on the stove in just a matter of minutes.  Here's the how to:
First, gather your three main ingredients:
popcorn kernels (my friend, Sarah, recently turned me onto the "jumbo" popcorn from Pop Secret – amazing!)
nutritional yeast (the more powder-y, the better, but any will do)
high-heat oil (I usually prefer grapeseed or coconut oil, but canola or vegetable oil also work)
Add about 1 Tbsp. of oil to a medium saucepan and crank up the heat to high.  Then add in your popcorn kernels in a single layer, and cover the pan.
Once the kernels start popping, give the pan a few shakes every now and then to help settle the kernels to the bottom.  This helps prevent burning and makes sure all of those kernels get popped.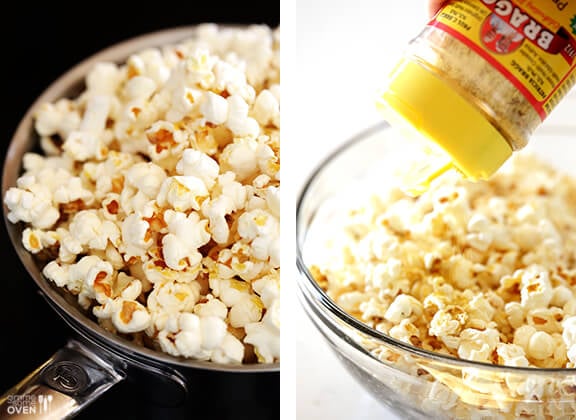 Once the popcorn is done popping, immediately transfer it to a large bowl.  Then douse it — or, ahem — add your desired amount of nutritional yeast, and toss to combine while the popcorn is still warm.  I also like to add a teaspoon or two of salt.
To help the nooch and salt stick to the popcorn, I recommend actually adding it to a large bowl with a lid (like Tupperware) while the popcorn is still hot.  Then cover the bowl, and give it a few really good shakes.  The steam from the popcorn will help the toppings stick to it, and will also divide the toppings more evenly.
Then dive in and enjoy!
And if this is your first time trying nooch popcorn, you have to promise to let me know what you think of it.  :)
The BEST Butter-Free Popcorn (Nooch Popcorn)
Nooch popcorn is the BEST butter-free popcorn! It's also vegan, dairy-free, gluten-free, and made with no artificial ingredients.
Ingredients:
3-4 Tablespoons oil, or enough to coat the bottom of the pan (any high heat oil will do — coconut oil, grapeseed oil, canola oil, etc.)
1/2 cup popcorn kernels
1/4 cup nutritional yeast, or more*/less to taste
1-2 teaspoons salt, to taste
Directions:
Add oil to a large metal stockpot over medium-high heat. Place 3-4 individual kernels in the pan and cover.  Once they pop, uncover the pan and add in the rest of the kernels so that they form a single layer on the bottom of the pan.  Cover, and give the pot a shake so that they all get coated with the oil.
Once the popcorn kernels start popping furiously, give the pot a good shake every 15 seconds or so to help the un-popped kernels fall to the bottom, which prevents burning. When the popping dies down, immediately pour the popcorn it into a large mixing bowl (one that has a lid, like tupperware), and sprinkle with nutritional yeast and salt. Cover, and give it a good shake to combine.
Serve and enjoy!
*I actually highly recommend adding 2-3 times as much nooch.  I like as much of it as possible to stick to my kernels, although quite a bit of it naturally falls off.
**If the nooch isn't sticking, you may also need to use a bit more coconut oil, or you can try closing the lid on the popcorn completely while it's cooking (which won't let the kernels dry out as much, which will help the nooch stick to them better).
All images and text ©
If you make this recipe, be sure to snap a photo and hashtag it #gimmesomeoven. I'd love to see what you cook!