Savory Pumpkin Dip
Last week, I put out a call on our Facebook page for pumpkin recipe requests.  Many of them were the usual favorites — pumpkin bread, pumpkin cupcakes, pumpkin muffins, and all sorts of other pumpkin sweets that I love.
But I was excited to see how many people instead requested some savory pumpkin recipes!  Believe it or not, I tend to pick savory over sweet any day.  So I love that pumpkin is starting to be popular for both sides of the sweet and savory coin nowadays!
One of the savory requests came from my friend Matt, who even went a step further (gold star!) and sent me a recipe for his famous Savory Pumpkin Dip.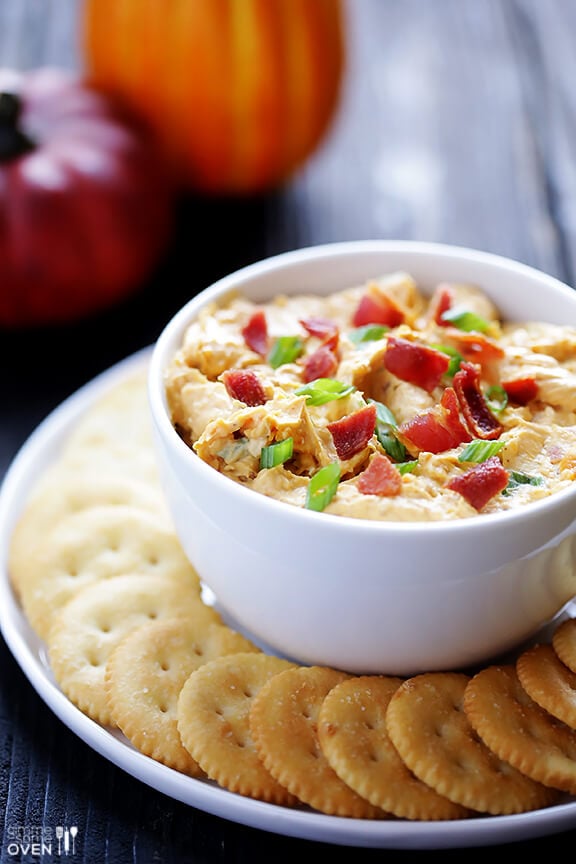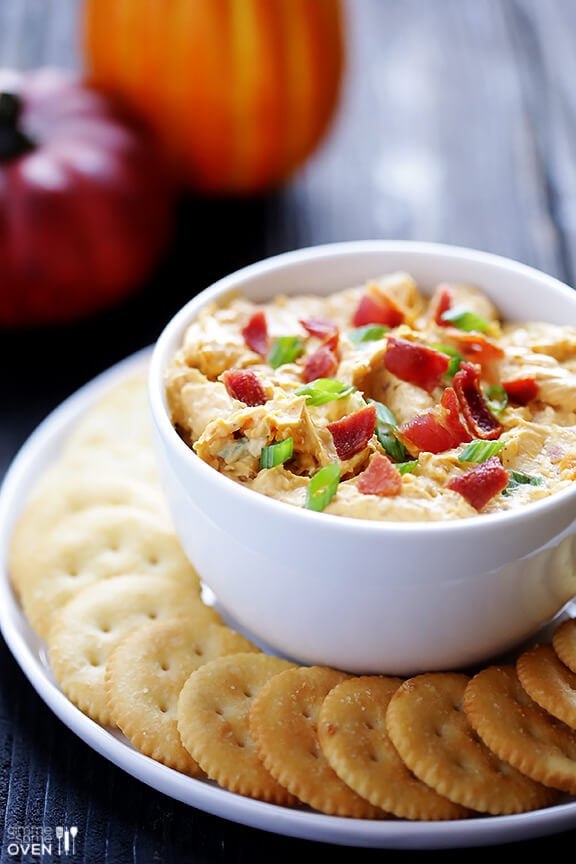 When I saw the ingredient list was full of cream cheese, green onions, pecans and lots of bacon, I was pretty much instantly sold.  Plus I randomly had all of the ingredients on hand, along with my total impulse buy of the week — Ritz crackers.
(Sidenote: Had not bought Ritz crackers in about a decade, but after hearing Amanda talk about their supremacy over graham crackers in making s'mores, I was dying to pick up a box.  And now, I totally can't stop eating them.  Best.  Cracker.  Ever.)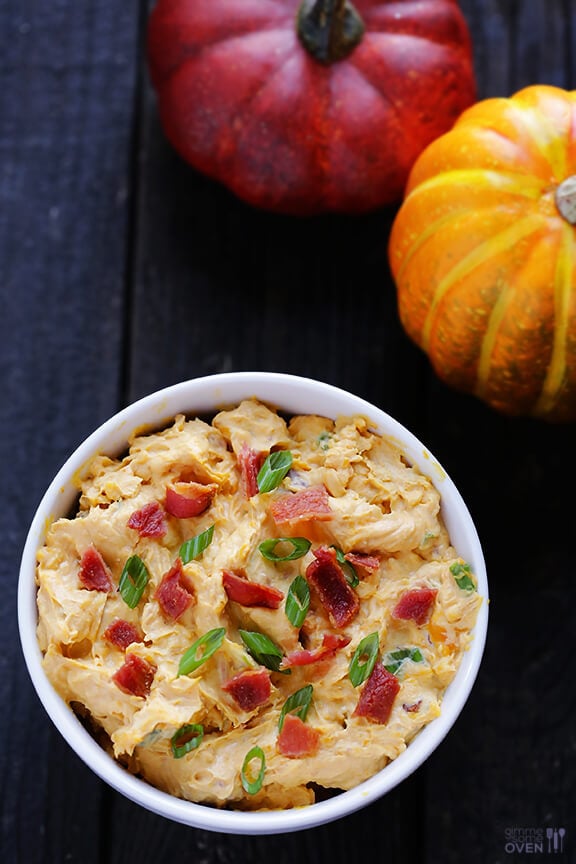 So with all of my ingredients and Ritz ready to go, I was able to whip up this dip in about the amount of time it took to cook the bacon.  So quick and easy!
I did end up making a few changes from Matt's recipe.  His called for pumpkin butter, which I didn't have onhand and didn't have the patience to make.  So I just substituted in some pumpkin puree and a pinch of cinnamon, which was terrific.  And then I couldn't resist throwing in a little cheddar cheese and seasoned salt — two of my favorite dip ingredients.  :)
Sure enough, the dip was a hit!  I ended up taking it to two parties for taste-testing, and everyone gave it the big thumbs up and it quickly disappeared.  Most of my friends initially couldn't put their finger on the main ingredient, as the pumpkin flavor is pretty subtle.  But I liked how it wasn't overpowering, and instead just gave a nice rich undertone to the dip.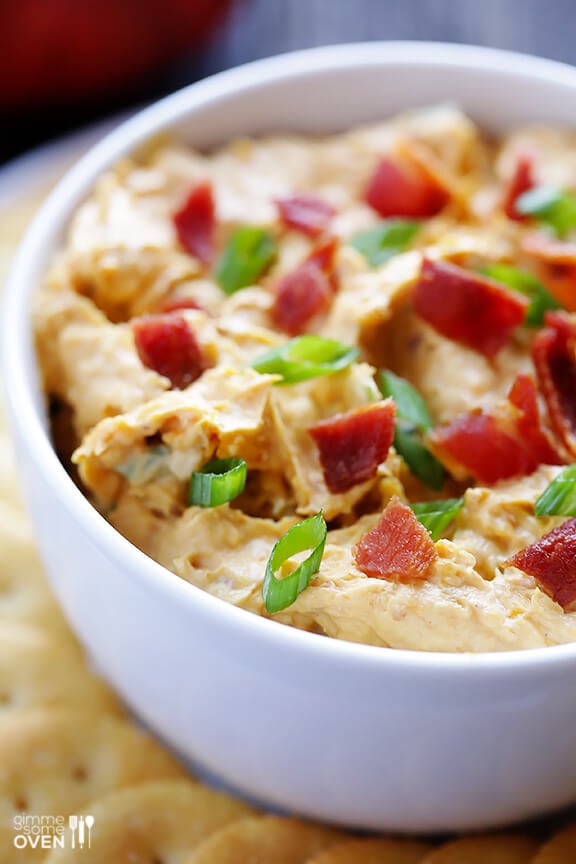 Definitely a new savory pumpkin recipe that will go into my rotation.  Perfect for game day, a quick appetizer, or even just a delicious snack.
Thanks, Matt!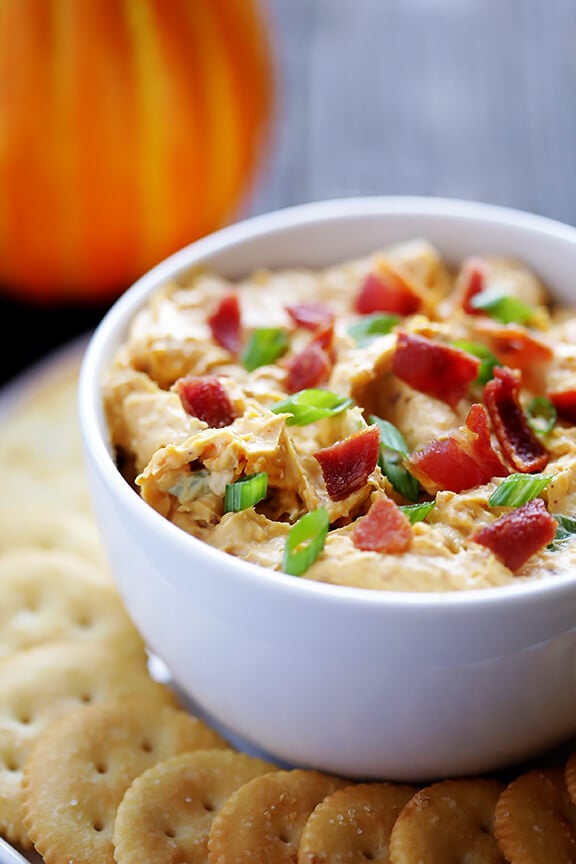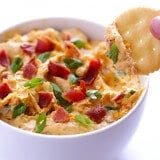 Savory Pumpkin Dip
Everyone will love this delicious and simple savory pumpkin dip — perfect for all kinds of dipping!
Ingredients:
1 (8 oz.) brick cream cheese, softened (I used low-fat cream cheese)
1/2 cup shredded cheddar cheese
1/2 cup pumpkin puree
1/4 cup chopped toasted pecans
4-6 slices of bacon, cooked until crispy and crumbled
3 green onions, thinly sliced
1/2 tsp. seasoned salt
1/4 tsp. ground cinnamon
Directions:
Stir all ingredients together using a wooden spoon or an electric mixer until combined.  Serve garnished with extra bacon and green onions if desired, or cover and refrigerate until use.
All images and text ©
If you make this recipe, be sure to snap a photo and hashtag it #gimmesomeoven. I'd love to see what you cook!