Game Day Recipes
This post may contain affiliate links. Please read my disclosure policy.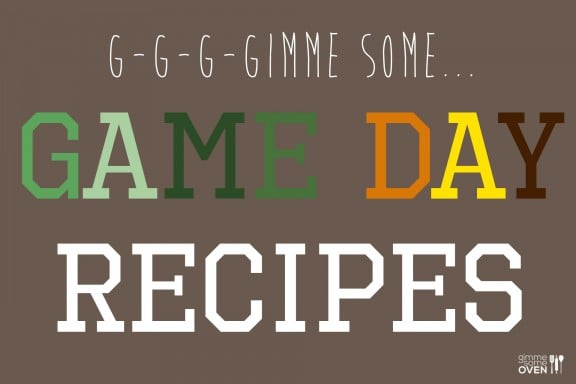 I admit that I have never been the biggest sports fan. And I probably never will be a huge sports fan. But if there's a party where I can hang with good friends and eat some good food…
I'm THERE. :)
And I'm more than happy to bring along one of my favorite game day recipes to share!
So if you are looking for some great Superbowl recipes, some appetizers for the Final Four, or just some yummy tailgating snacks, any of these game day recipes definitely will make cheering on your favorite team all the more delicious!! Below, I have listed some game day appetizer, cookie, dessert, dip and pizza recipe roundups. But you can check out a full list of recipes on our game day recipe page (under our new recipe index, which is still being updated after our recent site redesign!).
Also, be sure to check out the links below for tons of other amazing game day and Super Bowl recipes from some of my favorite bloggers! So much great food and good times ahead!
What are your favorite game day recipes? And who are you cheering for this season??

Game Day Bite Sized Appetizers Recipes: (Clockwise from top left) Easy Meatballs, Black Bean & Mango Salsa Cups, Baked Mexican Mozzarella Cheese Sticks, Blue Cheese Stuffed Bacon-Wrapped Dates, Saucy Asian Meatballs, Guacamole Cups, Chipotle Chicken Cups, Cranberry Pistachio Energy Bites, Stuffed Mushrooms with Blue Cheese & Sun-Dried Tomato Pesto, Easy Pizza Cups, Football Bites,  Easy Pesto Stuffed Mushrooms

Game Day Cookie Recipes: (Clockwise from top left) Salted Dark Chocolate Peanut Butter Cookies, Biscoff Blossoms (Kiss Cookies), 3-Ingredient Peanut Butter Cookies, Oreo Doodles (Oreo-Crusted Chocolate Cookies), Pumpkin Whoopie Pies, S'mores No Bake Cookies, Granola M&M Cookies, Mini Oatmeal Creme Pies, Apple-Doodles (Apple Snickerdoodles), Salted Caramel Chocolate Cookies, Caramel Pear Cookies, Cranberry Bliss Cookies


Game Day Dessert Recipes: (Clockwise from top left) Mexican Spiced Dark Chocolate Tarts, Biscoff Pie, Cake Batter No-Bake Cheesecakes, Flourless Chocolate Cake, Favorite Vanilla Cupcakes, Cannoli Cups, No Bake Energy Bites, Key Lime Tartlets, Chocolate Cupcakes with Peanut Butter Cookie Dough "Frosting", Cherry Limeade Cheesecake, Chocolate Biscoff Whoopie Pies, Vegan Brownies

Game Day Dip Recipes: (Clockwise from top left) Skinny Buffalo Chicken Dip, Lighter French Onion Dip, Espinaca Con Queso (Spinach Cheese Dip), Cocoa Chipotle Salsa, Roasted Garlic, Rosemary & White Bean Hummus, Classic Hummus, Black Bean Hummus, Perfect Guacamole, Roasted Red Pepper & Feta Hummus, Ginger Wasabi Edamame Hummus, Tabbouleh, Spinach Artichoke Dip

Game Day Pizza Recipes: (Clockwise from top left) Chicken Enchilada Pizza, Pear, Prosciutto, Arugula & Gorgonzola Pizza, Stuffed Caprese Bites, Roasted Garlic Chicken Pizza, Butternut, Bacon, Spinach & Feta Pizza, Hawaiian Pita Pizzas, Heirloom Tomato, Arugula & Goat Cheese Pizza, Easy Pizza Cups, Caprese Pizza, Shrimp Fra Diavolo Pizza, Flag Fruit Pizza, Spinach Artichoke Chicken Pizza
This page contains affiliate links.