Skinny Pumpkin Pie Milkshakes
All of the great flavors of pumpkin pie come together in these healthy Skinny Pumpkin Pie Milkshakes!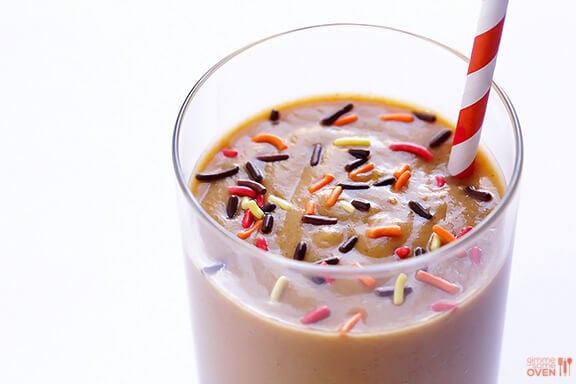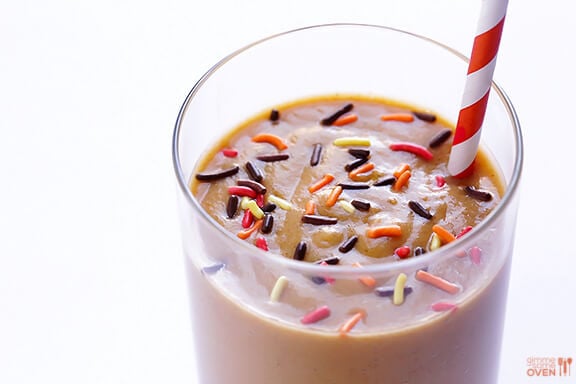 This week was supposed to be my epic Get-Caught-Up-On-All-Matters-Of-Life-And-Blogging-And-Feel-On-TOP-Of-Things-Again week.
I had grand lists made up this past Monday for everything from laundry to developing zillions of recipes to conquering my inbox to registering my car tags and everything else that has found its way to my to-do list this past month.
And people, I don't know how this happens to me, but I'd say pretty much 20% of everything I wanted to do actually got done.  Which means about 80% did not.  Gah.  How does that happen?  It was definitely a great week, but not the fabulously productive one in the ways that I was hoping.
Still, there were a few sweet moments of surprise this week that are worth noting:
1) I found out that the Thanksgiving line of Hallmark cards was released.  So I dropped everything (hence, the lack of productiveness) to run to the store to see for myself.  Sure enough, my little hopes came true — my dog is now on a Hallmark Card!!!  I'm so proud of my little guy!
2) Speaking of Hallmark, I was back in this past week to work on a food shoot.  But instead of food styling on my own like usual, I had the chance to assist a pro food stylist, which was awesome!!!  I have been dabbling some in studio food styling this last year, but my role has been nearly all self-taught.  So it was extra sweet to finally get to work under someone and ask a zillion questions and learn some more secrets.  And use a blow torch.
3) Had no idea that season two of The Mindy Project was premiering this week.  She rocked her new short hair cut!
4) I decided that I am finally learning to like eggplant.  Especially when it is roasted and pureed in a dip.
5) And this delicious "skinny" pumpkin pie milkshake was born!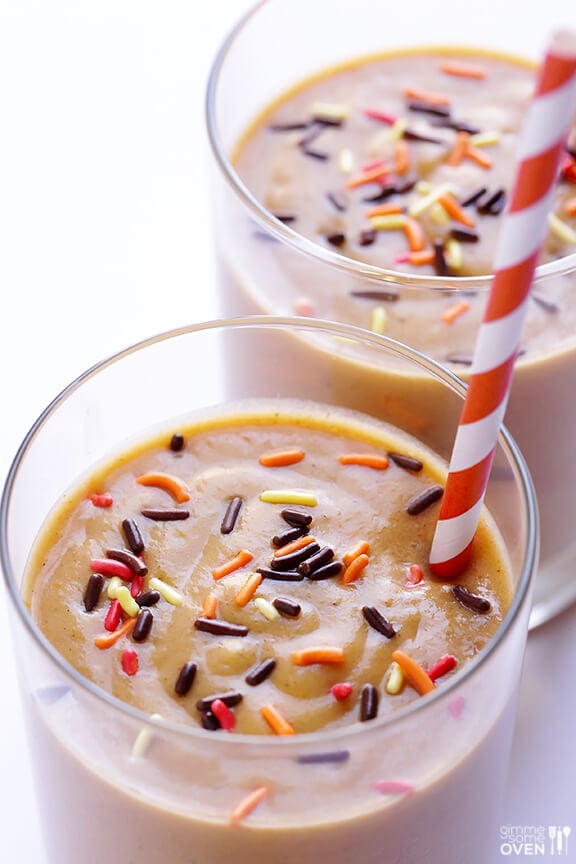 Actually, I was planning to make a homemade pumpkin spice latte instead this week.  But when the temps soared back into the 90s again, I decided to go for a frozen treat instead.
Our family grew up obsessed with making homemade milkshakes, but they almost always involved scoops upon scoops of ice cream.  I'm totally down with that some days.  But I thought it would be fun to experiment with a "skinny" milkshake instead.  I happened to have almond milk and Greek yogurt in the fridge.  So I combined those with some pumpkin puree, pumpkin pie spices and vanilla.  And then blended in some frozen banana and ice cubes for thickness.  And voila!
This Skinny Pumpkin Pie Milkshake was born!  It might be more accurately classified as a smoothie.  But there's a lot of tasty milk in there.  So I vote we call it a healthy milkshake.  ;)
Perfect for fall, perfect for a healthy sweet tooth craving, and perfect for crazy-wonderful-unpredictable weeks.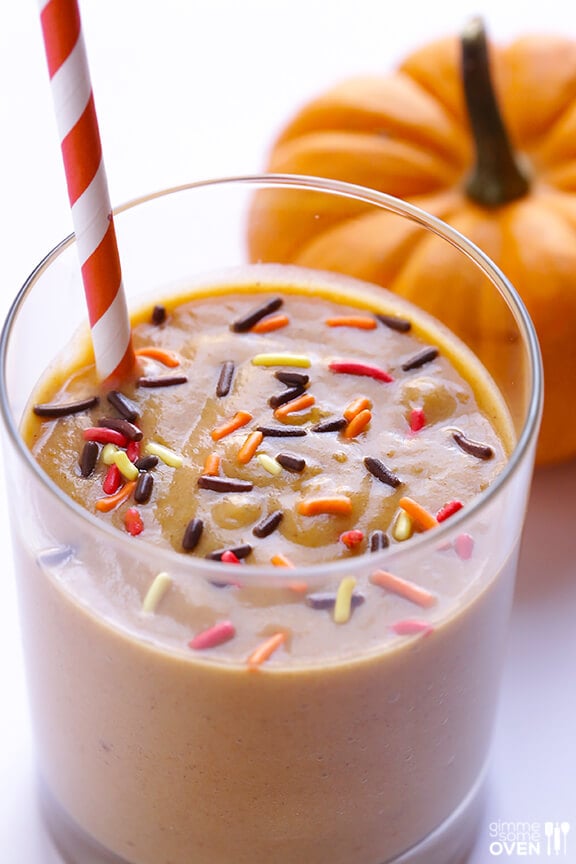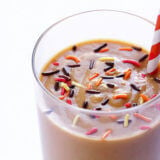 Skinny Pumpkin Pie Milkshakes
All of the goodness of pumpkin pie in a skinny milkshake!
Ingredients:
1 cup lowfat milk (or almond or soy milk)
1/2 cup plain lowfat Greek yogurt
1/2 cup pumpkin puree
1 ripe banana, cut into chunks and frozen
1 Tbsp. honey
1 tsp. pumpkin pie spice
1/2 tsp. ground cinnamon
1/2 tsp. vanilla extract, store-bought or homemade
1/2-1 cup ice cubes
Directions:
Pulse all ingredients together in a blender until smooth.  Add extra ice cubes if desired.
All images and text ©
If you make this recipe, be sure to snap a photo and hashtag it #gimmesomeoven. I'd love to see what you cook!