Strawberry Lemonade Cupcakes With Fresh Strawberry Buttercream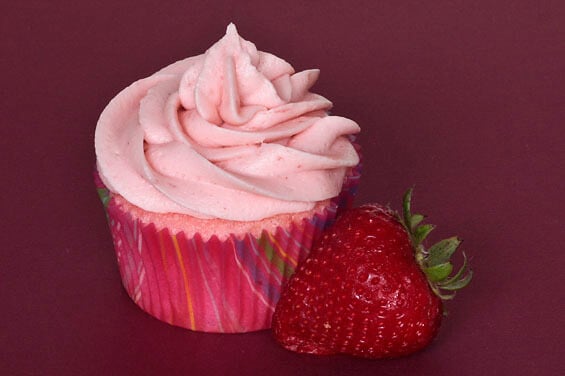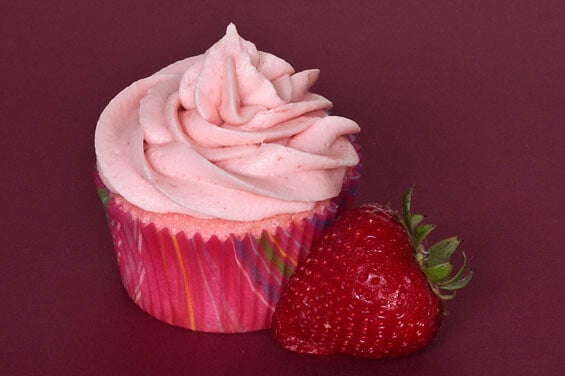 And….voila!  Here is the final recipe from the Cupcake-A-Thon!
In addition to being "pretty in pink" (love those cute wrappers!), these strawberry lemonade cupcakes turned out to be oh-so-berry delicious.  The cupcakes were perfectly light and moist, with a great balance of the sweet strawberries and oh-so-slight tang of the lemon juice.  But the fresh strawberry buttercream was what had everyone at the concert talking.  They loved it!!  And I'm still getting emails for the recipe…so I suppose that's a good sign.  :)
So in summary, here are the three cupcake recipes from the evening!  I hope you enjoy them!
Strawberry Lemonade Cupcakes with Fresh Strawberry Buttercream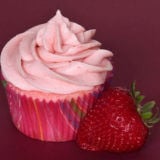 Strawberry Lemonade Cupcakes With Fresh Strawberry Buttercream
You will love this easy, quick, super-moist strawberry lemonade cupcakes recipe! Includes directions on how to prepare a fresh strawberry buttercream frosting.
Ingredients:
1 (18.25 oz.) strawberry cake mix
3/4 cup buttermilk
1/2 cup vegetable or canola oil
1/4 cup (4 Tbsp.) lemon juice
4 eggs
Frosting Ingredients:
1/2 cup (1 stick) butter, softened
1/4 cup pureed strawberries (made from fresh or frozen strawberries)
1 tsp. lemon juice
1 tsp. vanilla extract, store-bought or homemade
3 – 4 cups powdered sugar (adjust to achieve desired consistency)
Directions:
Preheat the oven to 350 degrees. Line 24 muffin cups with paper liners.

Add the cake mix, buttermilk, oil and lemon juice to a large mixing bowl. Beat with an electric mixer on low to medium speed until moistened, about 30 seconds. Add eggs one at a time, until the batter is well-mixed. Increase speed to high and beat until thick and fluffy, 2 minutes longer.

Pour or scoop the batter into the paper liners until they are 2/3 full. Bake for 15-20 minutes, or until a toothpick inserted in the middle comes out clean. Remove from oven and let cupcakes cool on a wire rack.
To Make Frosting:
Cream butter in an electric mixer on medium-speed until smooth and fluffy, about 2-3 minutes. Then add in the strawberries, vanilla and lemon juice, and mix on low-speed until combined. Gradually add in the powdered sugar and mix until combined. Then beat on medium speed until light and fluffy, another 3-5 minutes. (Add in more powdered sugar if consistency is too thin.)

***To frost 24 cupcakes as I did (pictured above), I'd recommend making a double batch of the frosting. But if you're just spreading it on with a knife, one batch should be plenty! :)

If you make this recipe, be sure to snap a photo and hashtag it #gimmesomeoven. I'd love to see what you cook!
Ali's Tip:
I used the Wilton 1M tip to frost these, and the cupcake wrappers are Wilton "Snappy Stripes".  My local Jo-Ann carries them, or you can purchase them online.