Tortellini Soup with Italian Sausage, Spinach and Tomatoes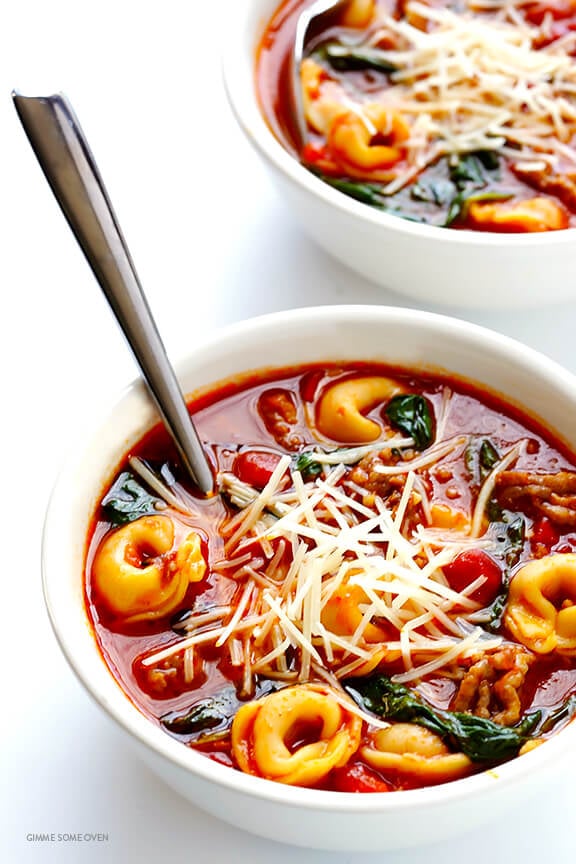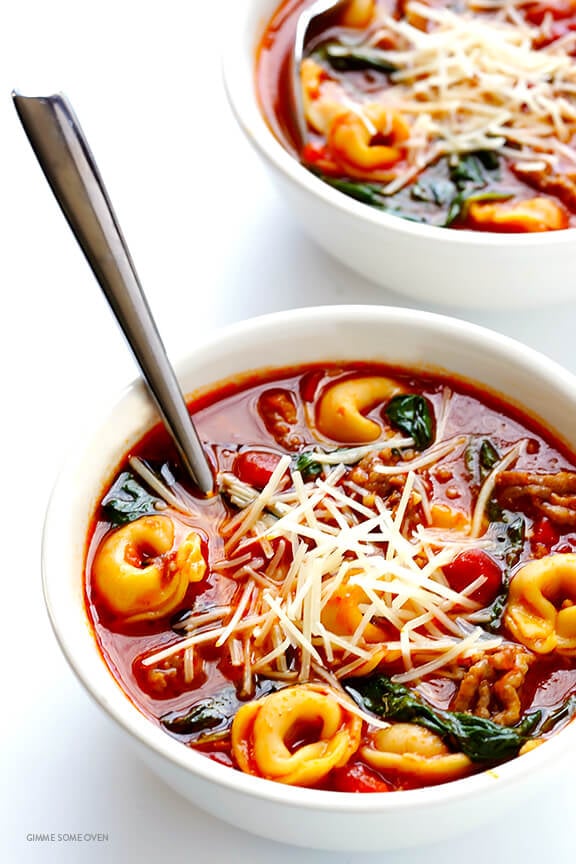 You know those weekends that are so deeply refreshing and restoring and wonderfully "re-creational" that they leave you waking up on Monday morning actually excited that it's Monday morning?? 
Yep, this weekend was all of the re's.
After just getting back from 2 weeks away visiting my old host family in Costa Rica (more stories from that trip to come!), it was tempting to stay in and spend the whole weekend trying to catch up on my inbox and all things work-related this weekend.  But the second I stepped outside on Saturday morning and felt the warm sunshine against the crisp September air, there was no question that work could wait.  This beautiful weekend was made to be soaked up.  So I got to soaking.
From catching up with good friends over chips and salsa and margaritas (actually I did that twice this weekend – yeah!), to a really moving performance of music and photos shared from halfway around the world, to epic breakfast burritos shared with family in town, to a picnic in the park, to a late-night bonfire with whiskey and Reese's s'mores, to a beautiful morning singing in church, to a relaxing Sunday afternoon spent snuggled up on the couch with the sun shining in, to a lovely homemade dinner shared with people I adore, to wrapping the weekend up by planning two upcoming vacations this fall to North Carolina and D.C. — I mean, wow — I feel like I won the weekend lottery with this one.  All the better when shared with so many people I love.
Anyway, I also spent Saturday afternoon doing a bit of "freezer" cooking for the week ahead, whipping up a batch of my favorite 5-Ingredient Easy White Chicken Chili to keep frozen in small batches for easy lunches.  And then for an Italian option, I also stirred up a batch of this delicious tortellini soup to enjoy and freeze for later.  It came together in less than 30 minutes, it was incredibly easy to make, and it was absolutely packed full of my favorite Italian flavors.
It's my Tortellini Soup with Italian Sausage, Spinach and Tomatoes.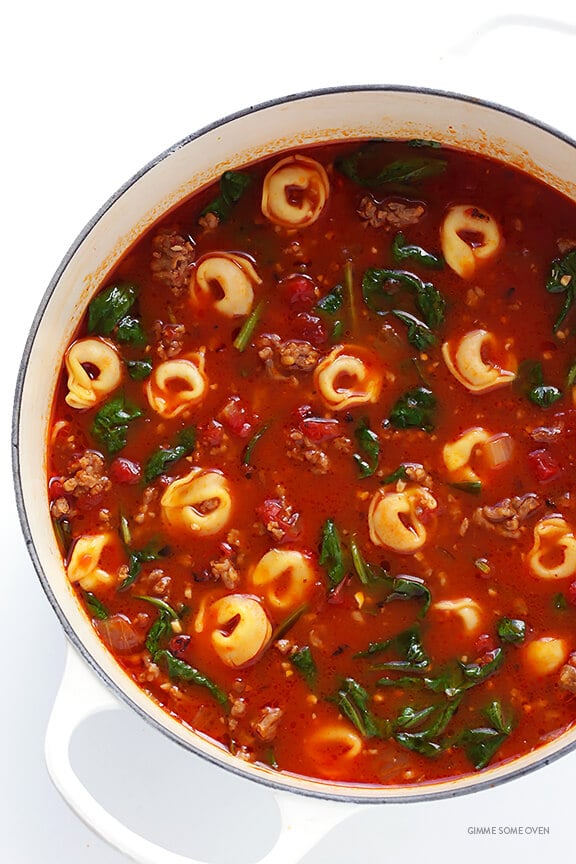 It's no secret that I'm a sucker for any soups involving pasta, spinach (or kale) and Italian sausage.  Usually I go the creamy route and make my 7-Ingredient Easy Zuppa Toscana Soup, inspired by that classic favorite at that Italian restaurant we all grew up with.  But for a slightly healthier twist, I also love going the tomato-based route.  And instead of potatoes or gnocchi or noodles, I can't resist tossing in everyone's favorite pasta soup ingredient — tortellini!!
Who doesn't love tortellini?!?
And hey, in a soup, those little tortellini are magical.  Instantly rich and chewy, full of delicious cheese (or whatever your desired filling may be), and ready to go in minutes.  I cooked up a bag of the dried tortellini that I always keep on hand from DeLallo, but you can also use the fresh or frozen tortellini that you can buy at your local grocery store.  Any tortellini will be delicious.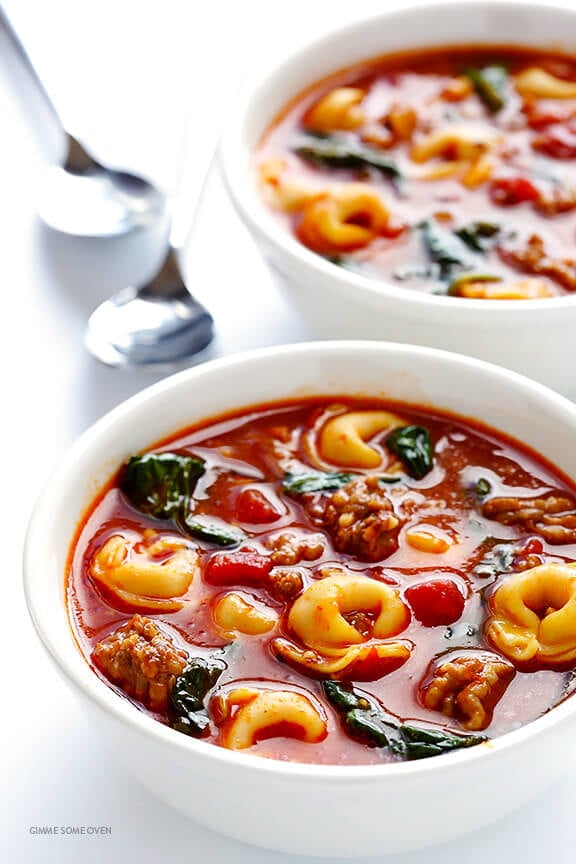 Then just brown your Italian sausage, whip up a simple tomato soup base, stir in your tortellini with some fresh spinach…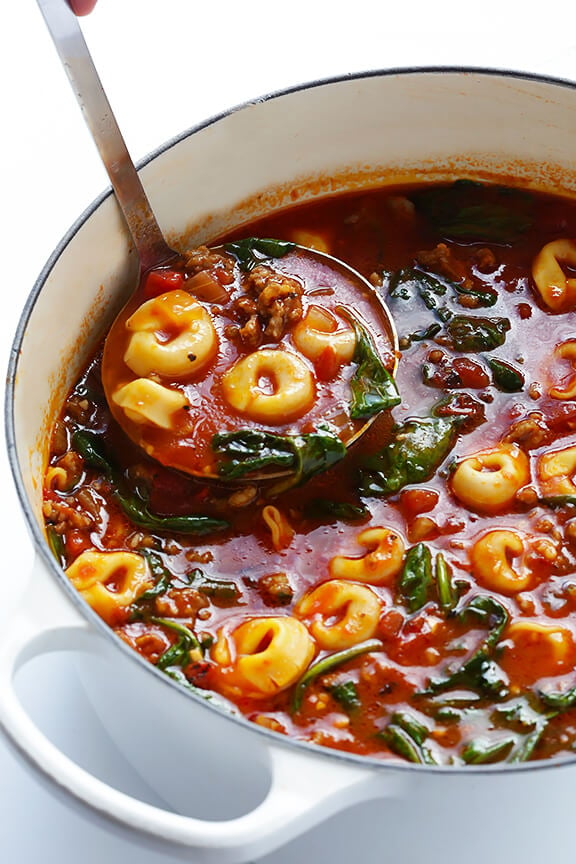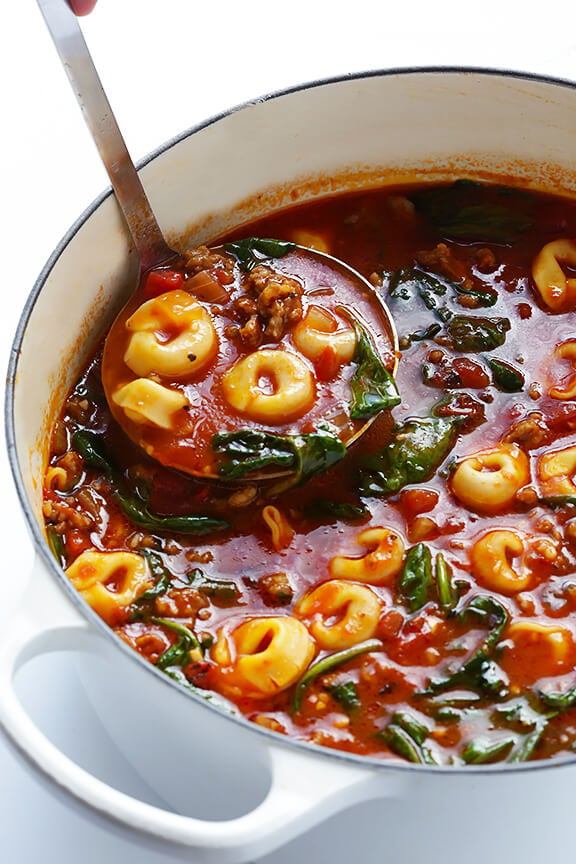 …and in less than 30 minutes, a steaming pot of soup will be ready to serve.  Or, if you're busy weekend-ing like I was, you can also freeze it for later.  Either way, this classic soup is sure to hit the spot.
Hope that you enjoy it, and I wish you all a week ahead full of all the re's as well!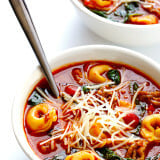 Tortellini Soup with Italian Sausage, Spinach and Tomatoes
This tortellini soup recipe is quick and easy to make, and it's made all the more delicious with Italian sausage, spinach and fire-roasted tomatoes.
Ingredients:
1 pound ground hot Italian sausage
1 tablespoon olive oil
1 cup diced white onion (about 1 small white onion)
5 cloves garlic, minced
1 (28-ounce) can fire-roasted crushed tomatoes
6 cups chicken or vegetable stock
1/4 cup roughly-chopped fresh basil leaves, loosely-packed
1 teaspoon salt
1/2 teaspoon black pepper
1 package (about 1 pound) tortellini, refrigerated or frozen (*or 1 package of dried tortellini cooked according to package instructions)
2 cups fresh baby spinach, packed
freshly-grated Parmesan cheese, for serving
Directions:
Cook the Italian sausage in a large stockpot over medium-high heat until browned, breaking the sausage up and stirring it with a long spoon while cooking.  Drain off any excess grease, then transfer the sausage to a separate plate and set aside.
Return the stockpot to the heat and add the olive oil.  Add the white onion and saute for 5 minutes, or until the onion is soft and translucent, stirring occasionally.  Add the garlic and cook for an additional 1 minute, or until fragrant, stirring occasionally.  Add the crushed tomatoes, stock, basil, salt, pepper, and the cooked Italian sausage to the pot, and stir to combine.  Continue cooking until the mixture reaches a simmer.  Add in the tortellini and baby spinach, and let the soup continue to simmer (reducing heat to medium-low if it starts to boil) until the tortellini is cooked through, stirring occasionally.  (This will take a few minutes longer if the tortellini was frozen.)  Taste and season with extra salt and pepper if needed.
Serve warm, garnished with Parmesan cheese if desired.
All images and text ©
If you make this recipe, be sure to snap a photo and hashtag it #gimmesomeoven. I'd love to see what you cook!