5-Ingredient Broccoli Cheese Soup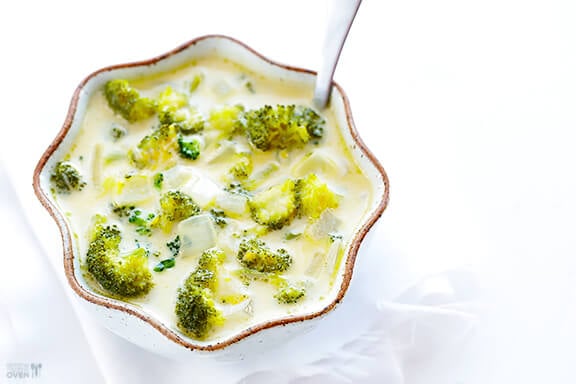 We've reached the end of 5-Ingredient Soup Week here at Gimme Some Oven.  And let me tell you, it has been delicious!
In case you missed it, we ladled up some black bean soup, potato soup, easy chili, and tomato soup, all made of course with just 5 tasty ingredients each.  But today we conclude the series with a creamy and healthier take on a classic — 5-Ingredient Broccoli Cheese Soup.
I have to admit that I only recently developed a taste for this classic, having avoided it for years due to copious amounts of Velveeta and a not-so-fondness for broccoli.  But this recipe is happily processed-cheese-free (just use regular cheddar!).  And I'm slowly coming around on learning to like those little trees in my soup.  I also included one of my healthier tricks for making the soup creamy, so read below to learn the magic five ingredients for this recipe!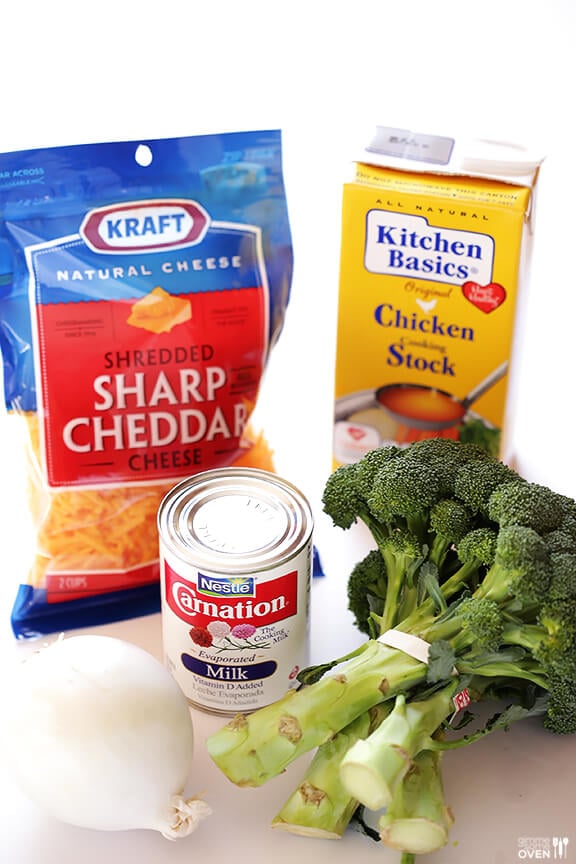 Ok, ok, actually the ingredients for this 5-ingredient broccoli cheese soup are pretty straightforward.  You need:
broccoli (fresh or frozen)
a small onion
evaporated milk (my favorite healthier alternative to heavy cream)
chicken stock (or vegetable stock to make this vegetarian)
cheddar cheese (I recommend using sharp for more flavor.  Also, some brands of pre-shredded cheddar cheese melt more easily than others.  To play it safe, I actually recommend buying a block of cheddar and shredding it yourself.  But I do find that Kraft's shredded cheddar melts well consistently.)
Annnnd, I must also request that you use a few generous pinches of salt and pepper.  Depending on the kind of cheddar cheese that you use, this soup may need more/less salt.  And if you really want to go beyond 5 ingredients, I also recommend adding in some Italian seasoning or Cajun seasoning to the mix.  But the soup also tastes great just with the straightforward 5 ingredients.
Anyway, the 5-ingredient version of this recipe really couldn't be easier.  You literally toss all five ingredients together in a saucepan…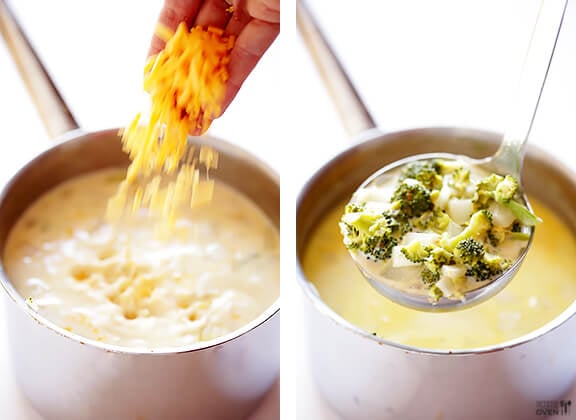 …and slowly bring them to a simmer (not a boil), and cook until the onions are soft.  Then this delicious soup is ready to go in no time.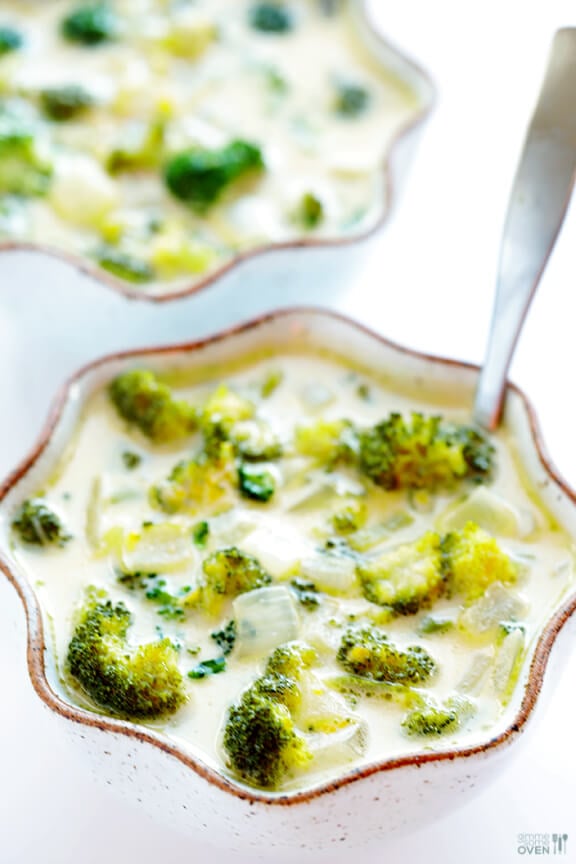 I was amazed at how those five simple ingredients really do provide plenty of flavor.  I will note that the soup is a little on the thin side.  So if you want to thicken it, you are welcome to create a roux beforehand by heating 1 tablespoon each of butter and flour together in the saucepan, and stirring them for a minute until the flour is cooked and slightly golden.  Then whisk in the chicken stock, and then add in the remaining ingredients and follow the recipe as indicated.  If you prefer a pureed broccoli cheese soup instead of chunky, feel free to blend it using an immersion or traditional blender.
Other than that, this recipe is pretty straightforward.  And if I do say so myself, it's delicious!!
Thanks for tuning in for a week of so many soup recipes.  We'll move onto another culinary topic next week, I promise!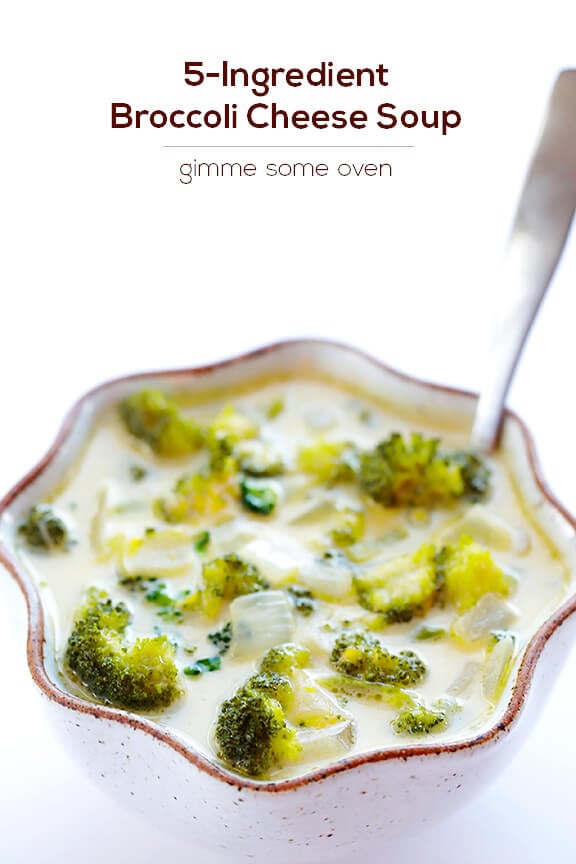 ***UPDATE: Directions have been edited since the initial posting.  A number of readers were having problems with the soup curdling.  I re-tested the recipe a handful of times, and never had my cheese curdle.  But this updated method should be more foolproof, just stirring the cheese in at the very end off the heat.
How To Cut Broccoli | 1-Minute Video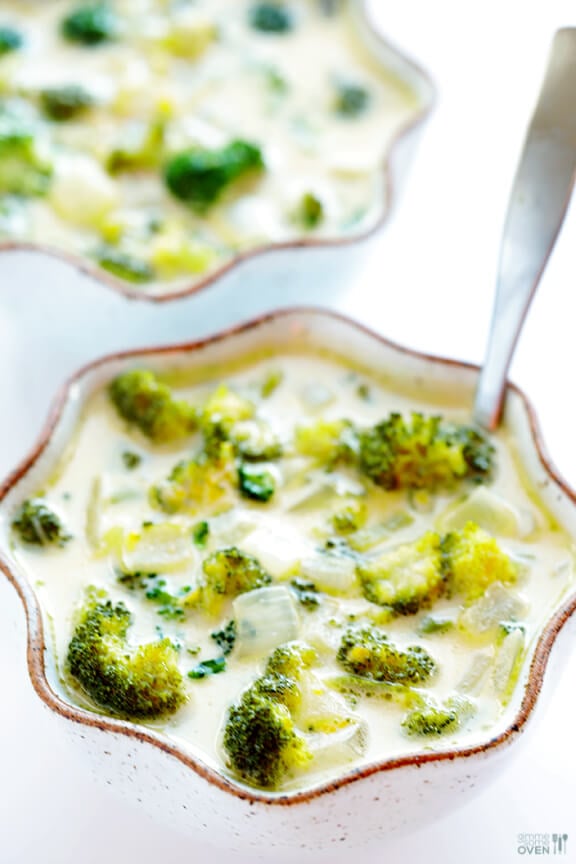 5-Ingredient Broccoli Cheese Soup
This easy 5-ingredient easy broccoli cheese soup recipe is so tasty!!
Ingredients:
3 cups chicken or vegetable stock
2 cups chopped broccoli florets, fresh or frozen
1 small white onion, diced (about 1 cup)
1 (15 oz.) can evaporated milk
2 cups shredded sharp cheddar cheese (**see note below**)
plus a few generous pinches of salt and black pepper
(optional: a few generous pinches of Italian seasoning or Cajun seasoning)
Directions:
Stir together stock, diced onion and broccoli in a medium saucepan. Heat over medium heat until it comes to a low boil. Reduce heat to medium and continue boiling for about 5 minutes, or until the onions are tender. Stir in the evaporated milk and continue cooking for 3 minutes or until the mixture returns to a simmer. Remove from heat and stir in the cheese until melted.
Season soup with salt and pepper to taste.
Serve warm.
**As I said above, some brands of shredded cheese melt more easily than others. To play it safe, I recommend buying a block of cheddar and shredding it yourself just before adding in the cheese. But I used Kraft brand for this recipe, and it melted perfectly!**
All images and text ©
If you make this recipe, be sure to snap a photo and hashtag it #gimmesomeoven. I'd love to see what you cook!
Be sure to check out my other 5-ingredient soup recipes too!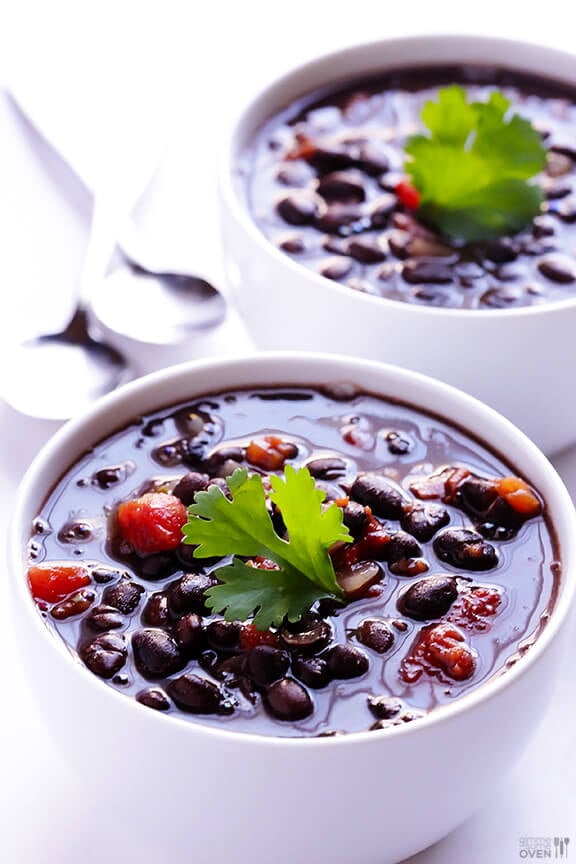 5-Ingredient Black Bean Soup Recipe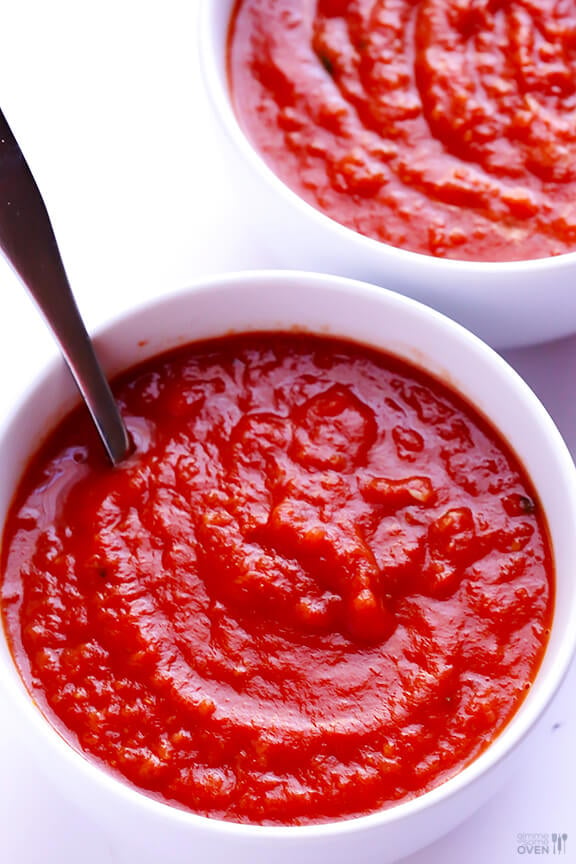 5-Ingredient Tomato Soup Recipe