Asian Broccoli Salad with Peanut Sauce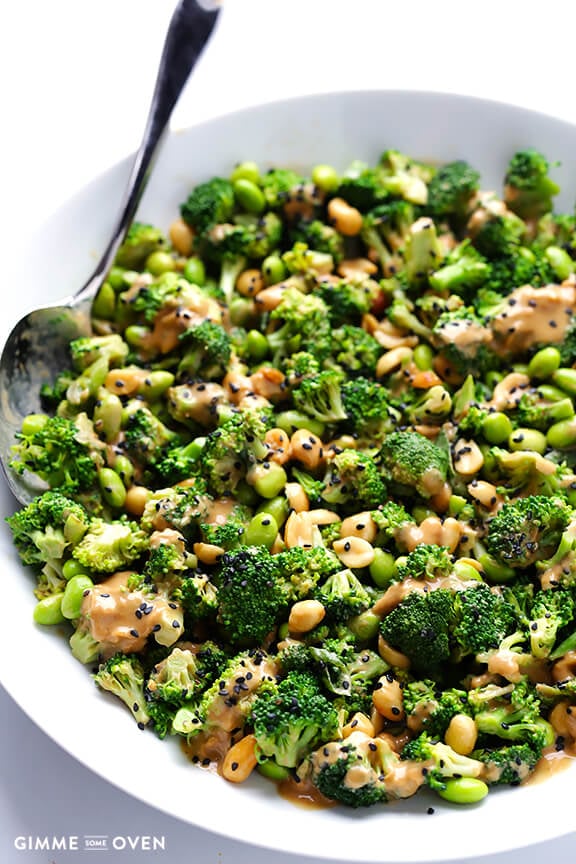 I am on a mission to learn to like broccoli.
And I'd say that I'm about 47% of the way there.
I spent a childhood pushing it around on my plate with a fork, pretending like those "little trees" were part of some enchanted forest that could come to life on my plate instead of in my stomach.  But a few years ago, I discovered that I actually liked broccoli cheese soup (ok, really, who doesn't?).  And I have been using that recipe as my gateway into broccoli ever since.
I still would never just choose broccoli off a menu.  But if it's roasted, stir-fried, or souped up, I'm in.  And this week, when I needed an extra side dish to go with my favorite slow cooker teriyaki chicken and rice, I discovered a new way that broccoli and I can be friends: with peanut sauce.
Oh my goodness.  This might be the first time I have ever gone back for broccoli seconds.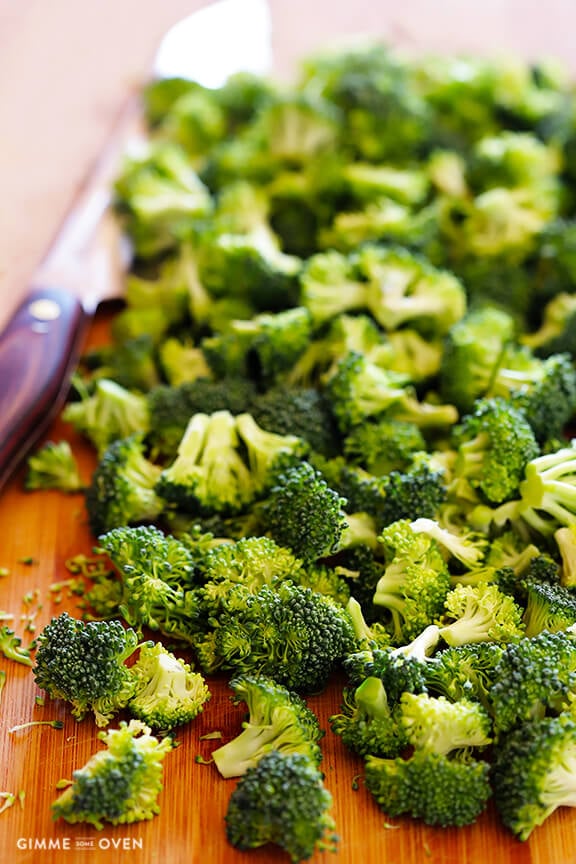 Speaking of not liking your vegetables, one of my blogging friends is famous for not liking her veggies — Jessica from How Sweet Eats.  Some of you may have read all about her in my post featuring her new cookbook.  But if you are new to her blog, you will soon find out that Jessica is getting ready to welcome a How Sweet Baby into her world this fall!  I can already envision the nursery now, decorated with her favorite sprinkles and neon and bacon (eh?) galore.  :)
Seriously, though, it's so fun to see friends walk into this new stage of life.  And this sweet new baby will be lucky to have such a cool, talented, thoughtful, fun, and fiercely-original mama cheering them on.
So today, a group of talented food bloggers are throwing Jessica a surprise virtual baby shower, full of the "trashed up" recipes that she loves.  And my contribution is this Asian Broccoli Salad.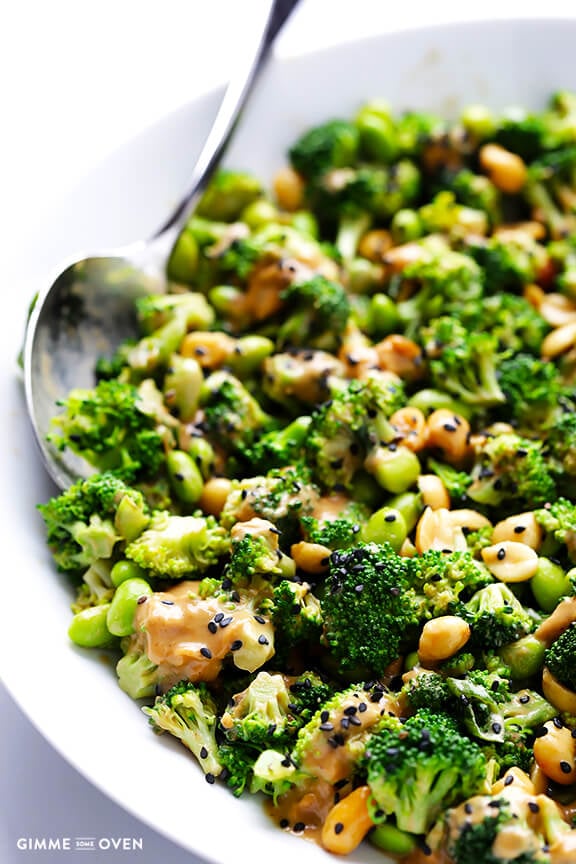 If we must eat our broccoli — and word has it that we must — I'm pretty sure that this salad is the way to go.  It is made with 6 simple ingredients, including an easy peanut sauce that is guaranteed to turn just about anything it touches into delicious gold.
PLUS, it can be made in about 15 minutes, or however long it takes your pot of water to boil.
Just chop up your broccoli, blanch it, and then toss it with edamame, peanuts, green onions, and a generous drizzle of peanut sauce.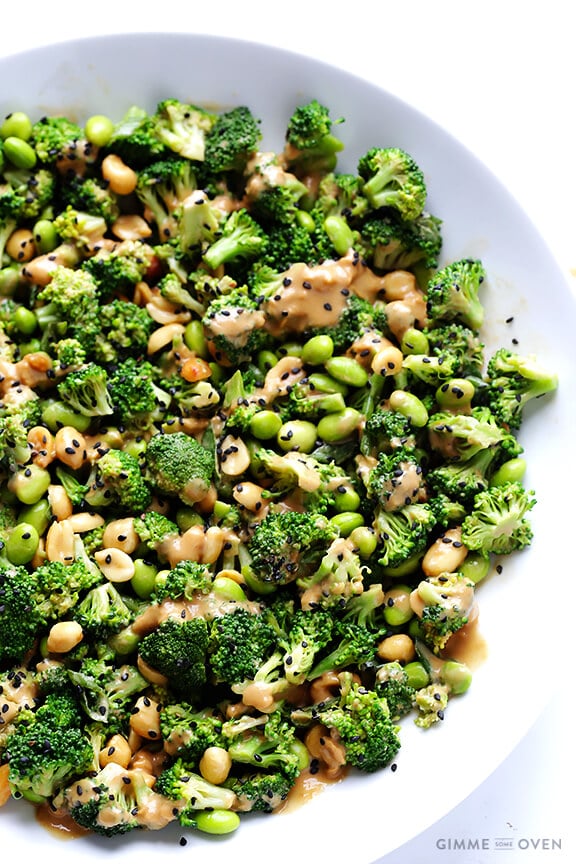 And then — Jessica-style — top it with some "sprinkles".  In this case, sesame seeds.  :)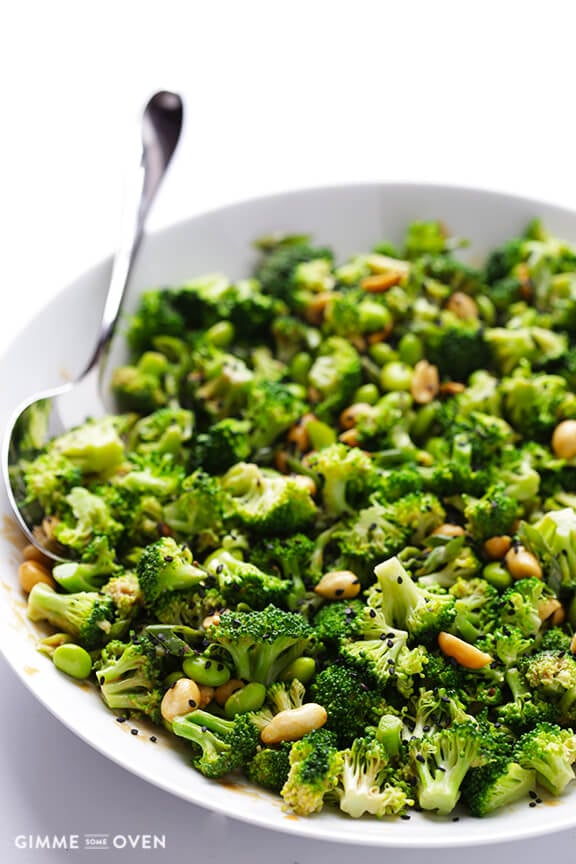 The result is a simple salad that makes the perfect side dish.  Or you can even add in some cooked chicken or beef or tofu to turn it into a main dish, and serve it over rice or quinoa.  Easy peasy.  Or more accurately, easy broccoli-y.  ;)
Happy baby shower, Jess!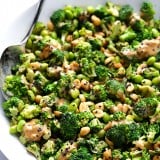 Asian Broccoli Salad with Peanut Sauce
This Asian Broccoli Salad recipe is made with fresh and simple ingredients, and topped with a delicious peanut sauce.
Ingredients:
Broccoli Salad Ingredients:
1 large head broccoli, cut into small florets
1 cup shelled cooked edamame
1/2 cup thinly-sliced green onions
1/2 cup peanuts
1 batch peanut sauce (recipe below)
sesame seeds, for garnish
Peanut Sauce Ingredients:
1/4 cup natural peanut butter
1 tablespoon rice vinegar
1 tablespoon soy sauce (if you are gluten-free, use GF soy sauce or tamari)
1 tablespoon honey or agave nectar
1/8 teaspoon toasted sesame oil
1-2 tablespoons hot water, as needed to thin the sauce
Directions:
To Make The Broccoli Salad:
Heat a large pot of water until it is boiling.  Add in the broccoli florets and boil for 30 seconds.  Use a mesh strainer to transfer them into a bowl of ice water, which will immediately halt the cooking process.  Drain.  Then add the remaining ingredients and toss until combined.  Serve immediately, garnished with sesame seeds if desired.
To Make The Peanut Sauce:
Whisk all ingredients together until combined. If the dressing is too thick, whisk in hot water a tablespoon at a time until it reaches the consistency you desire.
All images and text ©
If you make this recipe, be sure to snap a photo and hashtag it #gimmesomeoven. I'd love to see what you cook!
This post contains affiliate links.