Cashew Dark Chocolate Energy Bites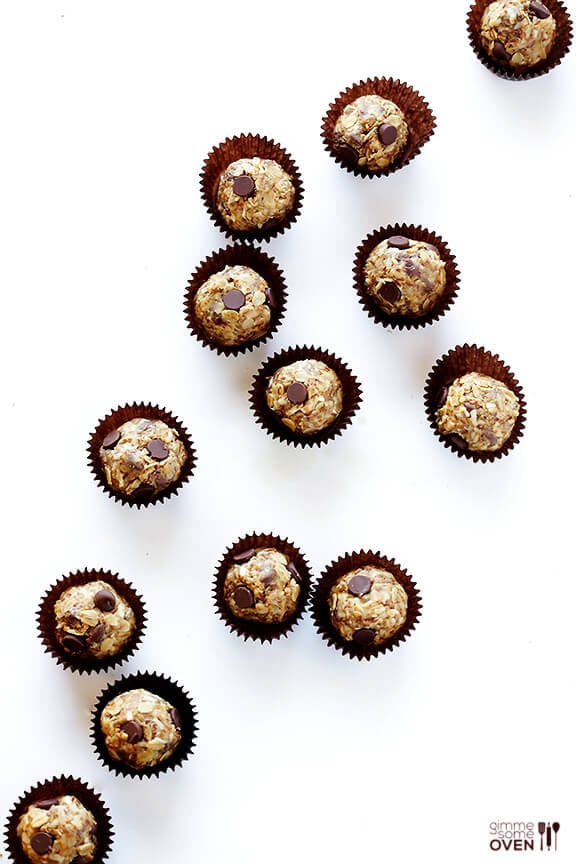 Time for a new no bake energy bites recipe!
This one's extra-special because I made it with my lovely mama.
Remember how I talked in my last post about my parents coming up for a visit last week?  Well, while Dad was making a cheesecake and helping wash 5.1 million dishes and tackling my to-do list, Mom was cooking up a bonafide storm with me in the kitchen.  We made all sorts of crazy things while she was here!  Nachos, blondies, salsas, coffee cakes — you know, just the normal use-every-dish-in-the-house-all-in-one-day life of a food blogger.
One of the first projects I had her tackle was rolling up some new Cashew Dark Chocolate Energy Bites that I had just whipped up.  She much prefers to turn my no bake energy bites recipes into granola bars (since she's told me on more than one occasion that "those little balls" aren't her favorite to roll up).  But since she was in sous-chef mode, she willingly rolled each of them up and even poked a few extra chocolate chips in the outside for extra credit to please her food-styling daughter.  (Don't they look great?!?)
And then we ate them.  :)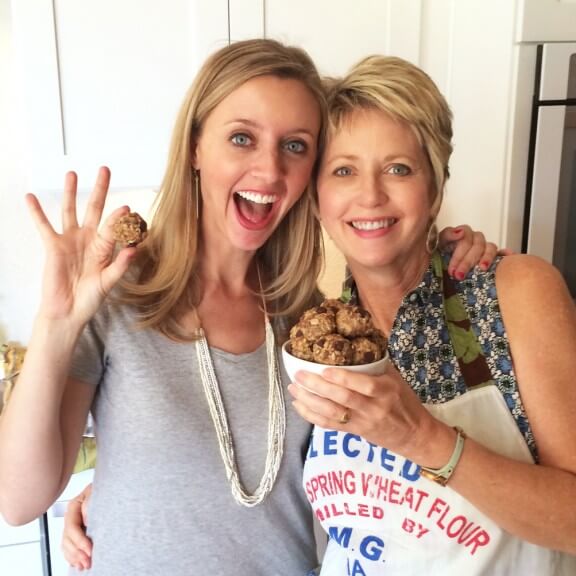 Actually, I should point out that Mom's the best cook in the family by a mile.  She not only had dinner on the table for us almost every night growing up (even while running her own full-time business), but she was also constantly whipping up sweets for dessert, and homemade sack lunches for us to take to school, and casseroles to take to friends in need, and whatever other culinary need might arise.  Then once my sister and I hit college, she would prepare little care packages full of chex mix and cookies and random little gifts to surprise us in the mailroom.  Even today, she still usually comes to town with some sort of goodies in tow.
(Hmmm, and people ask where I got my love of cooking?)
Sadly, I was always stayed busy with various activities as a teenager and didn't take the opportunity to learn from her in the kitchen.  But now we're making up for lost time, and really enjoy getting to cook together whenever we're in the same city.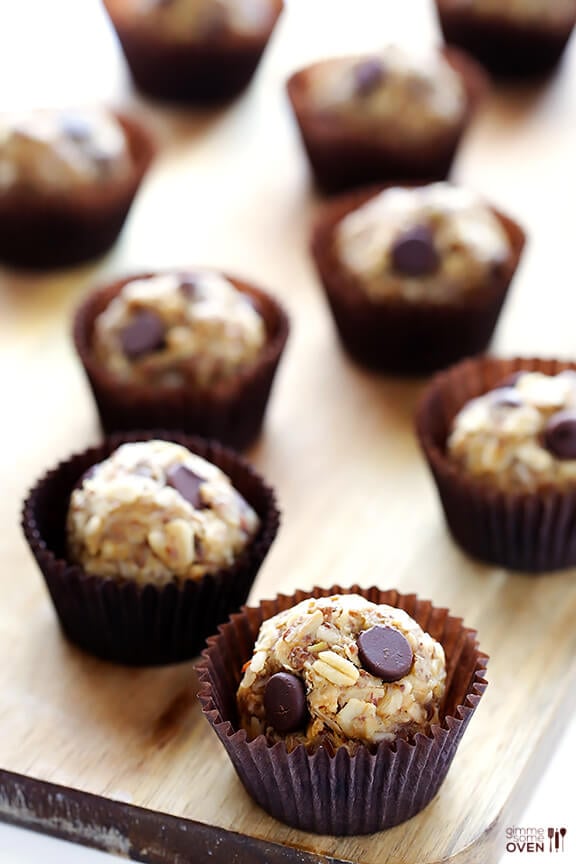 As I mentioned in my last post, she and my dad have been really generous these past few years with offering to come up to Kansas City for "work days", as they call them.  Basically they offer to help with whatever to-do lists I have around the house, which is SUCH an amazing gift.  And let me tell you, these two entrepreneurs are hard workers, so we always get an impressive amount of things done!  This month, though, my main to-do lists involved cooking recipes for various freelancing deadlines and a few other projects.  So, Mom promptly donned her apron (always her first order of business, which is always followed by a question about why I don't wear an apron), and we got to work.  :)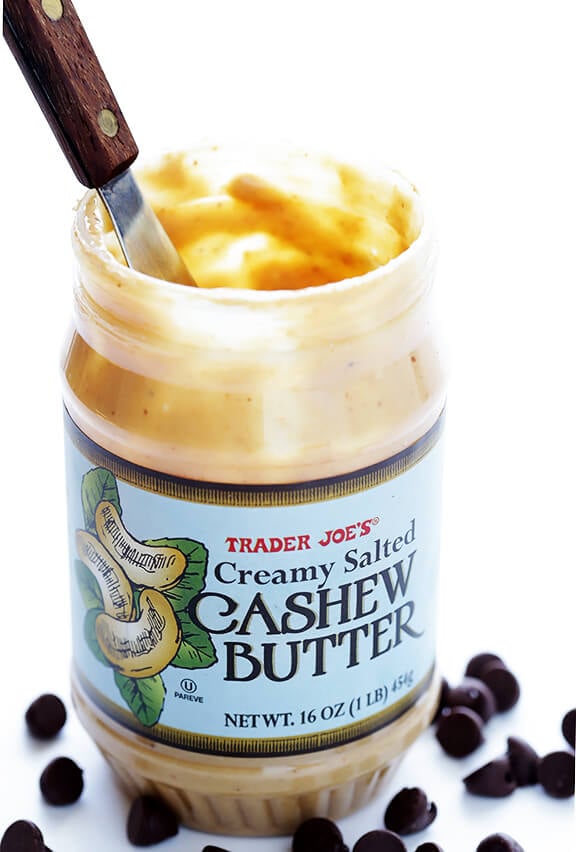 Somehow I accidentally deleted the photos on my camera of all of the ingredients laid out.  (Oops!)  But as you can guess from the title, the main two ingredients in this version of the no bake energy bites are delicious cashew butter and dark chocolate chips.
It was Mom's first time trying cashew butter, which she liked.  Although it was not her first time trying dark chocolate, which is kind of her favorite.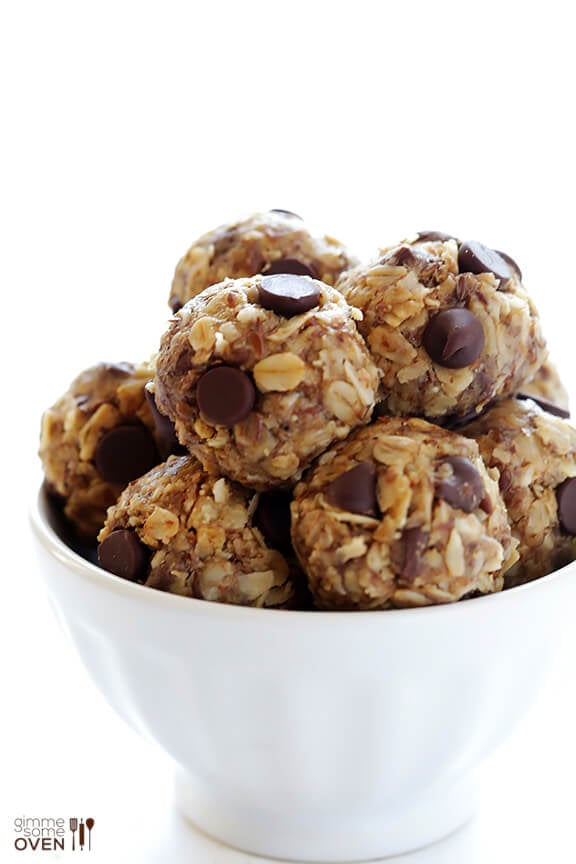 I had already mixed up the basic granola batter with old-fashioned oats (use GF oats if making these gluten-free), coconut, honey, flax seed, and a splash of vanilla.  Then Mom rolled them into little balls.
(And yes, if you want them to look extra cute and photogenic, just pop some chocolate chips in the side like you do for photogenic chocolate chip cookies.)
Just like the other no bake energy bites recipes on the blog, these little treats were ready to go in minutes.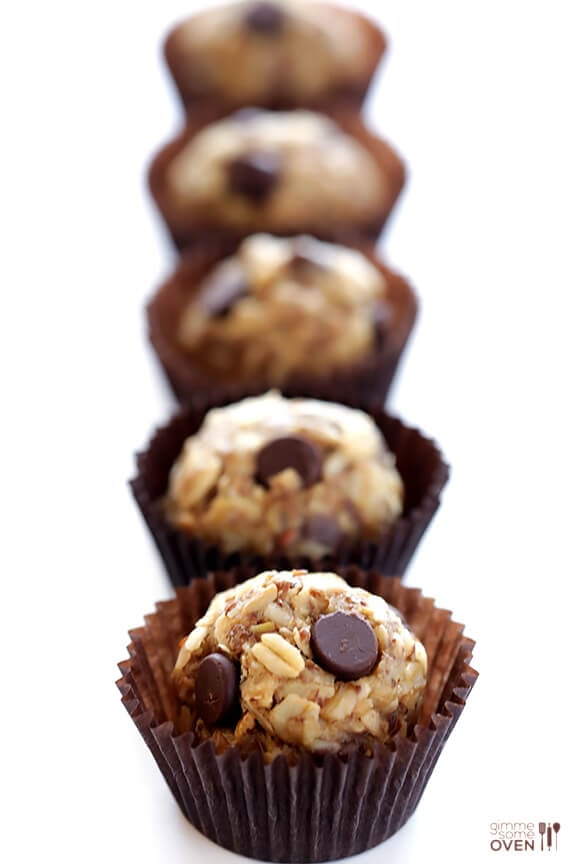 They are perfect for snacking, an easy breakfast on-the-go, a healthy dessert, or any ol' time you're craving a boost of energy.  Or craving that delicious cashew/chocolate combination.  YUM.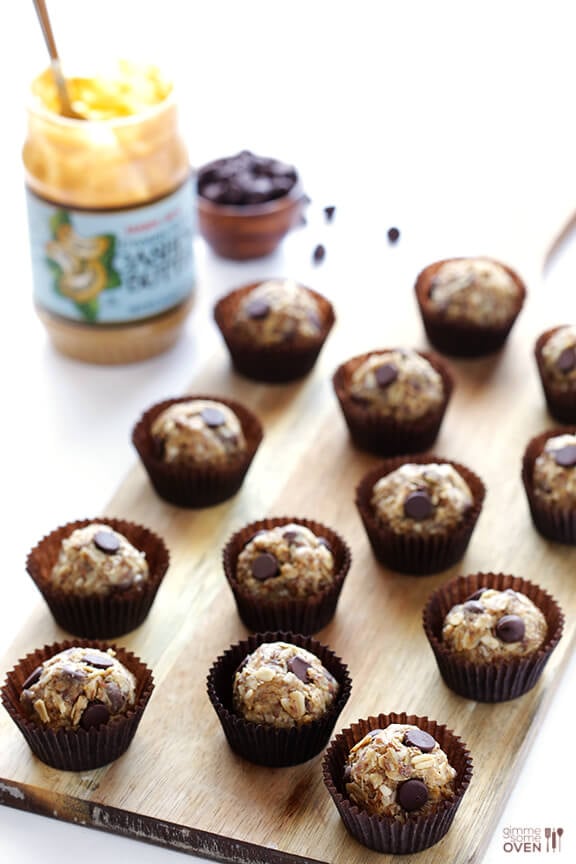 And as I said, if you use GF oats, they're naturally gluten-free.  Also if you use agave instead of honey (and true milk-free dark chocolate), they're also naturally vegan.
So energy bites for ALL!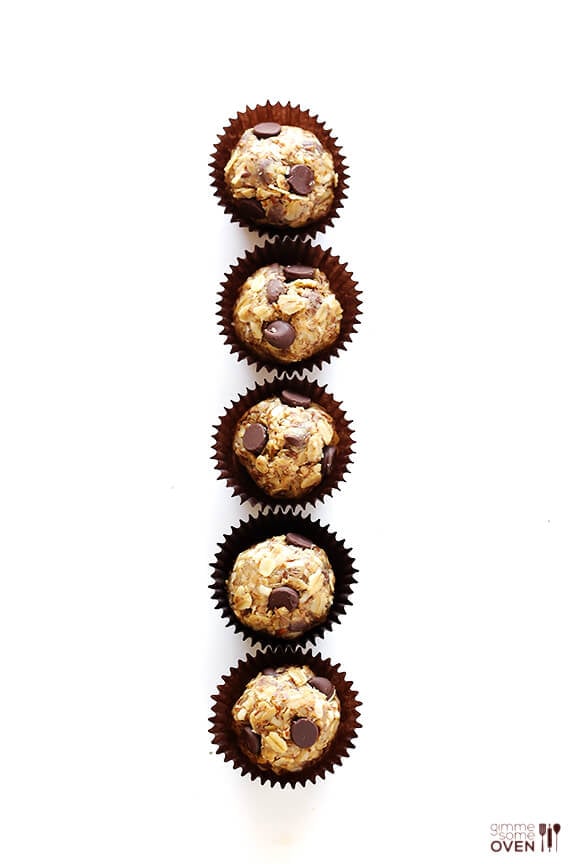 Mom is also a lettering artist (amongst her many talents), so I had her "play with her food" and create this little graphic too.  ;)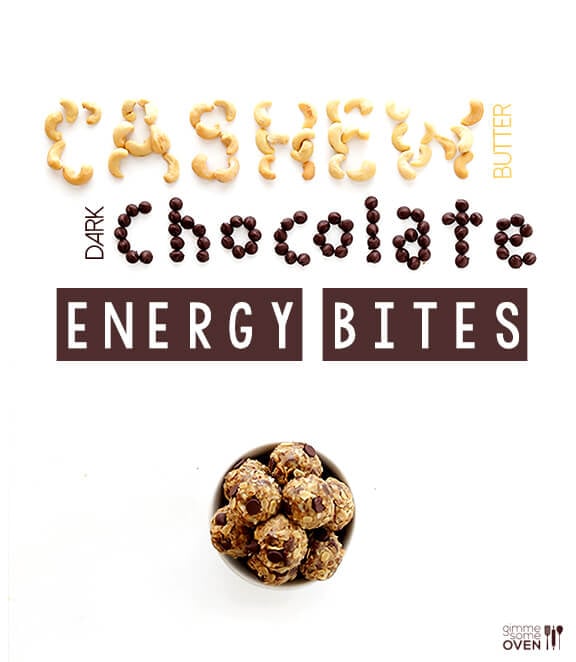 Big thanks for all of your help making these, Mom, and for sous-chef-ing like a champ in the kitchen!  And just in general for being so awesome, and smart, and giving, and talented, and loving.  And for modeling what it looks like to be woman running a business and having a cool life at the same time.   I think you're amazing, and I love you!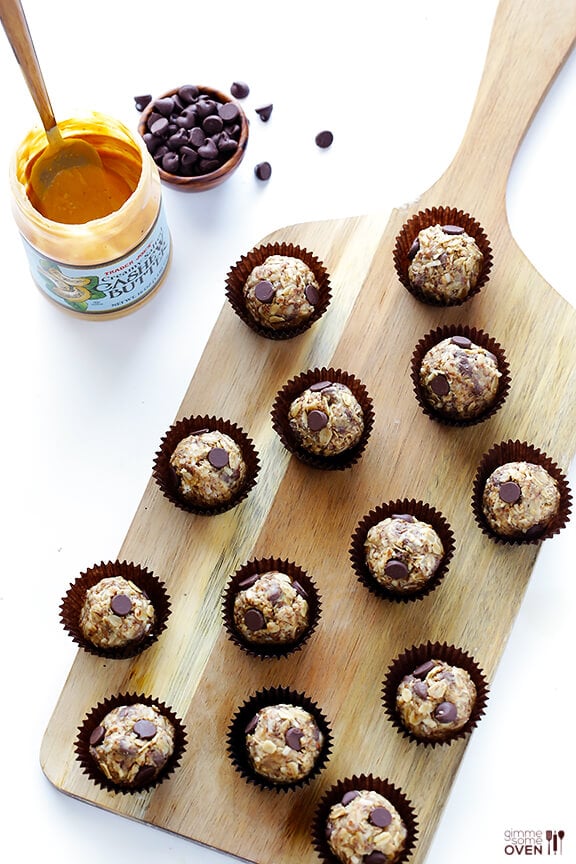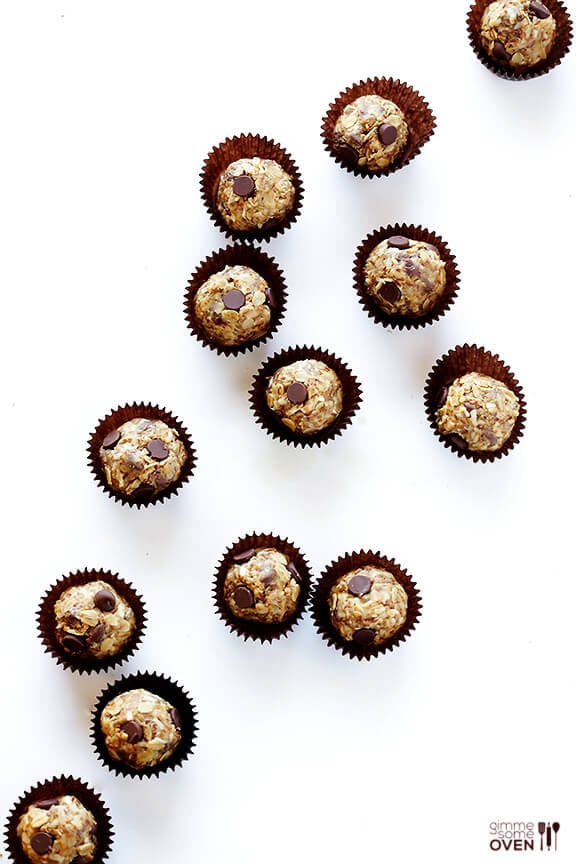 Cashew Dark Chocolate Energy Bites
These cashew dark chocolate energy bites are full of protein and perfect as a snack, breakfast, or healthy dessert.
Ingredients:
1 cup dry oatmeal (I used old-fashioned oats)
2/3 cup toasted coconut flakes
1/2 cup cashew butter
1/2 cup ground flaxseed
1/2 cup dark chocolate chips (or cacao nibs)
1/3 cup honey or agave nectar
1 tsp. vanilla extract, store-bought or homemade
Directions:
Stir all ingredients together in a medium bowl until thoroughly mixed. Cover and let chill in the refrigerator for half an hour.
Once chilled, roll into balls of whatever size you would like. (Mine were about 1″ in diameter.) Store in an airtight container and keep refrigerated for up to 1 week.
Makes about 20-25 balls.
All images and text ©
If you make this recipe, be sure to snap a photo and hashtag it #gimmesomeoven. I'd love to see what you cook!