How To Cut A Pineapple
This post may contain affiliate links. Please read my disclosure policy.
Learn how to cut a pineapple with this simple video tutorial!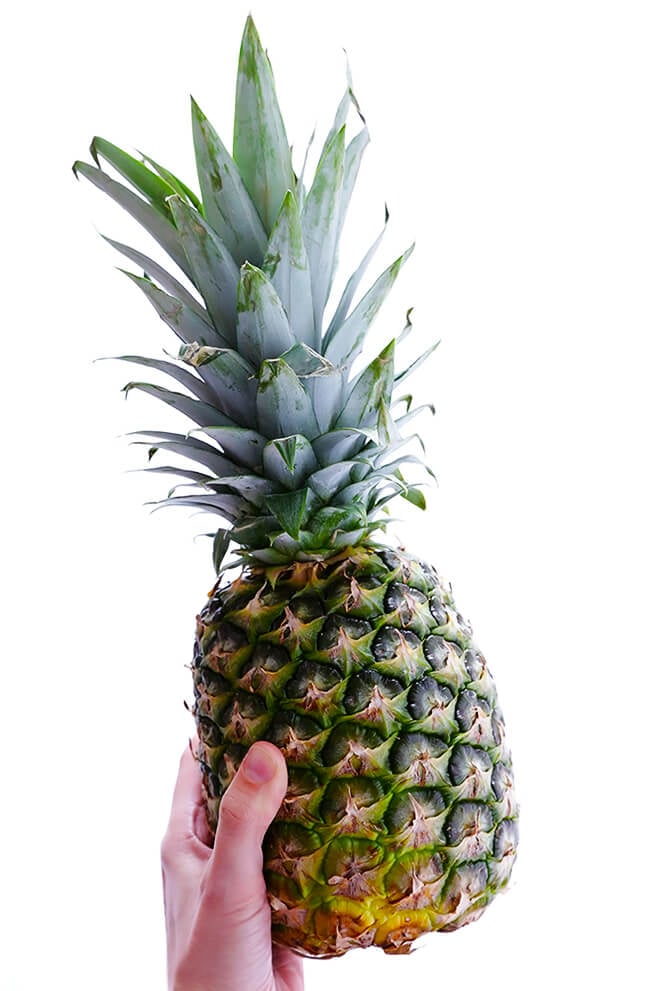 Calling all of my fellow pineapple lovers! ?????
Today's new How-To Tuesday video is dedicated to all of you love a good bite of juicy, sweet, and oh-so-delicious fresh pineapple. But maybe — like me, for so many years — may have never known exactly how to best hack into a whole pineapple. Or how to select one at the market that is perfectly ripe. Or how to store pineapple before or after it has been cut. Or where to find good fresh pineapples on sale. Or — the most delicious question — what on earth to cook with it once it's ready to go!
Well, for anyone pine-ing to learn more about the mighty pineapple — I've got you covered. ?
How to Cut A Pineapple | 1-Minute Video
How To Select A Ripe Pineapple:
To find a ripe pineapple, I recommend looking for one that:
is plump (not to soft or squishy)
has healthy green leaves on top (not too brown or wilted)
has a sweet and fresh smell
feel nice and heavy
(Pro tip: If you're looking for good pineapple at a great price, I've been in the habit for years of picking one up each time I go to ALDI. Their fresh pineapples are absolutely delicious, and almost always priced between $1-2 each.)
How To Cut A Fresh Pineapple:
Grab a good knife and a solid cutting board, and make it happen!
How To Store Fresh Pineapple:
Whole, uncut pineapple can either be stored:
at room temperature (it will ripen much more quickly this way, so heads up that it may only last from 1-3 days)
in the refrigerator (it will last much longer this way, up to 1-2 weeks)
Cut fresh pineapple can be stored in an airtight container in the:
refrigerator, for up to 5-7 days
freezer, for up to 3 months
What To Make With Fresh Pineapple:
That is, assuming you don't just dig in with a fork and eat the entire fruit right away. ? (Which I 100% recommend, by the way. Plain, freshly-cut pineapple will forever be my favorite!)
If you have some restraint and feel like cooking, here are a few of my favorite recipes to make with fresh pineapple:
Enjoy!
Print

How To Cut A Pineapple
Prep Time: 5 minutes
Total Time: 5 minutes
Yield: 3 -4 servings 1x
---
Description
Learn how to cut a pineapple with this quick and easy tutorial!
---
---
This post contains affiliate links.