5-Ingredient Tortellini Soup
I have another 5-ingredient soup recipe for you today!  It's actually one that I made in a hurry a few weeks ago for the live broadcast of The Sound Of Music.
I'd had ambitions to make a spread full of crisp apple streudel and schnitzel with noodles, but alas, it turned into one of those days when everything on my list took twice as long.  And about an hour and a half before a dozen girls showed up for the party, I had zero food prepared.  So I decided to improvise with a bag of frozen tortellini and make this soup, to be served with these quick and easy pretzels.  The soup literally took about 2 minutes to throw together, and the pretzels took a half hour.  So somehow when everyone showed up, dinner was miraculously ready to be served!
And wouldn't you know it, my little 5-ingredient soup experiement worked!  In fact, one of the girls even said that it was one of the best soups she'd "ever had".  (Music to this musical cook's ears…)  Everyone helped themselves to a steaming warm bowl of soup, and then we settled in to watch the musical together.  I think the soup may have gotten better reviews…
But that debate aside, since all of the other 5-ingredient soup recipes on the blog seem to be such a hit, I thought I'd share this easy one with you today.  If you love Italian soup and tortellini, it would probably be a good idea to add this to next week's menu pronto.  ;)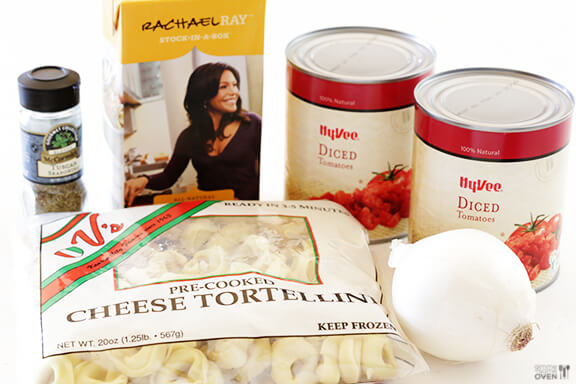 Ok, first up, the all-important 5 ingredient list.  For this soup, you need:
frozen tortellini
canned diced tomatoes
an onion
chicken broth
Italian seasonings (I'm hooked lately on McCormick's Tuscan Seasoning — it's my favorite!)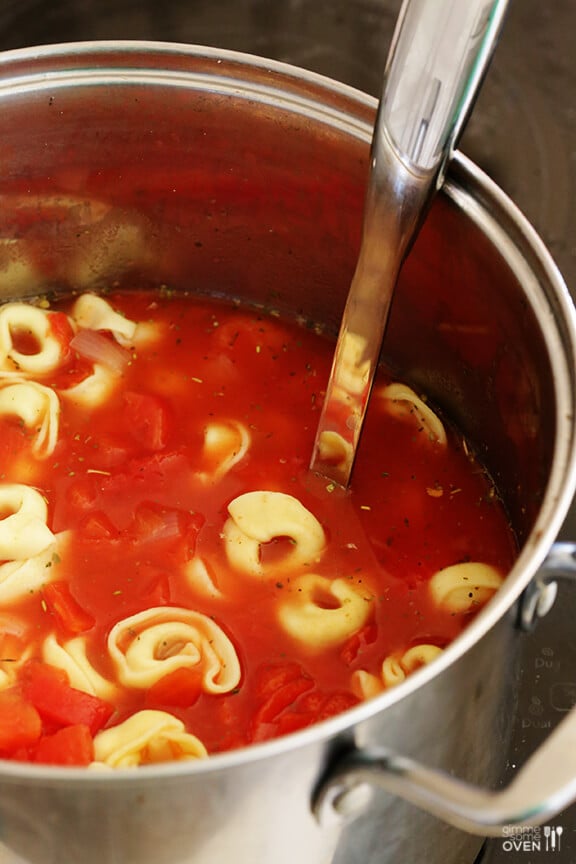 All you have to do is literally throw all of the ingredients together in a big stockpot, stir them together, bring to a simmer, and cook for about 10 minutes until the onions are tender.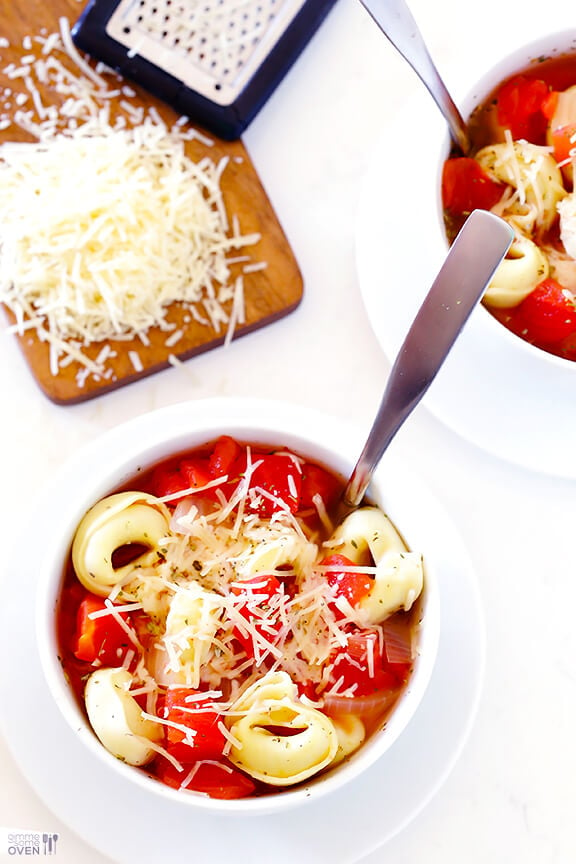 Then voila — tortellini soup is ready to go!
I highly recommend garnishing the soup with a little parmesan cheese if desired.  (Ok, I highly recommend this — ingredient #6!)  And I even sprinkled mine with a very light extra dusting of seasonings to make it pretty.
The flavors are simple, but very tasty.  And I'm telling you — just throw out the "t" word, and people will already fall in love with the soup.  I don't know what magic pixie dust is sprinkled inside tortellini, but it never fails to please a crowd at my house.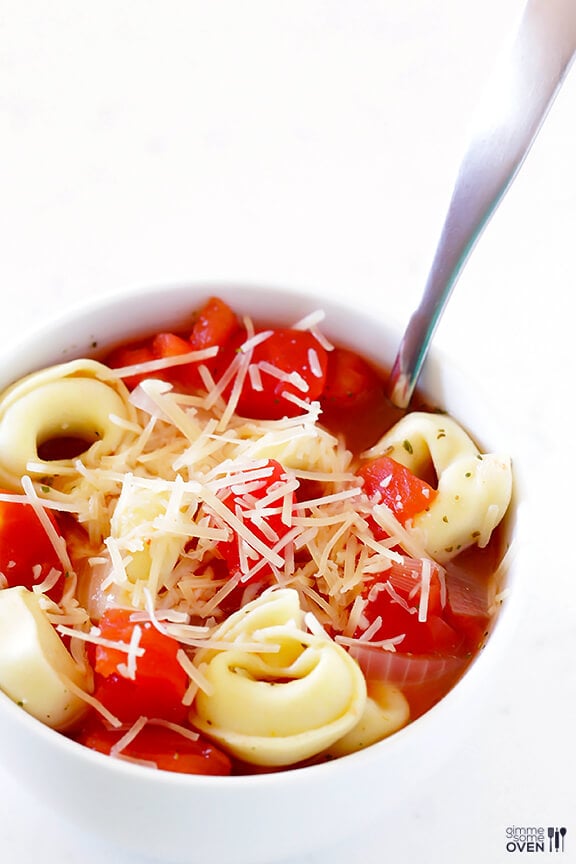 And get ready, because this soup might just turn into one of your "favorite things" too. ;)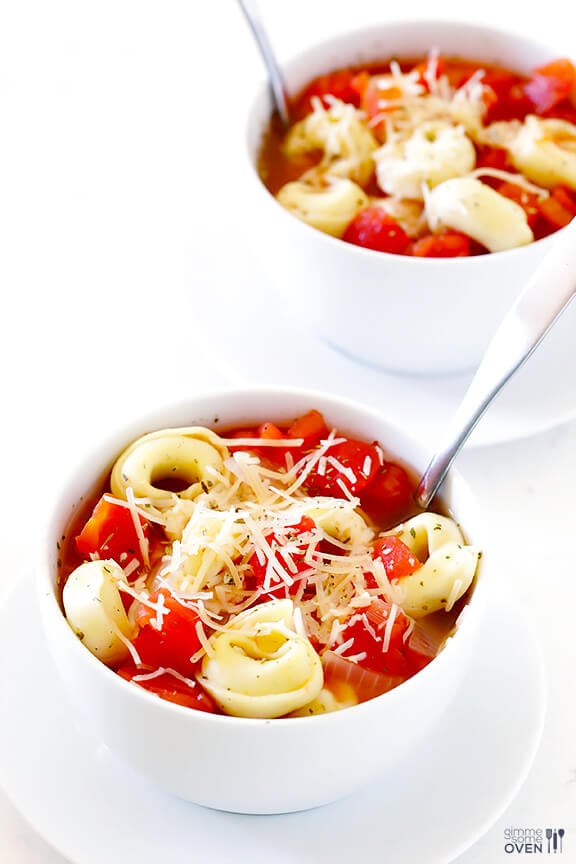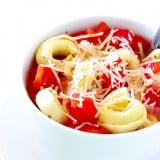 5-Ingredient Tortellini Soup
This 5-Ingredient Tortellini Soup is super easy, and super tasty!
Ingredients:
4 cups chicken or vegetable broth
2 (28 oz.) cans diced tomatoes
1 (20 oz.) bag pre-cooked frozen cheese tortellini (or any kind of tortellini)
1 small white onion, diced
1 Tbsp. Italian seasoning, store-bought or homemade
(optional topping: freshly-grated Parmesan cheese)
Directions:
Stir all ingredients together in a large stockpot, and bring to a boil over high heat, stirring occasionally. Reduce soup to medium-low, and simmer for 10-15 minutes, or until the onions are soft and translucent.
Serve warm, topped with grated Parmesan cheese if desired.
**I know this "ups" the ingredient total, but if you love garlic, this soup is EXTRA delicious with 2-3 cloves of minced garlic added in.  You can just bring them to a boil with the rest of the ingredients.
All images and text ©
If you make this recipe, be sure to snap a photo and hashtag it #gimmesomeoven. I'd love to see what you cook!
Be sure to check out these other great 5-Ingredient Soup Recipes: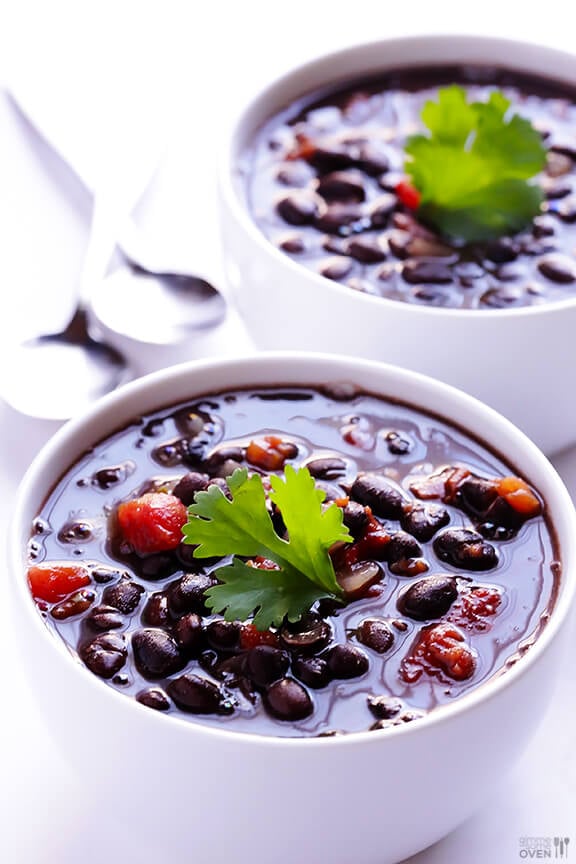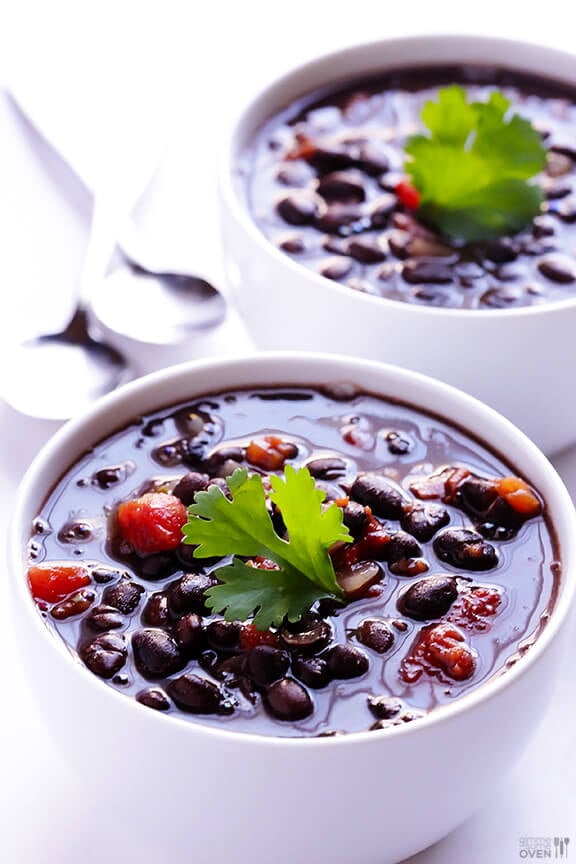 5-Ingredient Black Bean Soup Recipe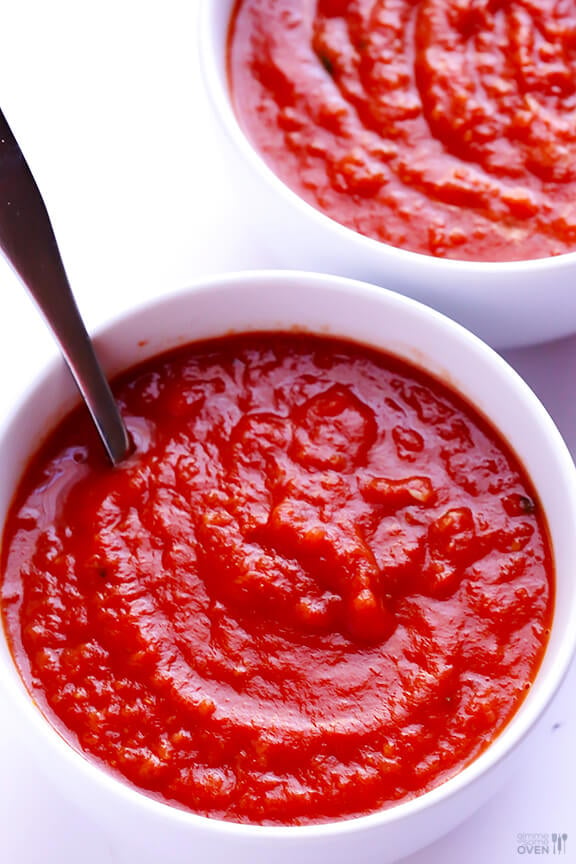 5-Ingredient Tomato Soup Recipe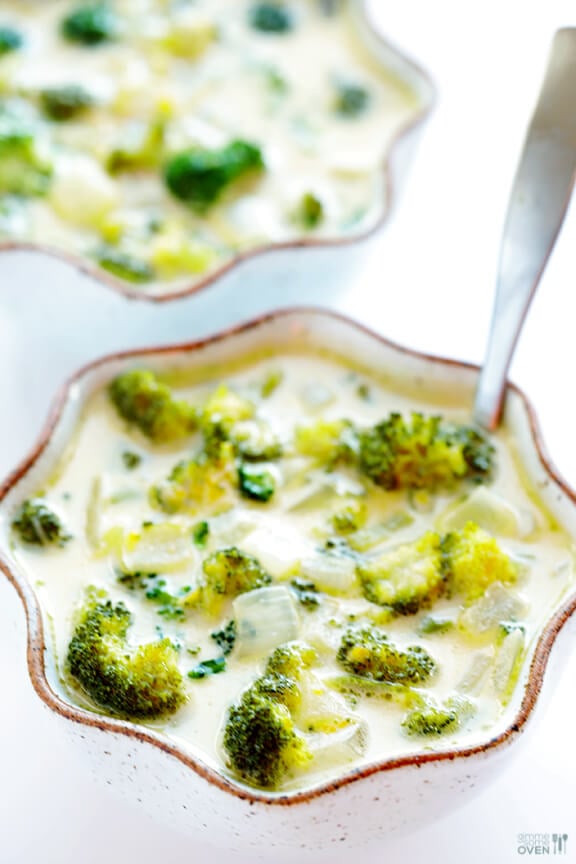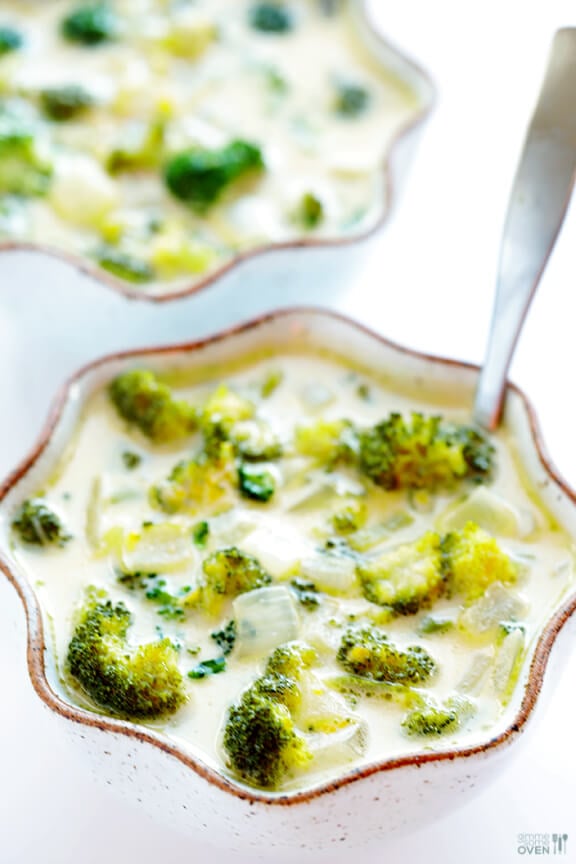 5-Ingredient Broccoli Cheese Soup