Jambalaya
This authentic jambalaya recipe is surprisingly easy to make, and full of bold Cajun flavors that everyone will love!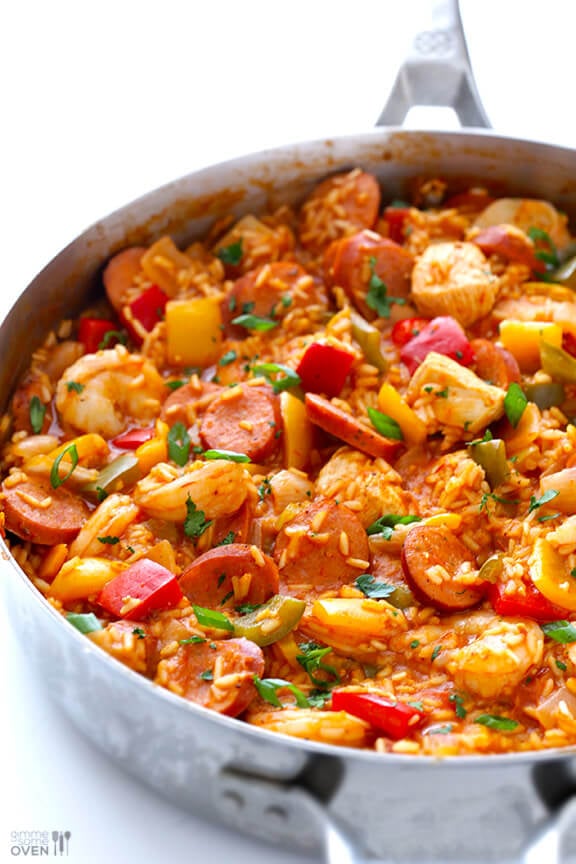 Some people make popcorn to celebrate the Academy awards.  Some might whip up a fancy cocktail or two. My neighbors John and Cate?  They invite the whole neighborhood over for a massive jambalaya feast.
NBD.
Actually though, it was a big deal because his jambalaya was freaking amazing.  I went back for thirds, in between cheering on Lupita and watching Brad Pitt hand out pizza.  It was an epic night all around. So I asked John if he would teach me his ways.  And like a good neighborrrr, John and Cate were therrrrre.
Here's what I learned…
Easy Jambalaya Recipe | 1-Minute Video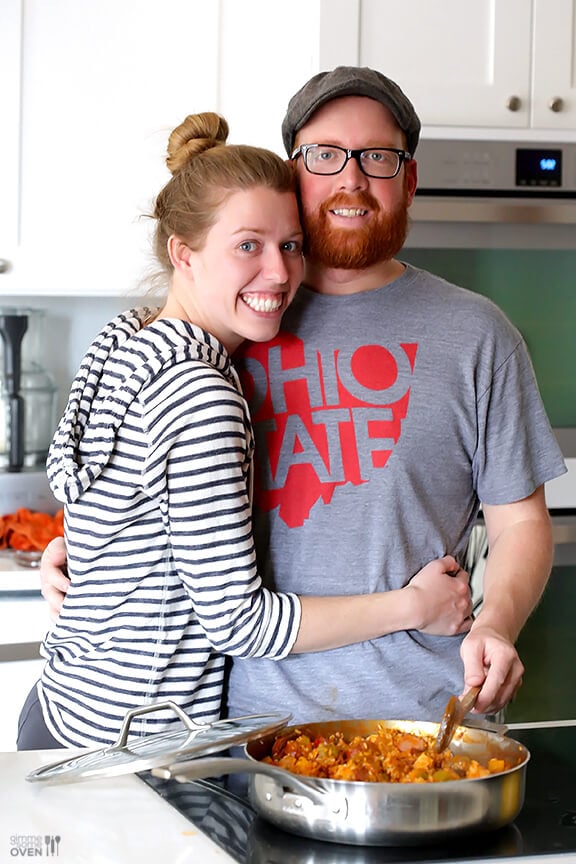 First of all, I learned that these two make a pretty darn cute team in the kitchen.  They'll both be the first to admit that John is more of the cook in the family, whose specialty is usually anything Italian.  But his family is from Alabama and have been making jambalaya for decades, usually with fresh shrimp from the Gulf, they are quick to note.  (Something we Midwesterners just dream about…)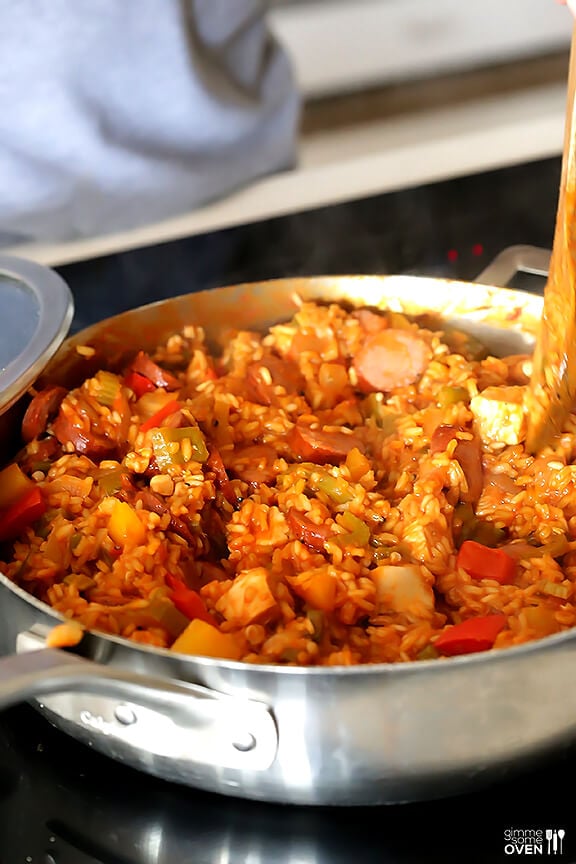 For some reason I had always associated jambalaya with gumbo, thinking that the process required oodles of cooking time trying to make the perfect roux.  But John assured me that the whole dish can be made in under an hour.  My kind of meal. So last week, he and Cate came by for an afternoon cooking sesh.  John manned the stove and Cate peeled shrimp, and I basically cheered them on and took notes and photos.  And then dove in and (again) had thirds once everything was cooked. Here's the how to: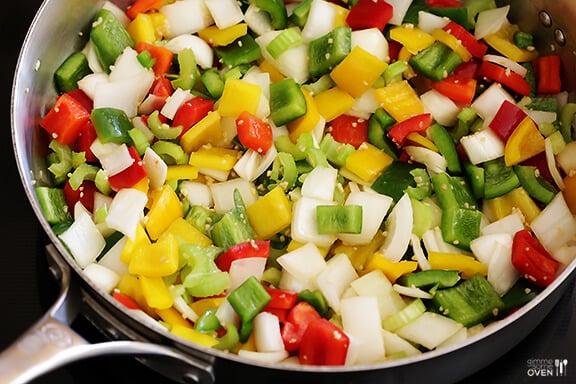 You basically begin with the "holy trinity" of Cajun/Creole cooking — bell peppers, celery and onion.  You all know that I'm a sucker for color in cooking, so I picked up three different colors of peppers for this version.  Oh, and I accidentally forgot fresh garlic, so cheated and went with the refrigerated stuff.  Judge away…I use it all the time.  :) Saute the veggies up until they're nice and soft.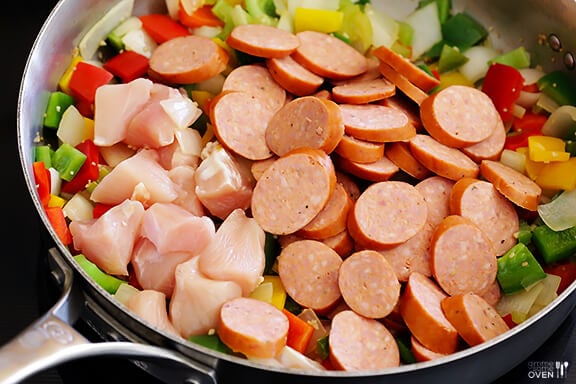 Then add in your meat.  We went with chicken and andouille sausage for this batch, and then added in shrimp at the very end.  Feel free to swap out whatever proteins you like for this recipe.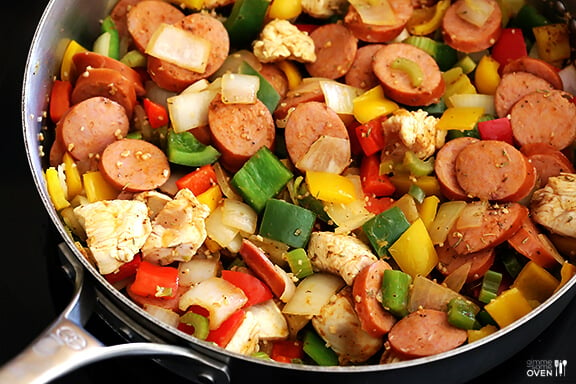 Saute those up until mostly cooked.  (The chicken should not be pink on the outside.)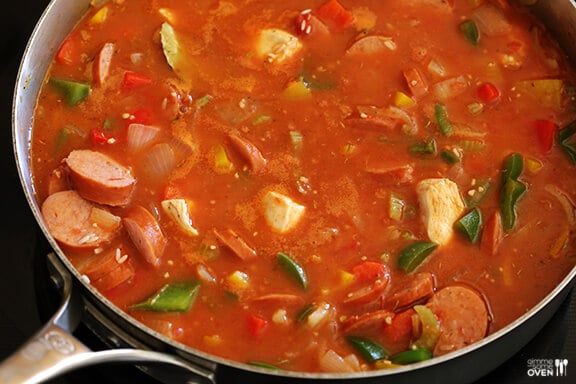 Then pour in all of the crushed tomatoes, broth, seasonings, and rice, and give it a good stir.  Cover and let it simmer on medium-low for about 30 minutes, or until the rice is cooked, stirring occasionally so that the rice doesn't burn on the bottom of the pan.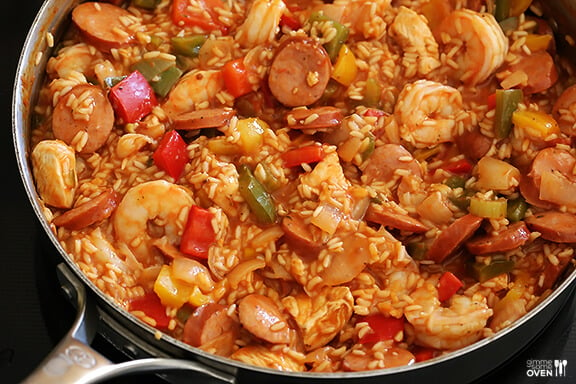 Once the rice is cooked, add in the shrimp and continue simmering until the shrimp are cooked through.  Season with additional salt and pepper and hot sauce, if needed. Then serve it topped with a little fresh parsley and scallions for garnish.


BAM.  So flipping good. And also, very easy to customize especially when it comes to heat.  I prefer jambalaya heavily seasoned and spicy, but if you like a milder version, just go easy on the Cajun seasoning and only use one seeded jalapeno.  If want to "kick it up a notch", add lots of seasoning, pop in two jalapenos (with seeds), and maybe even add some hot sauce in at the end. John also likes to add in okra to the dish, which I love.  But if you're anti-okra, hakuna matata, just leave it out.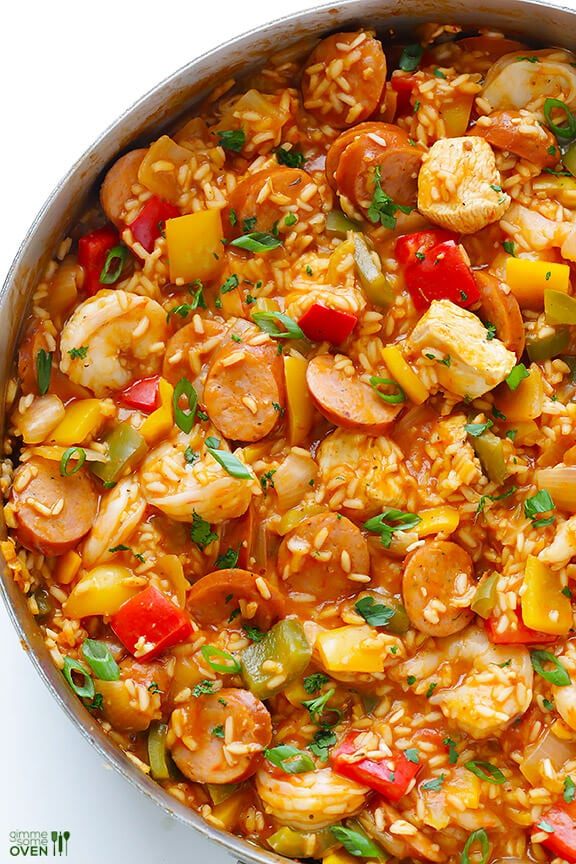 Big thanks to John and Cate for Jambalaya 101.  I've already made the dish once more since our little lesson, so I think it's safe to say I'm hooked.  ;)

Jambalaya
This authentic jambalaya recipe is surprisingly easy to make, and full of bold Cajun flavors that everyone will love. 
Ingredients:
3 tablespoons olive oil, divided
2 ribs celery, chopped
1 white onion, diced
3 small bell peppers, cored and diced (I used a yellow, red and green bell pepper)
1-2 jalapeno peppers, seeded and finely chopped (*more/less to taste, see note below)
4 cloves garlic, minced
2 boneless skinless chicken breasts, cut into bite-sized pieces
1 pound andouille sausage, thinly sliced into rounds
3 cups chicken stock
1 (14 ounces) can crushed tomatoes
1 1/2 cups uncooked short grain white rice (you can use brown if you prefer, but you'll need to cook it separately if you do, otherwise it takes significantly longer to cook than white rice)!
2 tablespoons Cajun seasoning (**more/less to taste, see note below)
1 bay leaf
1 teaspoons thyme, crushed
1/4 teaspoon cayenne pepper
1 pound raw shrimp, peeled and deveined
(optional) 1 cup thinly-sliced okra
salt and pepper
(optional garnishes: chopped fresh parsley, thinly-sliced green onions, hot sauce)
Directions:
Heat 2 tablespoons olive oil in a stock pot (or a very large/deep saute pan) over medium-high heat. Add celery, onion, bell peppers, jalapeno and garlic. Saute for about 5 minutes, stirring occasionally, until the vegetables are soft and mostly cooked. Add the remaining 1 tablespoon of olive oil, chicken and sausage, and stir to combine. Continue sauteing for an additional 5 minutes, or until the chicken is no longer pink and mostly cooked.
Add the chicken stock, tomatoes, rice, Cajun seasoning, bay leaf, thyme, and cayenne, and stir to combine. Reduce heat to medium-low, cover and simmer for about 25-30 minutes, or until the rice is cooked, stirring occasionally. (Don't forget to stir, or the rice may burn on the bottom of the pan.)
Once the rice is tender, add in the shrimp and okra and stir to combine. Let the mixture continue to simmer, stirring occasionally, until the shrimp are cooked and pink. Remove bay leaf and season the jambalaya with salt and pepper and hot sauce and additional Cajun seasoning if needed. Remove from heat.
Serve warm with optional garnishes if desired.  Or refrigerate and store in a sealed container for up to 3 days.
*If you like spicy jambalaya, I recommend adding 2 jalapenos with their seeds in. If you like it mild, I'd go with just 1 seeded jalapeno. Or you can go somewhere in between, and always add extra hot sauce at the end if it's too mild.
**I also like heavily seasoned jambalaya, so I go with a full 2 tablespoons of Cajun seasoning. If you think that might be too much, I recommend adding just 1 tablespoon and then taste-testing the rice before adding the shrimp. If you want to add more at that point, just stir some extra seasoning in when you add the shrimp.
All images and text ©
If you make this recipe, be sure to snap a photo and hashtag it #gimmesomeoven. I'd love to see what you cook!
This post contains affiliate links.