July in Movies: Five Summer Sundance Films
This post may contain affiliate links. Please read my disclosure policy.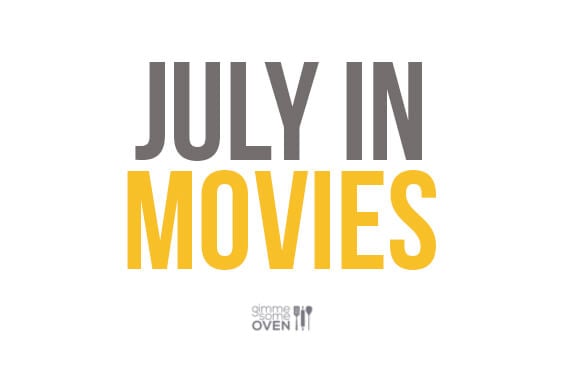 Our film-friend, Sarah, is back today to talk about upcoming movies for the month of July. So many great ones to see!
You guys, it's Christmas (or Hanukkah, or Kwanza, or Winter Solstice, or Festivus, or whatever you celebrate) or in July. Why? A whole bunch of the films I saw at Sundance 2014 in January are now coming to theaters. I've been waiting seven months to talk about these films with friends, and it's finally happening! Check out the list below, see something, and let me know what you thought in the comments. I'm dying to discuss, people!
Boyhood
Written and directed by Richard Linklater. Starring Ellar Coltrane, Patricia Arquette, and Ethan Hawke. Opens nationwide July 18. My Sundance review of Boyhood.
A couple months after Sundance, I was wondering around a party at the True/False Film Fest* and I saw this young man, a kid, still, really, and I knew I knew him. I just couldn't figure out why. True/False is held in Columbia, Missouri, where I lived for about six years back in the day. Maybe he was related to someone I knew from that time? I couldn't figure it out, but I knew I felt really Positive about him. You know that feeling? "I know I like you, I just can't remember why!"
Then it hit me: It was the actor who played the Boy in Boyhood, Linklater's latest. I had waited for a very long time in a very long line to get into the film's premier at Sundance, and had been wowed by the veteran director's long-term storytelling experiment. Each summer for 12 years, Linklater brought his team together to film one more chapter in a fictional-but-very-real-seeming family's life. We watch Ellar Coltrane's character, Mason, grow from a pensive 6-year-old to a emerging 18-year-old artist. No wonder I thought I knew the guy.
Linklater manages to tell a cohesive story over a long time period. He does this by choosing the perfect moments, right for their everyday-ness as much as their profundity. Watching this family's life unfold is a profound experience; I hope you get the chance to see Boyhood this month. Then I hope you write me about what it made you think and feel.
*This makes it sound like all I do is go to film festivals, and I wish that was the truth. But I do have a full-time job and a more-than-part-time passion (filmmaking!), and I've only managed to get to four fests so far this year.
Land Ho!
Written and directed by Aaron Katz and Martha Stephens. Starring Paul Eenhoorn and Earl Lynn Nelson. Limited release July 11. Find a theater here. My Sundance review of Land Ho!  
I think I'm still smiling from the Sundance screening of Land Ho! This gem of a comedy was surprising in its treatment of senior citizens as—gasp—human beings, not punchlines. Mitch and Colin are ex-brothers-in-law who embark on an Icelandic adventure to forget their respective troubles and end up facing them together…In between long bouts of wry hilarity, of course. It's a feel-good film with brains and heart and sophomoric jokes told by very-non-sophomoric men. See it for its fresh mix of scripted and improvised humor, and just try to not want to adopt Eenhoorn and Nelson as your favorite uncles afterward.
I Origins
Written and directed by Mike Cahill. Starring Michael Pitt, Brit Marling, and Astrid Bergès-Frisbey. Limited release on July 18. My Sundance review of I Origins.
Warning: Do not watch the trailer if you like going into movies with some mystery preserved. It's a tell-almost-everything trailer!
I Origins is a sort-of-sci-fi drama that gets its emotional impact from the slowly unfolding implications of its central conceit, instead of CG effects and spectacle. Cahill never lets the high-concept underpinnings overwhelm the heart of the film, and the film's stars admirably usher you quickly from understanding the story to feeling it. You should definitely plan a post-movie discussion with your fellow film-lovers for this one. The movie deals with questions of science, faith, and the combining of the two, that demand some talking over. Preferably over tasty drinks and desserts.
Wish I Was Here
Directed by Zach Braff. Written by Adam J. Braff and Zach Braff. Starring Zach Braff, Kate Hudson, Mandy Patinkin, Joey King, and Pierce Gagnon. Opens on July 18. My Sundance review of Wish I Was Here. 
Warning: Again, if you want to have the blank-slate, full emotional journey of this film, don't watch the whole trailer above.
So, I'm one of the few people my age who was all like, "Um…Garden State? It was OK, I guess." I've grown into Zach Braff, or Zach Braff has grown into me, because I was all like, "Um…Wish I Was Here? Braff's second feature? LOVED it." Some critics will call it too twee, but this film has some serious maturity underneath the cute. Which is appropriate for a story surrounding one slightly immature 35-year-old dad's efforts to Figure Stuff Out and Fast. I especially appreciated the way the film takes matters of belief seriously. I'm a sucker for any movie that is courageous enough to let its characters struggle with the Big Questions. See it and remember: There's no shame in a good movie-theater cry.
A Most Wanted Man
Directed by Anton Corbijn, Written by Andrew Bovell. Based on the novel by John le Carré. Starring Philip Seymour Hoffman, Rachel McAdams, Willem Dafoe, Robin Wright, and Grigoriy Dobrygin. Limited release July 25. My Sundance Review of  A Most Wanted Man. 
A Most Wanted Man is one of Philip Seymour Hoffman's last films. Hoffman died just days after it premiered at Sundance, leaving film-goers everywhere mourning the loss of his onscreen vulnerability and charisma. Both on are display here in visual master Corbijn's taut take on the le Carré thriller. Hoffman's Günther is weary, wary, but wise in the games played in the name of national security. The film ultimately asks both Günther and the audience to question the limits of a country's quest to keep its citizens safe. Break out the coffee and opinions after this one; you'll have a lot to talk about.
What are you seeing this month?