Oven-Roasted Sweet Potato Fries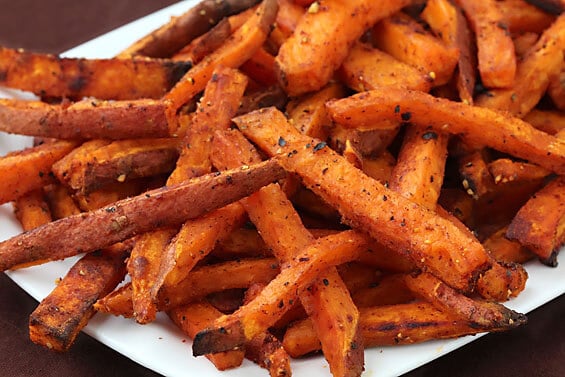 It's the rare occasion when I crave fries.  Granted, I will enjoy them whenever they are served with a meal, but usually they're just "ok".
However…sweet potato fries are a totally different story.
Oh my goodness.  I'll take a sweet + salty + savory combination anyday.  But when you add in the flavors of the wonderful spices, plus the oh-so-slight crisp around the edges, plus that deep, round sweet potato taste, I'm in heaven.  Absolutely love sweet potato fries!  And much more — I love roasting them in the oven at home.  It's super-simple, and so much healthier than actually frying the "fries".  :)
So if you've never made these at home, you should totally give it a try!  All it takes for a large batch is two sweet potatoes, and a few teaspoons of your favorite seasonings.  (Probably one of the most inexpensive sides you can make!)  Definitely a recipe everyone will enjoy!
Oven-Roasted Sweet Potato Fries
You will love this healthy, easy oven-baked sweet potato fries recipe! This lighter version of this savory side is sure to be a crowd favorite.
Ingredients:
2 medium-sized sweet potatoes, rinsed and dried
2 Tbsp. vegetable oil
2 tsp. smoked paprika
1 tsp. coarse salt
1 tsp. garlic powder
1 tsp. freshly-cracked black pepper
1/2 tsp. cumin
1/4 tsp. cayenne (optional)
Directions:
Preheat the oven to 450 degrees.

Carefully cut the potatoes into 1/4″ thin strips, or to your desired thickness and length. Then place in a large bowl, and toss with the remaining ingredients (oil and spices) until potatoes are evenly coated.

Then spread out the potatoes evenly on a baking sheet prepared with parchment paper or silicone baking sheet. (Try not to overcrowd the sheet, or have multiple layers of fries — you want them to be roasted, not steamed.)

Place in oven and cook for 20-25 minutes, turning the fries once or twice during that time to cook evenly. (May take more or less time, depending on the size and thickness you cut the fries.) Remove once the edges slightly begin to brown and fries begin to crisp.

All images and text ©

If you make this recipe, be sure to snap a photo and hashtag it #gimmesomeoven. I'd love to see what you cook!
Ali's Tip:
I'm pretty sure I've never seasoned these the same way twice.  You can literally substitute in just about any of your favorite seasonings, or grated parmesan, or other fun oils.  Experiment away!