chocolate chip meringue cookies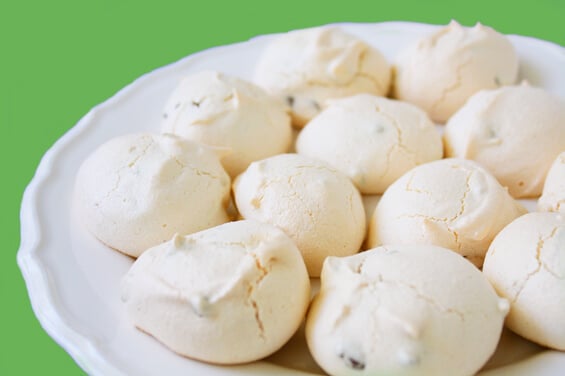 Every time I make these cookies and share them with folks, without fail someone always raises an eyebrow and asks, "Mmmm, what exactly are those??"
Ha! Well, they happen to be one of my favorite cookies. Our family always used to make them growing up, and I just love the alternative they provide to a standard chocolate chip cookie! They're wonderfully light and airy and vanilla-y, and have the classic melt-in-your-mouth delightfulness of all meringues. And what's more, with the exception of the chocolate chips, they are fat free! You can't say that about too many cookies…
Some other fun variations on this recipe would be to omit the choco chips and sub in some crushed peppermints (plus a teaspoon of peppermint extract subbed in for part of the vanilla). Or to use sliced almonds + almond extract. Or…classic…some toasted coconut and cinnamon. It's definitely a fun one to play around with. And although it seems like meringues seem to be most popular in the States around Christmas, I vote that we reclaim them for the rest of the year! Especially in this August heat, I think a light cookie is just the ticket. :)
Chocolate Chip Meringue Cookies Recipe

(Original family recipe)
Ingredients:

4 egg whites
1/4 tsp. salt
1/4 tsp. cream of tartar
1 Tbsp. vanilla extract
1 1/2 cups sugar
1 to 1 1/2 cups chocolate chips (I prefer mini-chocolate chips)
Method:
Beat egg whites, salt, cream of tartar and vanilla until soft peaks form. Slowly add sugar and beat until stiff peaks form about 5 minutes. Gently fold in chocolate chips.
Prepare cookie sheet (either with grease, or parchament paper, or aluminum foil). Drop by heaping teaspoon-fulls onto cookie sheet. Bake at 300 degrees for 25-30 minutes. Undersides of cookies should be lightly tanned.
Ali's Tip:
In case you've never worked with egg whites and "soft" and "stiff peaks" before, don't be intimidated! It's a piece of cake (or…mmm…cookie). :) The way to test for those stages to just take some sort of spoon (or your mixing beater) and dip it into the batter and lift straight up. If the peaks curve down slightly when the spoon is lifted, you have "soft peaks". If they stand straight up and don't move, congrats — you have "stiff peaks".
It definitely takes some time for the batter to be fully mixed into these stages, but that process is essential for meringues. So be patient, and enjoy the fabulous texture that will result once they've baked!