Egg Drop Soup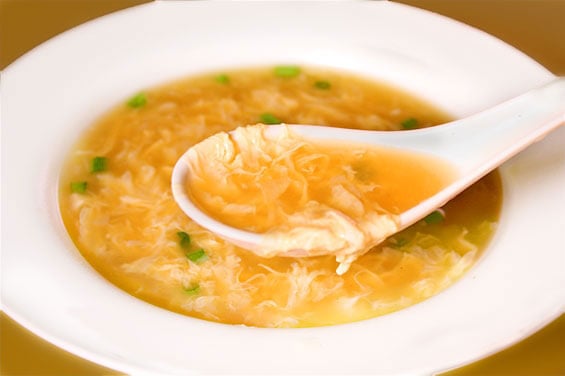 If you were to have asked me at age 6 to name my favorite food, the answer would have been simple — egg drop soup. If asked the same question at age 16 — egg drop soup. And still today at 26, after having experienced a whole (gasp!) quarter-century's worth of food, the answer would still be the same. :D
I love egg drop soup!!!!!!!!!

Really, there's no monumental reason why. I think it's delicious and fairly healthy, but mainly it's just my total idea of comfort food. Ever since I was young, I used to order it every Saturday when my family had lunch at a fantastic little local Chinese restaurant in Wichita. And then I'm pretty sure I've literally tried it at every single other Chinese restaurant I've visited. (Which — my theory holds true that if a restaurant knows how to make good egg drop soup, chances are their other food rocks!!)
Anyway, now that you all think I'm uber-weird and obsessed, I present to you the third recipe in Cheap Eats Week — egg drop soup. If you've never made it at home, it's high time. Cheap, simple, flavorful, and egg-tastic. :) Definitely a favorite!!
Egg Drop Soup
Ingredients
4 cups good chicken broth
1 Tbsp. cornstarch
1 clove garlic
1 tsp. ground ginger
1 tsp. soy sauce
3-4 large eggs
1/2 tsp. sesame oil
3 green onions, sliced thin
1/4 cup corn or creamed corn (optional)
salt and white pepper to taste (I used about 1/4 tsp. each)
Method
Pour the chicken stock into a room-temperature pot, and whisk in the cornstarch until it is well-blended. Add in the garlic, ginger and soy sauce. Turn on the stove and heat over medium-high heat until boiling, stirring occasionally.
Meanwhile, whisk together the eggs in a small measuring cup or bowl. (I find the measuring cup easier for pouring.)
Once the soup is boiling, turn off the heat. Then while using one hand to continually stir the soup in one direction with a fork, slowly pour the whisked eggs into the soup. (This will create the nice egg ribbons!) Then gently stir in the sesame oil, green onions and corn (optional). Season with white pepper (be careful) and salt (depending on your chicken broth, be generous).
Serve immediately.
Ali's Tip:
To achieve the nice yellow-ish color and add slightly more flavor, I called for whole eggs in the recipe above. But I often make this with just egg whites to go slightly easier on the cholesterol. :) Still tastes fantastic.