Banana Bread
This banana bread recipe is my all-time favorite — it's super-moist, naturally-sweetened with maple syrup, and made a little healthier with white whole wheat flour.
At 32-years-old, I'm finally starting to feel like I have some "go-to" recipes nailed down for my favorite foods.
Perfectly-baked chicken breasts?  Check.  A healthier yet oh-so-creamy fettuccine alfredo recipe?  Check.  A crowd-pleasing recipe for classic chili?  Check.  The easiest recipe ever for my favorite kind of chili?  Check.  Better-than-restaurant fried rice?  Check.  Always-a-success homemade salsa?  Check.  A creamy-yet-lighter cheesecake base recipe?  Check.  Soft and perfectly chewy chocolate chip cookies?  Actually, stay tuned, because they're comin' atcha next week.
The list goes on, and I'm pretty happy about it.  Because after years of trial and error, it feels pretty darn good to have landed upon some of the recipes that I feel confident will last me a lifetime.  And it has felt so great to have a place where I can share them with you!
But alas, many (many, many) a reader has emailed me over the years pointing out that there is one classic recipe that has been missing from this site, and I couldn't agree more. I seriously don't know how it has taken me 6 years to snap some photos and post this one, because after finding my favorite recipe for it years ago, I make it constantly.  And as a bonus?  My go-to recipe happens to be naturally sweetened with maple syrup (instead of refined sugar), it's made with white whole wheat flour, it's unbelievably rich and moist and banana-y, it's quick and easy to mix by hand, and — let's just get to the point — it's damn good.
It's my favorite banana bread recipe!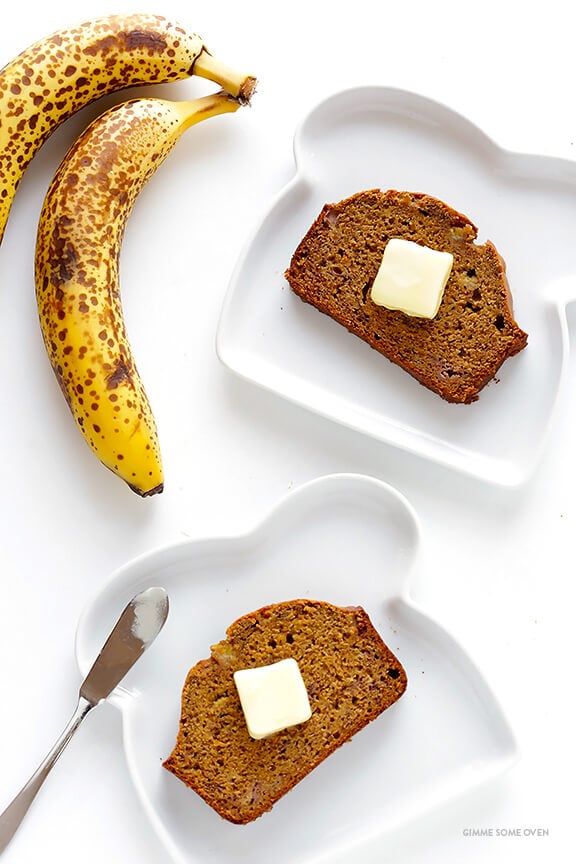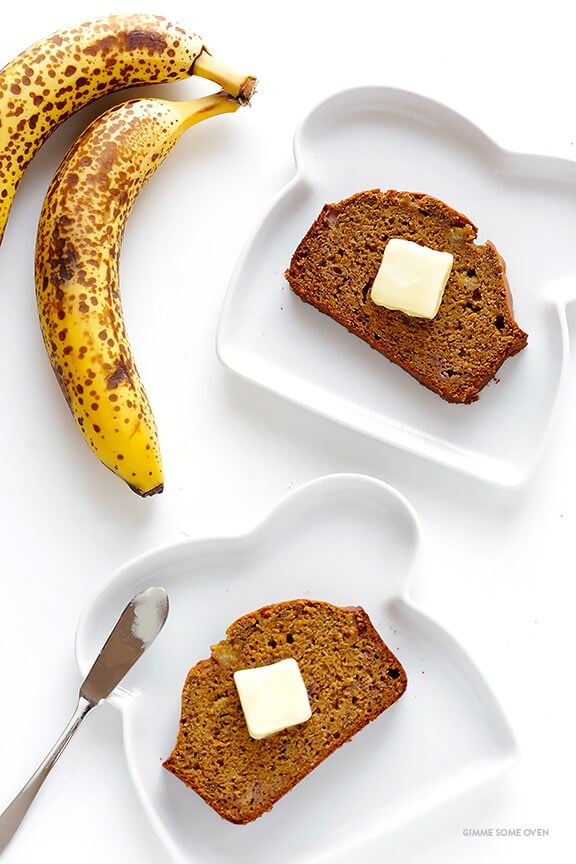 And when I say favorite, I do mean favorite.
I have tried countless banana bread recipes over the years — everything from the sugar-laden buttery breads that I loved in my youth, to the ridiculously-healthy (and often ridiculously-tasteless) recipes that I've wanted to love as an adult, and just about everything in between.
But again and again, I found myself coming back to this same whole wheat banana bread recipe that I discovered in college when I was teaching myself how to cook.  Back then, I'm pretty sure my rural college town grocery store had barely heard of whole wheat flour, so this was more of an "all-purpose" banana bread until I transitioned to back to its namesake years later.  (And then later transitioned to the brilliance that is white whole wheat flour a few years later = game changer!)
Of course, as I learned more about cooking, I also began to make a few more changes to the recipe as the years went on.  Almond milk was swapped in place of water (creamier, plus protein!).  Maple syrup was swapped in place of honey (since I prefer the flavor of maple, but honey is also still delicious!).  Any number of oils have been substituted for vegetable oil (I prefer a mild extra-virgin olive oil, but any other mildly-flavored oils also work!).  Cinnamon and nutmeg and extra vanilla and salt were added in (for extra-delicious flavor!).  And extra mashed banana was added in (because…banana bread!).
And I must admit that I'm one of those people who adamantly likes my banana bread sans-nuts.  But you are more than welcome to add in a 1/2 cup of so if you'd like.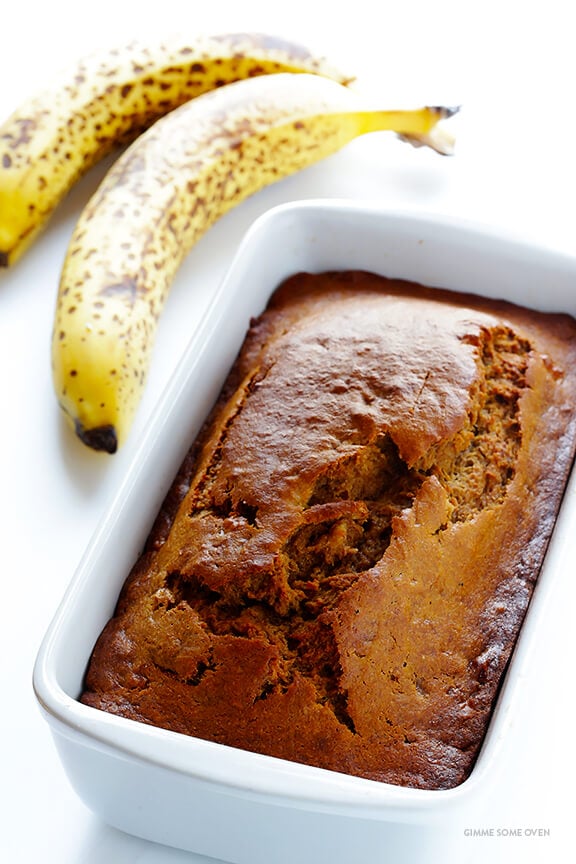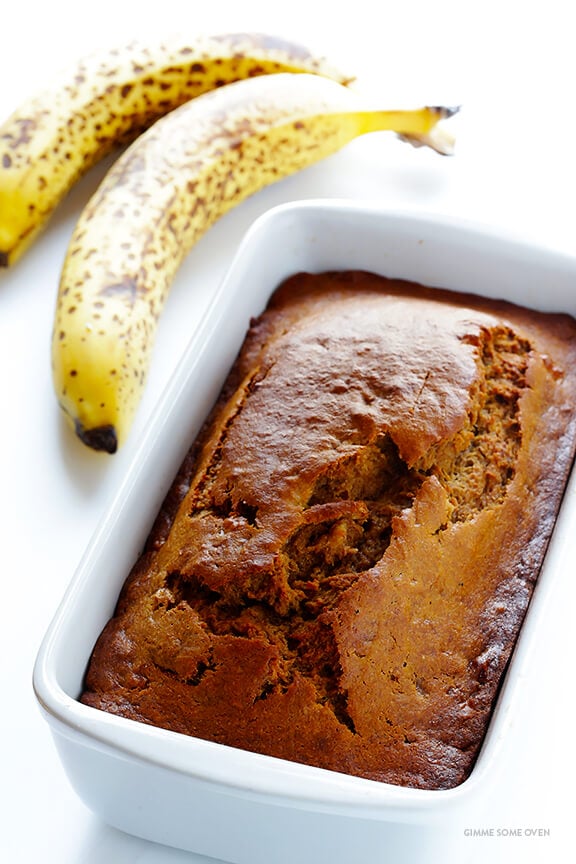 So basically, I've slowly tweaked my way to this most delicious of delicious recipes.  And while it's considerably healthier than most traditional banana bread recipes, I'm happy to say that it tastes just as rich and moist and delicious as ever.  So let's make some!!!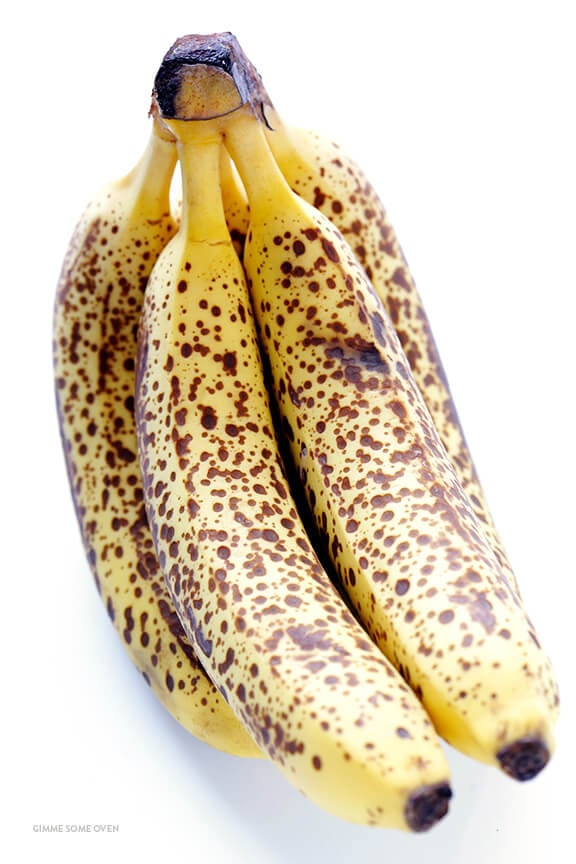 We begin, of course, with the most important of important ingredients in a good loaf of banana bread — over-ripe bananas.  Don't even think about making this recipe with perfectly yellow fresh bananas.  The browner and spottier, the sweeter and richer.  (These ones in the photo were just barely brown enough for my taste.)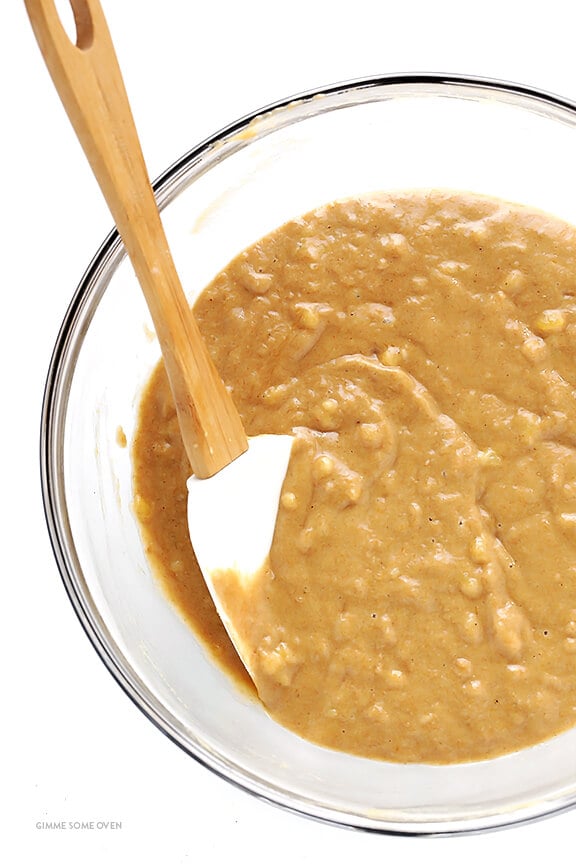 Whisk up your dry ingredients and wet ingredients separately, then stir them together until well combined.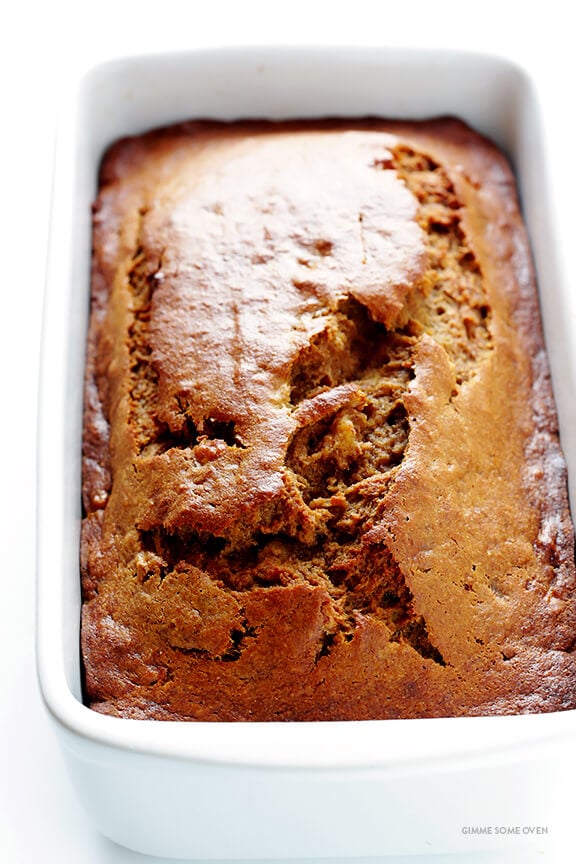 Pour them into a bread pan, bake for 50-60 minutes or until completely cooked through.  (And enjoy the heavenly smells that will fill your home — better than any candle I know!)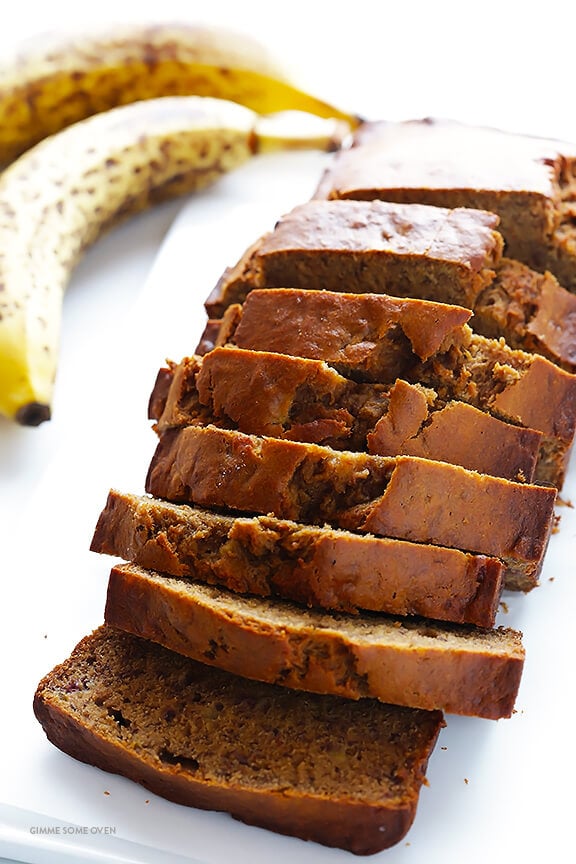 Then once the bread has cooled a bit, dive in…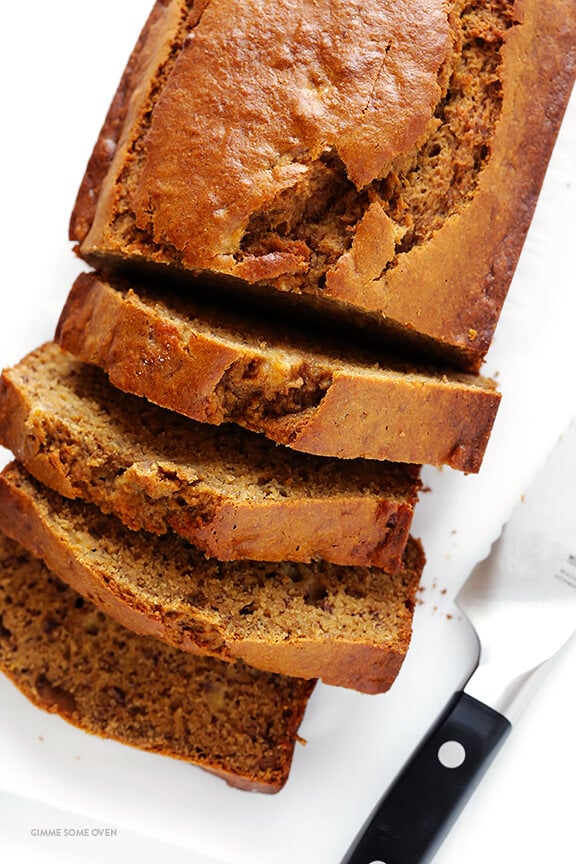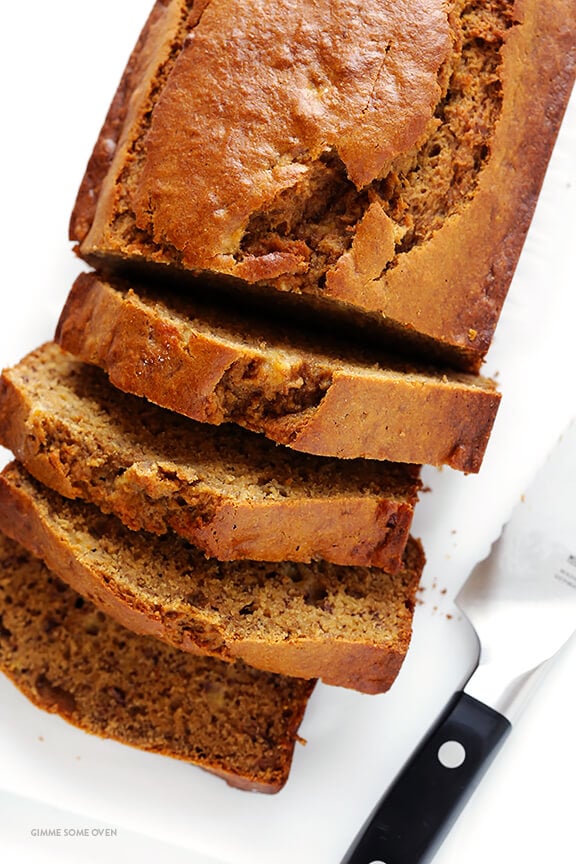 …and enjoy every delicious, warm, comforting, magical bite of this perfect banana bread.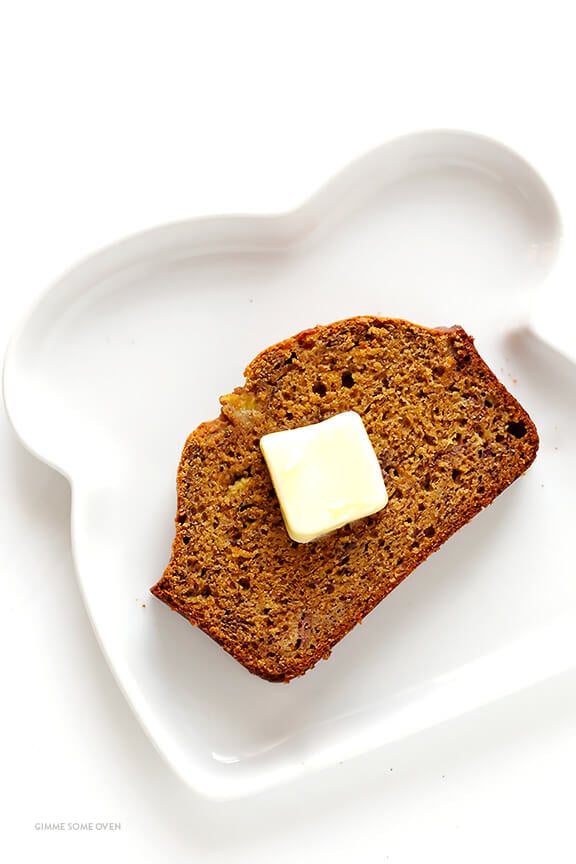 I know you will.  :)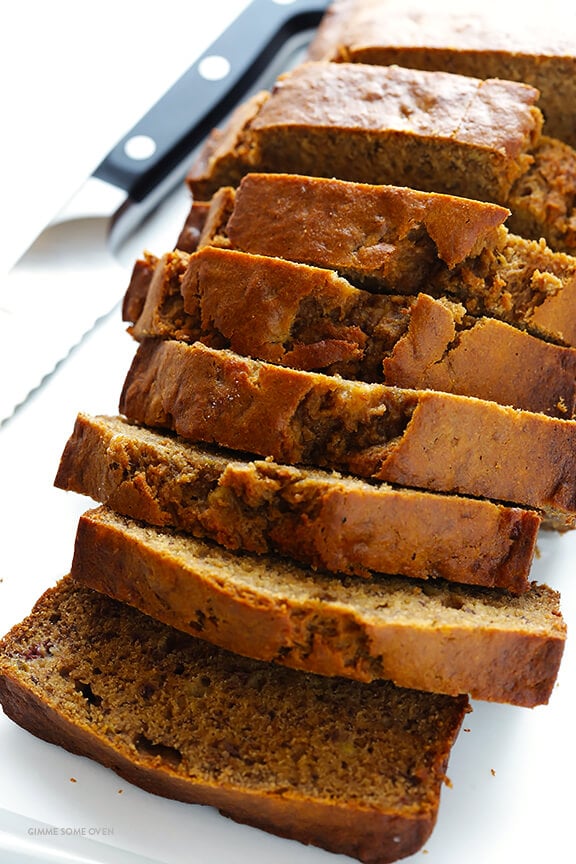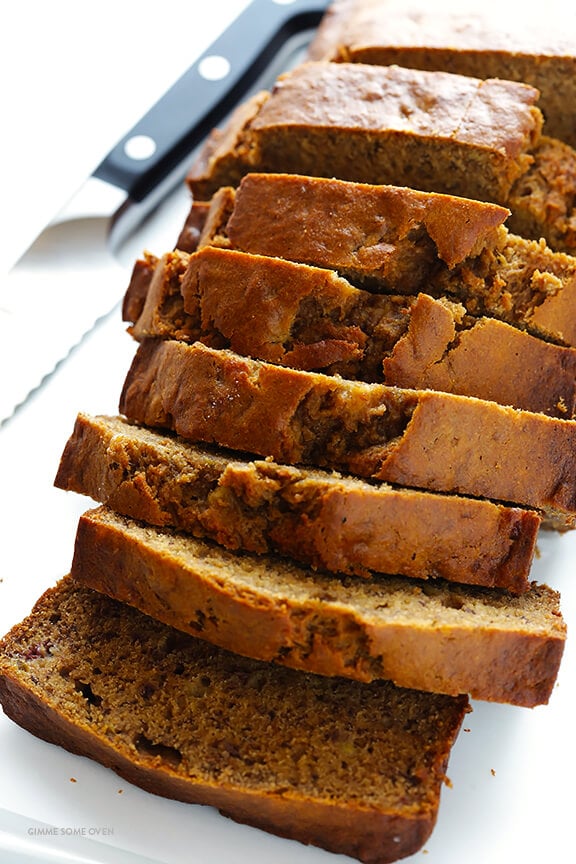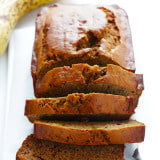 Banana Bread
This banana bread recipe is easy to make, naturally-sweetened, made with white whole wheat flour, and it is perfectly moist and delicious!
Ingredients:
1/3 cup extra-virgin olive oil (any other mildly-flavored cooking oil*)
1/2 cup maple syrup
2 eggs
1 1/2 teaspoons vanilla extract, store-bought or homemade
1 1/2 cups mashed ripe bananas
1 3/4 cups white whole wheat flour
1 teaspoon baking soda
1 teaspoon salt
1/2 teaspoon ground cinnamon
pinch of ground nutmeg
Directions:
Preheat oven to 325°F (165°C).  Grease a 9 x 5-inch bread pan with cooking spray, or line it with parchment paper, and set aside.
In a large mixing bowl, whisk together olive oil, maple syrup, almond milk, eggs and vanilla extract until combined and smooth.  Whisk in the mashed bananas, and whisked until mostly smooth.  (There will be some small lumps remaining with the bananas.)
In a separate large mixing bowl, whisk together the flour, baking soda, salt, cinnamon and nutmeg until combined.  Pour the dry ingredient mixture into the banana mixture, and stir until evenly combined, being careful not to over-mix the batter.
Pour the batter into the prepared baking dish, and spread the top with a spoon so that it is flat and smooth.  Bake for 50-60 minutes, or until a toothpick inserted in the middle of the bread comes out clean.  (*If the bread starts to get too dark and brown on top while baking, place a sheet of aluminum foil lightly on top of the bread until it finishes baking.)
Remove from the oven, and let the bread cool on a wire rack for at least 15 minutes before slicing.
*Vegetable oil, canola oil, melted coconut oil, grapeseed oil, or avocado oil would all work here.
**This bread also freezes well!  Just wrap the entire loaf or individual slices tightly with plastic wrap, and you can freeze it for up to 3 months.
If you make this recipe, be sure to snap a photo and hashtag it #gimmesomeoven. I'd love to see what you cook!
This post is sponsored by Blue Diamond Almond Breeze Almondmilk.  I have partnered with Blue Diamond to bring you some of my favorite recipes with almond milk this year, and all opinions are 100% my own as always.  Thanks for continuing to support the brands that help make this site possible!