Chocolate Peanut Butter No-Bake Energy Bites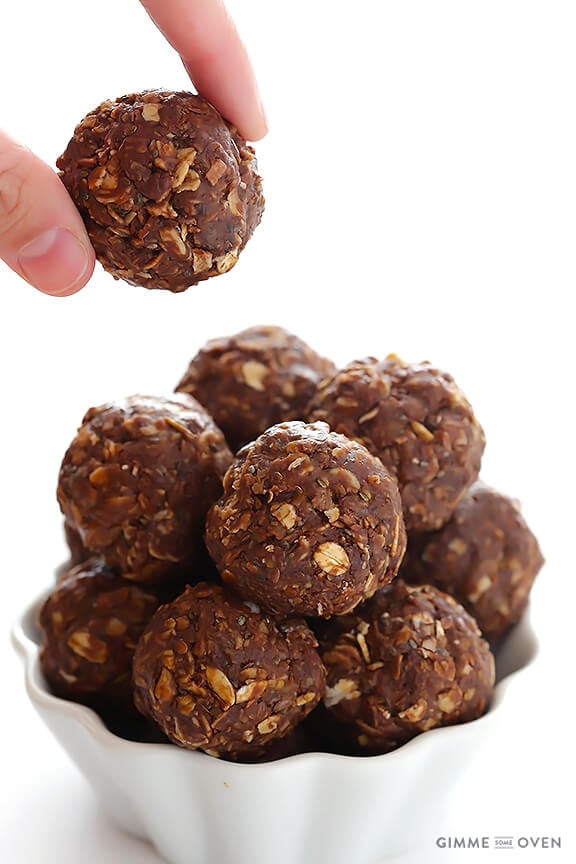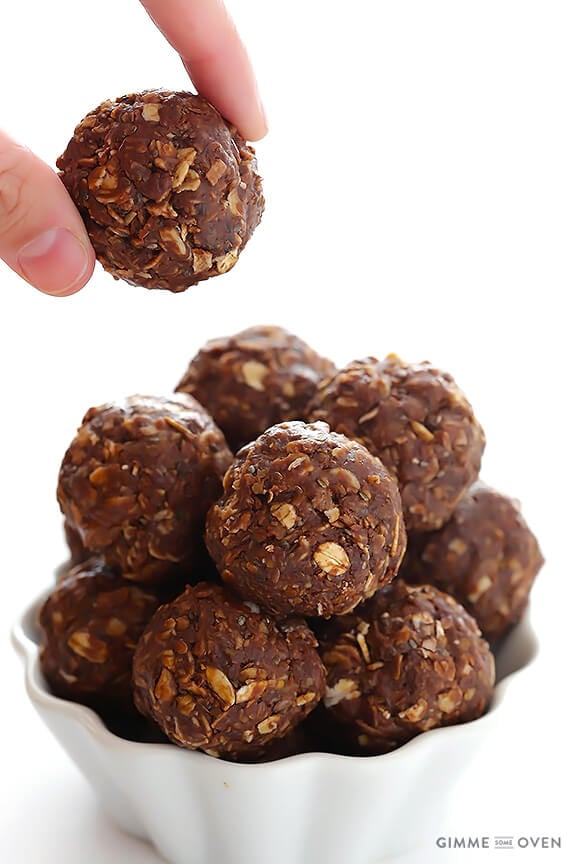 Can I just say how much I love this time of year on the blog??
When I first began blogging, it seemed as though November and December were the busiest traffic months here as everyone was cooking and baking up a storm for the holidays.  But over the past two years, January has turned into the most popular time of year on the blog by a landslide.  And you know what that means — everyone is New Year's resolution-ing to cook!  Which makes me so happy!!
Even better?  The most popular recipes on my blog right now (and a few blogging friends have said the same for theirs) are the healthier ones.  And even better than that?  Those recipes aren't just getting pinned — they're actually getting made.  It still kind of blows my mind when I scroll through the #gimmesomeoven hashtag on Instagram or read the comments on the blog that these recipes I type out online in my little home here in Kansas City are actually getting recreated in kitchens around the world.  But apparently this is the magic of the internet — they are, and man they look tasty!!
Anyway, as always, one of the most popular recipes on the site around New Years are our various recipes for no-bake energy bites.  So per tradition, I thought I would add to the collection this year with a new chocolate peanut butter edition that is 100% naturally sweetened since I'm off sugar for awhile.  (Trust me, you won't even miss those chocolate chips!)
They're unbelievably quick and easy to make.  They are chocked full of protein.  And oh man — they are tasty.
Shall we?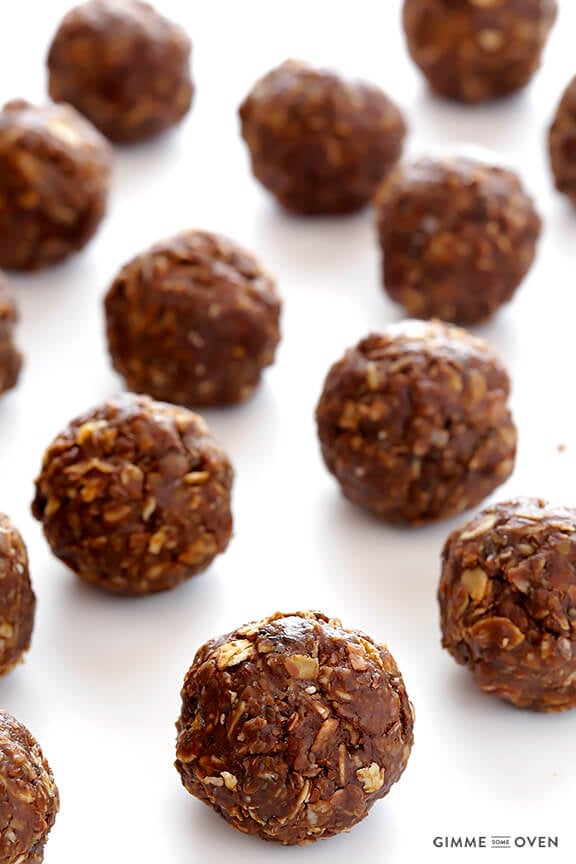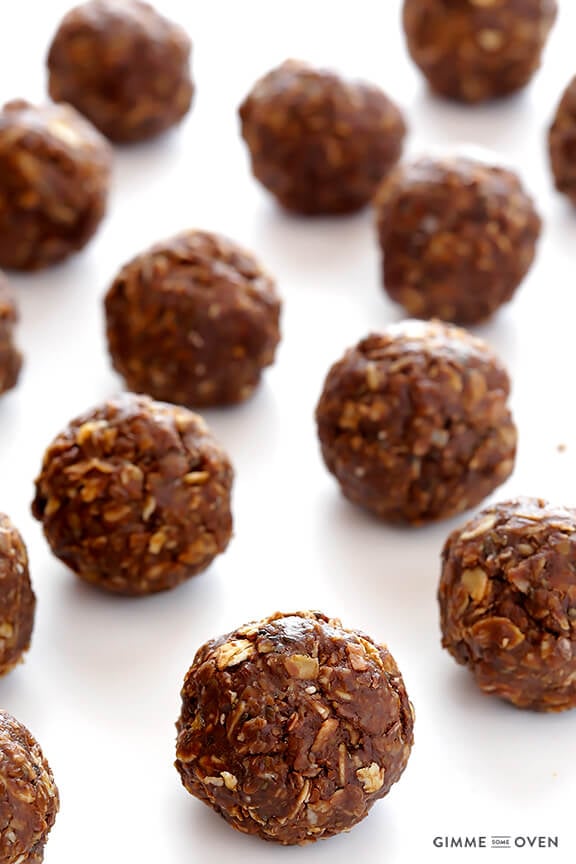 Speaking of hashtags, I was poking around on Instagram the other day and saw that someone tagged #energybites on one of my recipes.  So I popped over to see what everyone was making and — oh man! — it seems like the whole world has jumped on the energy bites craze by now!
I mean, let's be real.  These guys are really just protein bars rolled up into tiny little bite-sized balls.  But apparently the world loves those little portion-controlled bites just as much as I do, because there were zillions of recipes for them online!
I noticed that a bunch of people were nixing chocolate chips in favor of unsweetened cocoa powder to give theirs an extra chocolate-y kick.  So I gave it a try and became a quick convert.  Don't worry — the honey still sweetens up the chocolate.  But you can rest a little easier knowing that they are free of refined sugars.  Here's how to make 'em!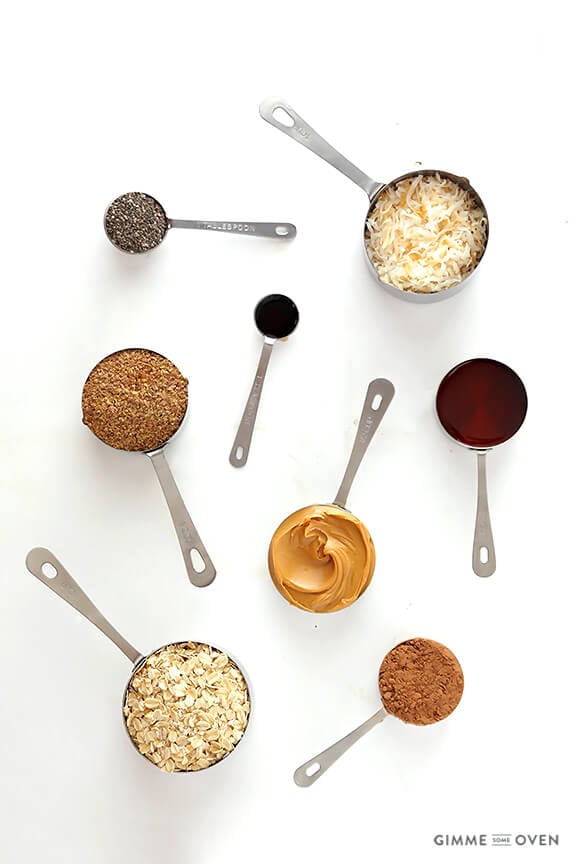 Begin by gathering your ingredients.  You'll need: chia seeds, toasted unsweetened coconut, honey, cocoa powder, oats, ground flax, vanilla extract, and (my favorite) lots of peanut butter.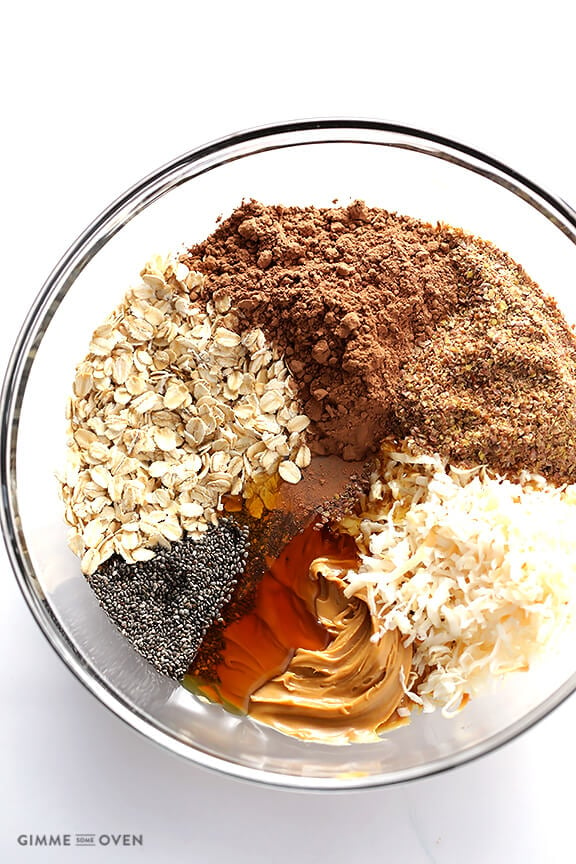 Simply stir all of the ingredients together in a big bowl until they are evenly combined.  (Sometimes I find it helps to use your hands to mix these together.)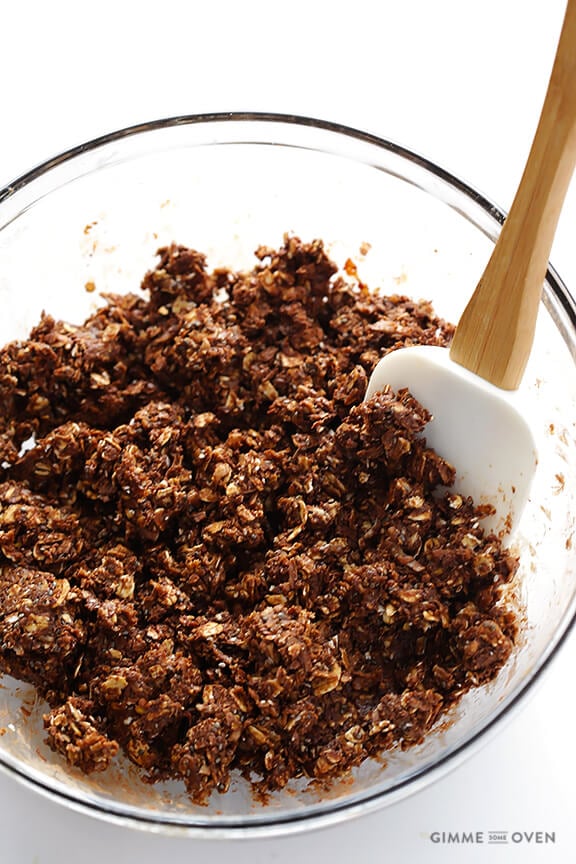 Then cover and chill the mixture in the refrigerator for at least 30 minutes, which will make it easier to handle.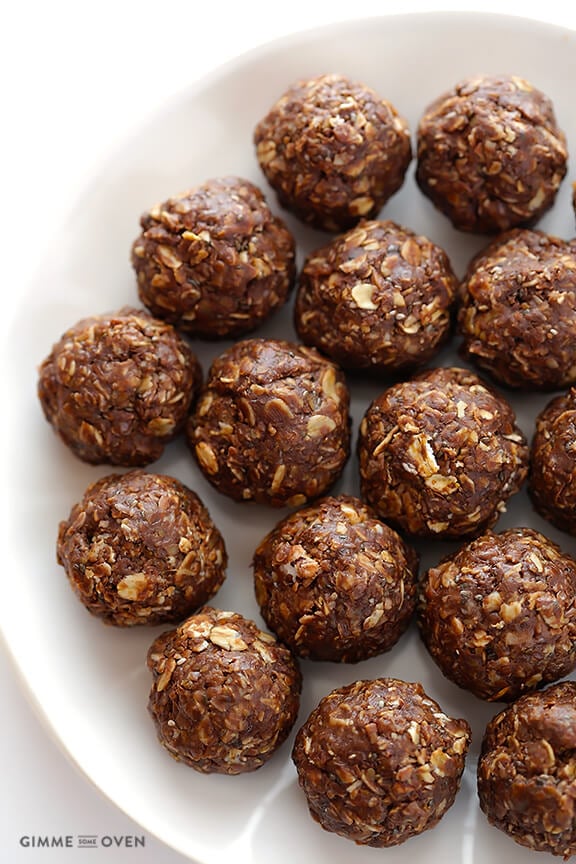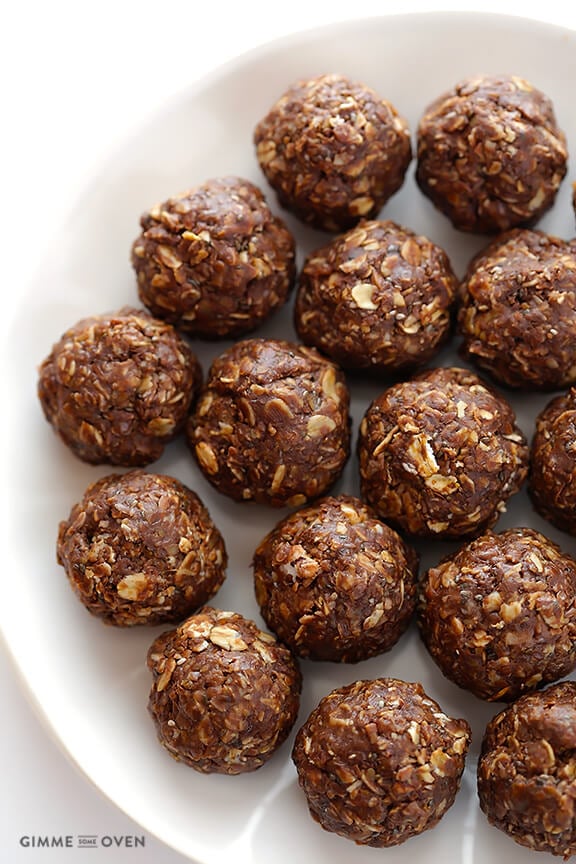 And then roll those babies up into cute little energy bites!  I tend to make mine about 1-inch in diameter, which yields about 2 dozen bites.  But you can make them larger or smaller, or even press them into a baking pan to create traditional bars if you'd like.
However you shape them, I'm pretty sure that you are going to love them.  Just like my traditional energy bites recipe, they taste just like a no-bake cookie.  Although you can rest easy knowing that the ingredients in these will give you much more energy throughout the day, rather than resulting in a sugar crash an hour later.
Enjoy!!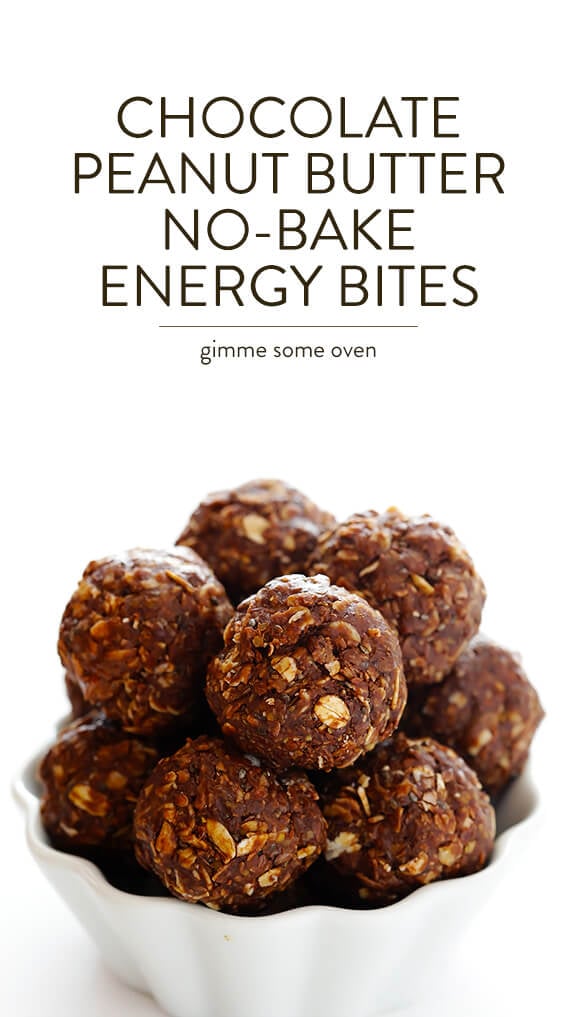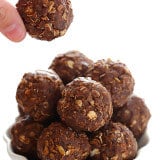 Chocolate Peanut Butter No-Bake Energy Bites (Naturally Sweetened)
These chocolate peanut butter no-bake energy bites taste just like a cookie, although they are full of protein and naturally sweetened.
Ingredients:
1 cup (dry) oatmeal (I used old-fashioned oats, although use gluten-free oats if making this GF)
2/3 cup toasted unsweetened coconut flakes
1/2 cup peanut butter
1/2 cup ground flax seed
1/3 cup honey or agave nectar
1/4 cup unsweetened cocoa powder
1 tablespoon chia seeds (optional)
1 teaspoon vanilla extract, store-bought or homemade
Directions:
Stir all ingredients together in a medium bowl until thoroughly mixed. Cover and chill in the refrigerator for at least half an hour, to make the mix easier to handle and mold.
Once chilled, roll into balls of whatever size you would like. (Mine were about 1″ in diameter.) Store in an airtight container and keep refrigerated for up to 1 week.
Makes about 20-25 balls.
*If the mix seems to dry, add in an extra tablespoon or two of honey or peanut butter.  If the mix seems too wet (which may happen if you use natural peanut butter), add extra oatmeal.
If you make this recipe, be sure to snap a photo and hashtag it #gimmesomeoven. I'd love to see what you cook!
Be sure to check out these other energy bite recipes too!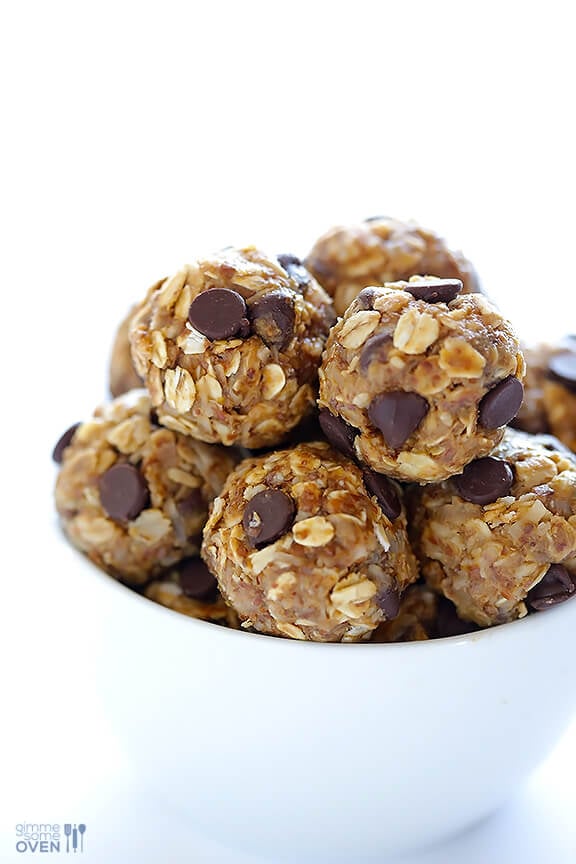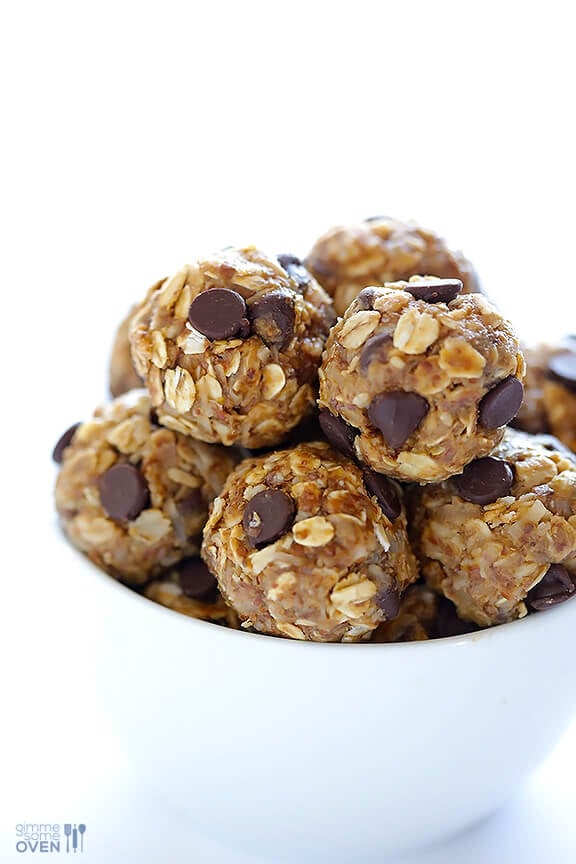 (Classic) No-Bake Energy Bites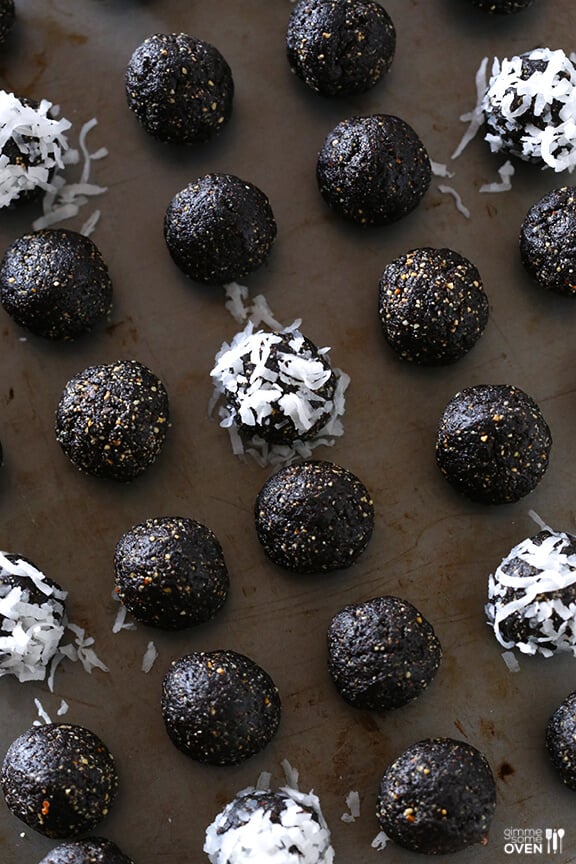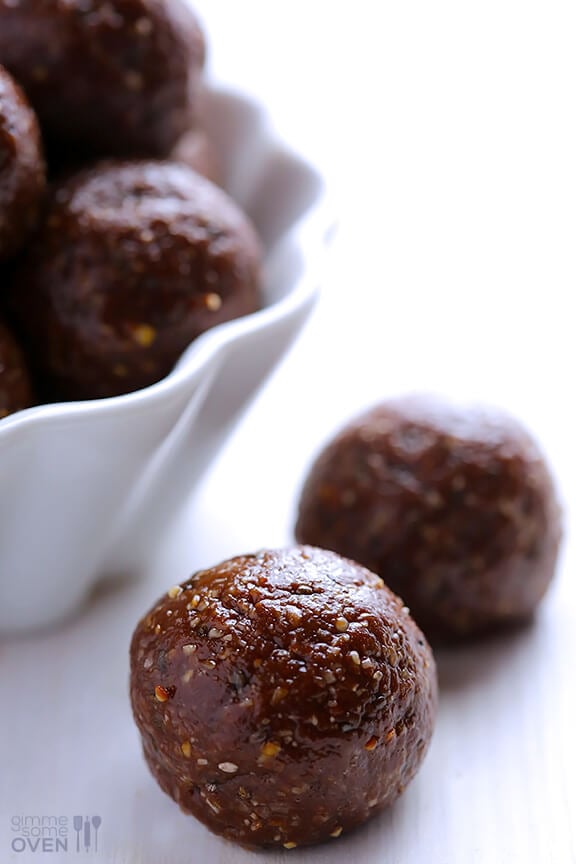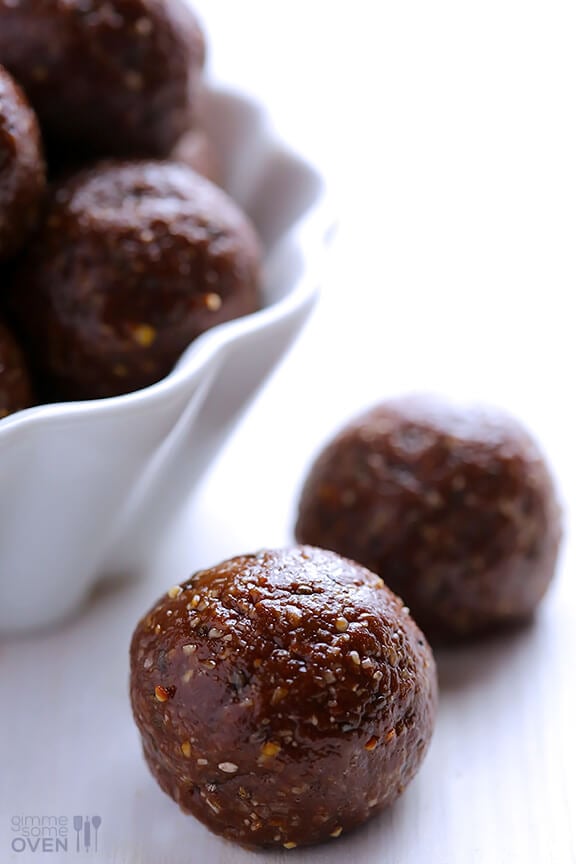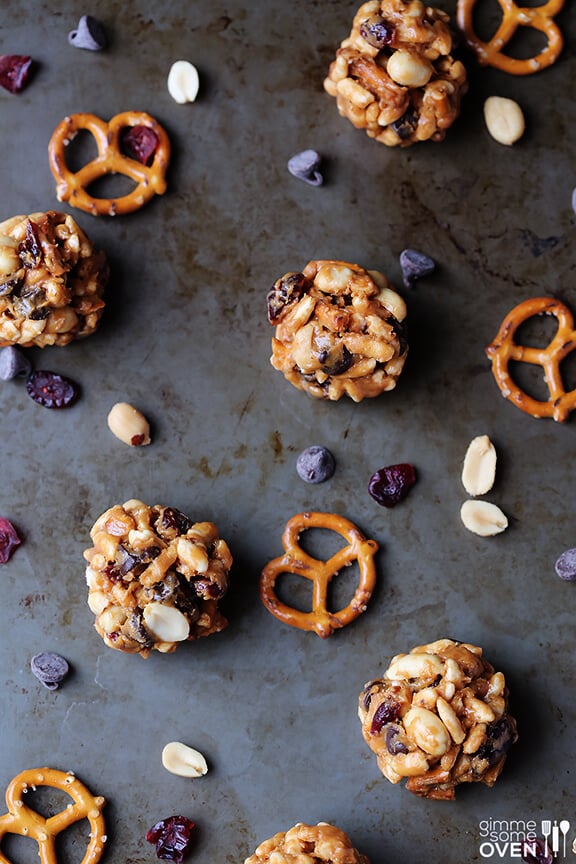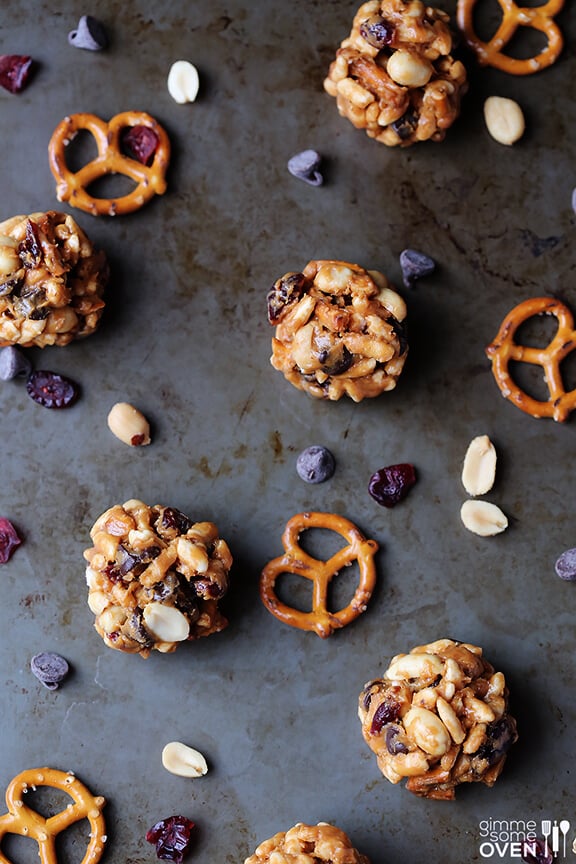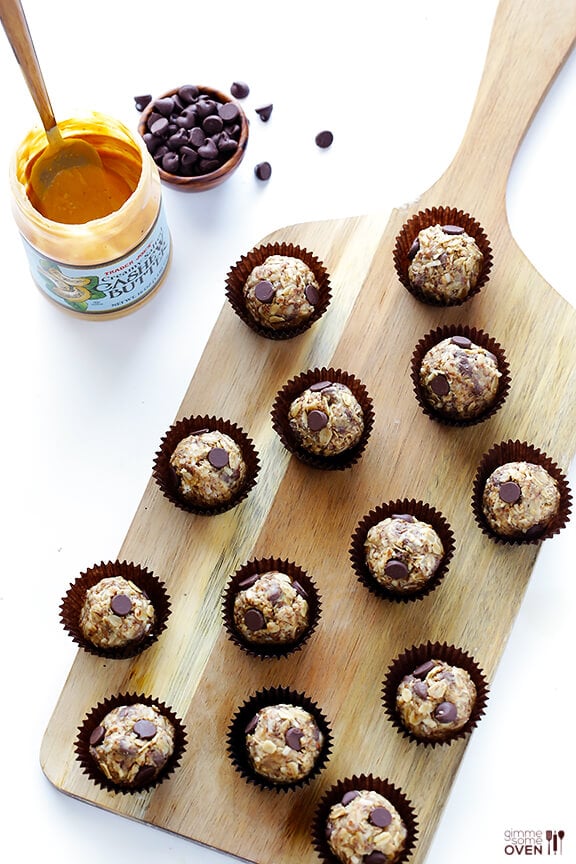 Cashew Dark Chocolate Energy Bites