Homemade White Hot Chocolate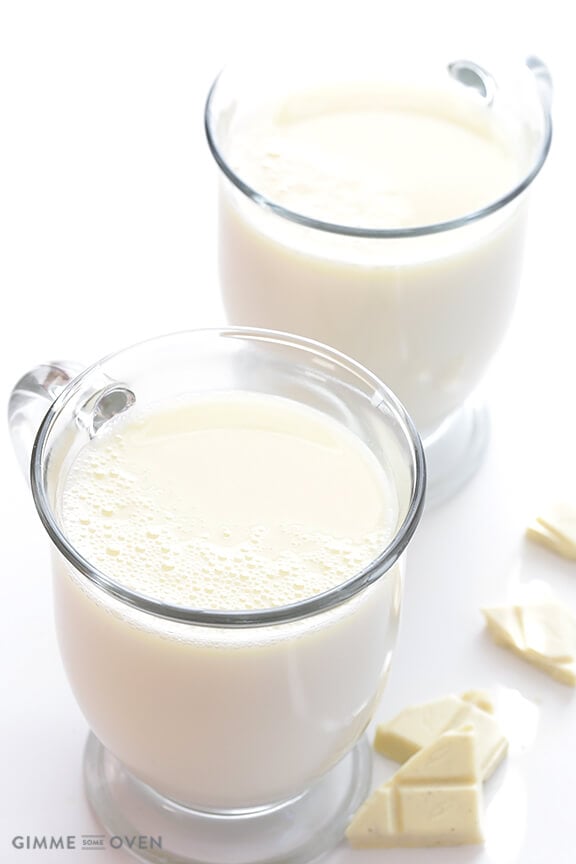 When I was in college, I used to be able to drink coffee at all hours of the day.  7am, 2pm, 2am…my friends and I pretty much lived at the coffee shop near campus, and the caffeine never fazed me.   (And I admit I was a little skeptical of my friends who "swore" coffee would keep them up if they drank it too late in the day!)
But apparently what goes around comes around. A few years ago, literally overnight it seemed like my body decided to make the switch.  And I now fall into the Don't-Let-Any-Caffeine-Near-Me-After-3pm category.  (Which even includes decaf, which I swear will keep me up half of the night too!)  I know.  Call it adulthood, but I'm now "that" person.  :)
Regardless, for the past few years, I have now been getting acquainted with the other side of the menu at coffee shops in the afternoons and evenings.  And one of my all-time favorite drinks to order in the cooler months is a classic white hot chocolate.  It is my total "comfort" drink — warm, smooth, sweet but not too sweet, and chocolate-y but not too chocolate-y.  And of course, it is all the better when topped with some fresh whipped cream!  Mmmm.
Crazy enough, it wasn't until recently that I tried to actually make homemade white chocolate.  But now that I know how easy it is, I make it all the time.  So many recipes call for heavy cream or half and half (which you are welcome to use), but you can literally make it with whatever kind of milk you'd like.  Just grab a bar of your favorite white chocolate or some white chocolate chips, a pinch of vanilla extract, and you're good to go.  Simple, cheaper than your coffee shop, and wonderfully delicious.  Enjoy!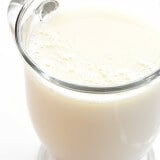 Homemade White Hot Chocolate
Delicious white hot chocolate recipe is SO easy to make homemade, and easy to make with your favorite kind of milk (or cream)!
Ingredients:
4 cups of milk of your choice (or you can substitute heavy cream or half and half, or do a mixture)
1 tsp. vanilla extract, store-bought or homemade
8 oz. white chocolate, chopped into small pieces (or white chocolate chips)
whipped cream or marshmallows for topping
Directions:
Stir together milk, vanilla and chopped white chocolate in a medium saucepan.  Cook over medium-low heat, stirring occasionally, until the white hot chocolate comes to a simmer.  (Do not let it come to a boil.)  Remove from heat and serve immediately, topped with whipped cream or marshmallows if desired.
All images and text ©
If you make this recipe, be sure to snap a photo and hashtag it #gimmesomeoven. I'd love to see what you cook!
This post contains affiliate links.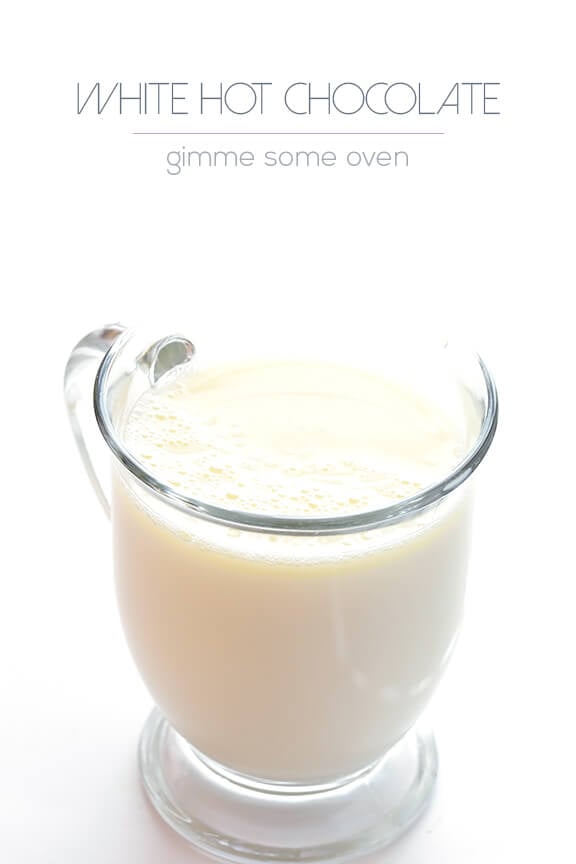 Check out these other delicious hot chocolate recipes too!
Homemade (Traditional) Hot Chocolate

Peppermint White Hot Chocolate