Potato Soup
This easy Potato Soup recipe is truly the best!!  It's quick and easy to make on the stovetop, it's nice and creamy (without using heavy cream), and it's always a crowd favorite.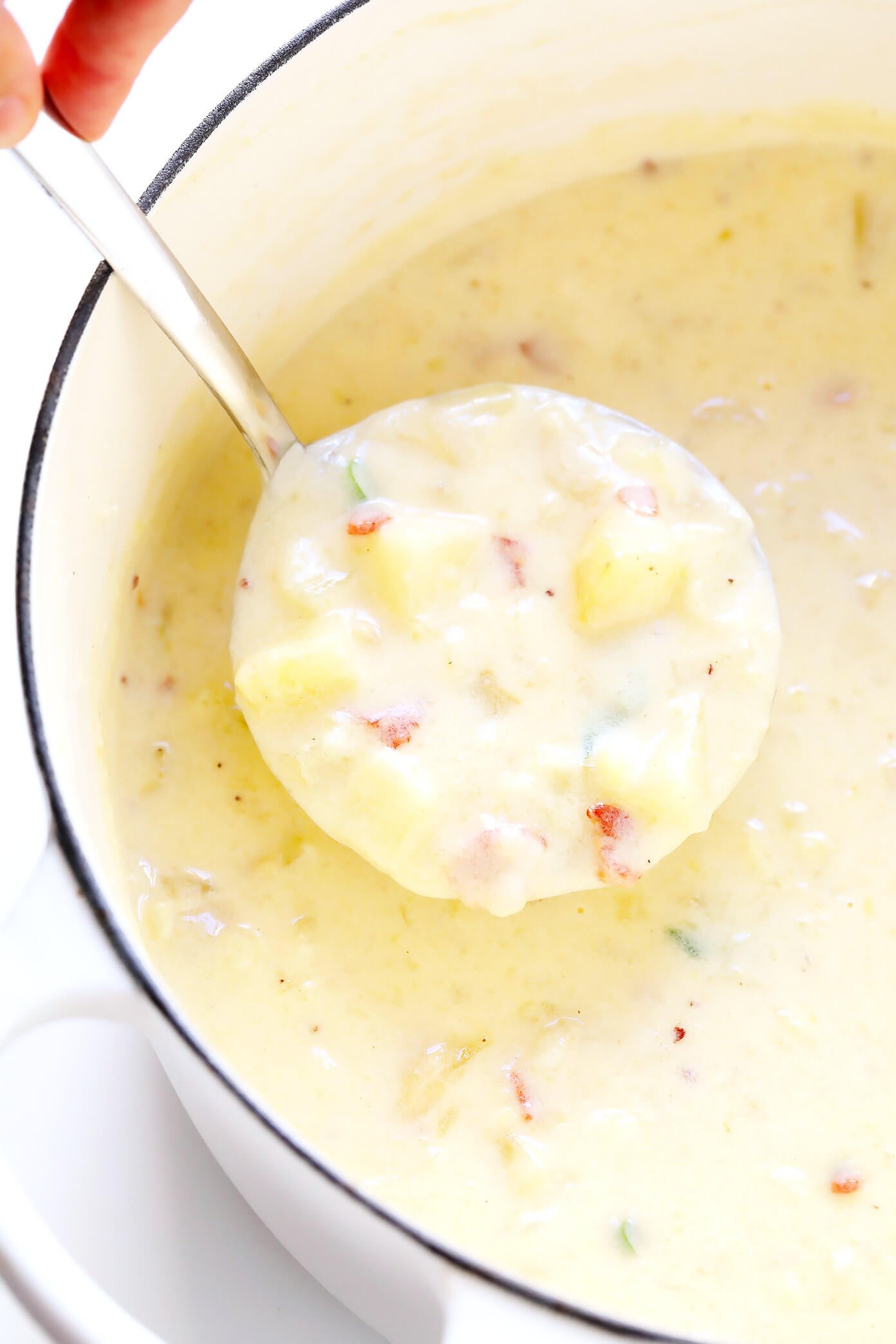 Man, it's amazing what a 5-day weekend will do for the world, isn't it?
Yesterday afternoon as I was enjoying the last few hours of Thanksgiving break at my neighborhood coffee shop, I looked around and couldn't help but notice how visibly relaxed everyone was.  Even amidst the hustle and bustle of the crowd and even with holiday music cranked to the nines, there seemed to be such an ease and joy filling the room, as if people just wanted to look around and say, "this — we need more of this in our lives".  Sitting there snuggled up in my fuzzy coat, with my hands curled around a hot cup of coffee, talking through the weekend with a good friend, I couldn't agree more.  Life felt simple and carefree and good.
Of course, Mondays always come, along with the to-do lists and post-turkey-workouts and let's-get-back-on-with-real-life-ness that I ridiculously too good at cramming into my schedule.  But if nothing else, I feel that with each vacation, each long weekend, each extended period of time off, I get just a tiny bit better and recognizing how much I just love that feeling of being totally checked out and relaxed.  How much I need it.  How (I'm pretty sure) we were all designed for it.  How it rocks.
So anyway, as cheesy as it may sound, I have found that one of my favorite times of the day to disconnect — if even just for 10 minutes or so — is over lunch.  It's super tempting when working from home to just "power through" the lunch hour, especially when food seems to be hanging around the office 24/7 in my job.  But over the past year or so, I have come to totally appreciate the rhythm of taking some serious time off for lunch.  No email.  No computer open.  Usually it's just me, a book or a TV show (right now I'm obsessed with The Good Wife!!) or the view outside my window, and an actual factual meal of some kind.
Last week I was feeling like comfort food, so this potato soup recipe happened.  And it was perfection.
Potato Soup Recipe | 1-Minute Video
I have been a fan of potato soup since as far back as I can remember, especially when cheese is involved, and especially if bacon is sprinkled on top and stirred in.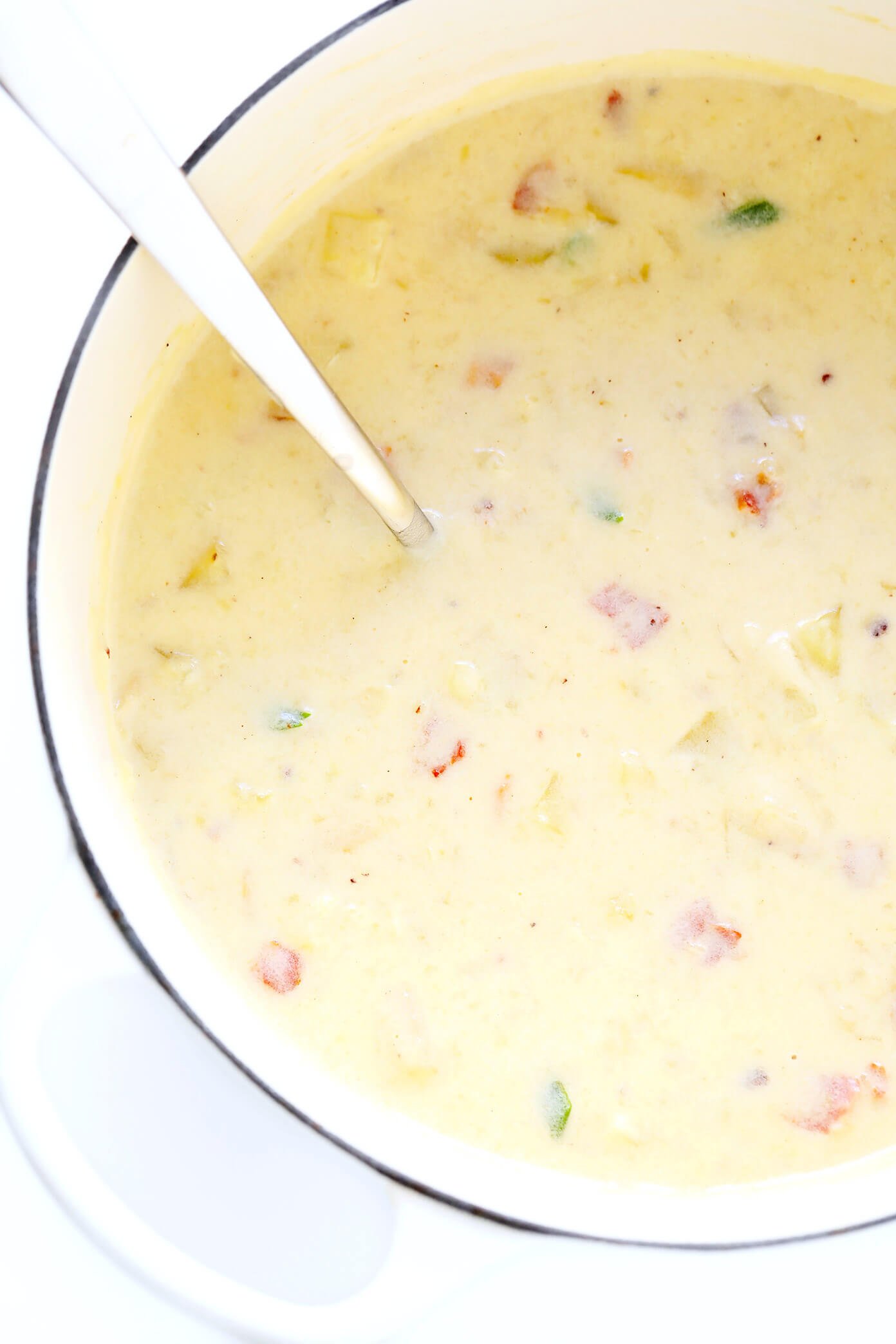 However, I hardly ever order it out at restaurants because you can almost guarantee that they have thrown quarts full of heavy cream into the mix, which is totally unnecessary if you ask me.  (I would rather consume any extra calories in bacon, thankyouverymuch.)  ;)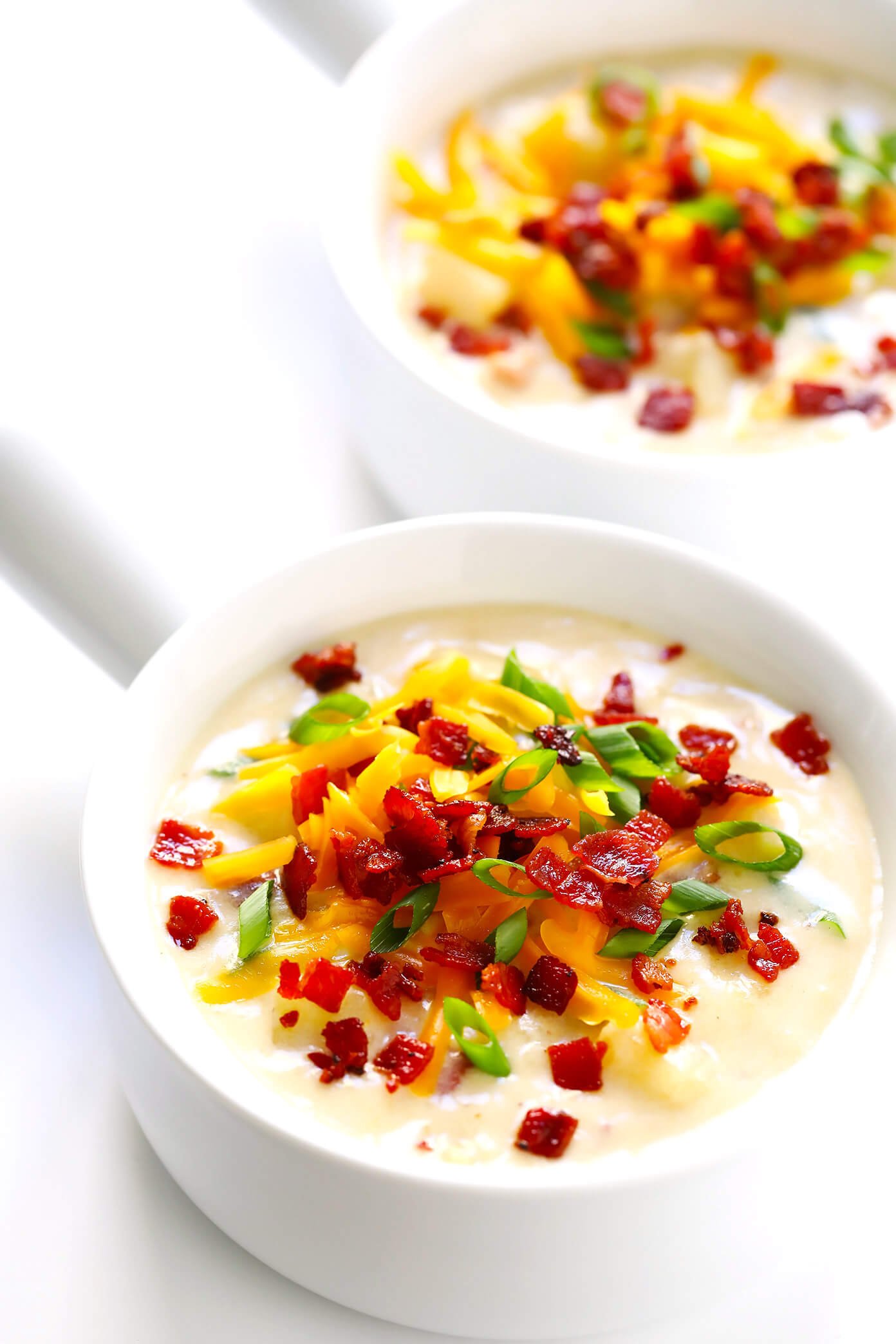 The good news is that you don't need insane amounts of cream to make an insanely creamy, delicious potato soup.   Nor do you need a ton of time.  This soup is ready to go in about 30 minutes or so, and also makes fantastic leftovers.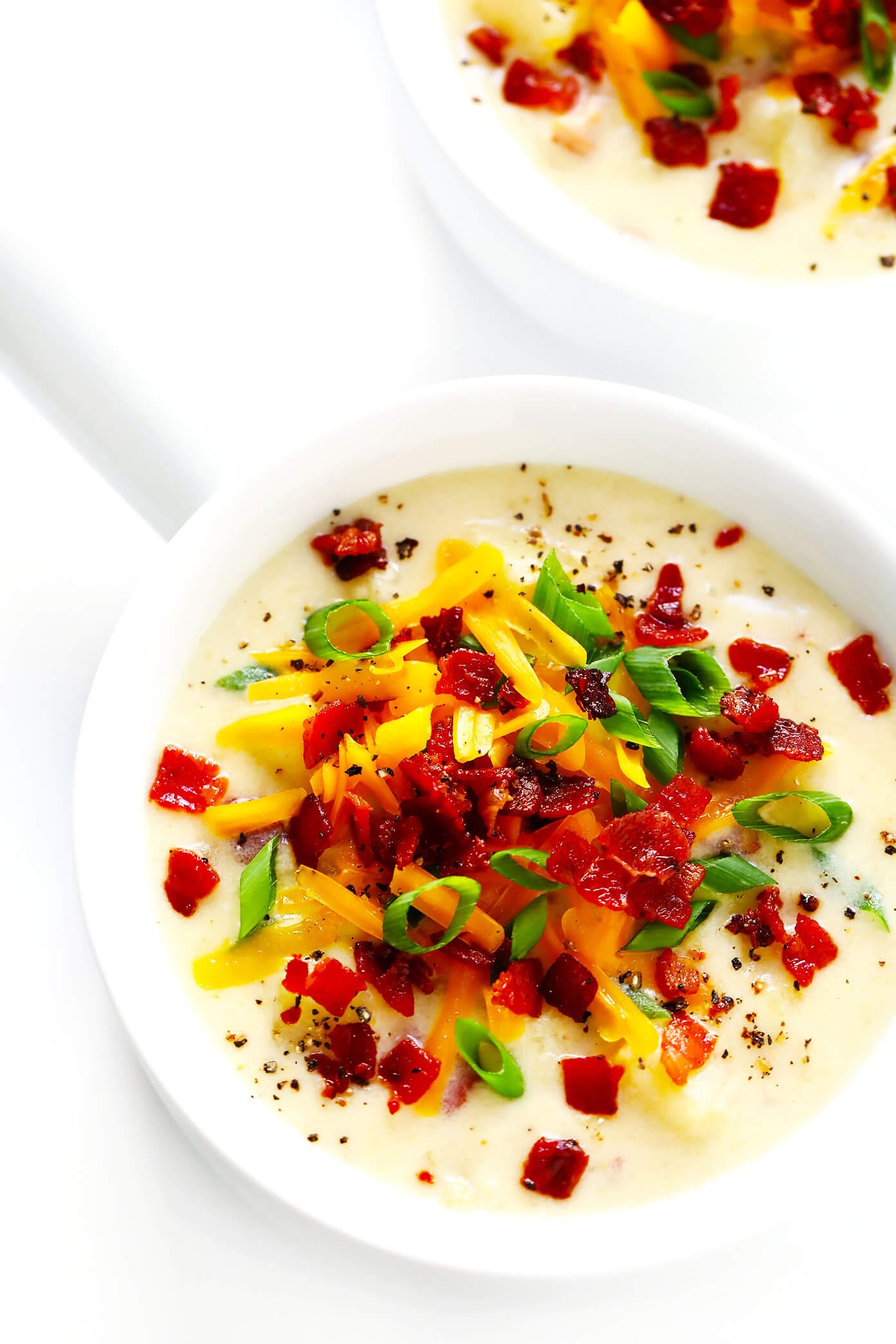 If you're anti-bacon, you can totally skip that part.  And you can also add in as much cheese as sounds good to you.
Basically, this is a fantastic base recipe for potato soup.  So feel free to customize it however you'd like.
And whether you make it on a relaxing weekend off, or smack dab in the middle of a super chaotic week, I hope that this soup can bring at least a few moments of extra comfort and relaxation and joy to your day.  It definitely did to mine.
Hugs and bon appetit, friends!
Edited: For any of you looking for a crock-pot version of this recipe, check out my new recipe for Slow Cooker Potato Soup!  It's delicious!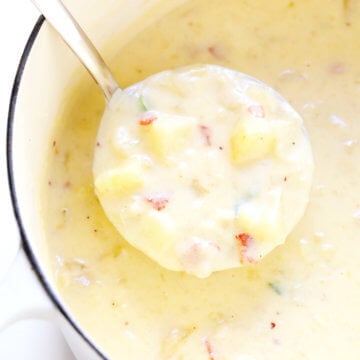 Potato Soup
This classic potato soup recipe is thick, creamy and delicious, and made healthier without heavy cream.
Ingredients:
5 slices bacon, diced
3 tablespoons bacon grease (reserved) or butter
1 cup diced white or yellow onion
1/4 cup all-purpose flour
2 cups chicken stock
2 cups milk, warmed
1.5 pounds potatoes, peeled (if desired) and diced (I recommend Yukon gold potatoes)
1 cup shredded sharp cheddar cheese
1/2 cup plain Greek yogurt or sour cream
1 teaspoon Kosher salt, or more to taste
1/2 teaspoon freshly-cracked black pepper
optional toppings: thinly-sliced green onions or chives, extra shredded cheese, extra bacon, sour cream
Directions:
Heat a large stockpot over medium-high heat.  Add diced bacon and cook until crispy, stirring occasionally.  Transfer the bacon to a separate plate, using a slotted spoon, reserving about 3 tablespoons of bacon grease in the stockpot.  (Discard any extra grease, or you can substitute butter in place of the 3 tablespoons of bacon grease.  Also, if you are short on time, you can dice the potatoes and onion while the bacon cooks to save time.)
Add onion and saute for 5 minutes, stirring occasionally, until soft.  Sprinkle the flour on top of the onion, and stir until combined.  Saute for an additional minute to cook the flour, stirring occasionally.  Then stir in the chicken stock until combined.  Stir in the milk and potatoes until combined.  Continue cooking until the mixture reaches a simmer, but is not boiling.
Reduce heat to medium-low, cover, and simmer for about 10-15 minutes or until the potatoes are soft, stirring occasionally every few minutes so that the bottom does not burn.  (The smaller you dice your potatoes, the faster they will cook.)
When the potatoes are soft, stir in the cheddar cheese and Greek yogurt (or sour cream), salt, pepper and cooked bacon bits.  Taste and see if it needs more salt or pepper or cheese.
Serve warm, garnished with desired toppings.  Or, transfer to a sealed container and refrigerate for up to 3 days.
All images and text ©
If you make this recipe, be sure to snap a photo and hashtag it #gimmesomeoven. I'd love to see what you cook!
This post contains affiliate links.