Pumpkin Whoopie Pies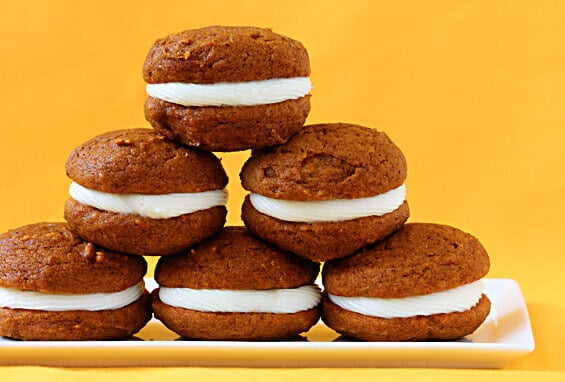 Whoopie!  It's pumpkin season again!
I officially re-stocked my pantry again with lots of pureed pumpkin for fall, and after revisiting some of my annual favorites (many of which I posted during my "Ode To Pumpkin Week" last year!)….somehow only one lonely can remains on the shelf.  Did I mention I love pumpkin?
Anyway, for my first fall pumpkin recipe of this year, thought I'd kick off with a fun new favorite – pumpkin whoopie pies!  Apparently the name is not as well-known as I thought, because my friends and coworkers over the past two days always raise an eyebrow when I introduce the treats.  But for those who have yet to try them, whoopie pies are basically two cake-like cookies with frosting sandwiched between them.
I went with a popular spiced pumpkin cookie recipe that has been circulating the blogosphere (which tasted almost exactly like my iced pumpkin cookies), and then went with a classic cream cheese frosting in between.  I'm pretty sure there's no way to go wrong with that combo, but they were still wonderfully delicious.
Happy fall baking!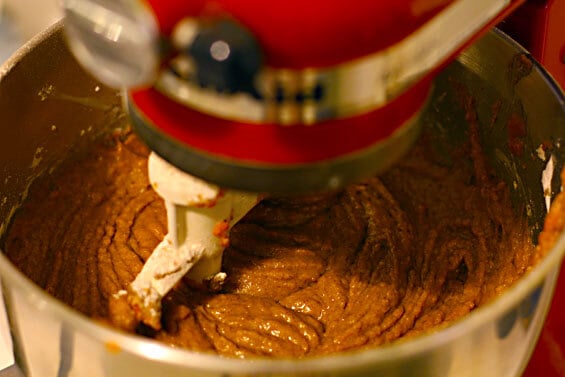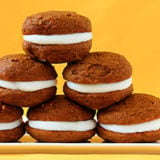 Pumpkin Whoopie Pies
Ingredients:
Whoopie Pie Ingredients:
3 cups all-purpose flour
1 tsp. salt
1 tsp. baking powder
1 tsp. baking soda
2 Tbsp. ground cinnamon
1 Tbsp. ground ginger
1 Tbsp. ground cloves
2 cups firmly packed dark-brown sugar
1 cup vegetable oil
3 cups pumpkin puree, chilled
2 large eggs
1 tsp. vanilla
Cream Cheese Filling Ingredients:
3 cups confectioners' sugar
1/2 cup unsalted butter, softened
8 oz. cream cheese, softened
1 tsp. vanilla
Directions:
For the whoopie pies:

Preheat oven to 350 degrees. Line baking sheets with parchment paper or a nonstick baking mat; set aside.

In a large bowl, whisk together flour, salt, baking powder, baking soda, cinnamon, ginger, and cloves; set aside. In another bowl, whisk together brown sugar and oil until well combined. Add pumpkin puree and whisk until combined. Add eggs and vanilla and whisk until well combined. Sprinkle flour mixture over pumpkin mixture and whisk until fully incorporated.

Using a small ice cream scoop with a release mechanism, drop heaping tablespoons of dough onto prepared baking sheets, about 1-inch apart. Transfer to oven and bake until cookies are just starting to crack on top and toothpick inserted into the center of cookie comes out clean, about 15 minutes. Let cool completely on pan.
!For the cream cheese filling:
Sift confectioners' sugar into a medium bowl; set aside. In the bowl of an electric mixer fitted with the paddle attachment, beat butter until smooth. Add cream cheese and beat until well combined. Add confectioners' sugar and vanilla, beat just until smooth.

Transfer filling to a pastry bag and pipe onto whoopie pie (turned over, the flat side facing up) and pipe almost to the edge; filling the surface area. Place second whoopie pie (flat side facing down towards filling) and gently press until the filling spreads to the edge of the cookie.

Place cookies on baking sheet with parchment paper and cover with plastic wrap. Refrigerate cookies at least 30 minutes before serving.

If you make this recipe, be sure to snap a photo and hashtag it #gimmesomeoven. I'd love to see what you cook!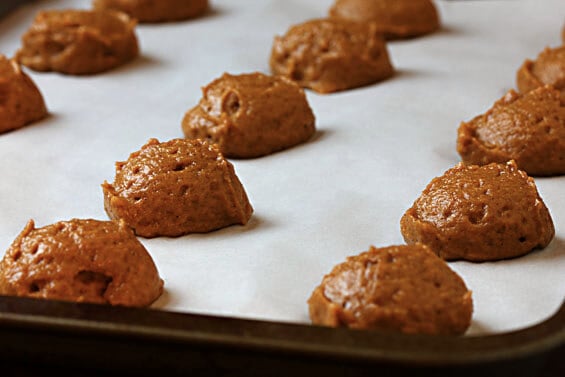 Ali's Tip:
Feel free to add some extra flavoring to your cream cheese filling.  Some options might include:
a pinch of cinnamon and/or nutmeg
a tablespoon of maple syrup
adding some sprinkles around the edges of the filling