Chicken Enchilada Casserole ("Stacked" Chicken Enchiladas)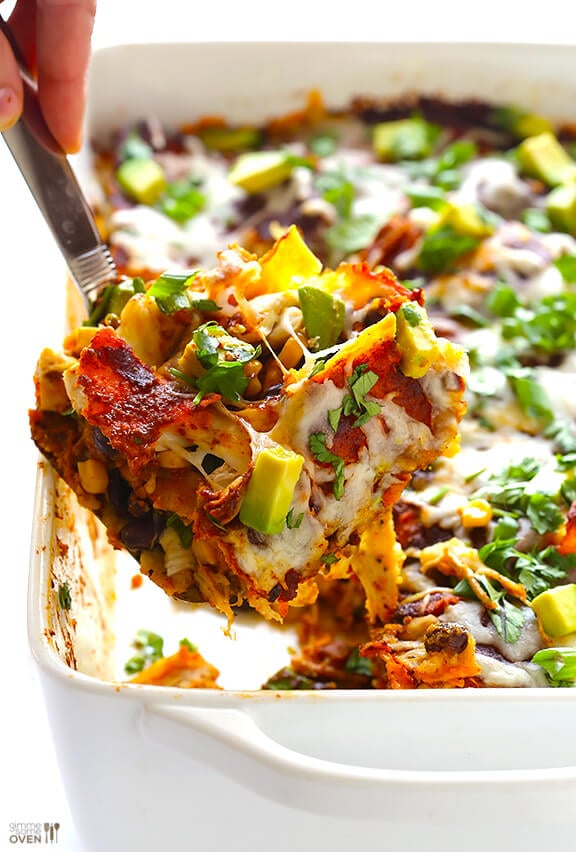 My favorite foodie week of the year has finally arrived.
Yes, I'm well aware that most people I know get more excited about their annual Thanksgiving turkey-a-thon.  Or the arrival of summer grilling season out in the back deck.  But in my book, the best time of the year is when the rest of the world gets excited about eating what I basically crave on a daily basis — Mexican food!!!
Si, amigos.  
Anything that goes with chips and salsa is my happy place.
So I'm taking full advantage the week leading up to Cinco de Mayo (which serendipitously happens to be my Dos de Mayo birthday week) to have a little Mexican food fiesta on the blog, beginning with one of my favorite recipes — Chicken Enchilada Casserole.  Also known as Stacked Chicken Enchiladas.
This is basically a riff on my recipe for The Best Chicken Enchiladas Ever, made of course with my favorite homemade Red Enchilada Sauce.  But this version is slightly faster to make and also gluten-free!  It's also easy to adapt to be vegan and dairy-free.  And easy to load up with your favorite toppings galore.  I made it for some friends this weekend and they basically agreed that every single one of you has to try it.  ;)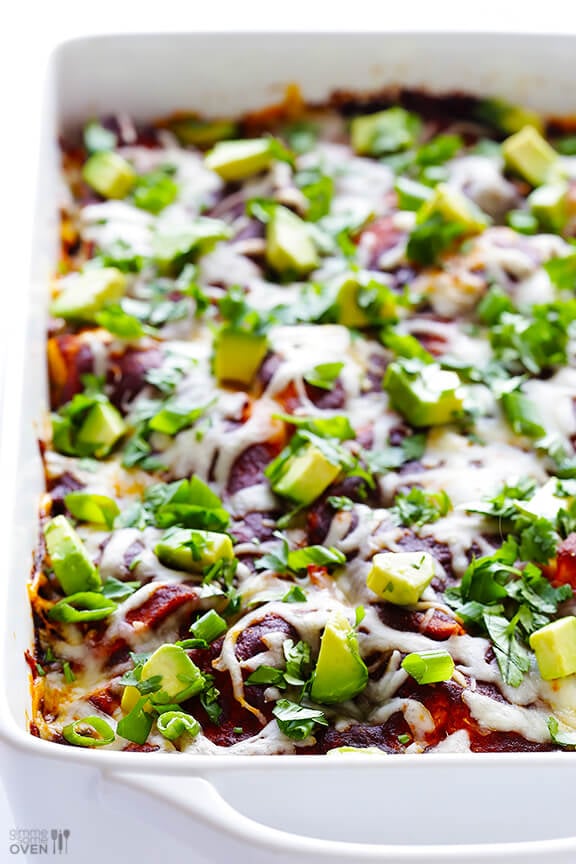 When I began converting my favorite enchiladas to be gluten-free a few years ago, one of the first problems I ran into was those darn corn tortillas.  Yes, yes, I know all of the tricks to warming them correctly so that they don't tear.  But they can still be a pain to work with when it comes to enchiladas.  So one time I decided to try just stacking them with the other ingredients like a casserole…and the rest was enchilada history.
This truly is such an easy way to prepare enchiladas!  And it's also easy to serve to a crowd, especially when people get all indecisive about whether they want a "half" or a "whole".  Just have them cut out the slice of their choice.
If you happen to be vegan or dairy-free, these taste great with just adding extra beans and/or roasted veggies in place of the chicken and cheese.  Actually, my friend who taught me this recipe years ago was dairy-free and swore by adding lentils to her enchiladas instead of cheese.  Whatever works for you!
But whether you eat everything, or are on a gluten-free or vegan diet, you must try my homemade red enchilada sauce with these.  It is without a doubt what "makes" this recipe.  And it is super easy to make!!  All you basically need are a few spices, some vegetable or chicken broth, a bit of flour (you can sub in GF all-purpose flour), and it's ready to go with just about 5 minutes of prep.  Pretty pretty please, don't skip this step.  ;)
So to make the enchiladas, you're basically going to literally stack the ingredients however you'd like.  I usually do a layer of enchilada sauce, then tortillas…
…then black beans and corn (or whatever other ingredients you'd like)…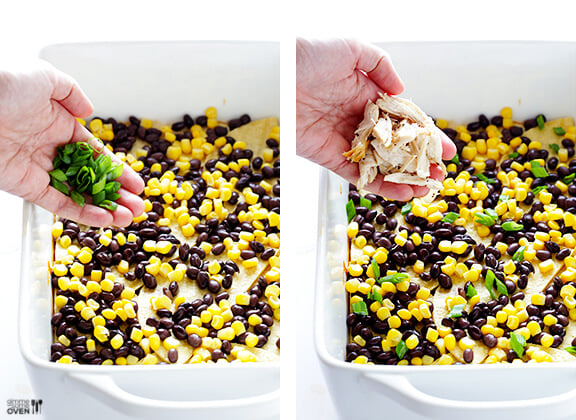 …then green (or sauteed diced yellow) onions and shredded cooked chicken…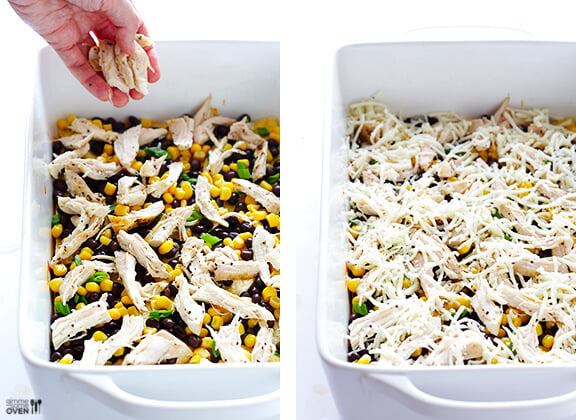 …then your cheese.  And then repeat two more times, so that you have three layers.
I then finish the enchiladas with a layer of tortillas topped with enchilada sauce.  Cover with aluminum foil and bake for about 20 minutes.  Then uncover and sprinkle with a little more cheese, and bake for an additional 10 minutes or until the cheese is nice and melted.
Then pile on your favorite toppings, like avocado, fresh cilantro and more green onions.  Sour cream might also be lovely.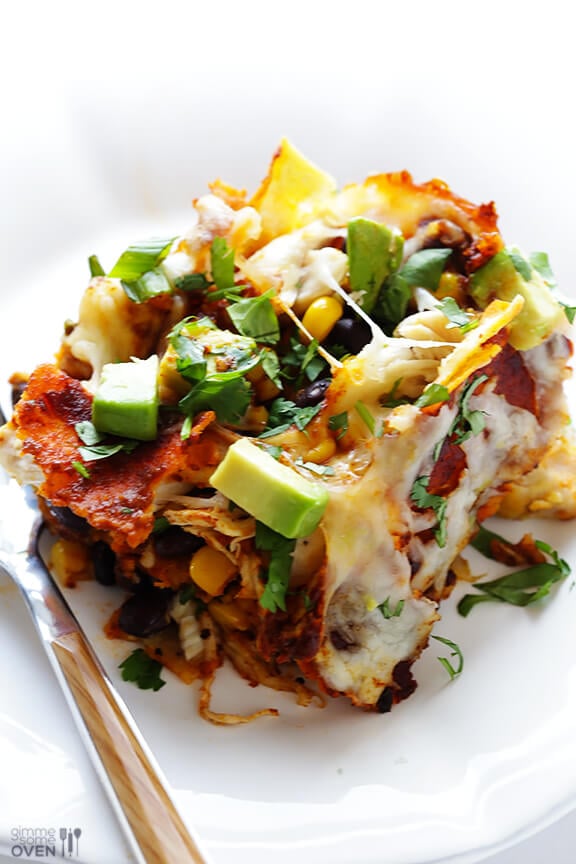 Then serve it up!  It's definitely not quite the same "look" as traditional enchiladas.  But holy smokes, are they good.  And they make this Mexi food lover very, very happy.  :)

Enjoy!!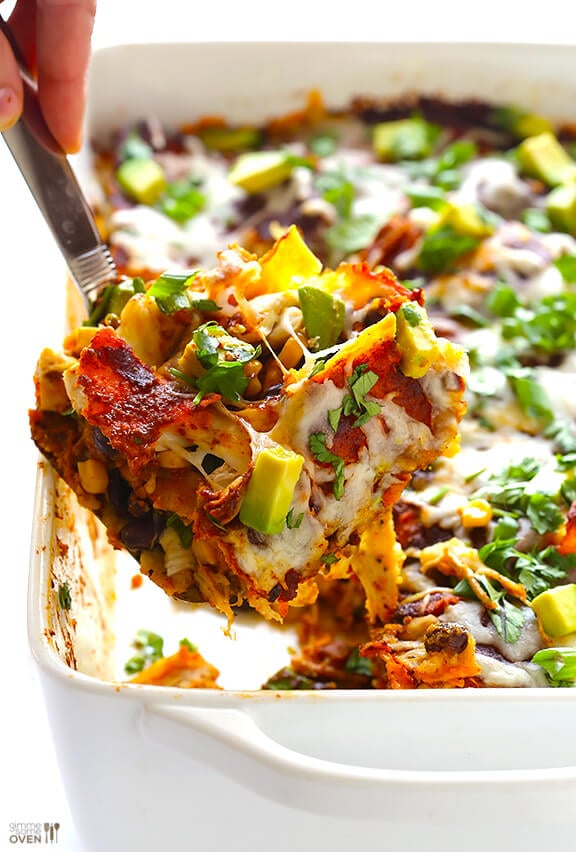 Chicken Enchilada Casserole (a.k.a. "Stacked" Chicken Enchiladas)
This chicken enchilada casserole recipe (a.k.a. "stacked enchiladas") are simple to make, gluten-free, and MUY delicioso.
Ingredients:
3 cups red enchilada sauce (I highly recommend my homemade red enchilada sauce recipe, which can be made gluten-free*)
16 corn tortillas, halved
2 (15 ounce) cans black beans, rinsed and drained
1 (15 ounce) can whole kernel corn, drained
6 scallions (green onions), thinly sliced
4 cups (about 1.5 pounds) shredded cooked chicken
3 cups shredded Monterrey Jack or Mexican blend cheese
1 avocado, peeled, pitted and diced
1/2 cup loosely-packed chopped fresh cilantro
Directions:
Heat oven to 375 degrees F. Prepare a 9×13-inch baking dish with cooking spray.
Pour about 3/4 cup enchilada sauce in the baking dish, and spread until the bottom of the dish is coated. Top with a layer of about 8 tortilla halves so that the entire dish is covered. Sprinkle evenly with about 1 cup black beans, 1/2 cup corn and a fourth of the green onions. Then sprinkle with a heaping cup of the chicken, and about 3/4 cup shredded cheese. Repeat with a second layer of tortillas, then sauce, then beans, corn, green onions, chicken, and cheese. Then a final layer of tortillas, sauce, beans, corn, green onions, chicken and cheese. Then conclude with a final layer of tortillas and sauce (reserving about 3/4 cup of cheese to add partway through baking). Cover the pan with aluminum foil, then bake for 20 minutes.
Remove pan and remove aluminum foil. Sprinkle the top of the enchiladas evenly with the remaining 3/4 cup of cheese, then return to the oven (uncovered) and bake for 10 minutes or until the cheese is melted. Remove pan, and sprinkle with avocado, cilantro, and remaining green onions. Serve warm.
*If you are not using my enchilada sauce and would like this recipe to be gluten-free, be sure to check the label of store-bought sauces to find one that is GF.
*To make this recipe gluten-free, be sure to check the labels of all ingredients to double-check that they are made gluten-free.
All images and text ©
If you make this recipe, be sure to snap a photo and hashtag it #gimmesomeoven. I'd love to see what you cook!