Roasted Cauliflower and Black Bean Tacos
These Roasted Cauliflower and Black Bean Tacos are topped with a zesty tahini-cumin-lime crema, they're naturally gluten-free and vegan, and muy delicioso.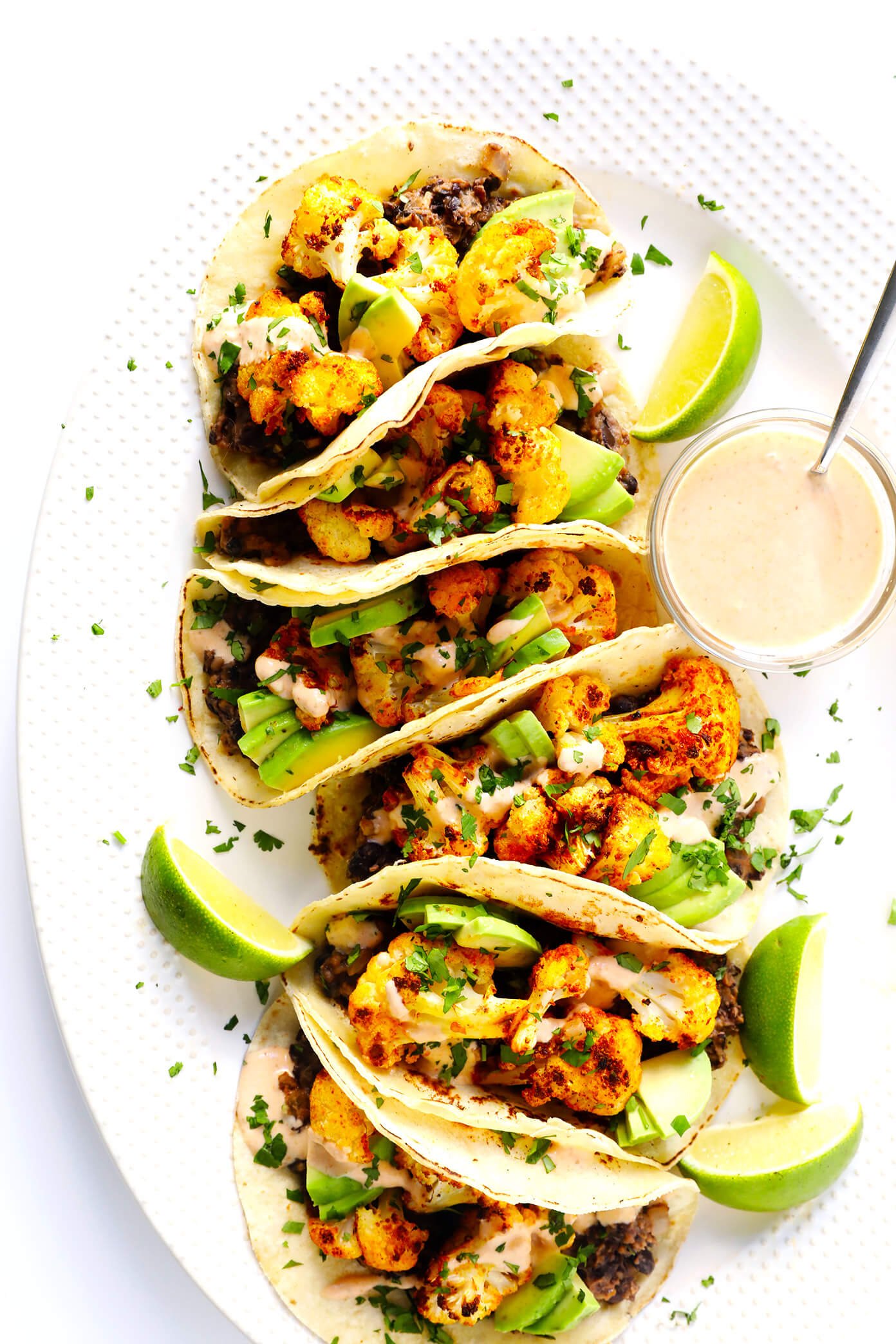 One of the random questions I love asking our expat friends here in Barcelona is where they go when they're craving some comfort food from home.  Everyone's eyes always light up when you ask — because, as we've learned — everyone has those days when all you want is a bite of something nostalgic that tastes like home.  And sure enough, everyone has their go-to spot.
Our Irish friend immediately told us where the perfect pub is located in Barcelona to grab a pint and some stew. Our Romanian friend whipped our her phone to show us which restaurant is legit authentic in town.  Our Swiss friend brought some of her favorite chocolates over to share with us.   Our German friend told us where to we need to go for our next dinner date.  And hey, as you might have caught in our (new!) January monthly update video, our local friends here also don't want us to miss any of their favorite comfort food traditions, and baked us our very own king cake for Epiphany, and invited us along to experience our very first calçotada this month, just so we didn't miss a thing.
Love it.
Ha, that said, whenever the comfort food question gets turned back on us, Barclay and I have realized that we still have yet to visit a single "American" restaurant here in Barcelona.  Whenever those homesick days and cravings hit, we've realized that we turn to one thing instead…Mexican food.  😂
As you might remember, our first date was a 7-hour chips and salsa-a-thon…eventually followed by a surprise proposal party at the same Mexi restaurant…followed by a wedding full of tacos…followed by a honeymoon in Oaxaca…and a zillion chips and salsa happy hours in between.  So it probably should come as no surprise that when we're feeling all those feels and craving some comfort food from home, we tend to reach for tacos over burgers any day.  Thankfully, we've finally found a killer Mexican restaurant here in Barcelona, when we feel like going out for some authentic food.  But most of the time, we opt for taco nights in, with homemade salsa and margaritas and comfy pants.
And this past weekend, we had the double treat of enjoying some tastes from home, created by some friends from home, when we tried these yummy Roasted Cauliflower and Black Bean Tacos from Sonja and Alex's new cookbook.  Totally our kind of comfort food.  💛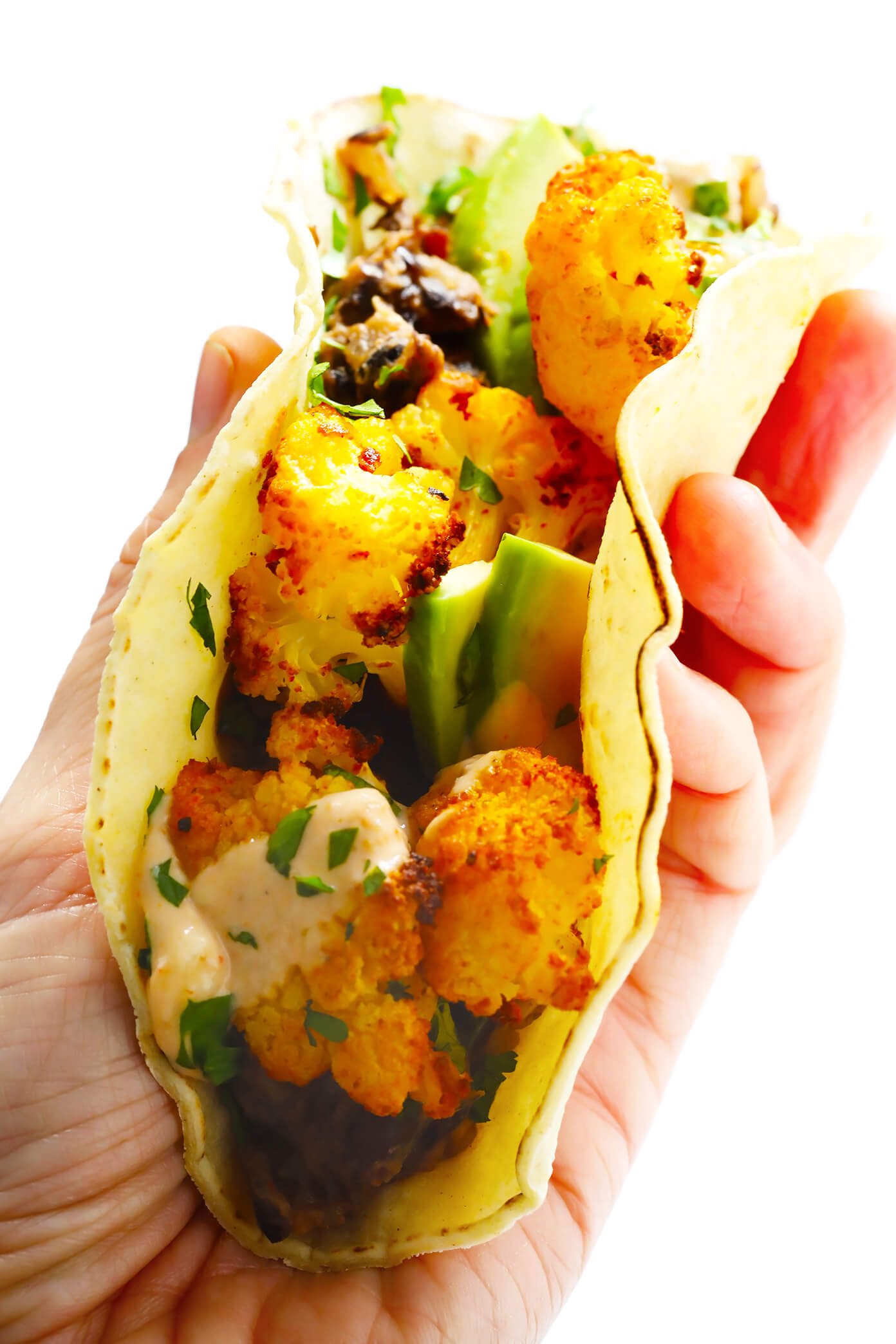 (This post includes affiliate links.)
Do you know Sonja and Alex from their vegetarian food blog, A Couple Cooks?
Somehow, I still have never crossed paths with these two kindred spirits in person yet.  (Although I think we're finally going to remedy that with their upcoming trip to Spain, yay!)  But we have been internet buddies and I have been following their blog for years.  And amongst the many things I love and admire about these two, I especially appreciate how beautifully and honestly they have written about their story, I love thumbing back through the archives of their Healthy and Whole series for inspiration in the kitchen, I tune in regularly for their podcast (and love their focus on the stories and people behind the food), plus I've gotta say, their cute little son, Larson, always makes Instagram a brighter place.
I've also always appreciated their thoughtful approach to creating delicious and simple vegetarian recipes for years, which they regularly share on their blog.  So the release of their very first cookbook is an exciting one!  It's aptly named Pretty Simple Cooking.  And in addition to 100 recipes (with photos for each), this book is filled with beautiful original watercolors, lovely "life lessons" essays at the beginning of each chapter, and tons of helpful tips and inspiration to make cooking all the more delicious and enjoyable.  I totally recommend checking it out.
And…totally recommend these tacos!
When Barclay and I were thumbing through the book, trying to decide which recipe to make, these tacos jumped out at us on a cold and rainy day when we were craving some comfort food.  And sure enough, they totally hit the spot.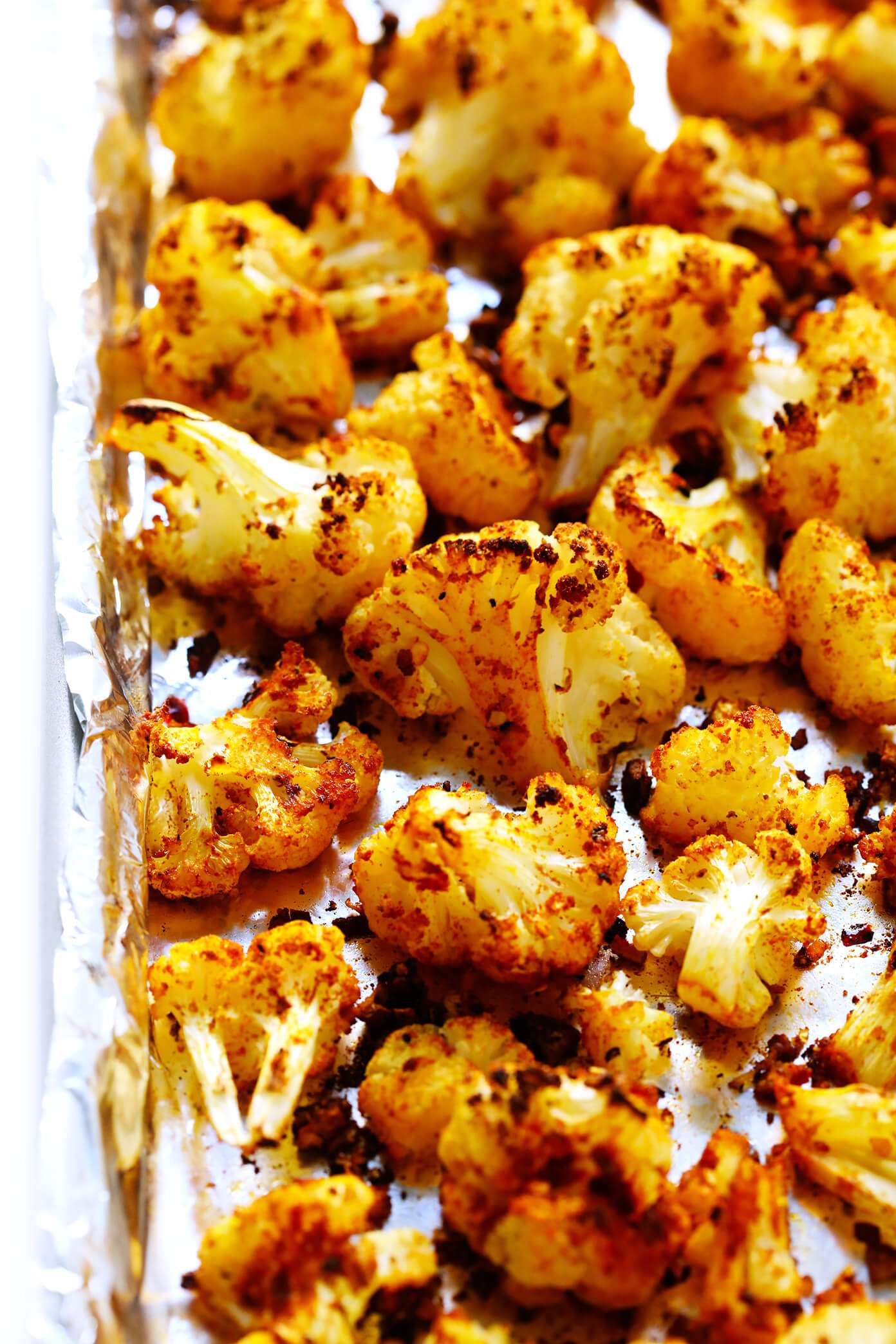 The base of the recipe is a huge pan of roasted cauliflower, tossed with turmeric and other zesty spices, which Barclay and I could have easily just enjoyed as a meal on its own.  But when paired with refried black beans and their cumin-lime crema (which is actually vegan, made with tahini), and lots of fresh avocado, lime juice, cilantro and pepitas…these tacos came together to be a totally hearty and totally delicious meal.
I should mention that Sonja and Alex recommend topping their tacos with sliced radishes, which sound delicious, but are impossible to find in our neighborhood here in Barcelona.  (I know, weird.)  So if you'd like an extra crunch, add those to your shopping list too. ;)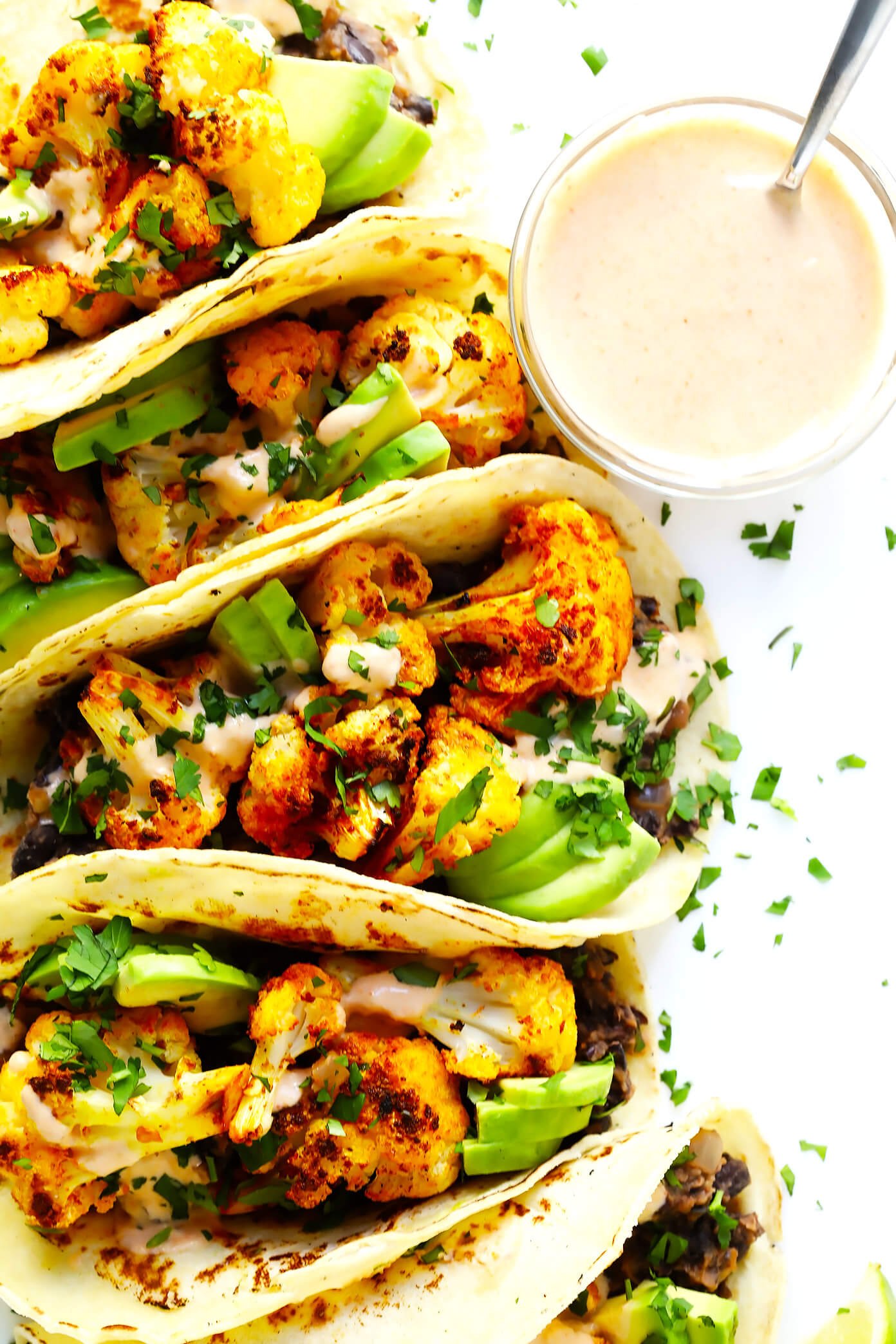 A great recipe, created by two great people.  Be sure to check out their cookbook, and enjoy these tacos!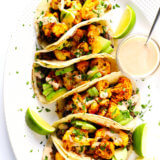 Roasted Cauliflower and Black Bean Tacos
These Roasted Cauliflower and Black Bean Tacos are topped with a zesty tahini-cumin-lime crema, they're naturally gluten-free and vegan, and muy delicioso.
Ingredients:
Taco Ingredients:
1 batch Turmeric Roasted Cauliflower (see below)
1 batch Black Beans (see below)
1 batch Cumin Lime Crema (see below)
corn tortillas*
toppings: diced avocado, chopped fresh cilantro, fresh lime wedges, pepitas, and/or thinly-sliced radishes
Turmeric Roasted Cauliflower Ingredients:
1 large head cauliflower (about 2 pounds)
4 medium garlic cloves, peeled and minced
2 tablespoons olive oil
1 teaspoon each: ground cumin, kosher salt, paprika
1/2 teaspoon each: crushed red pepper flakes, freshly-cracked black pepper, ground turmeric
Refried Black Beans Ingredients:
1 small white onion
2 (15-ounce) cans black beans
3 tablespoons extra-virgin olive oil
1/2 teaspoon each: chili powder, Kosher salt
1/4 teaspoon freshly-ground black pepper
Cumin Lime Crema Ingredients:
1 small garlic clove, peeled and minced
1/4 cup lime juice (about 2 limes)
3 tablespoons tahini
1 tablespoon extra-virgin olive oil
1 tablespoon Mexican hot sauce (such as Cholula)
1/2 teaspoon ground cumin
1/4 teaspoon kosher salt
Directions:
To Make The Tacos:
Prepare the cauliflower, refried black beans and crema as directed below.
To serve, place a layer of refried black beans in a tortilla, top with roasted cauliflower, a drizzle of the crema, and your desired toppings.
To Make The Turmeric Roasted Cauliflower:
Heat oven to 450°F.
In a large bowl, mix the cauliflower, garlic, olive oil, cumin, salt, paprika, crushed red pepper flakes, black pepper and ground turmeric until evenly combined.
Line a baking sheet with parchment paper or a silicone mat, then place the cauliflower in a single layer on the sheet.  Roast for 25-30 minutes until it is tender and browned, stirring once halfway through.
Serve immediately.
To Make The Refried Black Beans:
Peel and halve the onion, then slice into half-moon shapes.  Drain the beans, reserving 1/2 cup of the can liquid.
In a medium saucepan, heat the olive oil over medium heat.  Add the onion and sauté until translucent, about 3-4 minutes.  Add the beans, reserved can liquid, kosher salt, chili powder and black pepper.  Turn the heat to medium low and cook for 10-15 minutes, stirring often and smashing the beans toward the end of the cook time, until most of the liquid has cooked out and the texture is mashed and thick.  Scrape the bottom and sides of the pan as necessary.  Taste and season with additional salt as desired.
To Make The Cumin Lime Crema:
In a small bowl, stir together the garlic, lime juice, tahini, olive oil, hot sauce, cumin and salt until evenly combined.  Add 1-2 tablespoons water if necessary to achieve a creamy consistency.
*If you'd like to char the tortillas, turn on a gas burner to medium heat and place the tortilla directly on the grate.  After about 15 seconds, once the edges are lightly charred, use tongs to flip the tortilla.  Then heat on the opposite side until lightly charred.  Repeat for all tortillas, keeping a close eye on them while cooking so that they do not catch fire.
If you make this recipe, be sure to snap a photo and hashtag it #gimmesomeoven. I'd love to see what you cook!