Sesame Noodles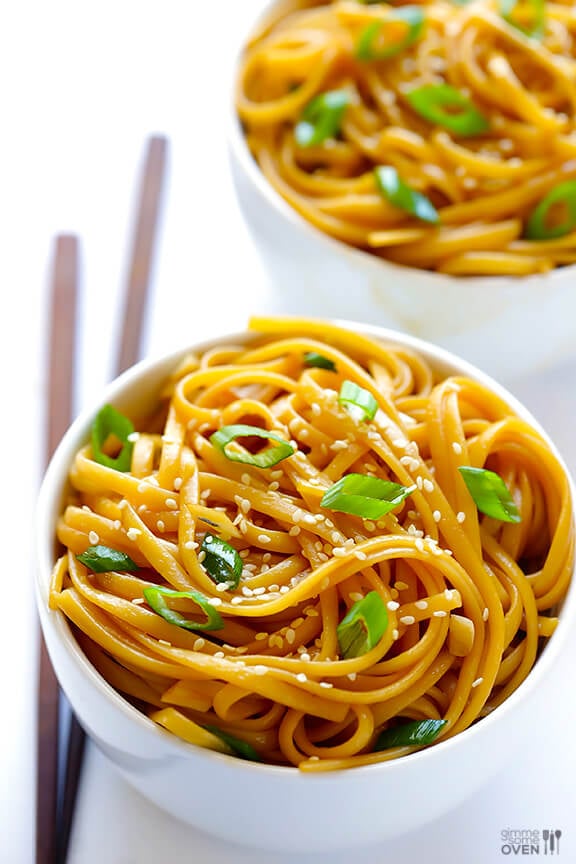 Goodness, time has a way of flying by.  After months of planning for my trip to El Salvador with Unbound, June apparently snuck up on me and I realized that I am now leaving the country in just three days.  As they say in El Salvador, ay ay ay.  ;)
I am totally looking forward to this trip for 100 reasons, and will be sharing about it on the blog and Instagram while I'm gone.  But suffice it to say that the week before leaving the country is always more than a little hectic, especially for someone like me who tends to, ahem, "live in the moment".  (Aka: not plan ahead.)  I've been cooking up a storm, trying to wrap up all sorts of posts and projects before I leave, and attending seemingly Everyone In My Life's birthday parties, baby showers, happy hours, and business meetings that somehow all happened to be scheduled this week.  Craziness.
BUT.

MY LATEST VIDEOS
Even when schedules are crazy, I have learned over the years that setting aside just 10 or 15 minutes to prepare a homemade meal has a way of calming and centering me like little else.  And when it comes to quick and easy meals that I can practically make in my sleep, these easy sesame noodles are one of my favorites.  I have probably made them 100 times over the years — often to go with my favorite egg drop soup, maybe some sauted shrimp, all of which I have learned to multitask in record time — and they prove to be the perfect comfort food each time.
I posted the recipe for them on the blog way back in 2009 with a bit of a neon yellow photo (see below).  So when I whipped them up again for dinner this week, I decided to reshoot and then reshare them on the blog with you.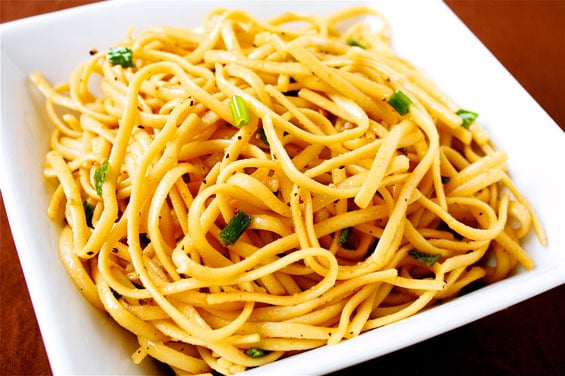 Yes, here was the shot from 2009.  Same great noodles…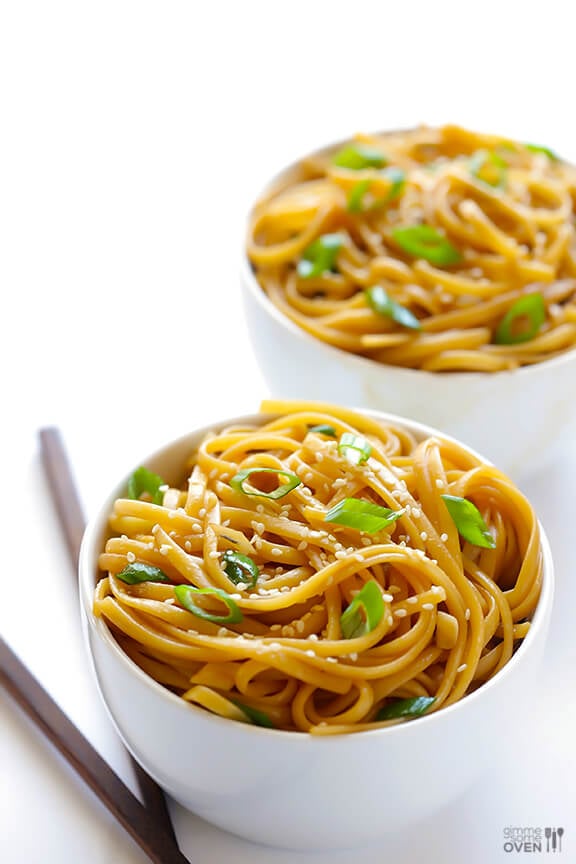 …but maybe slightly less neon here.  ;)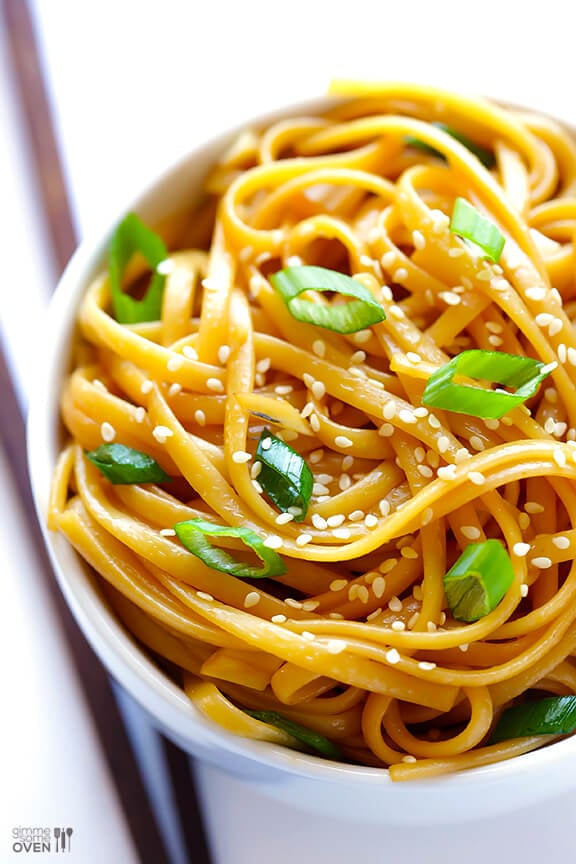 I learned how to make these from a friend's mom years ago who served them to us as a chilled side dish for tailgating.  And then I promptly begged her for the recipe, and now enjoy them both warm and cold.  The ingredients are simple:
You basically just cook up a batch of pasta noodles (I prefer linguine), and whip up a simple ginger sesame dressing.
Then toss the noodles with the dressing, add in some green onions…
And toss until combined.
Serve them either immediately when they're warm, or refrigerate them to make more of a cold noodle dish.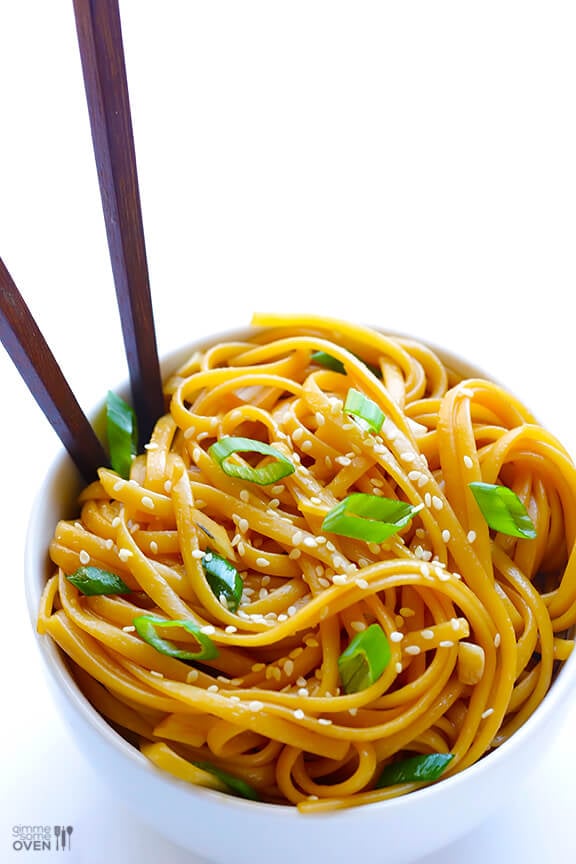 Then serve garnished with toasted sesame seeds and more green onions.  Unbelievably easy.  And even after all of these years and countless batches of noodles, I think they're still unbelievably good.  Enjoy!
Sesame Noodles
This easy sesame noodles recipe can be made in just 15 minutes, and can be served either warm or cold. It's also great with some extra veggies or proteins mixed in!
Ingredients:
1 pound (16 oz.) linguine or spaghetti (I use whole-wheat)
1/4 cup soy sauce
3 cloves garlic, minced
2 tablespoons grated fresh ginger (or 1/2 tsp. ground ginger)
2 tablespoons rice vinegar (or red wine vinegar)
1 tablespoon sesame oil
1 teaspoon vegetable or canola oil
1/2 teaspoon sriracha or hot chili oil
1/2 cup thinly-sliced green onions
optional garnishes: extra thinly-sliced green onions, toasted sesame seeds, coarsely-ground black pepper
Directions:
Cook pasta al dente according to package instructions in a large pot of generously-salted water.
Meanwhile, in a separate mixing bowl, combine soy sauce, garlic, ginger, vinegar, sesame oil, vegetable oil, and sriracha (or hot chili oil). Whisk until combined. When the pasta is ready, drain it. Then immediately toss with the dressing and 1/2 cup green onions until the pasta is evenly coated with the dressing. Serve immediately, topped with extra garnishes if desired.
All images and text ©
If you make this recipe, be sure to snap a photo and hashtag it #gimmesomeoven. I'd love to see what you cook!