Red Enchilada Sauce
Every time I make the sauce for my favorite enchiladas, I feel like it deserves its own post.
Believe me, people. This recipe will knock your socks offffffff.
I guarantee you will never go back to the canned store-bought stuff again. This sauce is a breeze to make, calls for simple ingredients, and is insanely delicious. Whenever I am making enchiladas, I will often whip up a double batch of the sauce to use in some chicken soup, as a marinade, or to some salsa or quesadillas up a notch. Really, it is so good.
Just make sure that you pay the extra dollar for some good quality chili powder. You will taste the difference. And love it.
Did I say you'll love it?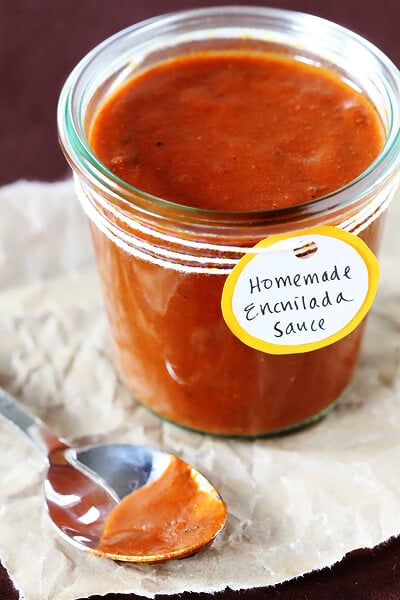 Red Enchilada Sauce
Ingredients
2 Tbsp. vegetable or canola oil
2 Tbsp. flour
4 Tbsp. chili powder
1/2 tsp. garlic powder
1/2 tsp. salt
1/4 tsp. cumin
1/4 tsp. oregano
2 cups chicken broth
Method
Heat oil in a small saucepan over medium-high heat. Add flour and stir together over the heat for one minute. Stir in the remaining seasonings (chili powder through oregano). Then gradually add in the chicken broth, whisking constantly to remove lumps. Reduce heat and simmer 10-15 minutes until thick.
Use immediately or refrigerate in an air-tight container for up to two weeks.
Ali's Tip:
I also enjoy substituting 1-2 Tbsp. of chipotle powder in place of some of the chili powder.
*Also, a number of people have commented on the color of the sauce. Different chili powders that I have used sometimes make the sauce more brown and sometimes more red. These photos were also taken about 6 inches away from a window, so it was well lit! :)