Sesame Noodles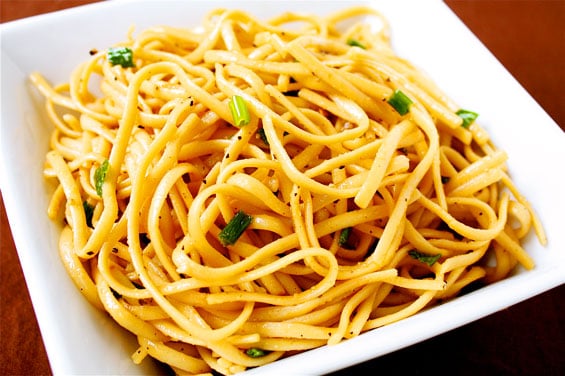 Top 10 Reasons Why I H-E-A-R-T Sesame Noodles:
10. They call for simple ingredients I almost always have on hand
9. Make fantastic leftovers!
8. Take less than 15 minutes to whip up
7. Are versatile – I generally throw in whatever seasonings, meats, or veggies I have on hand
6. Make your kitchen smell hea-ven-ly
5. Great way to use up any random pastas (whole-wheat works well too!)
4. Can be served hot, room-temp, or chilled
3. Delicious, delicious, delicious!!!
2. Offer a great way to use up leftover chicken/beef/pork/shrimp
1. Main ingredient: sesame oil. Need I say more???
These truly are more about the "method" than the "recipe". I generally just toss in a little of this, and a little of that. But here is a jumping off point. Enjoy!!! :)
Sesame Noodles
Ingredients
1 lb. (16 oz.) linguine or spaghetti, cooked according to instructions
1/4 cup soy sauce
3 cloves garlic, minced
2 Tbsp. grated fresh ginger (or 1/2 tsp. ground ginger)
2 Tbsp. rice vinegar (or red wine vinegar)
2 Tbsp. sesame oil
1 Tbsp. canola oil
1/2 teaspoon hot chile sauce or hot chili oil
1/2 cup green onions, sliced thin
lots of freshly ground black pepper
Method
To make dressing, combine soy sauce, garlic, vinegar, sesame oil, hot chili sauce and canola oil in a small bowl until combined.
Cook pasta until al dente. Drain, and toss with the dressing. Sprinkle with green onions and toss.
Serve immediately, or refrigerate and serve chilled.