Slow Cooker Butternut Squash Soup
This delicious butternut squash soup recipe is full of great flavor, quick and simple to prepare, and extra-easy when made in the slow cooker.  Also, here's how to make this soup in the Instant Pot!  (This post contains affiliate links.)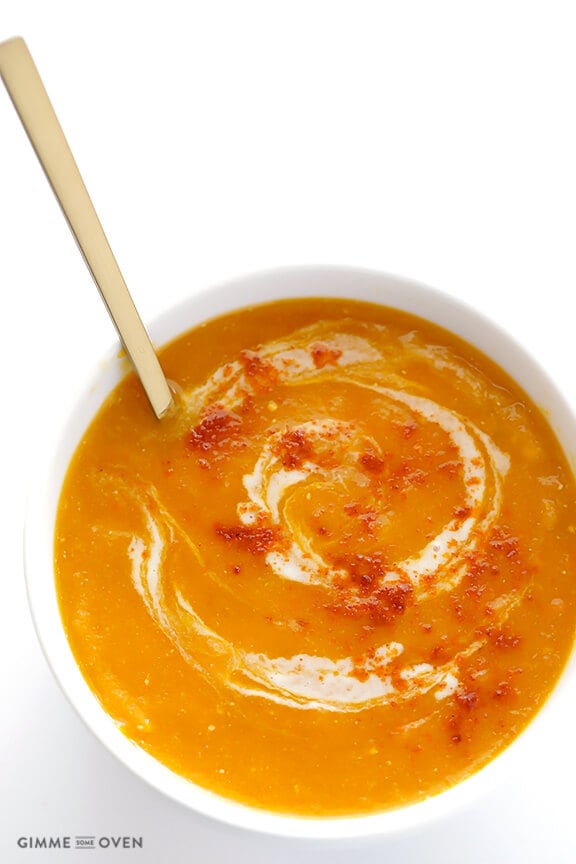 Three months later, I'm finally getting around to posting this killer Slow Cooker Butternut Squash Soup that my mom made for us over Thanksgiving.
Actually, make that Thanksmas.  Because once we realized that everyone in our family was going to be traveling during December, we decided to combine our Thanksgiving and Christmas celebrations into one big holiday.  And with that, we set aside an evening for my favorite new family tradition of the decade — our "Ebright Talks".
Modeled after the ever-popular TED Talks (of which, I should note, my dad was one of the earliest fans), we've started having one night over the holidays when everyone in the family gives a 10-minute presentation on the topic of their choosing.  Visual aids are encouraged, procrastination is expected, guests are welcome, and unabashed nerding out in your presentation is a must.
So what were our topics for this year?  Well, my brother-in-law kicked things off with a delicious presentation on Beer Tasting 101.  Mom gave us the pre-movie background info on Alan Turing and The Enigma Machine.  My sister (the art teacher) presented on Similarities in World Religions As Seen In Art & Architecture.  Dad taught us all about Innovations In Geothermal Heating.  Honorary sister, Dr. Erin, gave a mythbusters chat on flu shots.  And I gave an award-winning talk and made everyone demo my favorite form of healthy multitasking: Barre3-Inspired Toothbrushing Workouts.
Don't you wish you were part of our family?  ;)
Needless to say, the presentations were made all the more lively with plenty of wine.  Plus, our delicious sustenance for the evening was a big hit — mom's butternut squash soup.
Slow Cooker Butternut Squash Recipe | 1-Minute Video
Needless to say, after a Thanksgiving weekend packed with food, food, and more food on the agenda, we were all ready for something a little lighter when it came time for our Ebright Talks evening.  So Mom suggested we make a butternut squash soup recipe that one of her friends had recently brought to a potluck.  And we were so glad — it was a total winner!
Well, I should note that the original recipe (for some reason) called for 1 full teaspoon of cayenne, which was a little much.  So I modified that when I made it again for a group of friends a few weeks ago.  Since I had a busy day, I also decided to just toss all of the ingredients in the crock pot and make a slow cooker version of this soup.  Double winner.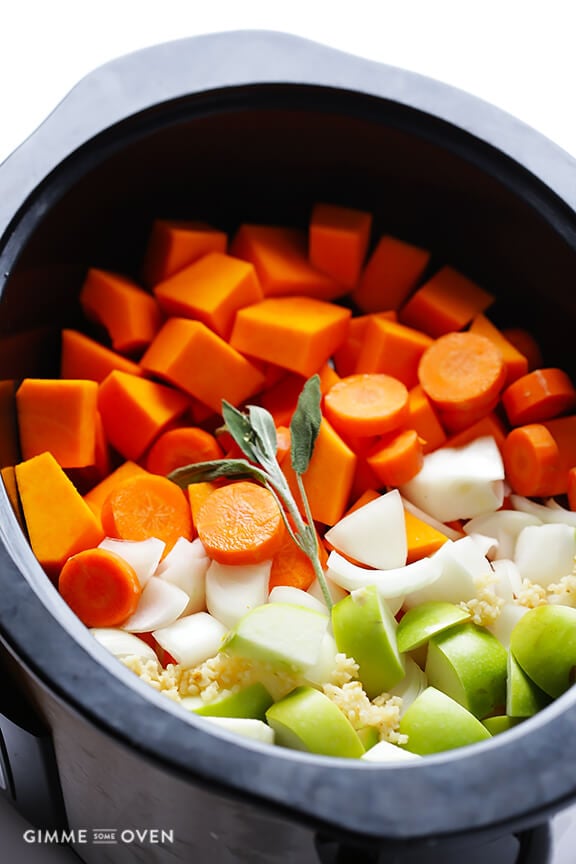 Simply throw some simple ingredients in a large slow cooker (including my favorite "secret" ingredient — a tart granny smith apple)…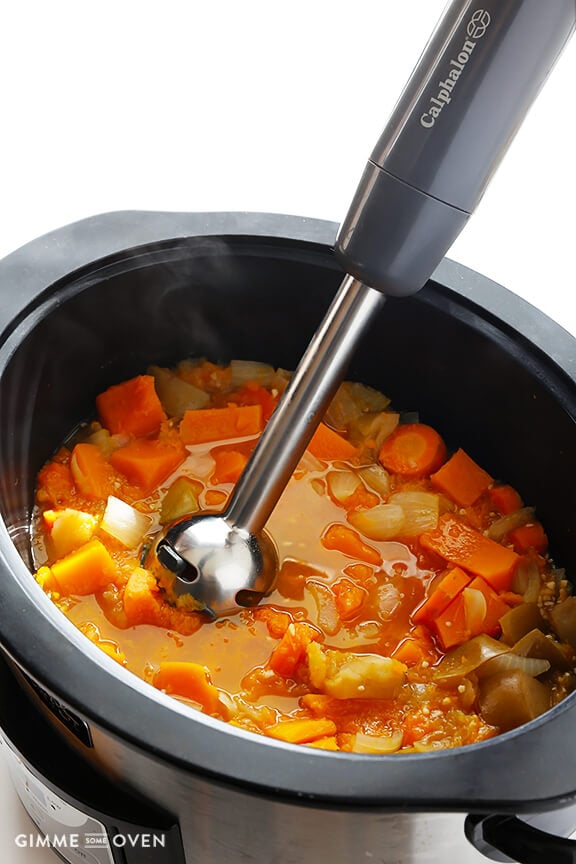 …then once the slow cooker has done its thing, puree it to smooth perfection using an immersion blender.  (Or a traditional blender.)
Stir in some coconut milk to make it nice and creamy…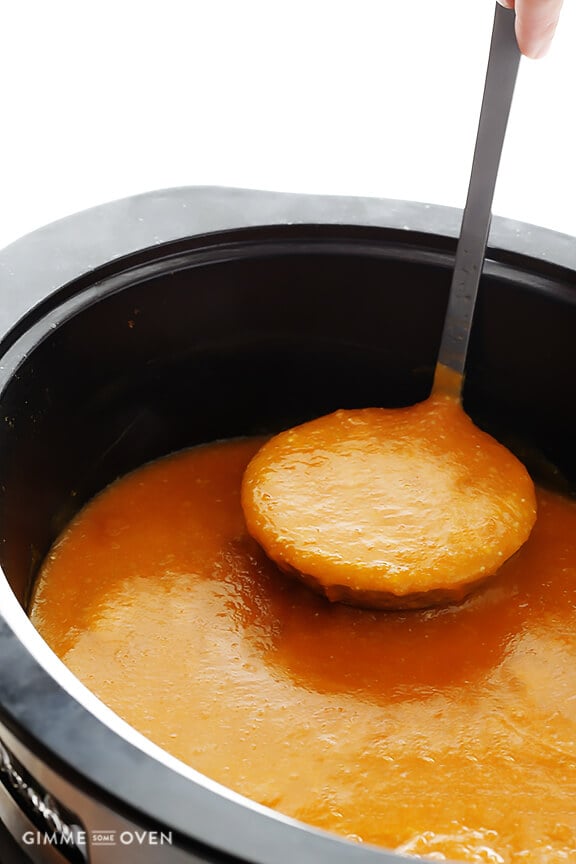 …then serve it up!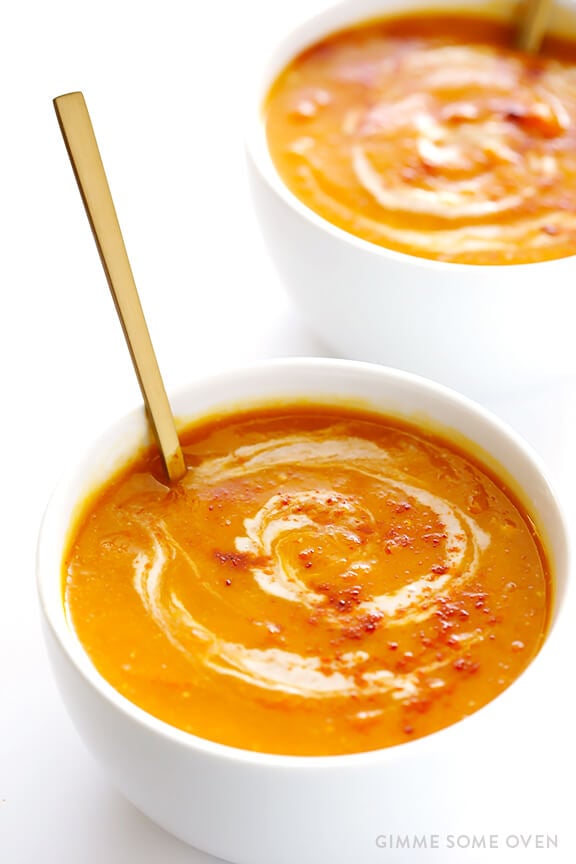 I served this swirled with some extra coconut milk and cayenne pepper sprinkled on top, so that my friends could control their level of spicy-ness.  But feel free to garnish it with whatever sounds good.
Bottom line, if you love butternut squash soup, bookmark this recipe because it's guaranteed to be a keeper.  Plus, it's naturally gluten-free and vegan, so it's perfect to serve to a crowd.  Especially if you decide to host a nerdy night of "presentations" too.  (Which you totally should.  Just sayin'.)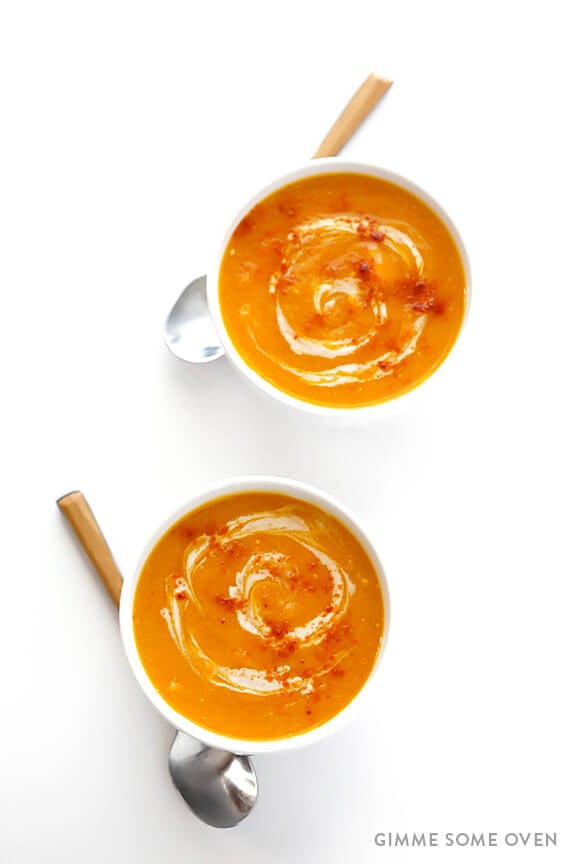 Enjoy!
Slow Cooker Butternut Squash Soup
This slow cooker butternut soup is rich, creamy, and full of delicious butternut flavor. It's also naturally vegan and gluten-free.
Ingredients:
2 cups vegetable stock
2 cloves garlic, peeled and minced
1 carrot, peeled and diced
1 Granny Smith apple, cored and diced
1 medium (uncooked) butternut squash*, peeled, seeded and diced
1 sprig fresh sage
1 white onion, diced
1/2 teaspoon salt, or more to taste
1/4 teaspoon freshly-ground black pepper, or more to taste
1/8 teaspoon cayenne, or more to taste
pinch of ground cinnamon and nutmeg
1/2 cup canned (unsweetened) coconut milk
optional garnishes: extra coconut milk and a sprinkle of smoked paprika (or cayenne)
Directions:
Add vegetable stock, garlic, carrot, apple, butternut squash, sage, onion, salt, pepper, cayenne, cinnamon and nutmeg to a small (4-quart) slow cooker or large (6-quart) slow cooker.  Toss to combine.
Cook for 6-8 hours on low, or 3-4 hours on high, or until the squash is completely tender and mashes easily with a fork.  Remove and discard the sage.  Stir in the coconut milk.
Use an immersion blender to puree the soup until smooth.  (Or you can transfer the soup in two batches into a traditional blender, and puree until smooth, being very careful when working with the hot liquid.)  Taste, and season with additional salt, pepper and cayenne if needed.
Serve warm, with optional garnishes if desired.
*A medium-sized butternut squash should weigh around 3 pounds.
**Want to make this soup in the Instant Pot (pressure cooker)?  Here's how!
All images and text ©
If you make this recipe, be sure to snap a photo and hashtag it #gimmesomeoven. I'd love to see what you cook!