Best Chicken Enchiladas Ever!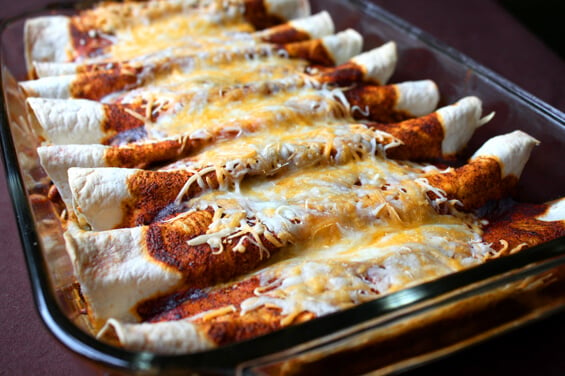 It's one thing to have great friends who love to cook.  And then it's another to get to live with great friends who love to cook!  For nearly two years after moving to KC, I was privileged to do just that with my friend, Liisa.  (Until a certain someone fell in love with her and asked her to tie the knot!)  :)  Oh, how I loved coming home after a long day at work to amazing smells filling the house.  And even more, loved the amazing food for the sharing!!  I think the part we enjoyed most, though, was all of the fun evaluating the recipes after either of us cooked — about what was a success, how new ingredients did/didn't work, why in the world certain recipes tended to set off our smoke alarm(!!), and on and on…  :)  Ha…those were definitely good years.
Anyway, one of the best things I learned from Liisa – who grew up in Arizona cooking/eating all sorts of Tex-Mex and Mexican food – was how to make these fantastic enchiladas.  Oh. My. Word.  I could eat these things for days.  (And since I usually make a double- or triple-batch to freeze or give away….often I do!)  The sauce is undoubtedly the best part, with a strong, smoky flavor that is muy deliciosa!
Thus, with Liisa's blessing, I pass the goodness on to you. Since she tries to avoid using dairy products, the original recipe didn't include cheese (which is why she added the beans to give them some extra substance).  While this is a great option, I like mine with at least a little cheese.  However, I still always include the beans as well, since they provide great texture and flavor (and fiber – yay!).  You could, of course, also substitute in cooked beef or pork instead of the chicken, or go without and make them "vegetariano".
Enjoy!!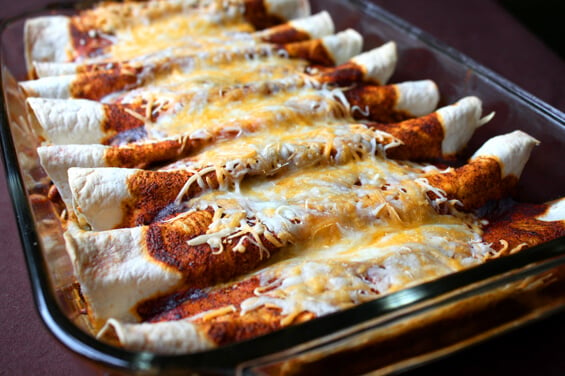 Best Chicken Enchiladas Ever!
Ingredients:
4 Tbsp. chili powder
2 Tbsp. flour
1/2 tsp. garlic powder
1/2 tsp. salt
1/4 tsp. cumin
1/4 tsp. oregano
2 cups chicken broth
4 Tbsp. oil (vegetable or canola)
1 (15.5 oz.) can mashed lentils or black beans, drained
2 cups cooked chicken, diced or shredded
1 cup onion, diced
1 (4 oz.) can chopped green chiles
3 cups Mexican-blend shredded cheese8-10 flour tortillas
Directions:
Preheat oven to 350 degrees. Lightly grease a large baking dish. (I used a 9 x 13 glass pan.)
Heat 2 Tbsp. oil in saucepan over medium heat. Add in the first six ingredients to the oil and stir for 1 minute. Then add chicken broth. Bring mixture to a boil, stirring constantly. Reduce heat and simmer 10-15 minutes until thick.

In small skillet on the side, heat 2 Tbsp. oil over medium heat. Add diced onion and green chiles. Saute until onions are cooked and translucent. Turn off heat and add chicken to mixture. (Or if you are beginning with raw chicken, feel free to cook alongside the onions and chiles. Then dice or shred the meat afterwards.)

To assemble the enchiladas, set up an assembly line including: tortillas, sauce, beans, chicken mixture, and cheese. Lay out a tortilla, and spread a spoonful of sauce in a line down the center. Then add beans on top of the sauce, then some chicken mixture, and cheese. Roll up tortilla and place seam-side down in baking dish. Once all enchiladas are made, pour extra sauce over the top.

Cover with aluminum foil and bake at 350 degrees for 20 minutes. Then remove dish and foil and sprinkle extra cheese on top. Bake uncovered for 5-10 minutes more until tortillas begin to brown slightly around the edges and the cheese is melted. Remove from oven and serve immediately.

I read recently in Cooks Illustrated that, in their extensive taste-tests of chili powder, the brand that ended up being the hands-down favorite was actually a normal grocery store brand - Spice Islands!  They said it had "a 'sweet', 'smoky' flavor that is 'much more potent' than the other competitors."  So I picked some up at the store, and couldn't agree more.  Highly recommend it!

If you make this recipe, be sure to snap a photo and hashtag it #gimmesomeoven. I'd love to see what you cook!
Leave a Comment:
Comments
Trackbacks/Pingbacks