Your 15 Favorite Recipes of 2015
This post may contain affiliate links. Please read my disclosure policy.

Annnnnnnd just like that — poof!! — we've reached the end of 2015.
Which feels crazy. Goodness, I swear I was just making new year's resolutions a month ago. But apparently another year has indeed come and gone. And with that, we've introduced another 150+ recipes here on the blog, which brings our total up well over 1000+ recipes here on the site. (Also: crazy.)
But I'm actually really proud of the new content that we've introduced on the site in 2015! With each passing year, I feel like I'm getting to know all of you readers better and better. And with that, I feel like I'm slowly learning how to predict the kinds of recipes you'd like to see on here better and better. And the result of that has actually been a record number of people tuning into the site this year (we're averaging 9 million a month!)…which is beyond crazy. Which makes me beyond thankful.
So from the bottom of my heart, THANK YOU. Thank you for continuing to tune in, thank you for making these recipes, thank you for sharing them with your friends, and thank you for helping make this site (and my job!) possible for yet another year. You all are one of the greatest gifts of my life, and not a day (or a year!) goes by without me being profoundly aware and grateful for everything you do to make this site possible. :)
So that said, as is our annual tradition here at Gimme Some Oven, today I'm recapping the year by sharing your favorite 15 recipes of 2015, which I'll follow up tomorrow by sharing my favorite 15 recipes. So get ready to bookmark galore, because there are some definite gems in here. Enjoy!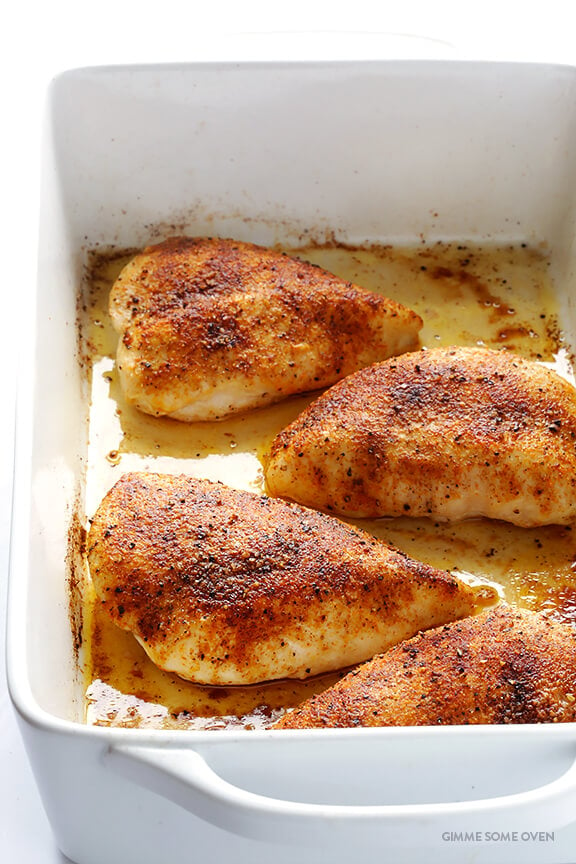 Baked Chicken Breasts — I've always said that the #1 request I hear on this site is for chicken recipes. So it probably should have come as no surprise that this post was our most popular one of the year, but holy cow — over 2 million of you have checked out this recipe since I posted it over the summer! I don't blame you, though. This foolproof easy 5-step method to baking delicious, juicy, flavorful chicken breasts in the oven is a winner winner (chicken dinner!). ;)  If you haven't already checked it out already, I highly recommend it. They freeze well too!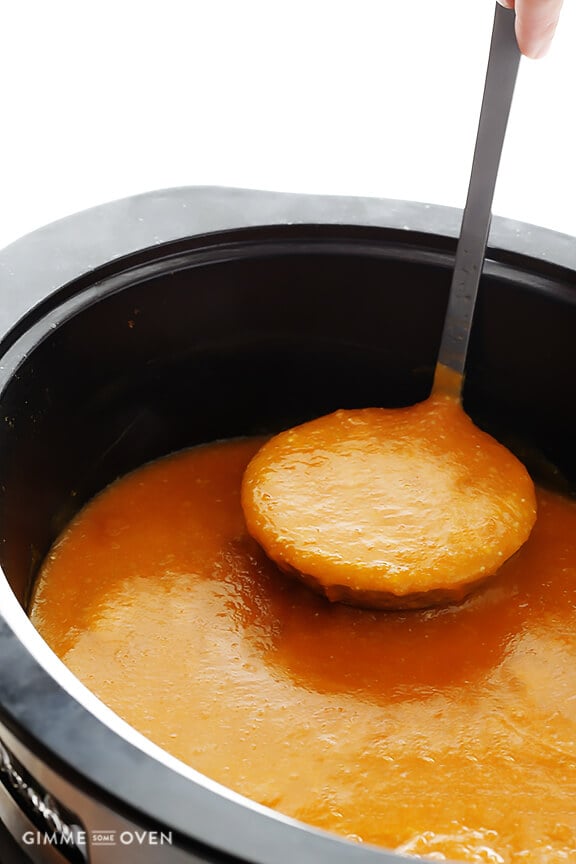 Slow Cooker Butternut Squash Soup — There's nothing better than a bowl of rich, flavorful, creamy, (and healthy!) butternut squash soup, right? Oh wait, unless that delicious soup is made even easier in the crock pot!! This recipe was definitely our most popular slow cooker post of the year, and it's definitely been one of the most popular ones that I make in my own kitchen!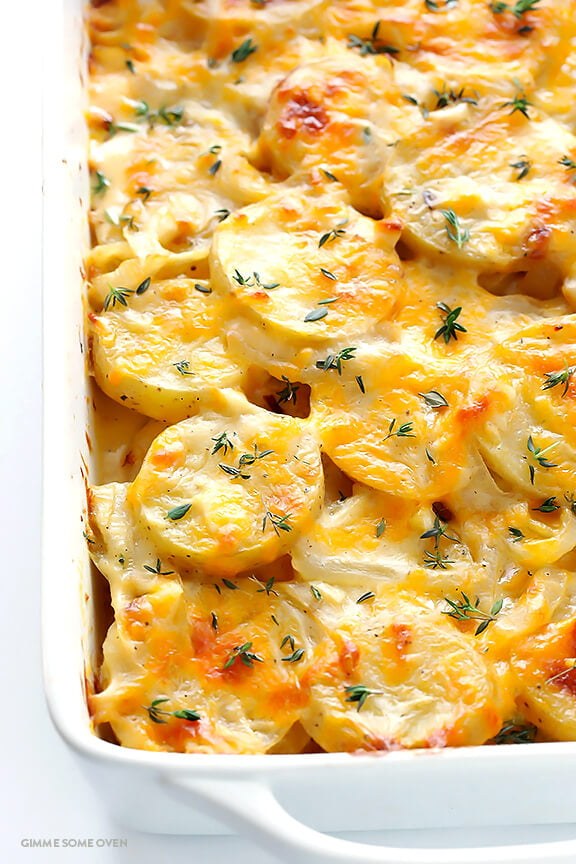 Scalloped Potatoes — This recipe has been especially popular around the holidays, but it also seems to be a favorite for any ol' day that our readers are craving some taters. So easy to make, and SO good.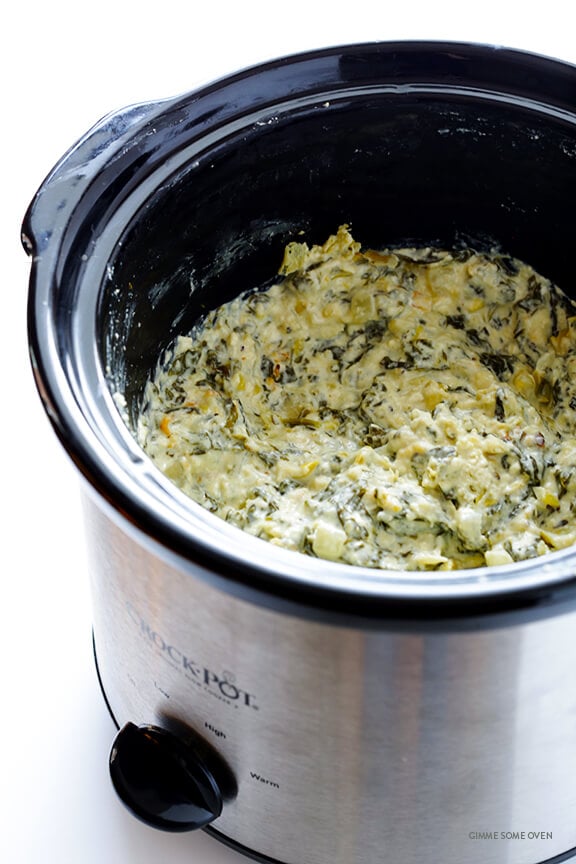 Slow Cooker Spinach Artichoke Dip — We've had readers rave about this simple spin dip made in the crock pot — partly because it really is incredibly easy to make, but partly because everyone loves that it's (at least slightly) healthier than the traditional version. I never get tired of it. :)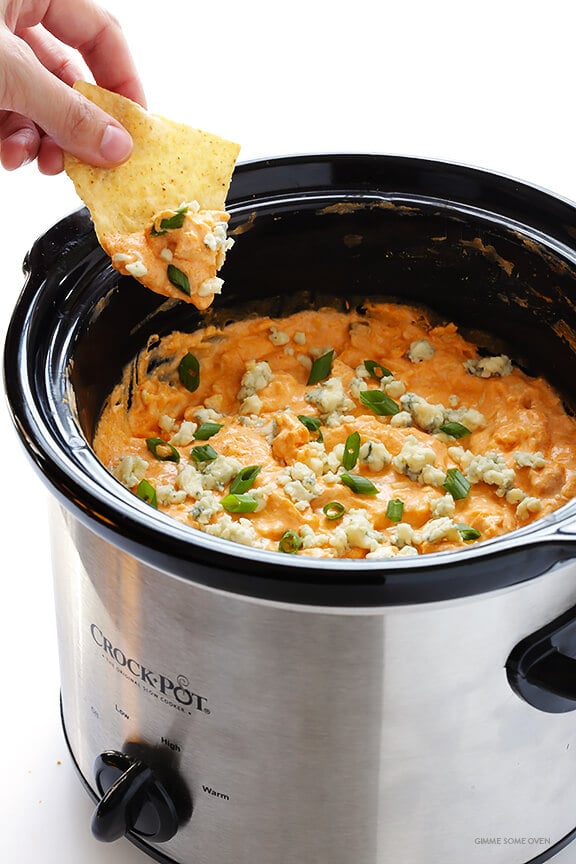 Slow Cooker Buffalo Chicken Dip — Annnnnd the same goes with this slow cooker recipe! My favorite way to make buffalo chicken dip is a little bit lighter with Greek yogurt, but heavy on the hot sauce and blue cheese. YUM.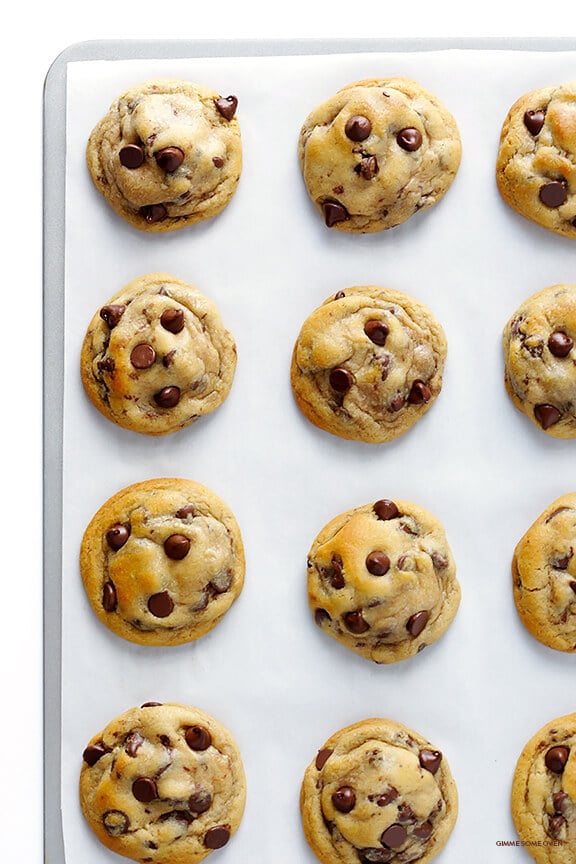 My All-Time FAVORITE Chocolate Chip Cookies — 2015 was the year that I finally posted my all-time FAVORITE recipe for soft and chewy ccc's. I knew that the internet already had about 6 million of these recipes, but I wanted to share my own. And I'm very happy to say that this recipe has now become the favorite for so many of you as well. They're the best!!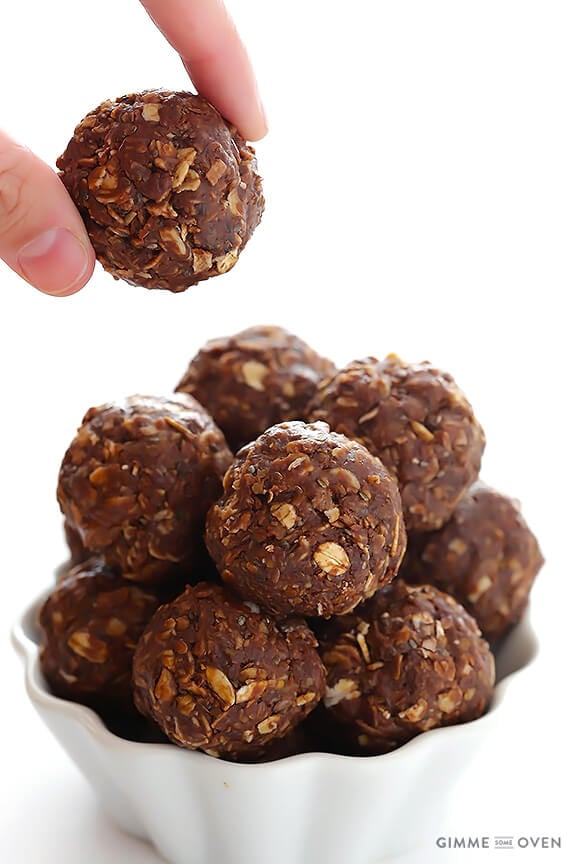 Chocolate Peanut Butter No-Bake Energy Bites — Many of you have loved our traditional No Bake Energy Bites recipe for years. So this year, I decided to introduce an extra chocolate-y (yet still pretty healthy!) version of this recipe. I make them regularly, and love popping them for breakfast, snacking, or even desert!
Broccoli Cheese Soup — We've had tons of requests over the years for a solid recipe for this classic soup, and once I posted mine, it went wild. So many of you love your broccoli and cheddar!! :)  I'm right there with ya, and especially love that this recipe is lightened up a bit. Perfect for these cooler months.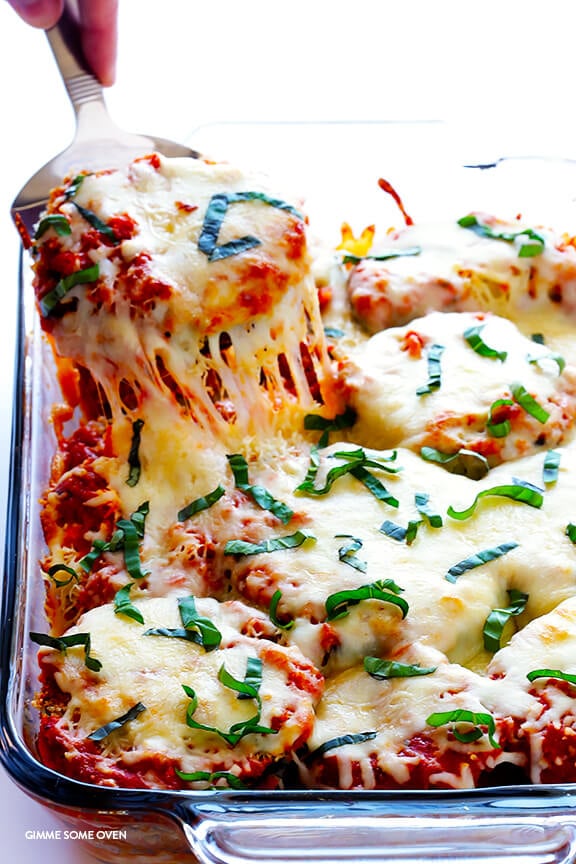 Baked Eggplant Parmesan — In an effort to overcome my skepticism toward eggplant, I decided that 2015 would be the year I would develop a good recipe for eggplant parm. And believe it or not, I actually really liked it! Apparently many of you did too, because thousands of you tuned in to check this one out.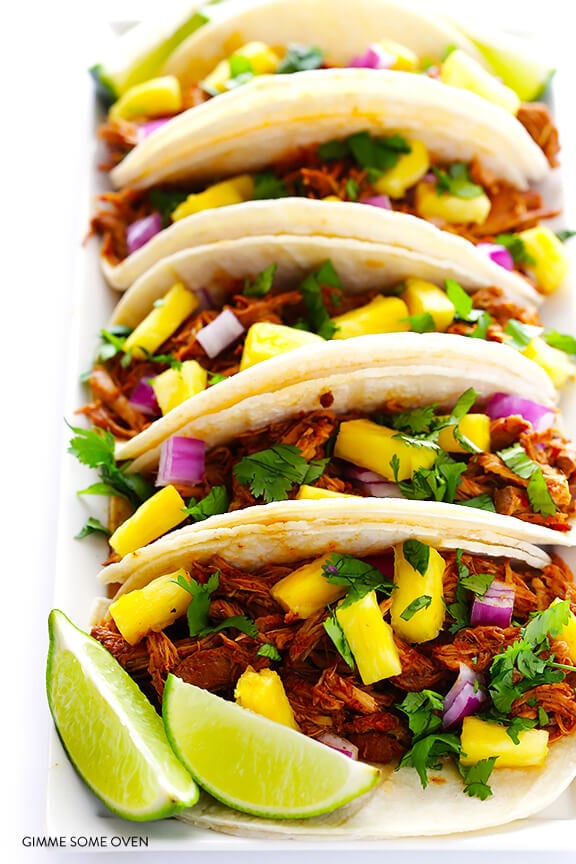 Slow Cooker Tacos Al Pastor — I've been obsessed with these tacos for years and years, but am now 100% convinced that they should be made in the crock pot. This recipe is ridiculously easy, full of amazing sweet and savory flavors, and it's always a crowd favorite!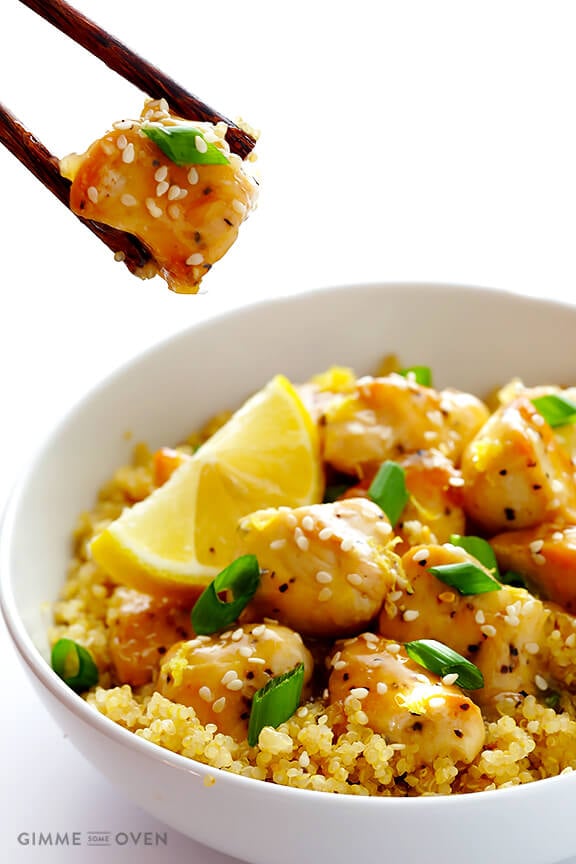 Skinny Honey Lemon Chicken — This was actually the very first recipe I posted in 2015 during a "healthy eating" month, and I'm happy to say that it has continued to be popular all year long. Because it's absolutely delicious! And, I believe it's proof that some of our favorite traditional takeout dishes can be just as awesome when cooked at home. (And bonus — without all of the unnecessary oil and calories!)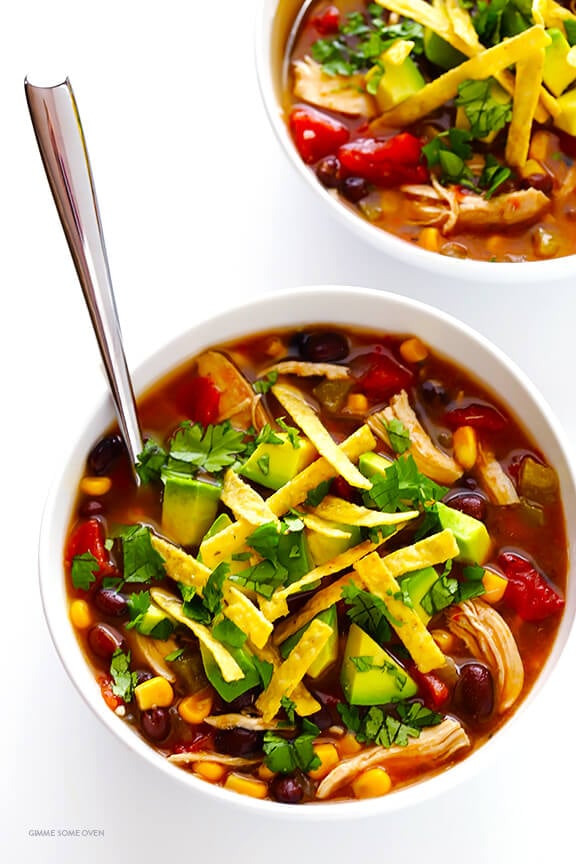 Slow Cooker Chicken Tortilla Soup — Yet another favorite recipe translated into a crock-pot version! Turns out you all love tortilla soup just as much as I do. :)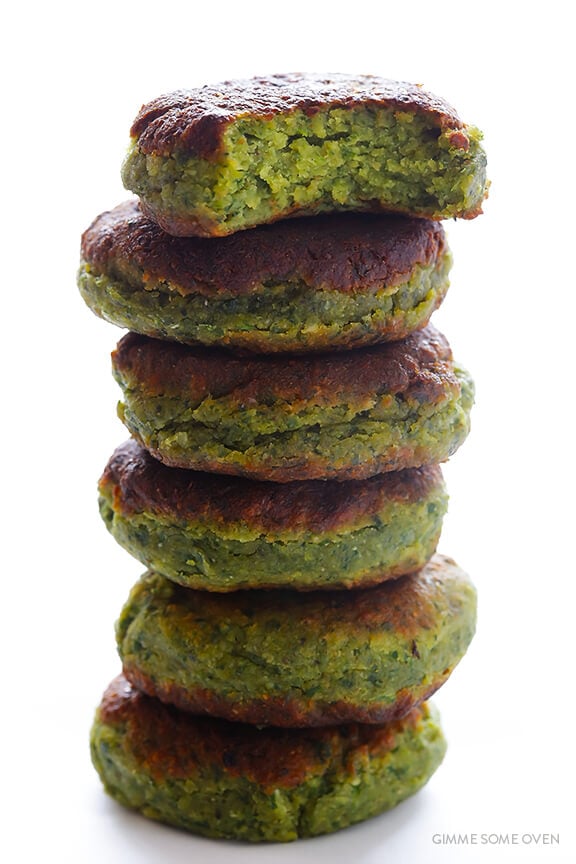 Falafel — This picture makes me so happy each time I see it, because I love these falafel!!! Like, SO MUCH. They're packed with tons of fresh herbs, made with healthier ingredients, and (who knew?!) they're actually really easy to make at home! All the more perfect when paired with my favorite hummus.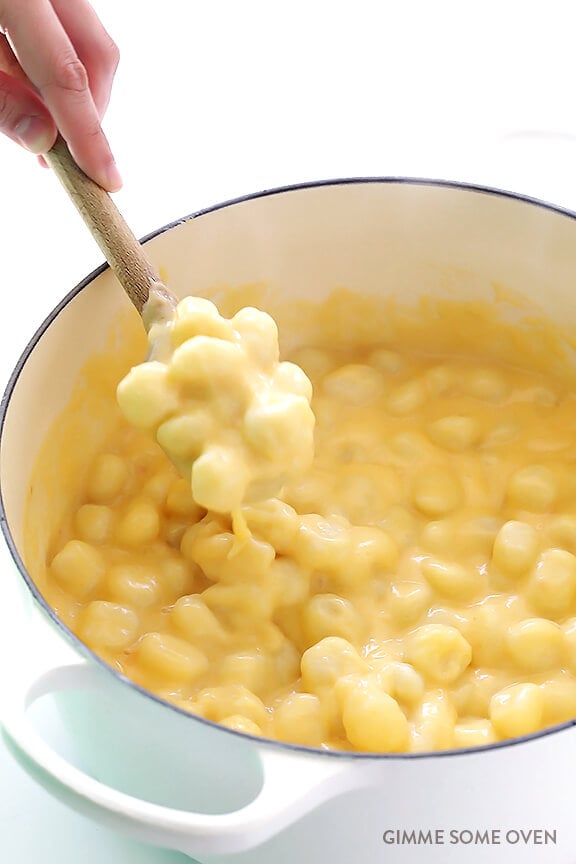 Gnocchi "Mac" & Cheese — So long noodles, hello gnocchi!  (<– Which I also learned, in 2015, is pronounced nyah-kee.  Like, rhyme with "knock knock".)  However you say it, I loved this recipe that subs in those delicious little pillows of potato-y gnocchi in place of traditional noodles, all tossed in a lighter yet decadent cheesy sauce. Bonus? It's also gluten-free!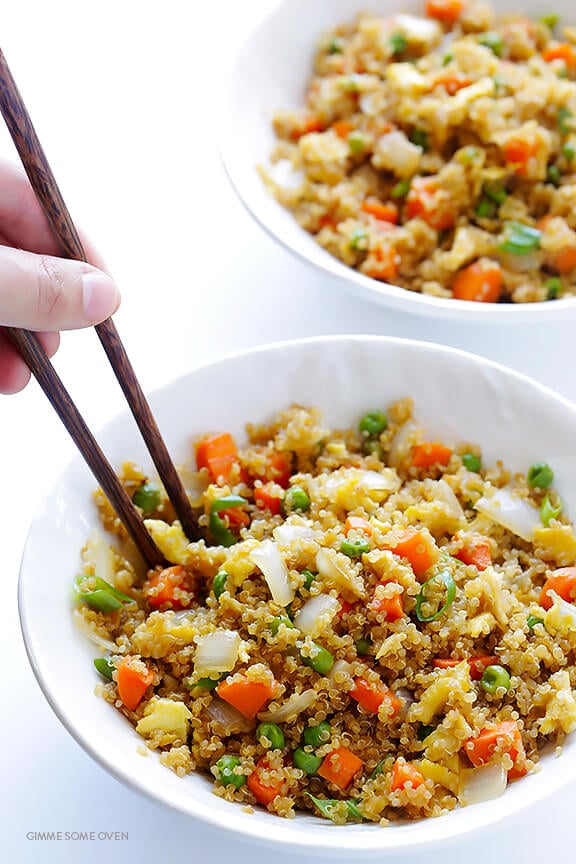 Quinoa Fried Rice — Finally, we end your favorites this year with my favorite whole grain — quinoa! It's no secret that I'm wildly obsessed with fried rice. But for a healthier take on it this year, I decided to try subbing in quinoa in place of rice. And the result?! I think I actually liked it even better. And as it sounds, so did many of you. Cheers to modernizing a classic!
---
Of course, these were just a few favorites of the thousands of recipes that now live on this site. So feel free to browse the Recipe Index for more, and stay tuned for all sorts of great new recipes coming in 2016! You all are the best! ♥