15 Gluten-Free (Easy!) Dinner Ideas
This post may contain affiliate links. Please read my disclosure policy.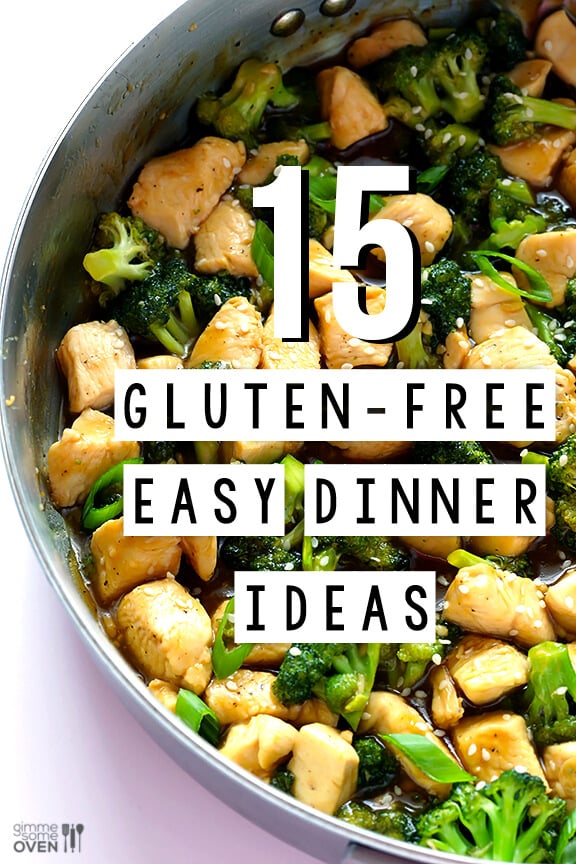 Happy weekend, friends. I've been going through the results of our recent reader survey this weekend, which I will be sharing in full with you soon. And goodness, can I first just say that you all are amazing?!?
It was so (so) good to get to hear directly from you in the survey. And much more, to read through all of the thoughtful, encouraging, and just amazingly kind comments/notes that you all left. I was so humbled by the gracious things that you had to say about this blog, and to hear what the recipes and posts here have meant to you and your families over the years. It means so much to me that this site has been a part of your lives. So thank you for taking the time to write and share your feedback. You're the best!!!
It was also awesome to hear more about what you all would like to see in the coming year. One of the resounding requests was for more gluten-free recipes and dinner recipes. So today, you get both, which I thought might be especially perfect for the back-to-school chaos happening this time of year.
For those of you new to the site, Gimme Some Oven definitely runs the gamut when it comes to recipes, which is just naturally the way I cook. But a large percentage of those recipes happen to be gluten-free, even if they're not labeled as such in the title. If you ever have requests for a favorite recipe to be adapted to be GF, just email and let me know, as I'm always open to suggestions for new recipes. :)
Alright, without further ado, here are 15 of my favorites gluten-free recipes…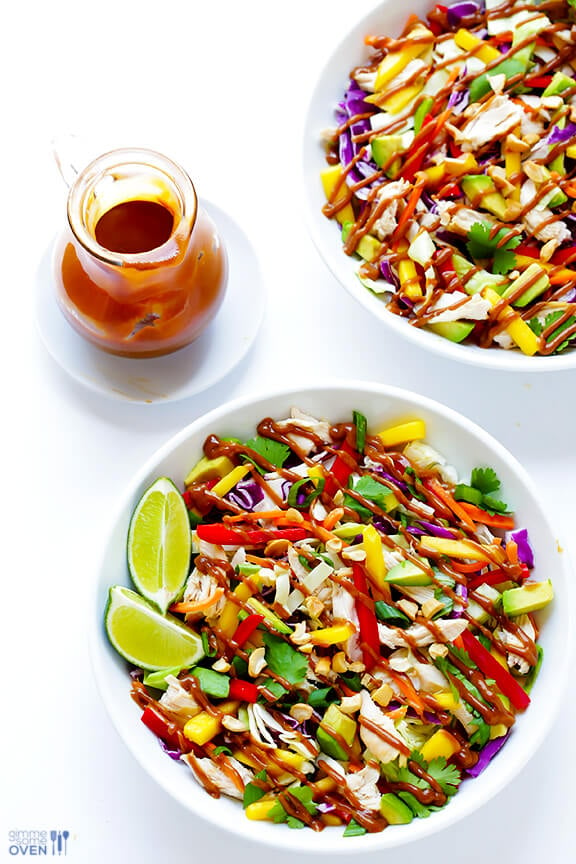 Rainbow Thai Chicken Salad: This salad is one of my favorites because it is big on color, big on flavor, and big on combining lots of fresh and healthy ingredients. But don't be intimidated — it's quite easy to make. It's basically just full of chopped cooked chicken, fruit and veggies. And then the "icing on the cake" is a protein-packed peanut dressing which basically makes the salad. So tasty.
Steak, Poblano & Mushroom Tacos: If you love steak tacos (I definitely do), this recipe is a definite winner for an easy weeknight or weekend dinner idea. It celebrates the delicious combo of tender steak, poblanos and mushrooms, and is topped with fresh cilantro and crumbled cheese with a squeeze of fresh lime. Serve it on corn tortillas to make it gluten-free!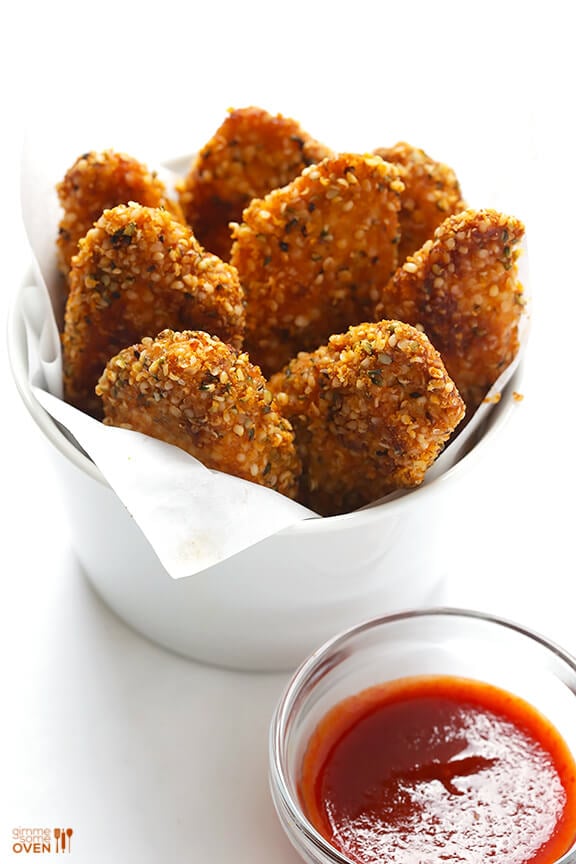 Hemp-Crusted Baked Chicken Tenders: Everyone seems to be buzzing about hemp seeds this year. So I decided to use them to make a gluten-free breading for chicken fingers! This healthier alternative to traditional chicken fingers is baked instead of fried, breaded in protein-packed hemp seeds instead of flour or bread crumbs, and it's extra flavorful and crispy to boot. Kids and adults will both give it two thumbs up.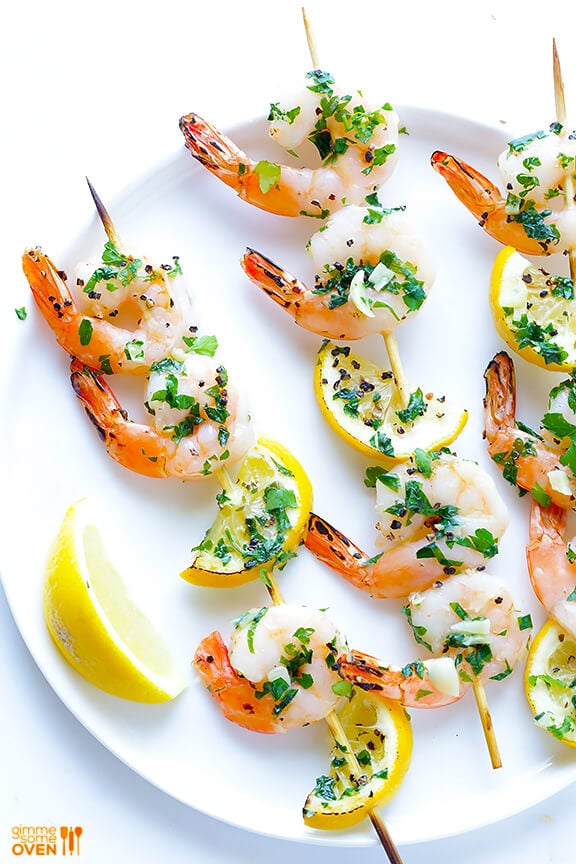 Shrimp Scampi Skewers: This easy recipe is all of the goodness of traditional shrimp scampi…on the grill! Just skewer up some shrimp and fresh lemons, coat them in the butter-parsley-garlicky mixture, and grill them up to delicious perfection. This recipe is perfect served with some quinoa and extra veggies.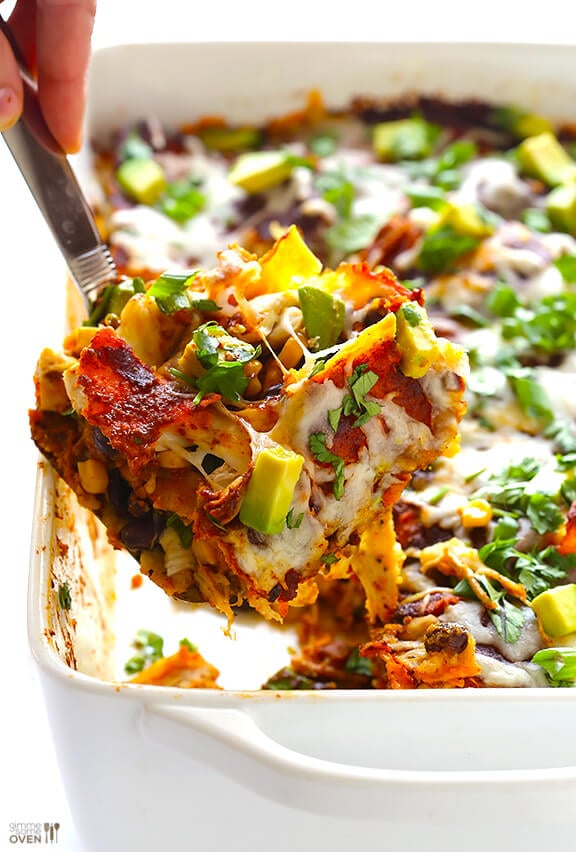 Chicken Enchilada Casserole: I had no idea this recipe would become such a favorite on Pinterest, but now literally hundreds of thousands of people have tuned in to view this recipe, and with good reason. It's basically all of the goodness of traditional chicken enchiladas. But instead of rolling them up into individual portions, you simply stack all of the ingredients like a casserole. So easy, and so delicious, and SUPER good if made using my favorite homemade red enchilada sauce. If you ask me, it's what makes this recipe.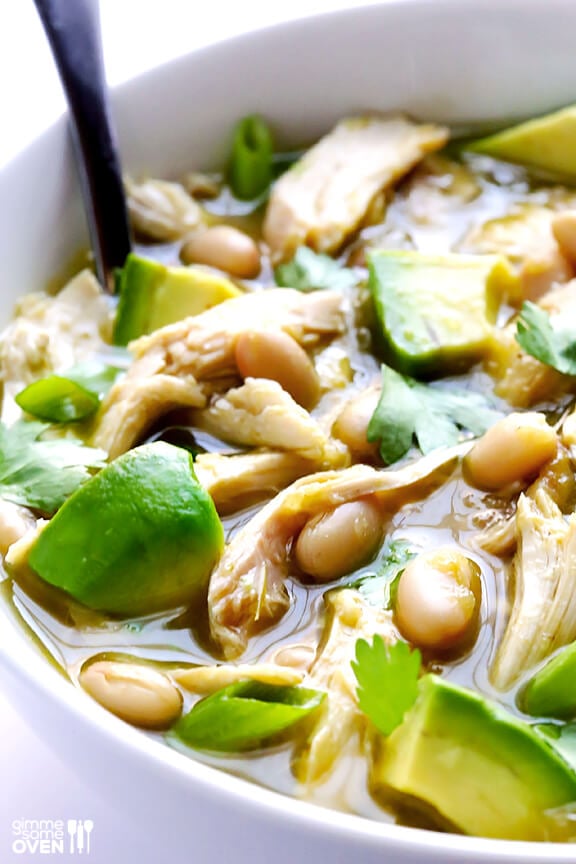 5 Ingredient Easy White Chicken Chili: This soup has been in the top 10 most popular recipes on Gimme Some Oven for nearly two years now. And I still make it at least once a month as well — it's one of my all-time favorites! All you need are 5 simple ingredients, and this flavorful and comforting soup can be on the table before you know it. (Quick tip — it also freezes well too.)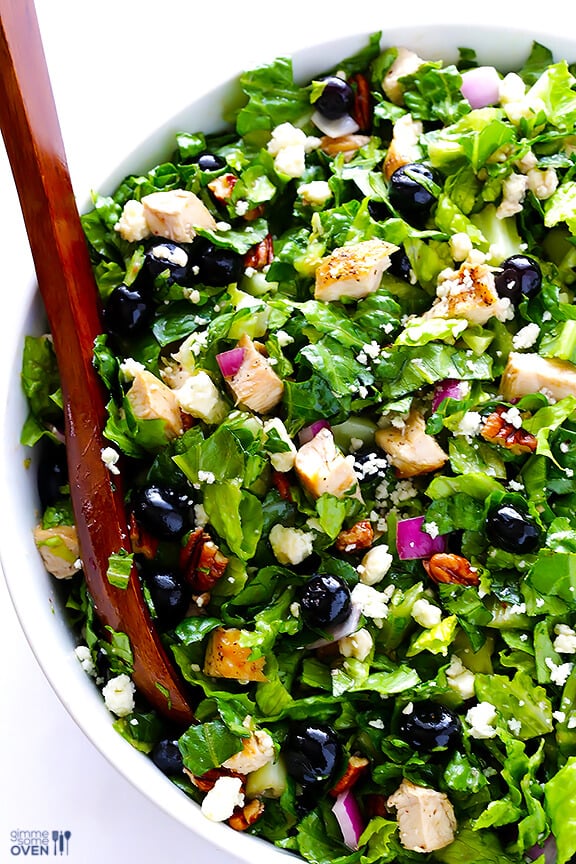 Blueberry Chicken Chopped Salad: This recipe is a fairly new one on the site, but it has also earned a spot in my "routine" of favorite recipes. I can't get enough of this salad.  Really. If you love blueberries, you've just gotta try it. It's fresh, it's flavorful, and it's totally filling as a meal.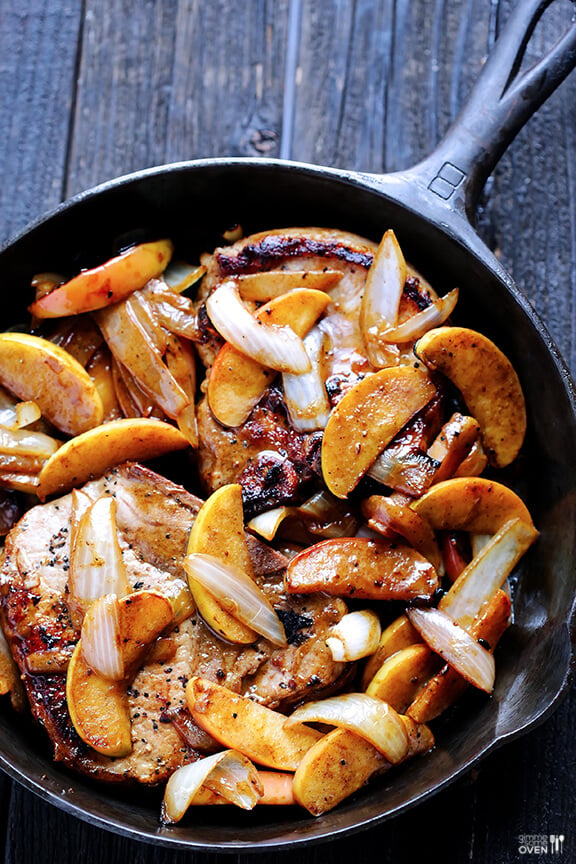 Apple Cinnamon Pork Chops: With fall baking season coming up, I'm sure that many of you will be stocking up on cinnamon. So for a delicious savory cinnamon meal, I totally recommend trying these pork chops. They are sauted with apples and onions, and combine to make a sweet and savory meal that everyone will love.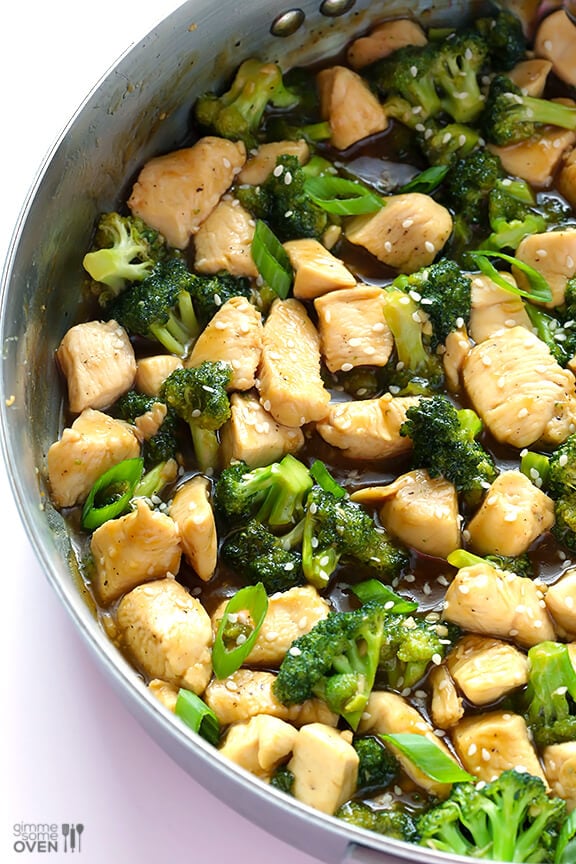 12-Minute Chicken & Broccoli: Any of our readers will know that I'm a big fan of chicken sautes. And this chicken and broccoli saute is no exception. I'm not even the biggest fan of broccoli, and I love this flavorful and easy meal. It's perfect served over quinoa or gluten-free noodles, or it even stands on its own. (*Be sure to use gluten-free soy sauce for this recipe if making it GF.)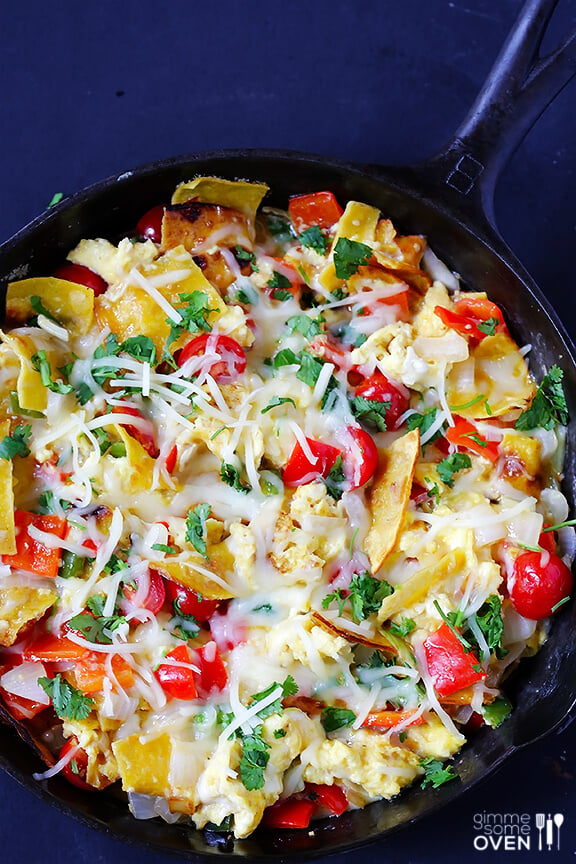 Tex-Mex Migas: If you haven't heard of migas before, they are all the rage in the great state of Texas and are basically what I consider "breakfast nachos". Just take some leftover tortillas, fry them into chips (or you can use store-bought tortilla chips), toss them in a skillet with eggs and fresh veggies and cheese, and a delicious meal will be ready to go in minutes. It's perfect for breakfast, or breakfast for dinner.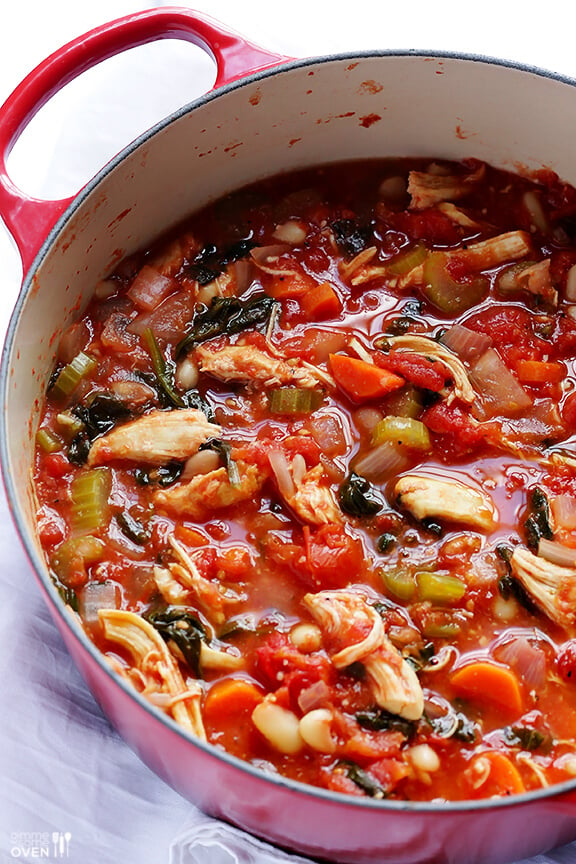 Tomato Basil Chicken Stew: If you're looking for an easy meal to warm you up, this stew is Italian comfort food at its best. It only takes minutes to prep, and is full of delicious veggies and chicken and tomatoes with a hint of fresh basil. Make a big batch and then freeze the leftovers for later!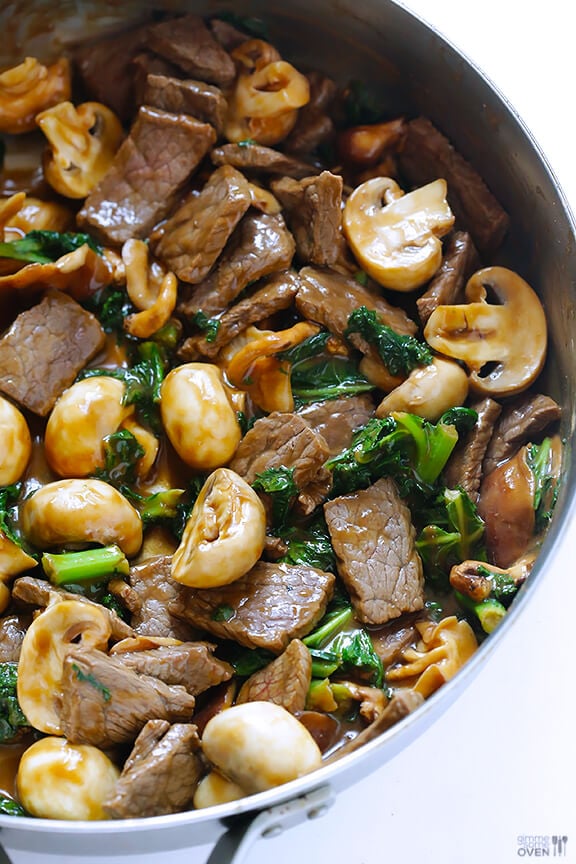 Ginger Beef, Mushroom & Kale Stir-Fry: This recipe actually came about as part of a "Chopped"-esque cooking challenge where I took a bunch of random ingredients and turned them into a saute. And the result has actually become a staple in my kitchen, especially when fresh kale is in season. It's basically a simple ginger beef stir-fry with some yummy mushrooms and fresh kale wilted in, and it is delicious when served with quinoa or over rice noodles.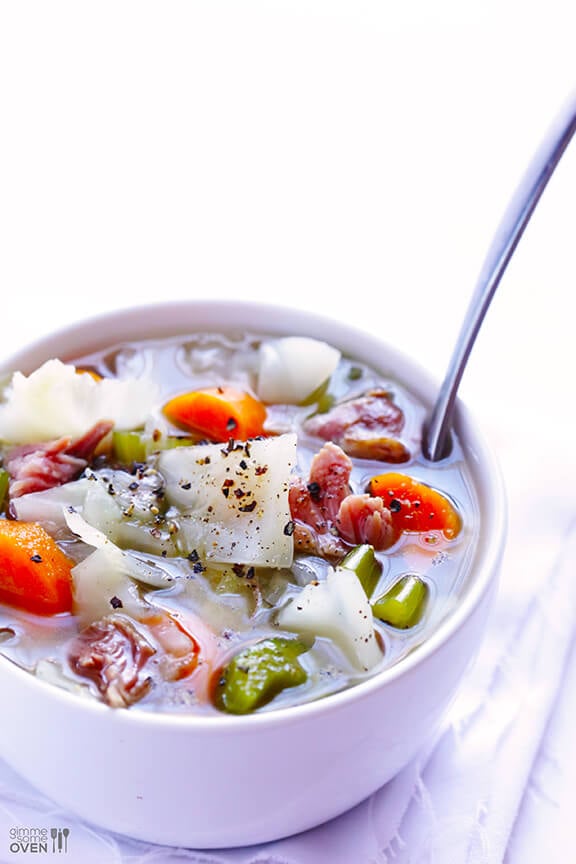 Ham and Cabbage Soup: This soup celebrates my all-time favorite broth — ham broth!!! Have you made it before? If not, I always say that it basically tastes like bacon in a broth. Ridiculously good. This recipe combines ham broth with leftover ham and cabbage and fresh veggies, making it perfect for Thanksgiving leftovers or anytime you're craving a salty and savory soup. I'm kind of obsessed with it.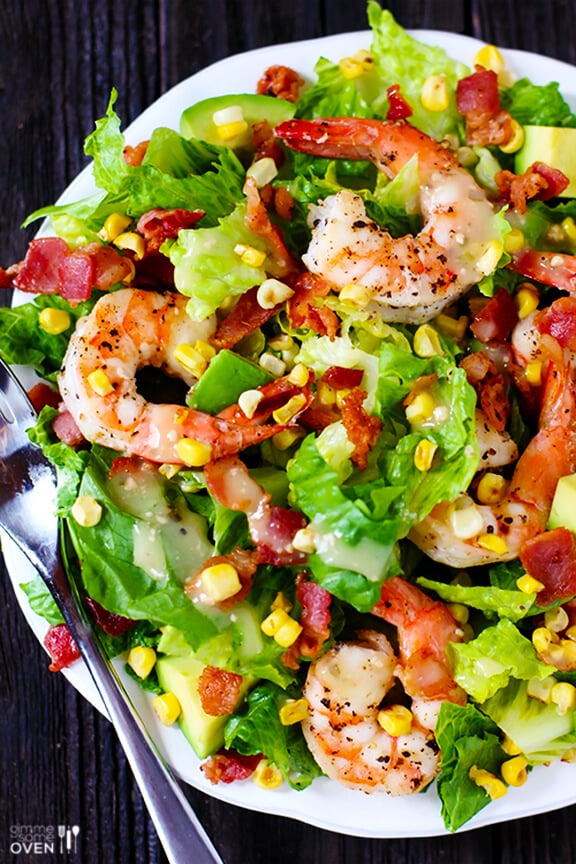 Shrimp, Avocado & Roasted Corn Salad: This salad was inspired by one of my favorite restaurants in KC, and is one of my year-round favorites since it doesn't call for too many seasonal veggies. All you need is some lettuce, avocado, corn (you can use canned), bacon and grilled shrimp. And then the whole thing is topped with a heavenly buttermilk dressing. I can't get enough of it!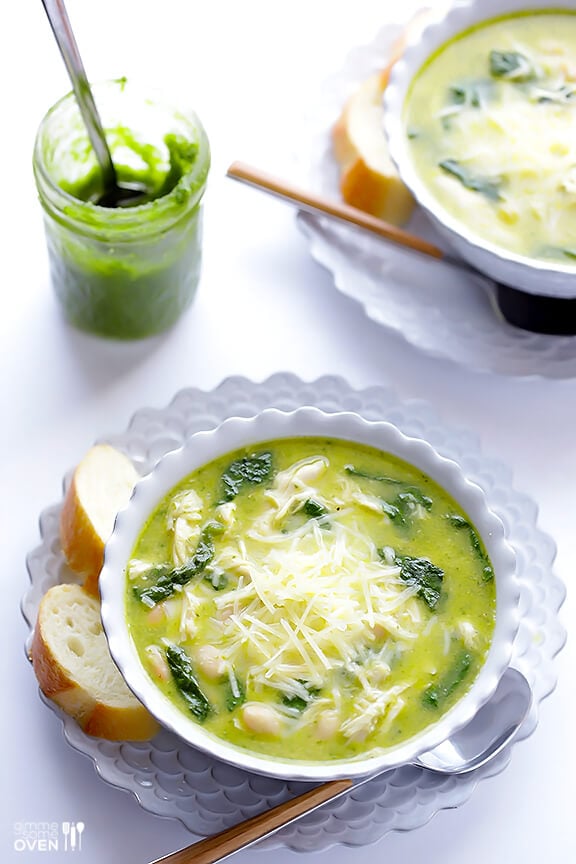 5-Ingredient Pesto Chicken Soup: Finally, I have to say that this soup was the 5-ingredient winner of my summer recipe creating. (And from the reviews, it sounds like my readers agree.)  I honestly could not believe that it was that flavorful with only a handful of ingredients. I call that fresh pesto FTW. Granted, it still tastes great if you use jarred pesto. But man, if you have the chance to make a batch of homemade pesto, I'm pretty sure that adding it to this soup will knock your socks off. It also freezes well.